Quick Review: Speck CandyShell Grip for the Nokia Lumia 1020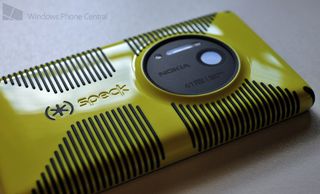 If you picked up your Lumia 1020 today or are planning on it, you may want to consider getting a case to protect that $700 investment. Cases run the gamut from light shells that offer some protection against dings and scratches up to the OtterBox, for those in industry.
The company Speck has released their CandyShell Grip for the Lumia 1020 and its available right now from AT&T via their physical stores or online for $35. The price is a bit high, but this is a quality case offering solid mid-range protection and an interesting look.
Head past the break for our thoughts and video tour.
The main selling points of the Speck CandyShell Grip are the following:
2-in-1 Hard/Soft construction
Shock absorbent
Comfortable ridged grip
We picked ours up in bumblebee yellow to match our Lumia 1020 though white was also available.
So how is it? It's a snug fit and one of those cases where you'll want to put it on and leave it on. That means no hot-swaps with the Nokia Camera Grip (PD-95G) or sliding into your fitted car holster. In addition, make sure your lanyard is off as you'll need to thread that through the case if you want to use it.
The case itself looks sharp and we like the appearance it gives, though your opinion may vary. Protection seems quite robust, especially for the delicate corners. The rubber grips on the side to add a nice tacky feel to the phone, ensuring that you don't let it slip from your fingers and the faux buttons are quite responsive with the device.
To the point: The Speck CandyShell Grip for the Lumia 1020 is a well built, tightly fitting case offering mid-to-high level of protection (the display is still exposed). It adds a little bit of girth but not prohibitively so. While $35 is priced a bit high, we can say that at least the device doesn't look or feel cheap. Plus, we think it looks cool. Just plan to leave it on once it's on.
The Speck CandyShell Grip case for the Lumia 1020 is available from AT&T (opens in new tab) for $35 starting today. More accessories for the Lumia 1020 can be found in our WPCentral Store (opens in new tab) as items come in.
Windows Central Newsletter
Get the best of Windows Central in your inbox, every day!
Daniel Rubino is the Editor-in-chief of Windows Central, head reviewer, podcast co-host, and analyst. He has been covering Microsoft since 2007 when this site was called WMExperts (and later Windows Phone Central). His interests include Windows, laptops, next-gen computing, and for some reason, watches. Before all this tech stuff, he worked on a Ph.D. in linguistics, watched people sleep (for medical purposes!), and ran the projectors at movie theaters because it was fun.
They could have at least added wireless charging to the case given how thick it is. I know it would cost more but you know what i mean.

I think that one is squarely on Nokia and AT&T. Those who want protection and wireless charging are screwed. Such a shame.

they could have easily added wireless charging especially since if your going to have the cover on 24/7 and AT&T wanted a slimmer phone, they (AT&T rep) at the L1020 press conference mentioned it.

When I get my 1020, I plan on modifying my Otterbox Commuter case (for my 920) by integating the optional add-on wireless charging plate into it and enlarging the camera sensor opening. If my measurements are correct, it should be a perfect fit. Also, the Commuter case is just sturdy enough that the standard tripod hole I've drilled already works perfectly with tripods of all different sizes. When done, I'll have the ultimate audio/video smartphone that I can put on a mini-tripod and get incredible low-light videos combined with stereo, zero-distortion, full-range audio recordings of e.g. musical performances. Already getting amazing results with my 920 on tripod.

Yeah...and unlike the 920 (my current phone) I will enjoy having covers for this one I think. The design just screams for it a little, lol.

Wow that case is gorgeous!

Taste is subjective, and opinions are varied. However, this case is gross.

+1 I personally prefer plain cases, i have the Nokia Lumia 920 White Slim TPU Hydro Gel Case which I got for £0.99 (free delivery to boot) including the screen protector and stylus (pretty useless) off of amazon.co.uk, back last year before I even got the phone however it was worth money. When I take off the case.. I'm surprised how slim the L920 feels, I can comfortably grip it with one hand. It's so light my 10 year old little sister has no problems hold it with one hand whilst playing games. Thank you MS for kids corner! lol

Nice to see that companies like Speck are offering popular styles of cases for the 1020.

That is a horrible looking shell, I say keep to the Nokia qi shell if covering up that awesome 1020 is your game

I think this is the best case so far for the 1020.

Im a tradesman and need a big case like this. Id love one either big enough to fit over the wireless charging case or with ot built in. Easily pay 100 sheets for it

One of WP8's weaknesses is big, hard shells like otterbox and such. Good to see that gap being filled.

I agree a rough and tough case with qi would be awesome

This phone is going to be EPIC❕❕❕

Not a fan of Speck's shiny plastic cases, had one for my 920 and within days it was covered in scratches and looked like it had been used for much longer.

Same here I had a black one for my L920 and just a couple days and I replaced it!

Wow, I've seen some ugly cases, this one is right up there with them.

Wow they can make a case for the 1020 but not the Lumia 928? Thats messed up :(

Ugly ugly ugly. That's just an opinion but if I saw this case on any phone I'd tell you that you have a ugly case. Ok that's my negative for the day

I agree with the OP. I wouldn't upgrade from my 920 unless there was an acceptable wireless charge case. I guess that might just indicate where my priorities lie, but I'm sure I'm far from alone. For $299 under contract, I expect the 920 plus more. Instead, the 1020 is a compromise. For that reason, after the novelty wears off, I'm not thinking the sales are going to be very good unless you are a photo buff. In that case, this is a nice phone to have in your pocket. but how many of those are out there?
Wish they would bring the 925 to AT&T. In fact, wish Nokia would stop with all these different and exclusive variants. Strange business model. Not sure it's the best way to do this

It's not aimed for nor being marketed as a 920 replacement. The 920 will continue to be sold next to it. It's just that a lot of people bought the 920 because of the excellent camera and because the 1020 wasn't available. It is certainly a niche device, but if you're in that niche, wireless charging in exchange for the camera is a no brainer.

Yes, a less rambling way of saying the same thing. Thanks DR.
My comment was just an observation agreeing with those thinking that this is indead going to have a niche market. Be surprised if it makes money. But you have to advance somewhere, so I'm by no means putting it down outright. In a way the 1020 is almost like a prototype to things coming down the pipe. When the advanced camera system is thinned down like a 925, and has the Qi like a 920, then Nokia will really have something outstanding in everyway.


Wireless is handy, but instead of a world class phone? Really?

I had these for my iPhones and iPods. Probably the only third party case, (aside from Speck's Pixelskin HD,) that I'd ever use on a device. (Although that was the normal version without the odd grip lines on the back.)
Wish the yellow Candyshell for the 920 didn't have purple rubber, for some strange ridiculous reason. (They've been doing odd colours the past few years, at least here they chose nice and basic device matching colours. Jealous.)

Article mentions an Otterbox case for the 1020, but I can't find one. Not on the Nokia website or the Otterbox site.

We've been trying to get them Speck to make a case for the 928 since its release. This is slightly irritating...

If its like anything for the 920 its garbage. Three of us owned them and the thin area by the USB port would break and tear. All three went back. They reengineered them and now there is more rubber. But instead of tearing on all three, they have stretched out. We all us the supplied Nokia USB charger.

Exactly! I bought mine from AT&T (probably paid too much for it, I know), but it comes with a warranty, so every few months, I get a new case until they make a replacement that doesn't do this.

I took mine back because the plastic piece above the charger broke after a two weeks and they gave me a new one but not until after a 5 minute spiel about how that was normal wear and tear which the warranty doesn't actually cover. Naturally, the new one broke within 2 weeks too.

Did you guys get the new version without the hard plastic piece (all rubber above the USB port)? If so, has it stretched all out on you?

Yes and yes. First one plastic piece broke, second one rubber stretches. It seems that this happens when you put it in your pocket or something like that. If it's in a purse or bag, it doesn't do it.

We have bigger problems if I have anything in a purse.

Yeah, but your case wouldn't be messed up :-D

Had this same exact case (same color too) for the HTC 8X for the 8 months i had it
and it was AWESOME!
I tend to drop my phone ALOT and this took everything I threw at it..by the end it was a bit worn out but still holding out..deff recommend Speck if you want stylish otterbox protection without all the bulk

@LeLee092 Thanks for your helpful comments. I just ordered this case from Amazon Canada for $34.95 with free shipping and it's great to read a positive review! I agree the design looks awesome and the level of protection sounds good (they advertise it as meeting or exceeding military requirements) especially considering how thin it seems.

Got one of these for my 920. Idk how the 1020 case is but if it is like the 920 I'd say to stay away. The rubberized grip is actually pretty uncomfortable after an hour's worth of use. The hole for the headphone jack is too small. And the plastic bridge over the charger plug is fragile and breaks easily. There are better cases out there for less than $35 or get a higher quality one for your money elsewhere.

Give me an otterbox defender w/ wireless charging.

There's your Bumblebee look

Remember that huge screen from that Nokia Phablet the other day❔❔... That would be the NL1130.

I don't think I heard Dan say "Hey everybody" and "Thanks everybody" at the closing. Made me sad. :(

I have a Speck shell for my L920 and love it!

Is there any similar good looking cases for the Lumia 920
I did get the sticker like cover for the 920 but it wasn't an actual case

That is the most god awful looking case, its not there first, as the 920 versions or just as bad. I understand the case is mainly for protection of the phone, but they could have come up with a better look to fit the Lumia line. If I owned a 1020, I would not put such shame on that phone with this case ;-) Just my personal opinion, nothing more.

i had the white version of this case for my L920. Looked and felt great. I even nicknamed the phone, "Stormtrooper". But after about a month the rubber strips started peeling back definitely not worth the $35 in the end.

Looks like a minion from despicable me

haha...if only there was a blue tunic too :P

I kinda like the look but for the life of me, with the precarious way you have to hold a phone to take pictures, why they don't include a lanyard or lanyard hole in these cases is curious. For the consumer, this is not the best consumer driven design around although it wraps around the 1020 nicely.

Had one for about 10minutes for the 920, the rubber was stretched around the power and volume buttons, so the rubber edge was not linear around the edge of the case and screen. They could have provided a picture of the front of the phone to validate this. Hopefully they fixed it for the 1020

Have you been able to check out the Incipio case yet? Would like to see a review
http://www.att.com/shop/wireless/accessories/cases/sku6820385.html#fbid=flxj5N88jJh


Don't get that shell. It is a beautiful design, but the rubber on the case will fall apart in a month. The rubber grips will strip off as well. I've gone through two cases, and they aren't cheap.

I have the white and back and for now, until Nokia releases their leather case this is best one imo as of right now!!!

i just very carefully removed the wireless charging chip from Nokia Wireless Charging plate and carefully stuck it into my Speck case. I now have wireless charging in this beauty. LOVING IT!
Mine must be the newer one with the rubber around the usb. Had it since i preordered the 1020 with no issues at all.
My favorite case by far!

How have you gotten a weather "widget" (for lack of a better word) on the lock screen?

Had the 920 version of this and while it was a pretty decent case over time the rubber strips started to loosen and come up over time. From a longevity standpoint they need to look at a different design. This was the case for mine and my wife's 920 with the Speck case.