Review: The Turtle Beach Elite 800X is an almost (very almost) perfect Xbox One headset
I'm a fan of Turtle Beach, but they've made it hard to recommend their latest wireless headset.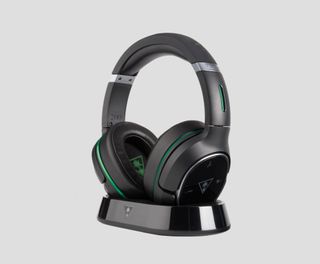 The Turtle Beach Elite 800X launched a few weeks ago with a promising array of features. Some of these include a robust wireless design that looks as sleek as it does functional. Throw in an awesome charging dock to help keep your gaming space tidy and DTS 7.1 surround sound with customizable modes that can enhance games by genre.
How does this Xbox One headset self-described as "the most advanced ever" fall short?
Key features
Costs £249.99 / $299.95
Wireless connectivity listed up to 10 ft
Xbox One and mobile phone compatible only (There is also a Playstation variant

(opens in new tab)

)
Noise cancellation
DTS Headphone:X 7.1 360 Surround Sound
Magnetic charging dock that connects wirelessly to the headset and via optic audio cable and USB to the Xbox One
8-10-hour battery life
Hidden integrated microphones
Customizable speaker plates
Great Audio quality, design, and features
First let's talk about what aspects of the 800X truly make the grade. The 800X earphones deliver an incredible audio experience that is a cut above other headsets I've used. The potential volume range is insane, and whether you're playing games or listening to death metal, you'll find your ears more than saturated (and maybe damaged if you're over-zealous with the volume rocker).
Like the Stealth 500X and XO Seven, the Elite 800X comes with tailored audio pre-sets for a generous amount of scenarios. You can adjust the stereo settings and rock through a ton of customizable modes per use case. If you're gaming, you can adjust the audio for horror, racing, and even to emphasize the sounds of gunfire and footsteps. You can download further pre-sets that are game-specific, as Turtle Beach have worked with major developers to tailor the experience for several games.
The 800X also comes with Bluetooth, which makes them a viable option for mobile music lovers. Pair your phone, swap the audio setting to music and you'll struggle to find a better experience. I tested them on a busy road, armed with the noise-cancellation setting and a Deftones album. The rich bass and crisp high and mid ranges added a new dimension to one of my favourite albums, which now sounds underwhelming when I listen to it using other methods.
For gamers, the Bluetooth pairing has other uses. It allows you to receive notification tones from your phone even when you're gaming on your Xbox. If you wanted to be really industrious, you could turn down the background music in the game and replace it with your own music from your phone. The versatility offered by the addition of Bluetooth is great, particularly if you're still waiting for the Xbox One to support background audio.
Design-wise, Turtle Beach have largely delivered, with only a couple of minor annoyances in tow. The cans are cushioned using a suffocating faux-leather, which is comfortable but can get clammy, particularly if you're putting up with the summer right now. The headband is among the most solid I've seen and offers reassurance as a person who is notoriously clumsy for snapping headsets. The only minor annoyance I have stems from the trade-off of allowing customizable speaker plates. Customization is a great addition, but I fear the result makes the control rockers overly sensitive. When you're trying to adjust the audio and you accidentally hit the preset rocker, a woman invades your game to inform you that you're now in a new mode. Thus cutting out party chat and all other sounds. I'm sure with practice you could circumvent these issues, which is why they're only listed here as a minor annoyance.
For me, the 800X's killer feature is the magnetic charging dock. As someone whose desk is covered in devices, peripherals and wires, the charging dock is a godsend. It fits neatly on top of the Xbox One besides the main vent and generates no heat. The headset snaps into place as satisfyingly as a Surface Pro 3 keyboard and informs you when it's charging. The battery will net you around 8-10 hours of use time which isn't great if you're a marathon gamer, but I think the vast majority will find that adequate.
There's a lot to celebrate about the Turtle Beach Elite 800X, there are a couple of flaws that I have to address, however.
Microphone audio
Update: Since this review still gets search traffic, I was given the opportunity to go back and check the 800X's microphones with the latest firmware. This section has been updated with my latest findings (31/10/2016).
Back when I wrote this review originally back in 2015, I complained that the Elite 800X's use of internal microphones over a standard mic boom was a big mistake. At the time, Xbox Live party members asked me if I was using Kinect while in chat, and considering the frequency by which I use Xbox Live to play games co-operatively, I found it to be a huge issue.
Turtle Beach have since delivered several firmware updates for both the base, and the headset itself, and thankfully (so thankfully), the majority of the issues I had have been cleaned up. People on the receiving end of my party chat were unaware that I switched headsets between this, and another headset that used a standard mic boom. They said that perhaps it sounded as though I was further away from the mic, but it was still clear and they could hear me just fine.
You can adjust the microphone for "Quiet Room", "Normal Room" and "Loud Room", but none of these settings seem to alter the experience for those trying to hear you, even when I simulated the conditions they purport to be for. Also the mic-monitoring for speech still seems patchy and quiet compared to the Elite Pro Tournament or 420X+ headsets offered by Turtle Beach, but the situation has improved markedly compared to when this headset originally launched.
The lack of a mic boom or even a mic jack on the headset make them more outwardly pretty, but I still think a proper microphone would see this product into the headset hall of fame (if there ever were one.)
Conclusion
Disregarding the less-than-ideal party chat experience, the Elite 800X is an almost perfect product. The audio quality is stellar, and the build quality is complimented throughout with a premium feel. The control rockers are a tad sensitive, but with the trade-off of awesome customization. The charging dock is a brilliant addition that I hope they keep for future wireless headset iterations, as well as the versatility offered by Bluetooth.
Windows Central Newsletter
Get the best of Windows Central in in your inbox, every day!
Jez Corden a Managing Editor at Windows Central, focusing primarily on all things Xbox and gaming. Jez is known for breaking exclusive news and analysis as relates to the Microsoft ecosystem while being powered by caffeine. Follow on Twitter @JezCorden and listen to his Xbox Two podcast, all about, you guessed it, Xbox!
How is this set up? TV audio out? Do you have an audio selector? HDMI passthrough?

It uses an digial optical cable and USB to connect the dock to the Xbox One, then the headset communicates with the dock wirelessly to receive audio.

So it is Xbox only or can I port it out to use on all audio? Sounds like a great option for when I don't want to disturb others for movies and games. Could I still plug in a mic to the controller on the off chance I do use it for multiplayer gaming?

Yea man stick to Microsoft products.

I'm sure this would be fine with a boom Mic. Every review says the same thing, sh*t Mic. The Steel Series H Wireless is awesome, but it has a Mic cable. Needs to lose the cable though. The search for a completely wireless acceptible wireless set of headphones for Xbox One goes on...

Excellent review. Thank you very much! At that price point there is no way I am buying considering the crappy mic.

It's gutting because the audio/dock is so good, but I play way too many multiplayers to use these as my go-to headset.

Gutting is right. I really wanted these to review well. All reviews say the same thing, crap Mic. Its such a shame. Could have replaced my Steel Series H wireless, which are excellent - but I hate the Mic cable, its annoying so I don't use the Mic. Grrr, its such a simple thing to get right. They need to talk the the guy at Modmic.com and get his Mic capsule, hes a one man band and even he can get this simple element correct. Sad.

Don't listen to this reviewer . The 800x is the best headset on the market . Had it for 3 months . The mic is a small pin hole on the left ear . keep the left side on your ear at all times and you won't have a problem people will hear you loud crisp and clear . Only when you don't have the left side on your ear is when people say you sound far . Keep the left side on your ear you can put the right side behind your ear like I do to hear your surroundings

Thanks alot! Had been thinking of getting these, but no thanks. Play to much multiplayer.

One day I bought a turtle beach headset, months later it broke. Then I bought a 30 bucks headphone and a 12 bucks mic and it works fine for over an year. Turtle beach is crap

Shame about the Microphone, but not that surprised with it having integrated microphones, I suppose it probably works as well as the arrays built into laptops and things like that. I do still love my Turtle Beach Earforce X41 which are years and years old now. Eventually the Microphone broke, so I'll need to replace that at some point - Or just buy a new headset, as they sell them without the transmitter for just £25, and I'd assume I get a Microphone with that. http://www.turtlebeach.com/product-detail/headsets-legacy/ear-force-x41/240 Has anybody tried the Turtle Beach Z60? I'm considering that for my PC as it has the controller to change the chat / game audio mix on the fly, which is something I like about the X41.

The dual-use ability and hidden mic feature was one of the reasons I went with the Polk Audio 4shot headset. It's mic retracts from the left earpiece and can tucked away when being used as a normal headset with a phone or computer. It's not wireless however, but is $59. I've always noticed that headsets with "integrated" mics rarely perform well. And that's a real shame the Turtle Beach doesn't perform well at that price point. Jeez.

From the moment Voyetra bought this company then moved away from what they specialized in to produce value headsets for game consoles they've compromised quality for profit

I just wanted to say that I don't care about the headphones... but damn! That poster is HOT!

I remember when that movie came out. It made me so upset. I never bought another toy from Hasbro. Ever.

You got the touch... YOU GOT THE POWWEEEEEEEEEEEEEEEEEEERRRRRRRRRR!!!!!! The poster came with the G1 DVD box set. :3

Totally understandable. A friend of mine hates the movie... but he still buys Transformers toys hehe. What I don't like about the movie is Optimus'death (kinda lame) and how lame they make Rodimus look. In the comics I've read, Hot-Rod/Rodimus is actually a pretty badass character. I blame Hasbro, all they wanted was an 80 minutes commercial to renew the toyline and didn't care for the characters :_(

Autobots are pansies anyway. All hail the Decepicons!

Supposedly, a 5/29 patch fixed the mic for most users but I'd assume you already did that. I guess I'm asking that you just check again because I'd really like to but this if it works.

I did patch it, but I'm talking to Turtle Beach who say I might have a faulty unit. I'll update this next week if I find anything different.

This is the patch link I found: http://support.turtlebeach.com/entry/830517625/

I have the Official Xbox Stereo Headset Adapter (and Headphones) and it is absolutely awful due to the game audio crackling, they are essentially unuseable. The headphones are actually nice but the adapter problems are horrific. So anyway, I'm looking for a better way to get game audio to headphones (preferrably wirelessly) - I didn't see whether or not these rely on the adapter for game audio or not in the review - anybody know? If so, any other suggestions for good headphones for game audio? I don't game online much and when I do I don't talk, so the mic issues aren't a concern for me.

I've been using the new Xbox One controller with the 3.5mm jack already included and so far so good on sound quality even with one of the entry level Turtle Beach headsets. Maybe the adapter is the issue? I know it requires buying a new controller, but you might have more luck.

Is that new design available in the UK at the moment? I want a second gamepad to dedicate to my PC

I got it with the 1TB console pack, I assume they're selling them separately

Is the 3.5mm jac on the new Xbox contller a Mic slot and Headset slot?

I have the 500x and honestly have no complaints. It had great audio, comfortable, and chat is perfect. Article comment. It is weird to repeatedly refer to it as party chat. It should just be "chat". Party chat is a type of chat. There is also game chat, Skype, twitch audio. Those are impacted too. Not just party chat. Great review. Talked me out of them. I need another headset for my second console. I guess I will get another 500x. Can get them for under 200 on special.

Turtle Beach have told me I might have a faulty unit and they're going to replace mine. I'll update the review if I find anything different.

Every review complains about the Mic, its not a fault (unless everyone has so far got a faulty Mic!)

We have three Skullcandy SLYR headsets and really like them

$300 for an Xbox one headset... I'd rather spend that money on a second Xbox one. Are they serious???

I have been reading reviews on headsets for awhile and I finally bought the 800x. it is awesome and my friends had Jo problem hearing me with the firmware update. I tried the a50 and a40 m80 and they both suck compared to the 800x. they are well designed and just a great user experience. they do not feel cheap like the astros

sound is amazing, the design is high quality, it is a little on the heavy side. you can control it with your smartphone . my friends say they have no problem hearing me. highly recommend

@Jez Corden: For the sake and benefit of what Turtle Beach has done to improve this headset, I'm sorry. I went against your advice and purchased the headset anyways, considering the fact that I could return it if I didn't like it. I will give my personal review here and hopefully people will listen. As of December 30th, 2015: I've owned the headset for about 8 hours now. It's 4am and I started using it at about 9pm without having to worry about a charge out of the box. After reading the reviews like this one above, I decided to run firmware updates on it. There were several, probably 6 or 8 to be exact. Somewhere during the process, skype detected the headset and the firmware updater froze and failed.So I had to put it into bootloader mode (REALLY easy to do by the way) and then run the firmware update process all over again. Easy fix and it started working perfectly. So my first comments: A little about me:
1: I wear glasses
2: I've had the Astro A50
3: I HAVE the Playstation Gold and XO Four Stealth.
4: I HAD the XO Seven and the Playstation Pulse Elite headsets. My first comment is THIS: I hate headsets being tethered to my Controller. Worst idea EVER, Microsoft. The Sony Pulse Elite headset was the most comfortable headset I've worn next to the Astro A50. Sound was good, virtual surround was great for what it was...virtual. The Astro A50 were super comfortable and had amazing sound, yet felt flimsy and weak and I was afraid I (or my puppy) would break them. Again, TETHERED to the controller. and the software/firmware updating and Too much equipment, the hanging base, and too much equipment/wires just MESSY overall. NO THANK YOU. The XO Seven were ok, above average by far in my opinion. The XO Four Stealth isn't very comfortable around my ears, unfortunately,but it does have decent sound...I say DECENT because it's nowhere NEAR the quality of the Elite 800x. Remember, I wear glasses, and ALL of these above headsets hurt my head when I'm wearing my glasses after about 2 hours, just behind my ears and I can't deal with having a sore spot behind both of my ears for a few days after just a few hours of game play time. Now to get on with my opinion of the Turtle Beach Elite 800x: QUITE FRANKLY: I AM IMPRESSED. Above and beyond all these "distasteful and put-down" reviews of this headset, I'm shocked at how good it really turned out to be. Now let me break it down. Sound Quality:9.5/10 The sound quality that these things puts out is just as good as the A50's that I have had in the past. The (as I call it) Inter-dimensional sound from back to front, left ear around the back to the right ear coming around the front to the left ear again, A grenade getting thrown OVER your head and you actually hear it going OVER you, like you would expect to. Walking over a trip mine and you hearing a rapid BEEP BEEP BEEP and BOOM coming from down at your feet. THIS is what I'm talking about when I say 9.5/10 Durability and Design: Phenomenal 10/10 (The Astro A50's in my book got a 6.0/10) Simply put, I can pick these up, I can pull them apart to slip them over my ears and not have to worry and feel like I'm going to snap them or break them. And the DESIGN in general with the Durability is fantastic. Fairly lightweight, very stylish, sleek and I love how the ears twist to give an absolute comfort angle and fit for your face. The "Dreaded" MICROPHONE: ??? Ok this is where I have to completely and whole heartedly disagree with our "professional" reviewer up above. Maybe back in June, this was an "Epic Fail" of the device. But let me tell you what my experience has been for the last 7 hours. Let me just say, stock, no microphone adjustments, no changint the "Room setting", and I was in "party chat" with a group of friends chatting the ENTIRE time, as well as switching over to in-game chat for Destiny and Black Ops 3 all night long, I have a puppy I don't want to wake up and a person sleeping in the bedroom with the door open, so I don't want to be very loud. I was practically whispering, what you would call just talking JUST loud enough to not be called a whisper. I asked every single person that I spoke with, how I sounded. They said I sounded 100% perfect. I even took audio recording messages with both my XO Four Stealth headset AND This Elite 800x at the same volume, described above. 1: With the Boom of the XO Four Stealth 2 inches away and 2 inches below my mouth, making sure the MIC part is aimed right at my mouth, It was softer, and not quite as clear as the Elite 800x. The Elite 800x was CRYSTAL when I listened to them myself. Also when my friend heard the messages of me saying the same things over and over and over again, He was asking me what I was doing and why one sounded so much clearer. I asked him which ones he was referring to and he pointed out the ones I'd used the Elite 800x to record. Personally, listen to who you like. But I don't know if it's the Firmware updates that fixed their so-called Microphone issues, but for me. The mic is impeccable and I absolutely could not be happier with it. As for the Mic Monitoring capability. I haven't messed with it much. MICROPHONE: 9.5/10 (I don't give anything a perfect 10) COMFORT and FIT: 8.5 Ok so the fit is a little tight, just a hair of a bit. It's not bad, it's defintely not a deal breaker for me, especially with the comfort of the memory foam. But remember, for me I wear glasses. During the 7 hours I wore them constantly almost the entire time nonstop. Yes, I could feel underneath them that I was wearing my glasses, and yes I readjusted them from time to time to try to make one ear more comfortable or the other, but the main fact I assume for that is because of the twist and turning capabilities of the ear pieces. Not once did my ears or my head begin to hurt because of the pressure of the headset or the pressure of it against my glasses. The Astro A50's were large and almost BULKY over my ears and I felt like you could have fit 2 ears of mine in each side. That was just a little bit of an overkill in my opinion, and these are almost perfect, hence why I had to kee adjusting them to find the most comfortable fit, eventually I got it and I was completely happy with it then. The Astro A50's did have a slightly more comfortable fit to them including the padding they used for around the ears and that's fine. But I wish Turtle Beach could have used the same cushioning material that BOSE uses on their Quiet Comfort 25's. THAT would be awesomely epic. Overall guys, this Turtle Beach Elite 800x headset, to me personally, is fantastic. The best headset all-in-all that I've ever had for my console gaming life. They are on the magnetic charging dock as of right now and it's so freaking easy, 2 cables is all I need, They just sit in the dock and it's great, the only little problem I have been having is when I pick up the headset, the dock comes WITH IT!!!!! *****! No seriously, it's not a problem, just shocked at how strong that little magnet is to hold the headset on. If you are looking for a headset for your xBox One, I am definitely MORE than impressed with this headset after reading this guy's review.

Completely agree, I've had these headphones since they were released and have had zero problems with the mics - it was the first thing I checked with my friends as I was curious how the hidden mics would work. My experiance is exactly the same as PandaTJ's. Jez, did you ever get a replacement unit? Where they any better?

Yes! And I've updated the article to reflect that.

I'm not the only one who had problems with the mic, read any review from when this headset launched. I have two Xboxes and listened to the audio for myself, etc, they sucked. Firmware updates have fixed it though, thankfully (to a degree) and I've updated my review to reflect that. Cheers!

This headset is way too small and causes extreme pain on the ears. This is the most uncomfortable headphones I have ever worn. The headband is very short and whole headset is shaped in a circle. The longer you extend the headset the narrower the headset becomes. I seriously don't know who the hell has a head small enough to fit in this. I don't think these could even fit my dog's head. Believe me I wanted to love the 800x as the tech is good, but the ergonomics are a complete failure. They also feel extremely cheap, creaky and plasticky for a so-called elite $300 headset. I got 2 pairs discounted for half price and I'm returning them. So disappointed and angry that Turtle Beach would make something so uncomfortable. Going to try the new Astro A50's next, hope they don't have a fatal flaw like these.
Windows Central Newsletter
Thank you for signing up to Windows Central. You will receive a verification email shortly.
There was a problem. Please refresh the page and try again.