The Ring Video Doorbell now supports Windows 10 with new app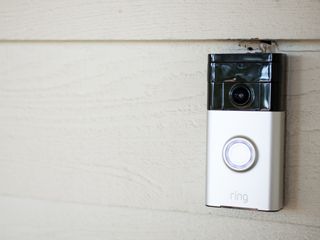 The Ring Video Doorbell has become a popular way to keep homes safer by adding a connected camera to the standard doorbell. Now the company has launched an official Ring Video Doorbell app for Windows 10 PC users so they can see what's going on outside their house.
The Ring Video Doorbell itself costs $199. Here's a quick description:
Image 1 of 4
The Ring Video Doorbell app for Windows 10 allows users to monitor several different doorbell cameras via Wi-Fi. Motion sensors trigger the cameras to record, and videos from the camera can be saved to a cloud server for access at any time. Users can even chat with anyone at the door via the built-in microphone and speakers.
This is just the first version of the app, and the description indicates a version optimized for Windows 10 Mobile will be released in the future.
Download Ring Video Doorbell for Windows 10 (opens in new tab)
Amazon (opens in new tab) Ring Lowes (opens in new tab) Home Depot (opens in new tab)
Check out the first part of our Ring Video Doorbell review at Android Central
Thanks to Guy for the tip!
Windows Central Newsletter
Get the best of Windows Central in in your inbox, every day!
Hopefully more companies will decide to support Windows 10 like this.

Looks like uwp is paying off as long as they follow through with mobile.

This is where running legacy apps on mobile would pay off...

Yes, this is pretty great. It would be ridiculous on my apartment door inside a secure building, but...maybe? :) Posted from this here device.

Someone asked me about this app for WP so that's good news.

It's still not out on mobile.

Not yet, no, but the last line of the artcle indicates a Mobile vrsion will be coming.

Yes, it is. I have it on my phone. It's in the Windows 10 Mobile store. Not available for Win 8 mobile.

@Mark Morales:
Does it call you and tell you you're going to be dead a week from now?

Phil is testing this on Android Central. If you're curious, he just posted an article today on the setup.

I was never worried about Win 10 support, everyone will support it. It's the Mobile part of it that bothers me.

I think the install base of Windows is finally being leveraged correctly to pull developers in. It's a shame this didn't start with 8, but I guess it is better late than never.

No offense, but that owner with the screenshot has over $1000 in door bells... Wow. #firstworldsolutions

$660 actually. The Rings are $200 a piece and the chimes are $30.

I posted this yesterday on the WW live chat. They didn't know it was already out.

Use holograms to show visitor on Hololens...

Good they advertise enough on windows weekly

Thought that was a 925 in the photo. What a good idea, turning your phone into a CCTV.

And so it begins! It's Windows 10 universal! Just installed it on my phone here too. Can't wait for more apps that just work on everything

This is a great device and windows 10 universal apps are great for all these things.

Did not have luck with it. Unfortunately the app would just timeout trying to go thru the setup... Was told by support to download a third party program into my Surface Pro 3 in order to access the Google Play Store and then use the android app to setup the doorbell !! Even though I kept on telling them that I had the Windows 10 app installed in my PC and Surface. And after they kept on insisting to install an unkowned app they "just googled" to run android apps on Windows 10, thats when I said I guess I'm returning it. I was really looking forward to get this installed and running on Windows...

Too bad. My experience was the exact opposite. It installed no problem, the video to cloud is great, and I can use it with my phone no matter where I am. This is exactly what I've been looking for. The Windows 10 desktop and moble apps perform great for me. I even bought two Chimes to handle doorbell rings; one for the main level, and the other for the basement.

After reading all of the great reviews of the app that is why I ordered. Strange that support told me this ... "Ring Doorbells support iPhone, iPad, and Android devices. Windows phone is not supported at this time. Only for Windows 10 PC not Windows smart phone." And she kept on asking me to go to the "Play Store" and download the android app... Crazy! :) Maybe I'll try this again in the future...

I think they are releasing an update in the next few day in response to the new windows 10 mobile build which will have more features and improvements.

Having to remember to charge your doorbell, just what everyone needs...

You can wire it in to existing doorbell wiring...

what they could've done is for those without an existing doorbell wiring (like in garages and basement doors) have a cable that can be plugged into an outlet

For what it provides, it's worth it in my opinion. Not only that, you can connect it to your existing wiring so you can leverage the doorbell and not have to worry about charging. Great implementation.

I may actually get one of these now. Thanks for supporting the platform I use!

Looks good, be nice if it would backup to OneDrive.

Buying my first house soon. If it ends up as a UWP I'm getting one.

It already is. I use and it works as advertised. See my previous comments...

This is the kind of stuff I would love to be available through my Xbox One - which is connected to my TV. A notification would just pop-up allowing us to view it through the TV.

Since it is universal it should be easily made available for XB1 which would be awesome.

I think windows mobile exists, I asked support about it and they sent me this link. I opened it from my phone and it worked... https://www.microsoft.com/en-us/store/apps/ring-video-doorbell/9nblggh1qwd4

Awesome! I didn't see this before my last post. Updating to latest build now and will try to get the app. If it launches, I'm sold!

I've had this app on my Lumia 1020 and Windows 10 PCs for about a month now. As with some other apps, t's better than the Android version! Not only is the UI better organized, it also responds faster to the doorbell. They did a good job on this one for Windows and I can only hope they catch up with the Android verison.

This is seriously the only reason I haven't bought this device. I see them advertise it on Window Weekly which I sometimes watch (especially if they talk about it here) and it looked interesting to add to my re-do of my home automation (I got an early system with no WP support based on promises so now I need real support before I buy). Get this on the phone and I'm in for two. Thanks for the support. Edit: just saw an earlier post about there being a phone app so I will be trying that in a bit and placing my order today if it works on my phone :)

not windows 10 mobile yet :(

Yes it is, check the Store

It looks like someone had trouble installing it.

What if a Windows Hello Iris Scanner let user unlock doors and get inside. Posted via the Windows Central App for Android

Smart Doors coming soon Posted via the Windows Central App for Android

Xbox apo would be awesome. Posted via the Windows Central App for Android because I am unfortunately with Sprint

This door bell seems it can be easily stolen! Just yank it off the house wall. Is there any temper proof accessories that secures it in place?

I was just thinking the same thing. It would not take much to steal this 200 dollar item right from your porch

It has special security screws that should prevent most people from removing it easily. Additionally, they will replace it free if it gets stolen (can't beat that). Great product and now with full Windows 10 and Windows 10 Mobile support. Plus, if you're using their cloud service... you'll have the perp on video.

I actually took one and now use it Posted via the Windows Central App for Android

Nice! I asked them a few months ago if they planned to support Windows. They did not share any specifics on plans for doing so, but I'm glad they now do support the platform!

Bought one at Costco. Am able to pair the chime, but not the main unit. Have tried via Desktop and Mobile. running .107 on Mobile. Back to Costco it goes. Posted from Windows Central for Windows 10
Windows Central Newsletter
Thank you for signing up to Windows Central. You will receive a verification email shortly.
There was a problem. Please refresh the page and try again.