Roundup: Everything else at the Microsoft Windows 10 Devices event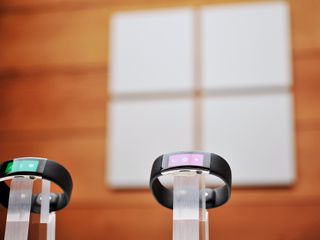 Microsoft's NYC event was a hit and probably even the best device event of the year. Although Surface and Lumia held the spotlight, there were a few smaller announcements that deserve a little bit of attention as well. Let's take a look!
Apps
Microsoft started the show off talking about the recent success of Windows 10, and it's now installed on 110 million PCs in a matter of 10 weeks. But if Microsoft wants even more people to convert, they're going to have to strengthen up its app ecosystem.
They then announced that Facebook is currently working on universal apps for Messenger, Facebook, and Instagram. But they're not the only ones making apps. We can also expect universal apps from Soda Saga, CBS, Uber, and Audible just to name a few.
HoloLens
Many of us anticipated HoloLens to make an appearance Tuesday morning, and it did not disappoint. First Microsoft announced a development program that will a allow devs to purchase a HoloLens dev kit for $3,000 and have it in their hands in Q1 2016.
They also showed off a demo of a game called Project X-Ray. The game had the wearer of the HoloLens fighting off a horde of robots that were infiltrating his living room by coming through his walls. The game looked like it showed potential, but we'd have to give it a try for ourselves to see if it's everything it looks to be.
The new Microsoft Band
Microsoft's wants to redefine fitness tracking with its new Microsoft Band. First off, is it's new design. The device now has a nice curved display which means it no longer bulges from your wrist. It also now sports Corning Gorilla Glass 3 to help keep those nasty scratches away.
The Band also adds an 11th sensor to the mix (Barometer) to help you keep track of how many floors you climb as well as elevation gain when hiking or cycling. If you're not impressed with that, the new Band can also track your golf game and coach you to improve upon it. Another neat thing that the new Band can do is give you an estimate of your VO2 Max, which gives a representation of your cardio fitness.
The Band also is welcoming a bunch of new apps and partners to the device that will help you live your life a little easier. Apps like Uber, TaylorMade, Facebook, and Lose It! will all be accessible at your wrist.
Microsoft then showed off its Health platform, which controls the Microsoft Band. The platform is getting a new universal app on Windows 10 and Windows 10 Mobile. The app gives you full access to all the data from your workout, meals, and even rest. With the app, you can personalize workouts and set goals to help you improve yourself and your health.
The new Microsoft Band is available now for preorder for $249.99 and will be available October 30.
Pre-order the Microsoft Band 2 from Microsoft (opens in new tab)
Display Dock
One of the coolest things Microsoft showed off yesterday was the Windows 10 continuum feature. For those that don't know was Continuum is, it basically allows you to turn your Windows 10 Mobile into a Windows 10 PC with a monitor and a keyboard. But in order to make use of this feature you need what is called the Display Dock.
The Display Dock is a hub that allows you to connect your monitor and keyboard to your phone. It features HDMI, DisplayPort, and 3 USB 2.0 ports that when connected to your devices, makes the magic happen.
When the presenter on stage got Continuum going, it was impressive how fast and fluid it was and didn't show any lag. What was even more impressive was that they showed us that when Continuum is running on your monitor, you will still be able to use your phone without any compromises.
Wrap-up
Microsoft hit it out of the park with its event in every aspect big and small. They've made it apparent that they're willing to step beyond software and fill the gaps that other hardware makers aren't filling. We can't wait until November once everything is announced and we go hands-on with it all.
As usual, you can expect further coverage from us when we do get these devices, so be on the look out for the reviews and hands-on.
Lumia 950
Surface Pro 4
Surface XL
Microsoft Band 2
The facebook apps are huge wins

Eta on that one would be nice. Maybe we'll get them for Christmas.

Many of my friends dont want Windows phone because of not having good app of Facebook, Instagram, Snapchat, LinkedIn, and other social networking apps. Majority of them spend most of their time on these social things - their social intellegnce level?...well they cliked 'Like' on my grand ma's passed away annoucement on facebook!!!!. There is good use of these social media as well. Many company do product promotion on Facebook. Good, positive motivational aweress messages can be send. Red Cross does it. Well, good or bad, people spends their time on these social medias so good app is essential. It will definately increase significant number of Windows phone users.

I haven't gotten to the point that Facebook controls my life. But a working complete app would be great. My Messenger app hasn't worked right on my 640 yet.
The rest, meh. That's not what I use my phone for.
Now Continuum....that's built for me.

The only thing i use Facebook for is so my friends can tag me into some funny content, and to watch new pics of my family because i don't see them often. Posted via the Windows Central App for Android

Those people can't tell the difference between good and bad facebook apps, and they surely couldn't pick a phone based on their knowledge. Unless someone like you told them to avoid WP due to the lack of apps.

You think Zuck gives a fig about Windows? He's too busy having fun with his Oculus Rift toy.

It would be so much better if he gave even a Newton of effort towards the app.

People still use that? I disabled mine years ago.

The one topic that was rumored just before the event was about Google, some new cooperation.
Did that one die? Or did it ever live.

Some imaginative and very hopeful fan boy came up with that rumor and it spread like a Californian wild fire If it isn't covered by Dan, dont believe it

Oh well, why doesn't that surprise me. Ok, back to the carrier rants! See ya.

I would love a Youtube app for Windows 10! Even on the desktop i would use it, as long as it works like the Android app. Posted via the Windows Central App for Android

Official You Tube app doen't compare to Metrotube. I whish he made Metrotube universal.

I know it is good but an official Youtube app would benefit marketshare i suppose Posted via the Windows Central App for Android

No alternative compares to the official YouTube app. The official YouTube app is superior. Posted via the Windows Central App for Android

As someone who uses both Android (tablet) and Windows Phone (Lumia 830),I disagree. Official Youtube app on Android is not better than MyTube! or some other alternatives on WP. On MyTube! I can turn my screen off and still listen to the video/music, on official app you can't. It also does not lock resolution of videos from you if your screen isn't 1080p. I used a mid range Lumia for a year and half and it didn't allow me to even watch 720p videos in YT app only because my screen resolution was lower (It could decode it though,I used to watch movies and TV series on it in 720p), making all videos blurry and a pain to watch.

Call Project X-ray what it really is.... The Mega Man Experience!

It's really good that you are giving so much good coverage to the #Windows10devices event. Of course its was one of the best till date. Such a beautiful presentations.

How come no news on the sideloading of Android or iOS apps? Is this feature going to be removed with the RTM version in November? I was kinda hoping to sideload a few much needed apps.

This was a hardware event - expect S/W news when Threshold 2 news is released...then you'll hear about the apps as well

The App news was nice, but hoping to hear about a lot more soon.

Only CBS has kept promise.... other will follow by next year, may be!!!

Does that Continuum Dock allow USB 2.0 flash drives to be readable on the phone?

(Unless the flash drive in question requires a specific x86 driver) Yes, most flash drives will work. Windows 10 Mobile is fully embracing USB OTG.

Is that true of all Lumias on W10M?

Unclear at this time. But I would assume any device with the right hardware for it (Virtually every Lumia on the market) will get this OTG functionality. But don't quote me on that. After all, devices like the 1020, 920, 925, 820, etc. all have SoC's that will gladly support Miracast, and they never received the functionality.

They really shouldn't market the band towards hikers without it being water proof. If it was waterproof I would buy one this time around. As I hike and camp a lot. But it always rains and or snows when I do. So I need something more rugged. A rugged smartwatch would be super nice.

The ban meets water resistant specs, meaning it can be submerged 1 Ft for 30 seconds, but doing so is not recommended and would void warranty.

Damnit, have to wait for Band 3 now. I hope they include internal storage for music next time. I'm not buying until that's included.

that could be good idea though...listen to music on bluetooth headset while workout or run.....

Lol what? You connect the band to a phone anyway right? Use the phone for music and i think the band as a remote.

VO2 Max isn't new for the Band 2, you already get that with the current Band...

Project X-ray was pretty bad ass, I was one of the lucky winners that got a demo that night ... It has a minimalist HUD, with nav pointers for enemy's location and it really was a solid blast! The sound was a bout drowned out by the venue but it was 360° of 3D audio...I will confess that the experience is much akin to anyone who had to wear glasses more than it would for anyone who wears contacts, you only see holograms where you look directly at them. They persist, but as though they were ghosts-- COULD YOU IMAGINE A GHOSTBUSTERS HOLOLENS?! =D So, yeah... Still very much gen one development stage but it is it's own tetherless and fully functional device. I think we'll all benefit from a generational update or two ;)

What happened to all the other leaked accessories and devices? New Microsoft Treasure Tag, anyone? Also, this article doesn't really mention the Lumia 550. But in fairness: Microsoft kinda glossed over that device to.

Well, this article's about the stuff beyond Surface and Lumia, as the opening statement of it says...this isn't about the 550, or other phones.

Except we've seen almost nothing about it. I'd like details, especially since the 550 obviously wasn't a big focus of the event like the 950 family and the Surface Book.

That's fine, but you're barking up the wrong tree asking in the comments of an article aimed specificaly away from Lumias. Not sure what you need to know that isn't already out there. It's a pretty basic device.

2 questions:
1. Why no USB Typ-C for Surface Book and Pro4?
2. Where is the stylus for Lumia 950XL?

We already have all these universal apps, except by, of course, the Facebook ones.

I wonder if Instagram will make it to the desktop. I would really welcome it. Posted via the Windows Central App for Android

Just tried on the band 2 at my local store. I love my band 1, but 2 is so much more comfortable to wear.

Cool that Microsoft got some businesses to openly state their interest in Windows 10, but that lineup of companies was also really disappointing. I can't say my ears perk up for Candy Crush or Audible. Having Google and Snapchat and Comcast bringing their intentions to the forefront would have garnered a lot more (and better) press. Instead, we basically got promised that some OK-ish apps will come sometime, but the heavy hitters were mostly absent, which is disappointing. At least we can say this--Microsoft's a fantastic hardware maker now, even if third-party software's iffy on a good day. Really, Microsoft's the Nintendo of mobile.

When do we get windows 10upgrade for our mobiles?

I was hoping for a release date for Threshold 2

You forgot the occassional audio jamming and muting in the live stream

Yeah I noticed that too I thought it was my phone with all that muting. Posted via the Windows Central App for Android

SnapChat is really the main issue

Are you making a comment about society in general?

I just hope Windows 10 gets the marketshare it truly deserves. I'm happy with Android but I'd love a Lumia 950 XL as my second phone to my Nexus. Windows 10 just needs developers to give it a chance. Microsoft has momentum now. Posted via the Windows Central App for Android

i read a lot about people with multiple phones... how does that work? do you have seperate phone numbers? Do you swap SIMS? do you use GOOGLE Talk to ring all devices? just wondering

Microsoft again proved as they are the best

I need to know whether the (type cover) keyboard on SP4 or SB1 is Bluetooth enabled?.
Can you continue typing and using the keyboard when it is NOT ATTACHED TO SP4 or SB1?.

cannot say about SB but there is no battery in the Surface Pro keyboard so it is not Bluetooth
Windows Central Newsletter
Get the best of Windows Central in in your inbox, every day!
Thank you for signing up to Windows Central. You will receive a verification email shortly.
There was a problem. Please refresh the page and try again.