Rumor: AT&T getting a red Nokia Lumia 1020?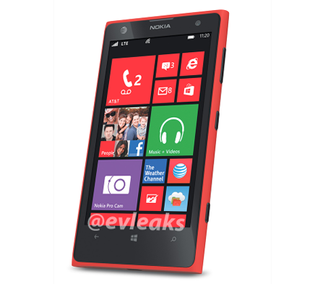 It's still early in the morning so we don't know if the leakster site @evleaks is teasing us or actually has a lead on a fourth color variant for the Nokia Lumia 1020, in candy red.
The image shows up on the famous Twitter feed with the caption "A dream or .... ?". Now for the record, @evleaks has a history of nailing leaks and not a reputation for humor, so we're inclined to believe there is some truth to it.
Of course seeing as the phone is launching in less than 10 days on AT&T and this device not listed anywhere for pre-orders, we can't say if this is in the works or just something being kicked around. It certainly wouldn't be the first time AT&T had an "exclusive" color (they had the cyan Lumia 920, for instance) and this could brighten up their current yellow, black and white offerings. Hopefully we'll find out more in the coming weeks before any of you commit to a color that was your second choice.
Having said that, we all know that the only true color is yellow :)
Source: @evleaks; Thanks, Nissy, for the tip!
Windows Central Newsletter
Get the best of Windows Central in your inbox, every day!
Daniel Rubino is the Editor-in-chief of Windows Central, head reviewer, podcast co-host, and analyst. He has been covering Microsoft since 2007 when this site was called WMExperts (and later Windows Phone Central). His interests include Windows, laptops, next-gen computing, and for some reason, watches. Before all this tech stuff, he worked on a Ph.D. in linguistics, watched people sleep (for medical purposes!), and ran the projectors at movie theaters because it was fun.
We know you have a thing for the Big Bird phones.

It wouldn't surprise me. Other carriers get exclusive colors for other devices. Maybe Nokia will follow suit. I have the Lumia 920 in red. I think I'll get the 1020 in yellow

I will take a red one :-)

They really need to make the sensor gold and it would look great. I really wanted a red 920 with the gold strip (iron man-ish). I think the yellow 1020 doesn't look as appealing as the yellow 920 due to the black sensor.

That would put to rest all of my constant bitching...

ditto. I need this in red. It's the beast of all windows phones, and like a Ferrari... it NEEDS to come in red. I will be very happy with this purchase if it was in red. I WANT RED. I just hope they don't hold out until like November for this as a refresh. I want it available in red July 26th when I go to the store to cop this. Boom

Speaking of Ferrari, I always wished I could get a Ferrari Yellow ceramic camera bezel for my 920.. That would be THE official Ferrari phone... I really ♥ Ferrari's.. Lol❕

I already have a red 920 and the only thing stopping me from getting 1020 is actually the color.
I don't want to get the white version and find out that they are going to start selling the red version a month later.
The red 1020 will look beautiful right next to my red (GT) RX-8 ☝

Every time I see a red Nokia phone I see a the Ferrari logo on the back.

That's a nice phone i wanted my 920 in red but had to settle for black

Ugh but I wanted cyan lol. Yellow it is I guess

I've got 4 little letters for AT&T

c - y - a - n

I agree. Or they can release an exclusive Spearmint color (the light green color from this year's April fools joke). That color looked way too good to pass up.

It did look pretty good, didn't it?

if that's the case then you know Rogers will be carrying the red one too. Personally the yellow and white look much better i.m.o.

I have learned a lesson, wait 3-6 months for a phone eventually more colors and "+" models come soon after....

Yes but then the NEXT new phone comes out and it is even better so then you have to wait for it. And then when you're ready to buy, the NEXT one is imminent. Rinse and repeat. Pretty soon two years have passed and you are still on a beater phone.

We're still waiting on our Red & Cyan Lumia 928, VZW & Nokia.

Your wait will be infinite

A wise man once told me, That's what cases are for'. My red 920 has a black cc1043 on it, never looked or felt sharper!

I got a red 920 with a yellow cc1043. Beautiful!

I also have red 920 with black cc1043. I just can't say enough good things about the case, totally worth the $$! I hope nokia makes a similar case for the 1020. Its sooo slim and high quality;)✔

Cyan, please! I want it to match my 900 when I replace it.

I'm in the same boat... I'm having a hard time even thinking about parting with my cyan 920. It's just a gorgeous as the day I got it back in November.

Although I *should* wait a bit longer anyway. My wife is the one with an upgrade coming up in the fall. I gotta wait until November of 2014... UGGGG... I may have to cave if they ever expand the color options on the 1020, or a followup model pushes me over the edge.

It kinda boggles the mind that as awesome as the 1020 is, Nokia is cooking up even more insanity for followup flagships. But on the flip-side, other then the inability to zoom, my 920 is still an incredible camera + phone. I've been super impressed with how hard Nokia works to support their existing models, and spread the love from their newest advancements back to existing models.

You might check this thing att just announced called att next... They let you upgrade once a year and make payments of your phone on your bill. Also waived activation fees, upgrade fees, and no interest... :) I hope this makes you day better

I am in the same boat. I have a Cyan Lumia 920, albeit off contract, that I am hesitant to replace with a black, white or even yellow Lumia 1020. I might replace it with the red Lumia 1020, so long as it's matte, if there is no serious thought to a Cyan 1020 taking place.
I suspect that they only wanted to launch with three colors to ensure that they had more units available at launch by ot having to split their manufacturing lines. I think that they shot themselves in the foot with the Lumia 920 launch by offering too many colors, and thereby spreading themselves thin in colors that people wanted while having stock available in ones that were perhaps less popular or otherwise overstocked (I remember black 920's being widely available when AT&T representatives couldn't even order cyan 920's because they were so backordered).

I'll stick with white. Red is beautiful though.

I want it in lamborghini green :)

Now I'm being tempted again like the 920. Gerrrrrr!!!!!

OOOOOOO I LOVE the red on my 920...Would totally get this in red! :D

Man, I want red so bad!!! I wish it would be available the first day.

I can't be the only one to have noticed that the time says 11:20 on the render when the 1020 renders show 10:20!! Is this something else? (that, unfortunately, looks the same as everything else?)

The first 1020 render leaks from evleaks didn't have the model number for the clock. However the renders during the presentation had the clock set to the model number.

I have a red 920, will be getting the yellow 1020. Love the red, but time for change.

Damn if this comes out soon I might sell my red 920 to get it

It would have been better news if it went to Verizon but I'm pleased with a beautiful phone. Like always Cyan will come so we shouldn't be surprised.

I will take a glossy red or cyan.

FFFFFFFF Y U NO VERIZON?!? I mean, it's BIG RED after all...

I was gonna wait till red was released. This changes everything.

Red for the win! Not getting a 1020, but if I did, this would be it.

I'm in on the 1020 if they get a red phone WITH red accessory backs.

CYAN IS THE ONLY TRUE COLOR

Please excuse my rantyness but I really need to vent this off my chest.
GRRR!!! It's always the bl**dy same with this exclusivity stuff. The US gets the cyan 920 (ok, I have a cyan 920 as well but that's besides the point). They get the red 1020. And to top it all off they get it OVER A MONTH before the rest of the world. By the time these awesome Nokia products are released here in the UK, the next is released, or some crummy Android comes out which everyone flocks to. Also not to mention those other sorry countries which shamefully have to wait MONTHS before they can even pre-order or buy anything. And to rub salt in the wound? Nokia is a European country and we never get the love here in Europe like AT&T do in the states. The USA even have online Microsoft stores that customers can pre-order on. Over here, we don't even get that. All we get are companies that stock the latest Lumia handsets for like a month and then discontinue them (yes, pointing to you, Phones 4u!).
I'm sorry I don't mean to upset anyone, it's just my opinion, but it seems like here in Europe we get a raw deal when preordering or buying tech like this. Just like the other emerging markets that have to wait too long.
Nukey

I would guess no, maybe in the next round of new gen phones.

Still waiting for next year. I dont have an Upgrade option now and better off waiting until Windows Phone Blue and even better new devices

Oh, this is interesting. At least it could replace my 920 in color, too. I still think I'm waiting until amber to see what else comes out. Or wait for more news on "Rivendale". I'd be hard pressed to upgrade, the 920 is great.

Both my 900 and 920 are cyan. As much as I love the color and sort of feel like it's the definitive Nokia/WP color, if I do decide to upgrade, I think I'd want to change it up to yellow. Maybe red. How well does the yellow's color hold up? I feel like it would discolor faster in pockets like jeans and out in the wild. My 920 appears to have discolored when compared to my other cyan accessories: Monster purity in ear headphones, wireless charging plate, and Monster Purity HD on-ear headset. I was thinking that the white 1020 might be the best way to go: Because with the white body and the black lens circle, combined with an official Nokia gel case, just about any case color combination with the black and white would look hot.

So aside from the cost of the 1020 being "high" (I know, not really considering what we get, but more than the average, competing phone), the biggest reasons I'm holding out on the 1020 is to see what happens in the fall with GDR3 devices AND the lack of color for the 1020.

I have a red 920 today, and I love it. If there was a matte (since yellow is also matte), red 1020 option this fall... oh hell yeah, baby-- it's on! But if it were red and glossy, I'd probably stick with black or wait to see what other device option comes next.

Stormtrooper White for me. Can't wait for the camera grip and wireless charger to add more armor to this beast! Bring it Nokia!

Why couldn't this be a red Lumia 920 running amber and gdr2. The pro camera factor is ruled out coz pro camera is coming to the 920

The Nokia logo is placed in the middle of the 1020. All previous Lumias have had the Nokia logo placed on the side.

Why not for all country ?

Look 32 GB is not enough room on the phone. They are getting a 64GB version in Europe. I'm waiting until then. AT&T do you hear me? :-)

I want the RED ONE!! I will not be updating my 920 for the 1020 if it dose not come out in red

CYANCYANCYANCYAN PLEASE CYAN

I may wait for red - if it is going to come. I'd also go for matte cyan but, mostly for Pantone 376c http://www.bing.com/images/search?q=pantone+376c&qpvt=pantone+376c&FORM=IGRE#a

Like it in red but yellow just brings it out more. Im still getting the yellow one lol

Can't believe there is no CYAN option. Shame on you, Nokia. lol.

Yeah, just ordered the black 1020. I'd settle for a cyan wireless charging cover though...