Rumored budget Surface may pack Intel Pentium processors
Going with Intel's Pentium line could help hit the rumored $400 price point.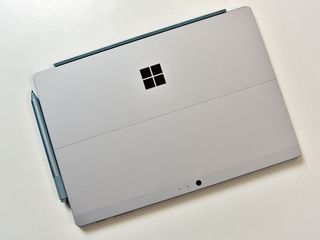 Microsoft is widely rumored to be cooking up a budget Surface tablet meant to compete with Apple's iPad. Now, we may have a clue as to how the company will hit its reported $400 entry point: Intel's Pentium processors.
German blog WinFuture.de reports that the budget Surface will pack Intel's Pentium Silver N5000 chip on the low end, with options for either a Pentium Gold 4410Y or Pentium Gold 4415Y chip for those willing to shell out a little more cash. Pentium chips would mean the device will be substantially less powerful than its Core i5 and i7-powered brethren, but they're also much cheaper, allowing Microsoft to keep costs low while still providing enough performance for tasks like browsing the web and working with Microsoft Office.
Initial rumors of a low-cost Surface device surfaced earlier this year, pointing toward a device with a 10-inch screen, USB-C connectivity, and a budget price tag. An LTE option is also said to be on the table, and the design will be slightly different with rounded corners similar to the iPad.
Microsoft has previously attempted to capture the market for a budget Surface device, releasing the Surface 3 in 2015. However, there's been no replacement device since, leaving only the Surface Pro lineup for anyone looking to pick up a Microsoft tablet. There's no indication yet of when we may see the rumored Surface launch, but it did clear the FCC earlier this week, so it may not be too far off.
Get the Windows Central Newsletter
All the latest news, reviews, and guides for Windows and Xbox diehards.
Dan Thorp-Lancaster is the former Editor-in-Chief of Windows Central. He began working with Windows Central, Android Central, and iMore as a news writer in 2014 and is obsessed with tech of all sorts. You can follow Dan on Twitter @DthorpL and Instagram @heyitsdtl.
Pentium Gold (kaby lake) is solid buy even intel 610/615 series graphics

no, 4410Y/ 4415Y is very poor.
N5000 is much stronger, even faster than Core M3 7Y30, look for benchmarks

Yeah, I just had a look at NotebookCheck the N5000 is surprisingly powerful for a budget chip, probably helps that it is quad core, whereas the 4410/5Y chips are only dual core.

CPUBenchmarks.net has N5000 at 2500 vs M3 7Y30 at 3500. 2500 would be too slow IMO. 7Y30 is about the minimum usable speed for me.

I'm tired of the low quality of "budget" tablets but this one sounds pretty attractive.

This is definitely one to get
possibly 1080 P plus resolution😊
pen support
speaker as good as the surface 3 or better
good web cams
possible fingerprint reader on the type cover
bonus newer LTE option

if they releasing budget surface , I would suggest Ryzen 3 2200G or Ryzen 5 2400G processors but given Microsoft and Intel have that commitment regarding Surface processors I doubt that would happen

I believe that could be a better bet than using Intel Pentium processor *shudders

Have you compared a 2017 Pentium N4200 with the Surface Pro 3 (Core i5 model i5-4300U) ? You'd be surprised that Pentium is better (about 15% in CPU and about 50% in GPU) and we're talking about one of the most popular Surface devices Microsoft sold in the last 5 years.

That's really good to know. I know current Pentiums are fast, but it beats previous mobile i5 is really good.

I agree. AMD have considerably better iGPUe, especially at the low and mid range, and you can likely get more cores that perform better for the same or less price. I'm interested to know what kind of storage they will use. Budget devices often use eMMC, which is dog slow. Also, RAM capacity. I guess I'd never buy this since it would have specs worse than an iPad running Windows 10, which isn't a great combination.

It would have to be U-series, not G. E.g. 2500U. And while I too would like that, it seems AMD still has some work to do on the driver side to make low power situations better (e.g. watching video is still keeping most of the GPU awake even if only the decoder is needed).

Hahahaha 65w TDP 46W cTDP in a 10" Tablet. You'll need oven mitts and tongs.
The Pentiums in question are 6W. Know your surroundings grasshopper.

This is a big sign that Microsoft doesn't believe in WoA. Why in the world would this device not be running their new software and SoC? That platform was designed exactly for this form factor! Microsoft has no faith in their products, why should we?

This device is not against windows on ARM at all
its target at different segment of users school/
consumer. app compatibility with ARM 835 it's not quite there for all types of the different scenarios

It is never going to get their if Microsoft treats like a second class citizen. With this sort of commitment, it is only a matter of time before it is WoA is EoL.

No no Microsoft and Qualcomm are working hard
To improve things going forward Snapdragon 850/1000 for desktop. Also Arm 64 bit support

Actions speak louder than words. Microsoft already has a credibility issue when it comes to these things. This makes it look worse.

This time, I disagree. The budget Surface will come with Windows 10 Professional, this is a device that will get better performance than the Surface Pro 3 (Intel Core i3) and a slightly less performance than the MacBook 12 2018 core M3 model " I can't wait when this tablet gets launched and official review benchmarks show how a $400 device can be faster than a $999 ARM device made by HP
I don't have anything against Windows ARM, but when its about performance, Intel is the winner here.

Microsoft finally releases their new small/low power tablet platform, and not even 2 months later release a small/low power Surface tablet reference device using their old platform. You don't see the issue here. If WoA is supposed to be the future, why isn't Microsoft treating it that way. At least have a WoA option. It is only a matter of time before WoA is "not our focus right now". Imagine if Google announced their new tablet platform, Fuschia or whatever, then two months later their new Pixel tablet is released running Android. It would be embarrassing, just like it is here with Microsoft.

Because there is a conflict of offering a below 400$ device and using an advanced Snapdragon SoC like 845/950. So they went with the budget option of using Pentium SoC, which Intel sells for a bargain. Of course these Intel devices do not play in the same performance league as the Snapdragons but they are also significantly cheaper.

I am sure these Pentiums out perform the SD850, especially since they wouldn't require emulation. I assume they are similar prices too. It is just weird that Microsoft wouldn't be pushing thier new platform they claim is the future. At least making it an option.

Lol, check the benchmarks and come back without such ridiculous statements. SD845 is about 2-3x as fast as both Pentiums. Of course under emulation Snapdragon 845 is slower, but thats not the point.

The ARM device isn't the problem. The mid range $400 i3/5 notebooks at Best Buy are the problem. $400 for Pentium CPU, slow storage, and likely awful RAM capacity is a raw deal. It's likely only going to be 1080p, as well.

Do $400 tablets exist that have better than 1080P displays? Because I've never seen one.

Isn't the iPad $329 and very high resolution?

Actually, yeah, you're correct. Man, iPad's got REALLY cheap. Oh, I know why, they haven't updated the 9.7 inch model.

1080p on a 10inch tablet is fine... The whole "retina display" hype is BS. I had a S3 which had the same display and you would be hard pressed to see the difference in everyday use.

Nope, N5000 has better performance than Core M3 7Y30, look for benchmarks

Except of course that the used Intel Pentium SoCs here are way slower than the Snapdragon 845 SoCs. You can only win with this turds, if you let the Snapdragon run emulation.

This is a budget device and performance wise way below the Windows on ARM devices with Snapdragon SoCs.

Snapdragon performance is terrible on Windows. Very poorly reviewed. Is this really lower performance? Very bad choice if so and even more reason Microsoft should be pushing the ARM platform.

Snapdragons are quite fast under Windows - except when you run emulation. Just to get this out of the way. CPU performance wise both Pentium CPUs have a CPU Geekbench score of 2000(single core)/3900(multicore score). Snapdragon 845 is 2500(single core)/8500(multicore) - that is in a mobile handset form factor. Snapdragon 950 for Tablets is about 10% faster. GPU performance of Snapdragon 845 is close to x3 as high as the Gemini Lake version. In summary Snapdragon 845 SoCs would be 2-3x as fast as these Pentiums. In fact a Snapdragon 845/950 is currently the only way to get the performance of 15W actively cooled CPU into a passively cooled device with <5W TDP.

Yeah, I have some hands on with it. Performed fine. Just weird that Microsoft wouldn't be pushing it harder. If the Pentium performance is that bad, it really doesn't make sense. Emulation is what really matters, why else would you run Windows if not for legacy apps?

Well good question. With more WoA devices - and cheaper ones - there would be more incentive to compile native. So i do think it is a mistake from Microsoft to release an Intel device in the <5W TDP category.
Just finished compiling SNES9x for Win32 ARM64 - running now 60fps while using 20% of the CPU. The emulated x86 version was <60fps with sound issues.

that sounds pretty lame. I want qualcomm

That's already launched, its called Envy X2 and here's what you'd get
better build quality
better battery life
better display
While Surface Products, always been good on that, this will be an exception, since its target for emerging markets or professionals that need a working tool at a budget price.

Will the HP be better build quality than a Surface? The $999 X2 is really nice, but maybe not $329 iPad nice. The $400 Surface will likely be in the same ballpark as the iPad.

lol ur comparing 1000€device with 400€. Man are u serious?

*wildly overpriced €1000 device

Agreed. If not power, then battery life. But not having either is the worst of both worlds.

Depends on what your expectations are
remember this is targeted at k-12 schools
/ normal consumers
if you're looking for more power the Pentium gold offering
good for everyday tasks To handle a little more demanding load tasks. As for power I think we will have to wait until it actually is shown
but the 8 to 10 under a variable of conditions I think that's a solid offering plus fast charging.

K-12 is already majority Chromebooks in the States. WoA would be sufficiently capable for them.

Schools use a wide range of programs And services
That ARM could have conflict with at this time.
also even the Asus novago start at 599$
Till ARM chips improve to the point where we say the 600 series support i doubt we'll see any 400$ devices anytime soon

Again, Chromebooks are working for them. Why wouldn't WoA?

again you are wrong ***hole. chromebooks doesn't exists in asia at all and not to mention only slightly popular is US.

In education, the market we are talking about, Chromebooks are easily the majority of devices sold. They were a game changer for schools. Minimal IT required, each child gets a login, and Google has all the services they need for daily tasks. Do you pay any attention to the things you are talking about?

i mean WTF? Why has cheapest one the strongest CPU ? N5000 has better score in benchmarks than Core M. And 4415Y is so poor.

Just don't release it with eMMC.

Better off buying the Surface Laptop. Intel Core i5, 4GB RAM, 128GB for only $690.

Better off buying some other laptop at that price. You could get AMD 2500U, 8GB RAM and 256GB storage for that money, at least.

PENTIUMs have got to go. Yesterdays tech sold today. We need a Windows dual camera AR tablet. Third party like HP, Samsung, Lenovo, and Acer already have the tech from VR. Now make a seriously good AR win tablet. Why should I have to buy an IPad to do AR???

I just sold my Surrface Pro 2017 m3 mainly because of poor performance. I used to have the Surface non-Pro 3 as well and that had terrible performance as well. I was sort of looking forward to this Surface 3 successor, but with these CPUs and storage (probably eMMC) with even lower performance than an m3... I can only shake my head. This will hurt the Surface brand more than benefit it.

Kinda agree. My SP 2017 i5/8gb imo should be the minimum for students. From time to time it too even lags by up to 5 seconds when I type in Edge, sometimes struggles to register touchpad gestures, occasionally has horrible palm rejection when using pen input, I can keep going.
MS needs to understand performance matters, a fluid and solid experience psychologically makes learning better, that's why iPad is so great for students.
With these rumored specs, MS cannot compete with the iPad unless they release it with an iteration of Windows 10 that is literally bare bones and takes up the most minimal amount of resources, and when I say barebones, I mean even less than Windows S!

Ah the attack of the technophiles. The Pentium processors coupled with a 1080p display and pen support would make an attractive alternative to Chrome books and iPads for the vast majority... Who are already picking those over PC.

Will this device have a SD card slot and can apps be installed to it?

:))) junk specs. I'll never buy such crap.

Wondering if the Surface 3 accessories (keyboard cover and pen) will work with this new tablet -- hope so