Microsoft's rumored budget Surface appears to have passed through the FCC
After paying a visit to the FCC, Microsoft's rumored budget Surface could be closer to reality.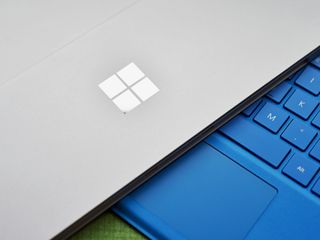 (Image credit: Daniel Rubino / Windows Central)
Microsoft earlier this year was reported to be working on a smaller, budget Surface tablet, with a release pegged for the second half of this year. And according to a new FCC filing, first spotted by WinFuture.de, the device may be a step closer to becoming reality.
The documents themselves don't offer a look at the new Surface, but they do mention a "portable computing device" called Model 1824. The filing also mentions a 24-watt power supply, which is smaller than the current 36-watt unit used with the latest Surface Pro. That provides a clue that what we're looking at is a device positioned to sit below the Surface Pro line with less power-hungry hardware.
According to the initial report on the device from Bloomberg, Microsoft is specifically looking to position this new Surface against the iPad. Specifically, the device is said to sport a 10-inch screen, USB-C connectivity, and a $400 price tag.
On the inside,the device is said to be powered by an Intel processor. It's not clear which processors Microsoft will go with, but Intel's M-series would make sense for targeting a lower price point. Additionally, an LTE model is expected for staying connected while on the go.
A cheaper, smaller Surface could succeed in tapping the market of those who are looking for a new tablet, but may be turned off by the high price tag of the current Surface line. Microsoft had a whack at this strategy before with the Surface 3, but that device launched in 2015 and there's been no replacement since. There's no indication of when we may see this budget Surface launch, but clearing the FCC is a sign that it may be sooner rather than later.
Windows Central Newsletter
Get the best of Windows Central in your inbox, every day!
Dan Thorp-Lancaster is the former Editor-in-Chief of Windows Central. He began working with Windows Central, Android Central, and iMore as a news writer in 2014 and is obsessed with tech of all sorts. You can follow Dan on Twitter @DthorpL and Instagram @heyitsdtl.
For that price we can expect Intel Atom performance no always on function and mediocre battery life.

where are you getting that information from.
Core M level CPU/LTE option by Qualcomm
and probably will have support for fast charging over USB-C

The cheapest Core M cpu has a supplier cost of $281. There is no way that chip is going into a $400 tablet. I'm sure a nice Celeron processor will be more than sufficient for these devices, since they will be largely targeted at schools.

Where do you get the data that the lowest M is $281? Also we do not know that the state of intel is right now. Maybe they have a Marketing reason? Do they have a surplus of M stock that they have not been able to sell? Do they see this as a message to Apple/QUALCOMM to let them know that they are not going to give up the market share that they have. Intel would love to stop WoA from becoming big, if they can keep WoA from succeeding they can continue with the WINTEL that they have enjoyed for years. I guess I am saying that Intel may have more than just profit in mind. Like giving a price competitive alternative to an WoA now and stop/slow the loss of market share.

The pricing can be found here: https://ark.intel.com/products/88198/Intel-Core-m3-6Y30-Processor-4M-Cac... The Core M line has been historically reserved for price points higher than $400. The Surface 3 was released at $500 and contained an Atom processor. I think it only makes sense that they would still use a budget CPU, especially now that the rumored tablet price will be $100 cheaper. I imagine it will be similar to this: https://ark.intel.com/products/128983/Intel-Celeron-N4100-Processor-4M-C... Something along those lines will be just fine for word processing and basic web browsing, which is understandable given its student focus. Obviously with this chip, Intel will still get the business and keep it out of the arms of Qualcomm.

Nobody pays that price. Although I wouldn't be surprised if it is the N4100.

I have a N3700 in my NAS. The NAS has Windows Storage Server on it. I must say this is fast and not energy hungry solution. I run KODI on it and that also works well. I have a 4 bay enclosure next to it. Nowadays I run KODI from my XBox One X. I make NFS shares with Windows Storage Server so everything works great now. Whats the point for all this? If a N3700 can run well in a Server it can run great in a Surface Tablet. The sweet splot will be the price :-)

Your comment doesn't add up... The Surface 3 started at that price with an Atom chip, instant on, and terrific battery life... Every chip Intel makes now is more powerful than previous Atom processors. IDK what you exspect, or don't exspect.

Does Intel make a chip that can meet that price point?

Rodney is just a whiny little ***** that is all novakkosanovic.

I'm thinking QUALCOMM SOC, it will still support 32bit applications, however 4GB ram would be the best minimum amount of ram required to keep those applications in a good state of functionality.

Hope, they won't do that. Atom is the worst thing ever from intel. Core M will be good but I doubt it can be priced like that, I use a Galaxy Book 10 with Core M, it works well but it was over 1k in Sydney

The entry level Surface Pro has a Core M and it's also in the 1k region.

In the US you can get the SP2017 M for USD599 in a sale on the MS Store, do you think that MS is losing money during a Sale? S3 at 400usd, 10 Inch, FHD, 4GB ram and a core M (maybe 7 generation) make sense.

Well, the actual Surface Pro does have 44 W power supply. I know because we have one and talked about that with the technical support if we can use this to charge SP3 and vice versa

Other than size, i am curious to see if they are any new design elements on this. Will they keep the hinge etc. With a lower price point, what are they cutting compared to SP?

10,1 or 10,8 screen ???? I love my Surface 3 with 10,8 good size, sorry my language, from denmark

Probably will still retain its 10.8 inch size

10.8 would be fine … if the border gets smaller.

Hope it's 10.1, that means free Office 365.

Model 1824? Meaning Surface tablet in year 2018 with 24W Power Supply.

What does model 1796 mean then?

released in 2017 with a 96W power supply?

This is hopefully going to make HP adopt reasonable prices for their WoA tablet. They need to cut it in half.

Everything is fast-tracked except for Andromeda which is believed to have started back in 2016. It only proves that this device is much more complex and different from the rest of the Surface or mobile in general, guess I have to be patient for a couple of months or more. I pray to God that it doesn't get cancelled. 🤞🏼

Already cancelled ray tiger.

Got delayed because it's software isn't quite ready yet.

If you read Mary Jo's article it is more than just delayed. They are killing the current design too. It might come back much larger and no longer pocketable.

It's not like she has a 100% track record on these rumors. Until Dan says it's cancelled, I will still believe it's coming this year.

Dan did almost say it was cancelled, not quite but he did say there is a good chance it might be.

Two days ago Dan said he expected an october release...

Yes I did it make any sense.

So we can get another lower end Surface that for the last 2 years they thought was a failure but Andromeda..nope can't do that. Need to cancel that 1.

There's no way it would ever, EVER live up to the hype. Doomed before it hit the gate.

Intel is selling 10nm chips and you can buy devices with these 10 nm chips. I am sure Intel can design a suitable 10nm chip to power a decent device. The question is can Intel produce the 10nm chips with a suitable yield. Maybe they can provide the chip is not too complex. meaning GPU and cores are "simple". Given that, Intel may deliver a suitable chip. What would be the power demands of the screen? I have read that the screen is the big power drain. Everything else could be less power hungry (memory, bus etc.).

Too bad it's not the Andromeda...

This device will be a nice starter option but needs an Always Connected version for those who can afford it.

Too late. The tablet market has been on life support for the past few years. A relatively high end "budget" tablet will hardly inject new life into a dead market. It's the FireHD 10 that is the competition, not Apple. And there is a biiiiiiiig difference between $149 and $399 - most people that want a tablet in that price range can easily get a convertible entry level laptop that does the same and more. I don't see who this device should appeal to.

I'd prefer a $450, 10 inch Surface Pro

Just an out-there, left-field thought: Could this FCC approved device be Andromeda? ie. 10" tablet when unfolded, low cost, etc... Imagine how surprisingly disruptive to the market THAT would be...

The kind of optimism I love :) I hope so too.

I wish this was about Andromeda. All I'm seeing lately is that it is dead which is truly disappointing. :(

There are rumours that this tablet will come with Intel Pentium 4415Y, this is better than ASUS my 2 in 1 which comes with Intel Pentium N4200 so expect to get much better performance than the Surface Pro 3 (Core i5 model) for $400