A quick look at Running Mate and a call for beta testers on Windows Phone 8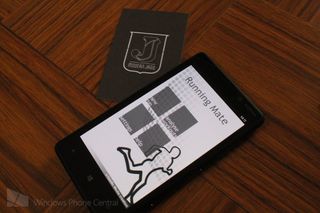 Windows Phone owners whom consider themselves running enthusiasts have plenty of options when it comes to apps to track your run, today we're going to turn the spotlight on a popular indie effort: Running Mate.
Running Mate has been around the Windows Phone ecosystem for some time now, originally developer for Windows Phone 7 by developer Nabeel Moghal (find him on twitter here), the app you'll currently find on the marketplace is fully compatible with all version of the Windows Phone operating system. Read on for an overview of features as well as some information on the complete overhaul planned for the Windows Phone 8 version.
It's all about the runner
I met Nabeel recently at a Windows Phone developer event in London and it's clear that he has spent some time pouring over the details of his running companion. When you first launch the app you're given the option to jump straight into the Run or to spend some time configuring the settings, which we highly recommend you do first.
Running Mate allows each user to input some key information to be stored on the device (more about that later) to help analyse your workouts after you have finished a session. You'll also find the option to enable a live tile service and reminders for your runs, as well as configure splits based on distance or time. These split options help manage the intensity of your run, notifying you as either the distance or time elapses.
Perhaps one of the most useful features though is to configure the sensitivity of the app. Nabeel has built in what he calls a noise filtering engine designed to not only configure the sensitivity in metres of the GPS sensor in your device, but also the speed threshold based on your estimate top speed. Essentially by setting the speed to a reasonable pace for your run (the default is 25km/hr) the app knows not to register jumps in GPS position as assisted-GPS and other less reliable position methods kick in.
Once you're in the run you'll see a very neatly laid out interface showing your route as you run, current and average speed & pace, the time you have been running for and the calories you're estimated to have burned. It's a simple and easy to navigate user interface, with a few interesting options such as sharing the run with your friends thrown in to expand functionality.
Where Running Mate really finds an audience though is that all information regarding the user and their runs is kept on the device rather than being uploaded to a larger service. For those of you who are concerned about privacy and the potential of corporations profiting from your data, this will no doubt be music to your ears.
Coming soon, and a request for beta testers
We've looked at the current Windows Phone 7 version here, but Running Mate will be bringing some very interesting new features for the next update, which we understand to be a complete rewrite of the app for Windows Phone 8.
You can head over to Nabeel's own blog for the full details of the new features and to sign up as a beta tester of this new version, but here are a few headline features for those who aren't yet convinced:
Background run tracking – No need to keep the app open under your lock screen to track the run
Medals earned for achievements as you run
Full offline Nokia maps support
New user interface design
This is looking to be a beta that fitness fanatics shouldn't miss, so make sure you follow the instructions at the blog link above.
Of course if you don't want to beta test you can still download the current app right here from the Store, which we can expect the be fully upgraded soon. It goes for £1.49/$1.99 with a free trial of 5 runs to wear it in, happy running folks!
Windows Central Newsletter
Get the best of Windows Central in in your inbox, every day!
That looks really nice. Almost makes me wish I ran but I prefer swimming.

Maybe my girlfriend will like it. Certainly recommending.

Been meaning to get back into running lately. This app seems like it would be a perfect companion app on my Lumia. Does it allow music to be played though?

Yes, probably the second most important feature in a running app - music management. I'm yet to find a single app that does it better than something like RunKeeper on ios...

Endomondo app do it very well and....it is free! check it out: http://www.windowsphone.com/en-us/store/app/endomondo-sports-tracker/6cd31275-c5dd-df11-a844-00237de2db9e

bye

You can play music through the usual system music player and run this app. Certainly the Windows Phone 8 version we mention will let you keep running with the app in the background so you'll be able to switch to the music player and control your music then jump back into the app if you need to :)

Thanks for the reply guys :) Definitely will be checking this app out. The only other running app that I have ever used on WP was Zombies, Run!

Cool, thanks Jay. I spent the best part of Saturday sorting out my music and creating playlists in WMP, at least now I can sync all that to my L920. The only thing I question now, does music get paused/silenced when there are audible alerts (if there are any audile alerts). I'm currently using Caledos Runner and bought the 'media player' extension for it, it's okay but nothing seems to compare to what I could do in RunKeeper on ios YEARS ago...
I'll check this app out but I fear my continued quest for a full-featured running app will continue for some time to come!

Great Article Jay did he talk about working on anything new after the WP8 version is out

Is there a cycling feature??

What cloud-based fitness tracking service does this plug into? Healthgraph? MyFitnessPal? FitBit? That's the most important detail, in my opinion.

I don't think any. It's all new.

Would be interesting if it could interact with Fitbit

Yeah, is there any kind of import in gpx or smth like that?

I'd like it to sync to runkeeper

Tried it today for the first time. Nice app, good map and data display but I'd really like to be able to sync it with my online running/biking on strava.com
I've been tracking runs and rides for years and need an app that can add data to the already-existing log.
Windows Central Newsletter
Thank you for signing up to Windows Central. You will receive a verification email shortly.
There was a problem. Please refresh the page and try again.