Russian social network VK will bring its gaming platform to Windows Phone this summer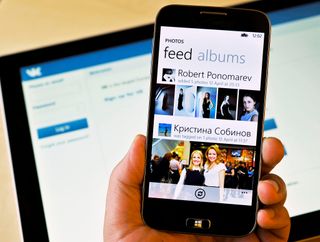 Popular Russian social network VK will soon launch their gaming platform for Windows Phone devices. The platform is currently in a closed beta, on Android and iOS, but will reportedly make its way to Windows Phone when it has its full launch later this summer.
Games built with VK will allow players to connect with their friends through the VKontakte social network. This allows you to invite friends to games, compare rankings, and more.
Windows Phone has recently seen its popularity in Russia rise. Recent data suggests that Microsoft's mobile operating system has surpassed Apple's iOS to become the second-most popular mobile platform in the country.
Source: OneTile (Translated from Russian)
Windows Central Newsletter
Get the best of Windows Central in in your inbox, every day!
Hmmm, just started using VK. Their native app is pretty awesome. Too bad im in the US and nobody I know uses it lol. Great for music discovery tho!!!

U say that too bad you stay in US whereas others don't get those US only benefits.

No need to have a fit over it.

Same here! But soon after I realized that its the users uploading the copyrighted music onto the site. The user's name is the value next to the song title inside the brackets. VK is apparently a copy of Facebook, but I like its privacy settings page better than Facebook. It's easier to use and it allows you to absolutely hide specific people on your friends list. Anyway, thanks to VK, I'm starting to learn how to read their Cyrillic alphabet. I guess I'm going to learn Russian soon too!

Yup but you cant hide all of your friends if they are more than 30.

Really? Thanks for that info. I never had to hide 30 so I never encountered this.

Off topic: What the hell is going on with the Facebook app it's pretty useless and haven't been updated since 5/5/15 it's kinda disappointing...

Agreed. No matter how many updates they make, I just won't be able to see comment replies, come back to the main screen from any post, we have to exit the app and open it again to do so, or visit someone's profile and tap the home button, which isn't available elsewhere, nor can I see my notifications if I am in any place but the home. Facebook app has a lack of obvious utilities, as well as the windows phone. Microsoft loves to make incomplete stuff.

Just wait a bit more. 5-10 years.

VK is a social network? I thought was a video streaming service. LOL

Same here. It's like the Russian Facebook.

it is a social network but with many features and you are free to upload usually what you want. People uses it because it's easy not to get in trouble if you upload content, I have watched some episodes through it, from spanish to english and it's a good service for that. It has also has music, because you can upload anything so you search and you get like many songs you add to your playlists and such, like grooveshark but better because VK won't close anytime soon. of course they also have the good online games so it's nice they will bring that. It's a great social network, but it's Russian, and you know, Russian is evil according to CNN and Fox news.

It's a great social network, but it's Russian, and you know, Russian is evil according to CNN and Fox news.

Why? I'm from Russia and I also read your newsletter, so I can say that your news is not telling the truth about Russia. Russia is a good country and We want to cooperate and make friends with you. The peace and friendship must be on the Earth. Together we are stronger:) And in IT there is no place for policy!:) Sorry for my English)

You've made friends with those countries near you, right

Yes, Ukraine, Byelorussia, Kazakhstan, etc. :) Also we have good cooperation and friendship with the BRICS countries

Let's forget about politics, we're in the internet where everyone is equal regardless his/her nation, skin color and other factors which we did not choose when we were born. And also this is a tech site! :)

Totally agree! This is IT site and this is not place for politics:)

Well, you cannot entirely forget about politics. As VK is entirely under control of the Kremlin it is dangerous as a Russian or of course nationals of countries that Russia invaded to use VK. The user should be aware of the dangers of any social network they are using. Of course this not only applies to Russian social media, but in general. The internet does not forget.

In much the same way that the dozens of countries invaded by the US over the years should avoid Facebook?

If you only knew a little bit about world politics and about the difference of these armed conflicts you wouldn't make such a remark. Anyways, I said users in general need to be aware of what they say on social networks. People like common thieves to credit card frauds are reading social networks too.

Everyone knows about the evils of the US and the West...their brutality and aggression is clear for everyone to see... Indeed the internet never forgets...:) Posted via the Windows Phone Central App for Android

Vk has a ton of sexy Russian women :* :* :*
They have pretty feet for footjob

Enough said. Downloading VK and starting to learn Russian.

Dudes no foul language pls, but it's all welcome development to the Windows Eco platform

windows 10 mobile 10149 hands on video????

What kind of games they got?

VK is better than Facebook.

I only see hot girls in VK :P

VK is an amazing app to find new music and music you want to find, I live in the UK and find it a fantastic app. You don't need to be in Russia to use irs amazing features. Such a welcomed app for windows phone, and they update it regularly

And yet they say we're a minority... 2nd most used OS in the biggest country destroys that argument imo

Я определенно буду использовать VK много раз
Спасибо Daniel

Tons of stuff in VK, I even watch my fave series like Game of thrones there. And of course the app is at least the fastest app around. Спасибо Daniel!

VK is amazing. I met my language buddy at VK. I'm learning Russian as a second language from Preply.com ( http://preply.com/en/russian-by-skype ) and I needed a language buddy for practice because I don't have Russian-speaking friends to practice with. I discovered VK and I have about 5 language buddies. :)
Windows Central Newsletter
Thank you for signing up to Windows Central. You will receive a verification email shortly.
There was a problem. Please refresh the page and try again.