Salesforce claims it would have paid even more for LinkedIn than Microsoft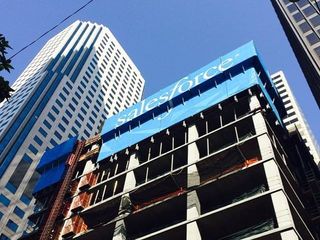 It looks like Salesforce really, really wanted to buy LinkedIn. A new regulatory filing from the business-themed social network stated that its Transactions Committee discussed an email on July 7 from Salesforce CEO Marc Benioff. His email that the company would have paid even more for LinkedIn than the $26.2 billion all-cash offer that was accepted from Microsoft in June.
Microsoft and Salesforce engaged in a bidding war over LinkedIn earlier this year that caused Microsoft's first offer to go up by 22% for the price tag. In the filing made by LinkedIn to the U.S. Securities and Exchange Commission, (via Recode), the company stated:
In the end, the committee determined that Microsoft's all-cash offer was a safer deal to make than the one from Salesforce. The acquisition is expected to close by the end of 2016, and LinkedIn's shareholders will vote to approve the deal on Aug. 19. If for some reason, the deal does not close, LinkedIn will be required to pay a termination fee of $725 million to Microsoft.
Google and Facebook were also actively bidding for LinkedIn according to Recode.
While consumers do not see the value in LinkedIn it sure seems all the big players in Silicon Valley wanted it badly. Perhaps Microsoft's $26B play is not so crazy after all.
Windows Central Newsletter
Get the best of Windows Central in your inbox, every day!
It almost seems like Microsoft knows what they are doing when it comes to enterprise, acquisitions and more despite the dozens of part-time CEOs here in comments. And so help me if I see one of you in comments saying they should have bought Snapchat or Spotify instead it's an insta-ban :P

I hope they have something in 2017 to save W10M.. That's all. :) UWP works !! And its awesome. I'm loving it. Add on - Being such a huge company with a lot of money why can't they do something like giving away budget Lumia's for free with a Surface Pro or an HP, Dell, etc ? Or maybe just give them for a really good and meaningful discount instead of lame buy one get one free only in a few countries.. I'm not commenting just for the sake of it. :)

If the first thing that comes to your mind when it comes to this acquisition is a freaking W10M app, then you obviously have no idea what the deal is about and what it represents and why they paid $26 billion.

Hey, I never said anything about this acquisition !! I'm happy as long as things work out. Calm down !! Also what I meant was that the Universal app system is brilliant and I just hope that the Mobile version of Windows 10 makes it till the end of 2017 and enjoy the UWP success with more people using them.

You see the idea is MS wants to keep people ENGAGED with Windows products, how will a cheap Lumia phone keep people engaged. Rather make sure its services reach everyone. Then eventually windows devices will enjoy being the first party to offer the experience.

Alright then. Ignore the budget Lumia part.. They should have offers like giving a good discount if you buy so and so Windows 10 laptop.. It would still help !

Think about it, what makes people download chrome? Gdrive, docs, gmail? Why people buy chromebook or Android? A reversal, why people use windows? Office, games, application, chrome? Why people buy surface, Win 10 mobile? Add linked in, azure, Cortana, bing, OneDrive should give you an answer whether window mobile need help or not.

I'm pretty sure this is called dumping

That's what I'm doing as I read this.

But but Snapchat:( jk I got the app on my S7 edge and never use it lol Posted via the Windows Central App for Android

They should have bought Insta-ban.... That sounds like a gold mine

It takes one to know one, so it's said. I'd love to know what corporations Dan is the CEO of, or which boards consult him for advice.

Daniel reports on the news coming out of Microsoft and other news that relates to Microsoft. How does that make him a pretend part time CEO? He does a great job presenting the news, our shared aspirations for the platform, and acknowledging uncertainty when it exists. Hey, we all think we know better than top execs (or politicians), and occasionally, we're right and they're wrong. It's surprisingly difficult to repeatedly make the right decisions, especially when the feedback to learn if they were right or wrong often takes years. Really smart people get it wrong a lot, in fact seemingly more often than only moderately smart people. I think good strategic planning and decision-making together comprise a talent -- Strategic Vision -- like playing music, professional sports, or painting, all are talents than exist outside of the conventional definitions of intelligence. Yes they also require training and practice (skills that can be taught) and sufficient intelligence to use the ability, but no amount of training can give strategic vision to someone without a natural gift for it (see Steve Jobs compared with Tim Cook, and Cook had a lot more training at it than Jobs). I would also say that nearly everyone who thinks they know better is generally wrong. Not always wrong. A broken clock is right twice a day and all that, but generally wrong.

Im just hoping for a better app for us wp users instead of that garbage thats in store now.

Is that taking into account the more than $13 billion (b as in oh boy) they wrote off for aQuantive and Nokia?

Buy Tidal streaming service before Apple does and combine it with Groove Music

Should have bought both Snapchat and Spotify, and combined them into Snapify or Spotchat.

I think it is one of the best deals they ever made. If it was not LinkedIn's stock value to drop so low they would never had a chance to buy it in the first place and they had to offer the lowest irresistible price (I.e. the stock value exactly 3 months ago).

According to you Daniel. You are just a writer. You are no ceo of anything important. Your opnion is one out off Thousands just like most of us.

Actually his opinion carries a bit more weight than us readers commenting for a few reasons. One reason is that this is his full-time job so he does a bit more research. Another reason is because Daniel deals with internal sources at Microsoft and has much more access to information that is not available to myself and everyone else posting comments here.

You know all readers than? Like I said, it's just a opinion. We all have to wait what LinkedIn will be in the future. Nokia was also a mayor buy done by the big shots at Microsoft and we all know where it ended. No need to be a ceo..... to have an opinion.

Except the Nokia acquisition and the LinkedIn acquisition have absolutely zero in common so I don't know why you compare them.

For you they have nothing common but for some people, like investors, it doesn't matter what you buy, they only care what money it will bring. They buy Microsoft shares low and sell high with profit. If you don't understand that, i can't help you with that. Microsoft is a business. They only care about making money, don't give **** about people.

Its all about acquisition viability. The nokia acquisition bought factories, plants, supplier contracts along with the staff plus all the associated over heads. Linkedin in comparison is just staff, offices and servers

Microsoft already has all of those... Main reason is Data..

There's a difference between an opinion and an "informed opinion." As already stated, Dan knows more than most, if not all of the readership, about the internal functions of MS because his job demands it. If he didn't, I don't think he'd be doing this let alone be running a successful site. If you want to claim that you're as informed as Dan and co. or have access to the same information or more than Dan, then go ahead, but then I'm sure you can figure out what my next question would be if that's the case. If you really believe what you say about Dan's opinion having no more merit than your own, then start your own tech site or be a tech writer. Otherwise, you're just wasting your time here.

Daniel deals with internal sources at Microsoft and has much more access to information that is not available to myself and everyone else posting comments here. That information is called 'Press Releases' that are fired off to huge swathes of the media (often indiscriminately). Sometimes press released are 'embargoed' meaning they are not to be published until a stated time. Most large organisations will have one. Just all the PR department of a large company and ask to be on their distribution list. Tell them your're a freelance journalist. What Daniel does isn't magic. He writes well, but it's not magic.

Did Daniel say his comment was more important than yours? Please go back and reread his comments. He was saying all these part time CEO's commenting on the acquisition didn't know what they were talking about. That was because Salesforce (another big company in the business) was willing to pay even more for Linkedin. Daniel was saying these two CEO's (Nadella and Benioff) have more credentials and experience to judge Linkedin's value and business synergy than​ you and all those part time CEO's. Are you denying that?

And CEOs never make a total mess of things do they? Repeatedly. Or ignore the advice of other board members... Ever heard of Steve Ballmer? The great thing about being a part-time CEO is that you can see things from a different perspective from the highly paid, self-important, full-time CEO. Sure they have business experience and a lot of money. But that doesn't make them a GOOD CEO.

Agreed Ebuk. Ballmer made a fatal flaw with regards to iphones and their relevancy. Nutella takes it to a whole new level of stupid moves. They will come back to bite him on the rear end. MS is only making money on subscription services now. Which is what he wants. However, the more people get ticked at the product, which many are...the more (like myself will speak with my wallet, instead of the do nothing mantra that so many seem to have here), the quicker MS will see that everything is not rosey in windows land. I am now typing this from my new macbook, and again....the grass is greener on the other side! I cancelled all my MS subscription services. so that about 200-300 bucks a year from my household that NUTELLA wont get. I have one surface sold, and the other will be gone soon too. and then the new ipad pro will be rocking in our household. Cannot wait for that either. Apps working like they should, the proper aspect ratio for books, way lighter, faster, nicer screen. The only minus I think the ipad pro has is the keyboard system is not as good. Linkedin by microsoft.......sold at a discount price. Salesforce, just wait a year...you can buy it then for like pennies on the dollar from MS when they strip everyone from it. Just wait.....

Of course, there are some great CEOs, too.

Sure I will deny that. They don't no. They will need a lot advisors to set a price and then make a dissision.

I don't agree. Dan is the editor in chief of the most frequented Windows blog globally with a very engaged community. His opinion helps the rest of us make up ours. That's simply a part of journalism, where I believe bloggers belong anyway. So, despite you being technically correct that his opinion is one of thousands, it also carries the weight of thousands of opinions...
Not everyone is so opinionated that they never need a nudge from some one else to see, if they can identify themselves with the other person's thoughts out not.

Not sure why I reported this. Hard to use in browser... What is snap hat?

What are the thumbs up and thumbs down for ? That are below every post by a user

You're supposed to choose which one you want in your butt. I always choose a thumb up my butt, but someone else's thumb.

Bahaha.... tell it like it is Daniel ;) lots of part time billionaires in here too

Rubinho, it's too early to say they knew what they are doing. 26 billion is still a waste of resources even if Salesforce would've paid more.

This is so annoying! This is a big error, they paid such an overpriced tag. I always said, they should have bought Google instead of LinkedIn. I've heard it has a lot of potential in its mobile and search sector and would have big synergies with Bing and Windows Phone.

They can't afford Google. That, and neither company will be allowed to buy the other (including Apple), due to monopoly reasons.

Are YOU serious? of course they can't its pretty basic knowledge. You can't buy direct competitors. Otherwise Microsoft would have bought Nintendo or Sony a long time ago.

You should get basic understanding of sarcasm. Because my statement was full of it.

Well your sarcasm was pretty hard to recognize. maybe put a /sarcasm at the end next time?

Daniel, this comment is your best work ever at Windows Central.

Well you gotta admit that they deserve to be questioned. Nokia was probably the worst acquisition they've done. Skype is only now being used to its potential with Cortana and bot integration. (Might even argue it could have saved WP). They have done pretty much nothing with Sunrise, Acompli and Echo Lockscreen.

Lol. Part time CEOs indeed ;)

Though, why do I get the feeling that LinkedIn will ask Microsoft to increase its deal of 26 billion. Salesforce saying this now kinda looks like what Angbang did for the Marriott-Starwood Takeover .... ;) (conspiracy theory anyone ;))

Microsoft can then say no thanks and receive $725 million from Linkedin.

Realy? I think not. I seems to me only when LinkedIn will cancel the deal Microsoft will receive 725 million. Otherwise the guys at LinkedIn are realy stupid.

LinkedIn already considered the offer from Salesforce and they clearly didn't offer as much cash as Microsoft. They considered that safer and deal was reached soon after that

It was a stock + cash offer. It's not as simple as it sounds.

Looking forward to see how this develops, I use linkedin but not much...

They can still buy pokemon. They should. They would own the 2 most suited games for hololens and kids.

no way bcoz niantic is a google company, one of alphabet inc.

Incorrect. Posted via the Windows Central App for Android

It's a joint venture of Nintendo and other few, isn't it?

I love MS but if you are referring to the entire franchise then NO times infinity.

MS saw value in LinkedIn and had the cash to make it work. Since the company is focused on enterprise, it makes sense to buy into the leading site for networking professionals. Even those of us not interested in new employment opportunities find value in networking with other professionals. MS sees opportunity here, and I'm looking forward to see how their vision of it develops.

It's too late, dear Salesforce. Too late :D

oh my god they will kill linkedln app for wp8!!

Microsoft shoul have bought Google. I mean come on Satya, that's the most obvious thing! How is he still the CEO? -_-

Ok, now Microsoft needs to outbid Verizon on acquisition of Yahoo! And create a real dilemma for Google!

Better yet Microsoft should buy verizon... better for all in the USA

Fastest way to get rid of google would be for NUTELLA to purchase it. He will strip it to is underpinnings and just let it rot.

I hope they make something good out of it. Currently it is not a pro network, but a job seeking site for IT's. And the interface is highly illogical and buggy.

Yahoo went from Steve ballmers 40 billion to 5 billion so maybe just maybe linked in is not worth the price of admission Posted via the Windows Central App for Android

If you consider that Yahoos market cap is about equal to the value of its alibaba stake markets "think" yahoo is worth around $0. Alibaba is a bit overvalued already and Yahoos positioning as a market has-been means it had no where to go but down... Verizon's acquisition makes no sense and MS was right to stay away.

It wasn't MS that stayed away, it was Yahoo's managers that didn't want the deal. MS were ready to waste billions on Yahoo too. It was Yahoo's ego that didn't allow that to happen, and not Microsoft's business acumen.

That's true actually... MS does not and has not had a really CEO since Gates... Wish Allan Mulally was not retired... Then again while I am wishing for someone to make a come back I might as well wish Gates back into top spot at MS... Like that's going to happen. :(

I'm not so sure the linked in buy was a good move. I think in the long run tings won't be good. LinkedIn should have tried to stay independant. They have valuable personal data, amd now its being shoved to microsoft for money. Doesn't feel good. Time will tell.

Hopefully a much needed improvement comes to the lame app and maybe they could merge yammer and LinkedIn into one professional network

...and now you know why MS bought Linkedin.

Nadella paid 30 billion, in cash, for unprofitable business. There is no sugarcoating in it.

If Nadella pays (not paid because transaction has not been completed yet, but you can say agreed to pay) 30 billion, what happens to that 3.8 billion extra because the reported sale price was 26.2 billion? Are you that rich that you can just round up 26.2 billion to 30 billion?

I'd take this opportunity to sell it to them for a profit. Posted via the Windows Central App for Android

I just want to know the UWP 10 salesforce app is being released!

"vote to approve by Aug 19"??? Then what's the point of vote???

I hope the board goes against Nutella and realises that this is a dumb aquisition. that would be funny!

I would appreciate the LinkedIn gamble much better, if the Skype merger hadn't been the innovation-kiss-of-death-lure-them-into-the-Skype4B-upgrade-and-security-limbo-hell it has been. I would be much more optimistic if Yammer would still be a real network and if Nokia still were a thing. MSFT paid a lot of money for personal data. Cannot see a strategy I like behind this.

AHHHHH someone who sees the real reason behind the buyout. PERSONAL DATA. The real money maker! DING DING DING, we have a winner! Good call. Nutella can make billions in profit from selling everyones personal data from linkedin!

LinkedIn is losing money. Not that easy to make billions of profit on top of that. Surely they will cut costs after deal closes. LinkedIn has own data centers for example. Then Azure revenue will get better..although not at cheap.

Microsoft almost bought Salesforce just last year. Show some humility Benioff it's good for the soul.

And Sales force should have had this Linkin' Park of a Social Network.

I think MS is good for LinkedIn. As a business owner doing business it's a great place to check out who you are doing business with. It's not all about looking for a job.

Snapchat would not have sold to MS. They hate MS. They turned down 3 billion from FB.

MS just got tons of business info. Tons!!!! Smart buy. Now, i wonder if all Apple and Google resumes on there will have typos......

AFAIK whatsapp is not making profits either but Facebook still paid 16 billions for it. So there is a reason why these companies pay so much money even if we fail to see the reason behind it. Posted via the Windows Central App for Android

I wonder if the sale included the Lynda platform.

As long as they don't try to shoe-horn it into, say, Office, in the form of a Clippy wanna-be ("I see that you're typing a resume. Would you like to upload it to LinkedIn?"), and there's no opt-out required, if they attempt to automatically create LinkedIn accounts using Windows or Outlook profiles, it's no skin off of my nose what Microsoft does with their money.