Samsung reveals the Surface-like Galaxy Book, running Windows 10
Samsung has returned to the Windows tablet fold with another device that takes a stab at the Surface paradigm.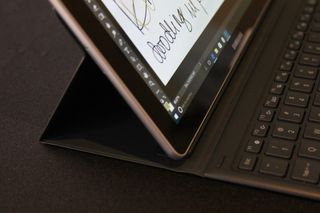 The Samsung Galaxy Book is targeting productive types with an "extreme focus" on design, featuring an all-new S-Pen and unique inking features.
We're on the ground at Mobile World Congress 2017, and were able to get a quick look at the Galaxy Book. Here's what we learned so far.
Hands on with the Galaxy Book
Galaxy Book
Samsung's Galaxy Book will be familiar to 2-in-1 aficionados, featuring a detachable keyboard cover and the company's signature "Galaxy" design identity.
The Galaxy Book will come in two variants, one at 10-inches and the other at 12-inches. Both tablets are remarkably thin, clocking in at 7.4mm apiece. The 12-inch version sports a super AMOLED display, weighing in at 745g, while the 10-inch will feature a TFT-based display, weighing in at 645g.
The svelteness of the Galaxy Book range owes to the latest i5 Core U Kaby Lake fanless Intel processors. We don't have the full range of details on the Galaxy Books' internals just yet, but they will also come with expandable MicroSD storage, fast charging batteries, 13-megapixel cameras and LTE Cat-6 connected modems. Unlike the Surface Pro range, the Galaxy Book will also ship with its backlit keyboard cover in the box, which comes in black and white options.
Galaxy Book S-Pen
The Galaxy Book revolves around productivity focussed by the Samsung S-Pen, which the company hopes will set the standard for inking. The S-Pen features 4096 levels of pressure sensitivity with a 0.7mm rubber tip, that is designed to mimic the feel of writing on paper. The S-Pen will also work with other Galaxy-based tablets and phones, should you want to invest more broadly in Samsung's ecosystem.
Perhaps the most exciting thing about the S-Pen is its unique software features. In conjunction with Microsoft and Adobe, Samsung's S-Pen will offer a tilting experience, which the company at least says will be exclusive to its devices.
Samsung's Galaxy Book will also come with their take on the Windows Ink Workspace, giving you quick access to note taking, screen capturing, sketching, and so on. Additionally, the S-Pen will allow you to create animated gifs, annotate screenshots, and documents.
Samsung Flow
Samsung Flow will be the Galaxy Book's gateway to the wider Galaxy ecosystem. Using a Samsung Galaxy phone, you will be able to receive notifications, including third-party apps like WhatsApp. If you're familiar with Pushbullet, the concept is similar.
Samsung Flow will work via Bluetooth connectivity, and the company was keen to stress that not all apps would be compatible, but the company will no doubt work to bring more into the fold.
Samsung Surface?
There seems to be no end of Surface-like devices emerging from every major PC player in the market at this point, but the inking features on the Galaxy Book do sound as though it will give it an edge. Regardless, lending the "Galaxy" brand to Windows 10 should be a boost for the ecosystem, but it remains to be seen if it'll have any real impact.
Stay tuned to Windows Central for a more in-depth analysis as soon as we can.
What's your take? Hit the comments.
Windows Central Newsletter
Get the best of Windows Central in in your inbox, every day!
Jez Corden a Managing Editor at Windows Central, focusing primarily on all things Xbox and gaming. Jez is known for breaking exclusive news and analysis as relates to the Microsoft ecosystem while being powered by caffeine. Follow on Twitter @JezCorden and listen to his Xbox Two podcast, all about, you guessed it, Xbox!
ahh thought it would be more like the surface book not surface pro.

Looks like an iPad pro maybe?

No, looks like a Galaxy TabPro S. Not a big phone tablet SMH.

Looks like an iPad Pro if Apple would Have got it right

Or if Samsung had. That single position stand in 2017 is dumb as hell.

Um Apple didn't have keyboard case accessories of their own before Samsung

Too bad they decided to use the crappy ipad style stand instead of a real kickstand. Guess it improves lap comfort but you can't do much with it on your lap because the screen will keep moving around. I'm sure there's a market for it somewhere, though, it being a Samsung and all. Just wish they would have followed the surface model a little more closely for their first 2-in-1. Also what's the deal with this "tilting experience"? You can't write sideways with a normal ballpoint pen, and the standard Surface Pen works fine tilted sideways a bit. Are they referring to some kind of shading feature?

They had the TabPro S last year which was basically the same arrangement.

My bad Richard I forgot that the Tab Pro S had the iPad cover too, or that is was a legit 2-in-1 for that matter. Guess I better do my research better next time ;)

True. But the display, processor, SSD, External storage, keyboard and S-Pen make this an entirely different solution. This S-Pen will be 400% better than the active stylus that came with the TAB Pro S. The keyboard was awful on that as well. These will be the best Windows Tablet option for the price other than the Surface line.

Yes, it's for shading and also for using paint brush tools and the like, charcoal effects, all that sort of stuff. Things actual artists might care about.

Am a designer and can see the appeal of this 2 in 1 as something that would replace my laptop for more mobility but this wont be replacing my wacom tablet for work anytime soon just because it has some tilt feature.

Very nice Surface like tablet. Waiting for full specification and price.

Yeah, the price will make or break it, especially considering the also-recently-announced HP x2 checks a lot of boxes, comes with the pen and keyboard, and hits a pretty good price.

soo many companies out there & not one has made anything like surface book !! most 2 in 1 are more like surface pro 4 !! :(

Technically there are a few tablets with detachable keyboards on the market. They're just not nearly as big or powerful as the Surface Book.

Surface Pro 4 way better than this, forget about the upcoming SP5..... This is more of an iPad Pro competitor than a Surface competitor..... Coz as we all know, the Surface is in a league of its own !

Well, the fanless i5, OLED screen, and USB-C fast charging are all pretty big upgrades.

GSM Arena says that the 12" model is a Core I5 *with* a fan by the way. The 10" model is Core M3 and fanless.

We might have wrong info there then, will amend asap

I don't understand why most media got that wrong during Samsung presentation but the 12" model is *not* fanless; it has a fan at the top right side. It was very visible in the video showing the internals of the product. That's too bad according to me. Only the 10.6" model is fanless but it doesn't have an AMOLED screen.

Sorry, but given the spec list and feature set this is clearly in the same league as the surface pro.

Off top of my head no windows hello straight away means its not. Also PPI is not as good. And the keyboard and trackpad also apparently not as good as the Pro 4.

They pretty much have this device already on the market under a different name.

Is that the foldable back ( don't know its name sorry) .. Resembling kick stand ?

If all u ever wanted was an iPad Pro running full Windows 10, u got it

Wake up. Samsung already has the Galaxy TabPro S. A year ago.
Stupid 'I just know ipads' people..

Does the iPad Pro have a microsd slot and a usb port?

They all lack apps! Appeal to the win32 crowd. How will these stand up to ARM based win32 emulation machines coming soon?

Just get a Win 32 app called Amidous. And then you can run any Android app ever made right there in Windows 10. Even create shortcuts to the apps right there on the desktop.

So really a small update of the current Galaxy TabPro S.
(I have one and love it)
And a namechange. From TabPro S to Book.

Since it's fanless battery life to weight ought to be pretty good. It's a bit of a shame they didn't make a Galaxy Sx/Notex series of windows phone which the pen could then toe into productwise. Imagine having the one pen do dual function on a Galaxy grade phone and then over to a tablet when you needed more screen real estate. Also have to say a 12" amoled is likely to be a stunner. Might be a tough comparison against the SP4 despite many of you saying the SP4 wins. Biometrics will help sell the form a lot too as you will find less reasons to "need" a keyboard for content consumption. This is a good first step and I suspect build quality will be quite Samsung elegant. Be nice to see them in MS stores. I am pretty sure they will compare very well against others and be a heavily favored device.

Pen support isnt in W10m yet so they couldn't do a note w10 phone even if they wanted unless they wrote their own software but w10m has it's limitations on differentiation. And write specific apps instead of a system wide Ft is doable but the implementation would seem like a hack job which never goes over will in the market

Anyone know if this thing is water resistant (IP67)?

It's listed on the Windows Store but will currently only install on a specific Samsung device. It should be made available to all PCs after creators update

10" upgrade for my s3?! I wouldn't mind it a bit smaller though like 8.5-9

Also have a TabPro S. I like it a lot. Love the Amoled. I was also hoping for something like the Surface Book. At least the i5 is a nice upgrade from the m3.....I assume.

Microsoft create, others copy...Tablets, 2 in ones, mixed reality, just saw the Gartner grid for Analytics, Microsoft leading again :) The missing piece (and a crucial one) is mobile, however as we have all seen in regards to Tablets, timing is everything, right now is not the time. Samsung are great...at copying, in this space. Personally i doubt it will sell that well.

Microsoft's entire strategy for PC hardware is to have the others copy. It's clear by their pricing and limited Production quantity.

No Windows Hello support? If it will be supported only through Samsung phones that's a big minus for me.

This area of Windows makes me happy in the hard times of Windows Mobile. :) Surface has really shaped up things in 2-in-1 category. And the PCs as well have become amazingly beautiful in past 2-3 years. :)

I concur.... Surface Pro changed the game!

Agree, I am 69 and still working in developing/transition regions, I added a Surface Book to my SP3 as I cannot get any quick service or repair most of the time. I carry both sometimes in my work backpack. What I am REALLY looking out for is the Surface Phone/Pad/Whatever, before I am forced to return to an Android device

If you can get hold of a Lumia 950 XL it is OK for the time beeing. (I'm 70 btw.)

I wonder if this could be used at least for video eidting and 3D. Is this gonna cost 1k$?

Differentiation? Unique to their own devices.

I've been considering a Surface or a similar device for awhile. I like the Galaxy Book and am interested in the price. These devices appear to be the second generation of the Galaxy Tab ProS from last year. I think the Galaxy Book is a much better name. I really don't like the lack of Windows Hello support, though. There should be something there without needing a Samsung phone. This will likely cost close to or more than $1,000 and such a device should showcase Windows Hello, IMO.

I don't know why a company would build their take on the Windows Ink workspace when it's already there, built in to Windows.

Nice tablets. Samsung Flow looks interesting.

Will this thing cost a kidney?!

Just one and possibly an arm as well

Hope they sell well. MS set out to invent a new category and oems are following. Good integration between phone and tablet, something MS hasn't perfected w W10M.

Looks nice except I have trouble trusting Samsung for follow up after the sale.

Giggity. Just show me the price.


This basically fixes the major compromises of the Tab Pro S that made it nothing more than merely the Windows version of Crapple's inferior and overpriced macbooks: - Stupidly restricted to only 1 port and couldn't expand its memory via SD/MicroSD like them donglebooks, not any more :) - Limited to merely Core M performance, not any more :) - Didn't have a built-in active digitizer display, had to rely on some laggy bluetooth pen that's sold separately, not any more :) Now just need the price tag to compare with the Surface Pro line. If it's reasonable, it'll make another great surface-inspired option for consumers, which I wouldn't hesitate in recommending to others even if it's not for me.

sweet! I like the LTE connectivity and the 10" screen though I wish it too were amoled. I'm even more excited to see what Microsoft has to offer now.

Samsung Flow is apparently coming to other PCs after the Windows Creators' Update

That'll be really awesome, as I'm very interested in their Note line after the Note 7, but this Galaxy Book is just not as suitable as the Surface Pro for me...

If you go to the Google play store and look up Samsung Flow, Samsung have replied to a user comment saying it will be available for all PCs after April so it looks promising

Idk when my phone downvoted you but that was a mistake

Samsung know that Surface is stealing the market for Tablets. Meaning Windows 10 tablets are growing big time. That's why Samsung are really trying to succeed in the tablet space with a real tablet competitor. Not a lousy Android tablet.

True, Surface has effectively killed off Android tablets and Google know it which is presumably why there are no more Nexus tablets.

There is the pixel c though. I believe it runs chrome os

This is nowhere near a real competitor

I saw this product at Best Buy the other day. Impressively thin and snappy response time while playing with it. One drawback as I recall was no USB port so hooking up peripherals would be a workaround. Backing to keyboard was permanently attached if I recall.

Scratch that - was looking up the price and realized it was the Samsung - Galaxy TabPro S 2-in-1 12" Touch-Screen Laptop - Intel Core m3 - 8GB Memory - 256GB Solid State Drive - Gold that I saw in the store. Not the same device.

The full specs have been available since yesterday and they are as follows: Galaxy Book 12: 291.3x199.8x7.4 mm aluminum body; 754g (Wi-Fi and LTE) 2-in-1 form factor with a detachable keyboard; S Pen stylus; both included 12-inch Super AMOLED 2160x1440 pixel display; 10-bit HDR support 7th Gen Intel Core i5 processor, Dual Core 3.1GHz 4GB/8GB RAM; 128GB/256GB eMMC microSD up to 256GB 39W battery; up to 10.5hrs, Fast Charging support Wi-Fi 802.11 a/b/g/n/ac, 2X2 MIMO; LTE Cat. 6; Bluetooth® 4.1 BLE; GPS + GLONASS; 2x USB 3.1(Type-C); Windows 10 OS 13MP Auto focus + 5MP fixed camera Galaxy Book 10: 261.2 x 179.1 x 8.9 mm aluminum body; 640g(Wi-Fi) / 650g(LTE) 2-in-1 form factor with a detachable keyboard; S Pen stylus; both included 10.6-inch TFT FHD 1920x1280 pixel display 7th Gen Intel Core m3 processor, Dual Core 2.6GHz 4GB RAM; 64GB/128GB eMMC microSD up to 256GB 30.4W battery; up to 10hrs, Fast Charging support Wi-Fi 802.11 a/b/g/n/ac, 2X2 MIMO; LTE Cat. 6; Bluetooth® 4.1 BLE; GPS + GLONASS; USB 3.1(Type-C); Windows 10 OS 5MP fixed camera

4GB/8GB RAM only? Oh, please! Seriously, if they wanted to be competiton for the Surface Book, scrap the 4GB (who can do anything these days with only 4GB), definitely add a 16GB model.

The 10" model with only 4GB RAM and max of 128GB storage is ridiculous - seriously lame.
​The 12" with 8GB, and an option 256GB storage is only slighly better.

This looks like a really nice device but I would have liked to have seen a Surface Book type device. I want a laptop form factor but I like the idea of being able to turn the screen around to write on at the angle created by the hinge.

Great hat Windows tablet finally gets pen tilt support, 1.5 years after the Apple Pencil got it. We can now whole-hearedly recommend such a Windows tablet. They should do a better job in demonstrating the tilt function though.
Windows Central Newsletter
Thank you for signing up to Windows Central. You will receive a verification email shortly.
There was a problem. Please refresh the page and try again.