Samsung Galaxy TabPro S Windows 10 2-in-1 will reportedly start from €999 in Europe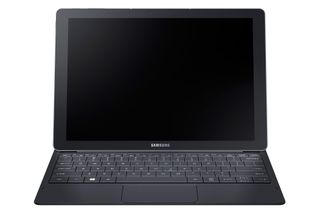 We're still not sure just how much we'll have to pay for Samsung's newly announced Galaxy TabPro S premium 10 Windows 2-in-1, but reports have surfaced pointing to a starting price of €999. Unfortunately, alongside the silence of cost, Samsung have also yet to provide availability dates. But should this price be accurate, that puts the Galaxy TabPro S vastly out of reach of those who wish to pick up an affordable PC.
While the tablet itself runs Windows 10 and is certainly a premium product, you'll have to fork out a premium fee for the base Wi-Fi model, according to All About Samsung. The €999 is for the Wi-Fi model that runs Windows 10 Home in Germany, with options to bump up the price further with Windows 10 Pro or LTE connectivity, which would set purchasers back €1199.
So what would you be getting for all your invested bucks? The display is a 12" 2160x1440 Super AMOLED screen, joined by a 6th-gen Intel Core M processor (dual core 2.2GHz), up to 256GB SSD, 4GB RAM, 5MP rear and front cameras, Wi-Fi 802.11 a/b/g/n/ac MIMO, Wi-Fi Direct, NFC, Bluetooth 4.1, and a 5200mAh battery.
What are your thoughts on the Galaxy TabPro S and would a lower price interest you? Sound off in the comments and on our forum!
Source: All About Samsung, via: SamMobile
Rich Edmonds is Senior Editor of PC hardware at Windows Central, covering everything related to PC components and NAS. He's been involved in technology for more than a decade and knows a thing or two about the magic inside a PC chassis. You can follow him over on Twitter at @RichEdmonds.
Yup. They used that price for the cost of the 128GB SSD. I live in Canada, and with our Dollar, this should around $1500 CAD. No thanks. For that price, the SP4 i7 looks like the better option. Only thing is that Samsung displays are nice.

Their quality it's great too. But they may adjust prices in each country. Given a good laptop costs that much. This is great for what you get. The white one is so sexy

Ya. But I never liked their plasticky feel. Besides the display, I don't know what would make me choose this over the Surface 4 at the moment.

We don't really know the quality till we feel it. I do like the lg gram has a nice textured back.

Lol even hacking a 10" tab s to run windows is a cheaper solution

Well that was expected, it certainly wasn't going to be sub 400 lol. What about the stylus and inking? S6 Edge running WM10 anyone? :P.

S6 edge running windows 10 mobile would be their pro version of the S6 edge. And it would sell like pu*ssy if they promote it as such.

seems costly for this configuration!!

Dead on Arrival like their Note 12 "Pro" android line. This new kid on the block feels like a Windows version of the 2015 MacBook with it's stupid lack of ports, especially for storage expansion. I'd proudly take the Surface 3 or Surface Pro 4 over this pointlessly gimped and overpriced joke... Posted from my OnePlus One.

Yeah, the lack of ports is asinine. For what they are asking, I'm not inclined to pay extra for an adapter even if they do include the keyboard.

I thought it has ports. At least usbc

Yeah. One usb-c which is great for using all of those lovely peripherals that are compatible with it. Oh wait, no, you have to buy the adapter if you want to use anything you already own or go out and buy all new peripherals from a pitifully small selection. It's a blatant cash grab.

Usb-c hubs are cheap these days. Don't need to buy the one from the Samsung. It's the future. Has enough bandwidth for everything including full hdmi even with hdcp. Usb has been hacked and companies are starting to move away from it. Not possible to patch it as is a hardware fault.

No one says it's not the future. It'll grow, albeit slowly. I'm saying having it as the sole port on the tablet and at that price point is ridiculous. Having to buy a hub to make it work is not a great idea and all it adds is extra hassle when you could get a Surface or some of the other tablets on offer for cheaper. Also, last I heard, there are very few peripherals that currently take advantage of the new things usb-c brings to the table. An ill-conceived product is an ill-conceived product.

well, you get a cheap hub. Now you plug in your hdmi out, your other usb peripherals, etc.. It all works because of the massive bandwidth, nothing needed. There are monitors coming out as you have seen in CES that can plug a usb-c cable directly for audio/video etc.. The problem with trying to set the future is people hang on dearly to the past. I mean people stil use VHS and dvd's. Samsung will market it to hell, people will buy it. Will the VHS using person buy it? No, but it's not for them. I sure hope that all peripherals start ignoring standard usb. I almost wish my computer didn't have them. Someone can just pop in a usb stick and take over my whole computer. Even when it's off, they just boot it and do their thing. Apple has only the usb-c connector and people buy it in droves. Everyone has their own opinions on everything. But I don't think the view that it is limited due to a usb-c port is fair. It's 15 bucks for a good small usb-c hub. And your tablet experience improves because it can be thinner and lighter.

Things never work out that way. A peripheral manufacturer cannot afford to cut off their nose to spite their face by ignoring previous usb standards in favor of usb-c. That is extremely wishful thinking. Using the example of old entertainment media to compare connection standards is useless since, for normal people, it's easy to see the difference in quality for videos between formats but not so easy to see for a connection on their computer. Again, the argument is not that usb-c isn't good, it's that the average user is not going to see it as great advantage and it's going to hurt Samsung's sales of this tablet. Yes, it's more secure but you are also assuming that regular users even realize that a computer can be hijacked via usb. Hint, they don't and so they won't see that benefit either.
Also, it's useless to point to sales of the 2015 Macbook since: a) they are nowhere near the amount sold in PCs, b) they have a very dedicated fanbase that will often buy anything Apple puts out, and c) Apple has a forced harware upgrade cycle where, even if you want to keep your old computer, if it's older than about five years you must buy a new one if you want to get the latest version of the OS. They do not operate like MS where all you nee is hardware powerful enough to run the OS, they have a very narrow selection of harware they support and if it's too old then, regardless of how capable it is, you aren't getting the latest version of OSX, too bad so sad.

The next surface will likely have usb-c anyway. Panos Panay ccomplained that they couldn't make the surface any thinner because of old usb. You gotta be ready for a whole new world of usb-c peripherals.

And however the next Surface turns out, I can guarantee you that they won't just have a usb-c port, like Samsung has done here, otherwise they'd be leaving money on the table. The Surface is aimed at businesses and compatibility is key.

They can easily replace the Mini DisplayPort with USB Type C Thunderbolt 3 and call it a day. No need to dump the most common USB port all for the sake of thinness.

For that price I prefer a Surface Pro 4, even with the Core M.

Samsung thinks someone will pay them 999 euros for this. Instead of getting a good laptop.

Germany has one of the lower VATs in Europe. If this is the price there, it will likely be more in the rest of Europe. Which begs the question: who on their right mind would buy this instead of a superior Surface Pro 3? Posted via the Windows Central App for Android

I don't think Samsung will set it at this price, there's practically no chance of success if the base model is this costly, the SP4 becomes the automatic choice for anyone willing to spend that much on a powerful windows tablet :-(
Love the screen though, but can't justify that price in the presence of the SP4!

Samsung knows marketing. People will buy it.

It will likely outsell the surface.

Not entirely sure about the SP4 considering you still need to spend 160€ on a type cover. But the Surface Pro 3 (which is just as good as the SP4) whose price has come down with the release of the SP4 becomes a no-brainer.

How is it called a GALAXY tab if it runs windows and not android? I thought they used the name for android devices.

No law prevent them to use Galaxy branding on their product. Heck they can name their television as Galaxy TV if they want. Posted via the Windows Central App for Android

Whoa. Easy there, fellas. I know OEMs can use whatever names. I just said they have used Galaxy names only with android in the past.

@Electrodude16. It's upto the OEM which brand name they own they use for their products.

I guess its better for the money than the pro ipad.
Windows Central Newsletter
Get the best of Windows Central in in your inbox, every day!
Thank you for signing up to Windows Central. You will receive a verification email shortly.
There was a problem. Please refresh the page and try again.