Samsung announces the Galaxy TabPro S, a premium 2-in-1 tablet running Windows 10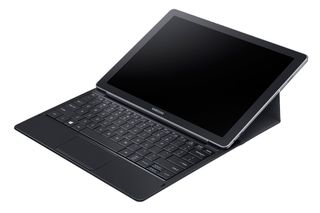 Samsung has unveiled the Galaxy TabPro S today at CES. At 6.3 millimeters thin and weighing only 693 grams, it's a premium 2-in-1 tablet running Windows 10. The Samsung Galaxy TabPro S features a 12-inch Super AMOLED display and includes a full-sized keyboard cover.
The announcement is also noteworthy as Samsung is dropping ATIV from their Windows product lineup and adopting Galaxy TabPro instead.
Equipped with the latest generation Intel Core M processor, Samsung claims this fanless tablet can offer up to 10.5 hours of battery life. It supports fast charging too, so the Galaxy TabPro S battery can fully charge in just 2.5 hours.
Samsung Galaxy TabPro S
Swipe to scroll horizontally
Category
Specification
Operating System
Windows 10 Home, Windows 10 Pro
Display
12" 2160x1440 Super AMOLED
Processor
6th Gen. Intel Core M processor (Dual Core 2.2GHz)
Storage
128GB / 256GB SSD
System Memory
4GB RAM
Camera
5MP AF(Rear)
5MP (Front)
Connectivity
Wi-Fi 802.11 a/b/g/n/ac MIMO, Wi-Fi Direct, NFC, Bluetooth 4.1
Sensor
Accelerometer, Hall, Light
Battery
5,200mAh (39.5W, 7.6V)
Dimensions
290.3x198.8x6.3mm
Weight
693g(Wi-Fi)
696g(LTE)
The Galaxy TabPro S is designed to be easily carried around all day. In addition to the included keyboard, users who want to be more productive can get the optional multi-port adapter for HDMI, USB Type A & C connections. There's also an optional Bluetooth pen.
Samsung has not mentioned any details on pricing or availability for the Galaxy TabPro S, although we expect it to be high. In addition to the 2-in-1 tablet, Samsung has also announced the Notebook 9 ultrabooks at CES.
Are you interested in the Samsung Galaxy TabPro S? Sound off in the comments!
Windows Central Newsletter
Get the best of Windows Central in your inbox, every day!
Windows 10 on galaxy device? Sounds awesome

Galaxy s7 running android and a Galaxy s7 Pro running Windows 10 mobile (with continuum) would be an amazing win for Microsoft... If with a Galaxy s7 Pro running Windows 10 mobile also means Samsung's marketing department will push the Pro as hard as they would push it's Android counterpart ;-)

Samsung marketing Windows Phones is a myth ie Ativ

They need to change it up. Samsung knows Google has too much control over the mobile market.

Maybe Samsung should make a galaxy S phone running window 10 mobile

First Samsung would have to join msft and get devs to make and update some key apps and then they'd so such a drastic change.

They'd just port their apps to Windows 10.

No it's not, that's what the universal apps are for. If they put Windows 10 on the phones it would sell alot.

They want TouchWiz on it, and MS forbid UI alterations. THIS is why OEMs are hesitant to adopt W10M (previously WP8/WP7). The only reason these companies actually made WP devices was because MS gave them a discount on the patent protection fees they were charging for Android handsets.

You just killed the moment with your bulls!t, buy a damn Android tablet if that's what you want. We don't need a damn Android OS with Windows 10 so stop it.

i don't think you comprehended what he said. it wasn't an android os with windows 10. he's talking more about a situation similar to the HTC One M8. An Android version and a Windows version. Moreover, if they *do* follow through with that, it'd be interesting if they select "Pro" as the word to differentiate between Android and Windows...

Highly improbable man. Samsung already has tizen. If they felt that android is overrated they would fall back on tizen and not on windows mobile. Still could happen if ms does something about it. Ps. I would love to have a windows version of s7.

Is Tizen optimized for phone yet?

Samsung sees the situation Windows Mobile is in. Do you really think that Samsung would throw in with a mobile OS that would have an even smaller app library? If Samsung and Microsoft got together, they could actually change that around. Samsung seems fine making hardware for Windows in the notebook market, so maybe they see promise in the mobile market as well.

If they want their Android patent protection fees to MS to remain low they will.

This is Windows 10 not Windows 10 Mobile.. PCs and Laptops have Windows OS and Windows 10 is the latest version of that OS. So I don't think this is anything more than that.. Besides Samsung is struggling with their own OS i.e. Tizen.. Why would they sell Win10Mo that could easily threaten their own OS and wouldn't make them a **** ton of money? Your dreams are optimistic but not logical...

Sadly its not a true galaxy tablet as the intel android model is 10"

Lol define "true galaxy tablet". What is a "tablet"?

Yeah. Galaxy Windows 10 Mobile phones would also be awesome.

Is this the pivot point???

Makes sense if you think about it, to offer the same product with a choice of OS, wonder if we will see a Galaxy Phone with W10M. Maybe a phone Galaxy Pro, with continuum. Great for business.

Well, if history is proven here, if Samsung did put W10 mobile on their phones, it would be the current generation and not something that is progressive with Android. When the new Samsung Galaxy 7 devices come out later this year, they will not put W10 mobile on them. Their pattern is always a generation behind, when it comes to MS. I would love to see LG get back into the mix, though. Nothing since the LG Surround. I don't blame them necessarily, but with the new focus MS has shown with Win10 evolution on PC, tablets, and phones, we may yet see a device that is worthy and not just some low end device.

May be. It just may be. Not fond of Samsung myself, but if they make quality devices I'll be happy for them to enter the market for Windows 10 mobile.

I think they make quality products, sure the galaxy phones line has faults but as a WP fan I've been pining for a galaxy esc phone from Microsoft.

Wow, this is very interesting. I won't be buying one, but this is quite big that Samsung have opted for Windows on their 'pro' tablet (I'm not sure if there's an Android version). Also, the fact that they're using the Galaxy branding may suggest that they are going to be marketing this as much as they do their Android devices which is a plus. Now, I may be getting ahead of myself here, but if this device does well, we could potentially see a Galaxy S7 or 8 running Windows.

They would market windows 10 version bcoz galaxy tablets isn't showing any growth or consistency on droid.

Samsung doesnt want to do this, they are being forced to do so. They have been banging their heads against the wall with the android Note & Pro tab series for years. >$300 android tablets have never been able to sell, Samsung's y/y tablet sales (-17%) are almost as bad as the ipad.

Let's go Samsung... nice stuff.

weren't they the ones who made an ad for Galaxy Note tablet, which made fun of Surface tablets for having a keyboard?
oh how people change. first styluses and now keyboards.

Lol. So true. I remember back in the days when I had Touch Pro 2 with Stylus, people would look at me funny.

so Does Windows devices are on the main line now?

Bluetooth pen? Does this mean they've ditched Wacom for N-Trig or gone for something different? ​Looks nice though!

I'm surprised they are using the 'Galaxy' branding for a Windows device. I feel that'll confuse users... but in the end may be a good thing for Windows lol.

The difference is whether you love pro or ordinary... Google may block Google play name remains like that tab s and tab s pro and pro means windows! Lol... awesome

The real PRO's are those running full Windows, others are just the toys. Posted via the Windows Central App for Android

they usually brand it Ativ back then, but I guess they need a stronger brand to sell these tabs (and also, a PRO moniker)

Did you actually laugh out loud?

Unlikely, but I bet he did QETMNP.

Hmm, a Galaxy tablet rocking Windows instead of Android? That's actually a big deal.

Going to get if price is set right

Exactly. This is a 4gb RAM tablet....a bit disappointing, but if the pirce is right, I could tolerate it.

4 gigs is plenty for a tablet.

4GB is plenty for a Windows Tablet. Posted via the Note 4/Nexus 7 (2013)/Lumia 1020/Lumia 2520

Plenty for a tablet, but not enough (for a 'Pro' device) if you ever find yourself in the desktop area.

Windows runs fine on 4GB. I've had a 4GB gaming computer for years. Posted via the Note 4/Nexus 7 (2013)/Lumia 1020/Lumia 2520

Oh, I'm certain Windows 10 runs fine on 4gb.... there a plenty of devices being sold with 4gb. I just want plenty of elbow room to run multiple applications (and Tabs) at the same time without resorting to some memory management shuffling to make it happen.

Seriously, unless you are running programs that gobble RAM, you'll be fine. 4GB RAM is still plenty unless you have specific needs for more, on Windows based machines. So many people have 8/16/32GB systems and completely waste all that RAM. Posted via the Note 4/Nexus 7 (2013)/Lumia 1020/Lumia 2520

There go Google's 2 in 1 dreams right down the toilet. You have to mess up bad to cause your biggest oem to abandon you like this at ces. Sammy will still overpriced this though, I will guess $699.

And 699$ is overpriced ...hahaha ... It will cost alot more than 699 $ ..the tab pro S includes a keyboard it won't be less than 899$

$899 will make it much overpriced as it will match up the Surface pricing. Is there a stylus offered by Samsung? If not then $699 would be a good starting price.

Average consumer will probably not even notice there are challengers lol

The intel cpu alone in this thing is $280 per tray of 1000, compared to $35-45 for a qualcomm/nvidia arm cpu or 1/2 that for Samsungs inhouse arm cpus, which means these devices have to be $700+ to make money.

It's unfortunate intel chose that price point for a chip with 2011 performance and throttling issues.

Very nice.
Now Samsung dropped ATIV, is there a chance for a Galaxy S7 For Windows? Or even better, a Galaxy Note6 For Windows?

That would be excellent!! A dream come through. Even better a Note7 edge.

What's the difference between the Galaxy Note 6 edge and the Galaxy Note 7 edge? ;)

6 will be out this year and 7 next year, that's it no difference Posted via the Windows Central App for Android

Samsung finally came to their senses. Galaxy is what the consumers know. Now they don't have to spend money marketing an Ativ line that no one knows

It's more pro than an iPad.

Not really an achievement, any decent x86 tablet is more pro than an ipad.

Just poking fun at the iPad "Pro". I see it tweaked the feelings of at least one poor Apple fan. :)

Yeah whatever happened with the iPad Pro, it's like it never existed. I haven't seen one damn commercial for it, I guess Apple is going to pretend like it never happened.

I see 3-4 iPad Pro commercials a day. Much more than any Microsoft product.

Now it should have a better stylus than that of the ipad pro and nobody can talk then about the ipad pro

Hope it sells well. It will make W10 more popular on tablets and the demand for Windows apps should increase. That should bring in more developers (and the banks) to make UWP apps which is good for Windows 10 Mobile. The chicken/ egg cycle that created the app gap might get reversed.

I don't think so , if Samsung sells 2 million pro S . Which I think is a good number for tablets or 2 in 1 devices... Its nothing compared how many windows devices are out there (200 million)

Please release a 10 inch version....would be instant buy.

no kick stand no surface killer !

What do you mean? ANYTHING thats remotely a tablet and runs Windows is a Surface killa!!!

there are tons of fanless windows tablet in the market. Only surface serious comes with kick stand and core i cpu.

Surface line never designed to compete it's designed to show OEM how great windows tablet it is

Surface pro 4, Miix 700, Spectre X2, ThinkPad X1, Switch 12 S, XPS 12, Galaxy TabPro S It's raining premum Windows 2 in 1s! The only major OEM missing in action is Asus. Microsoft pat yourself on the back, mission accomplished.

They have Asus Transformer T300 Chi, a really nice 2 in 1.

Asus transformer t300chi can't be compered to the others

Asus is chasing their share of the 0.07% ChromeOS market.

So glad that Samsung are dropping ATIV. it was always a Terrible name for a product stream. Like you all, I hope we can soon get Windows options on the Galaxy range of phones. Galaxy S7w

Bring Omnia back!!! Posted via the Windows Central App for Android

Agree that ATIV was a bad name. Any name you can't figure out how to say is bad. Plus its all caps!?

It looks pretty nice, although 4 GB of RAM makes me sad. Is it a USB Type-C charger, and are there any other ports?

4GB of ram is quite enough. There is no need for more in a tablet. Unless you are one of them that think more ram = more speed? I guarantee you will not use more than 3GB.
I guest you just had to fine something to whine about :-S.

Don't berate me with your arrogance. More RAM doesn't equal more speed and only a fool would think so. If I'm going to buy a high end hybrid device running full Windows 10, I want 8 GB of RAM. Unless you're one of those people who think no one ever uses more than 4 GB of RAM? That would explain your "guarantee."

i think his comment is more pointed towards using a tablet. generally folks won't use resource intensive apps on a tablet. as it stands, i have a 4GB Surface Pro 4 and have never hit a RAM issue yet. Granted, my most intensive app is Visual Studio which is no CAD app, but its not small by any means either. Windows 10 is pretty awesome at memory management. I find most individuals really will not need more than 4GB if they're using the tablet as a tablet. If you're going to use it as your main driver, maybe you'll use it for more. In any case, i think its just going off the majority of the market, in which case, he's probably right that most won't need more than 4GB. Ramping it up to 8GB would be a huge cost increase and possibly price it out of its target market.

I understand that, but there are people who need more, even with a tablet. Even if the majority of people use 4 GB of RAM, Samsung will still lose the customers who need 8. I, for example, do not want to spend the kind of money this will inevitably cost for 4 GB of RAM. The Core M is fine (it's better in a tablet like this, actually), but 4 GB of RAM isn't quite good enough for a high-end, premium product that isn't running iOS or Android.

They have some connector that has USB type A and HDMI out

The tablet itself has one USB 3.1 port, but they're selling an adapter (similar to the Surface Dock) that adds more ports

YOU get a Surface clone. And YOU get a Surface clone. EVERYBODY GETS A SURFACE CLONE!!!

I have to say that this version looks decent. If its cheaper than the Surface, then i actually might go for this one.
(I only wonder about the pen... the surface pen looks way better than the most other companies pens).

for me the pen is the deciding factor.. but I really want that amoled screen, wow!

Would sound better with the meme. Jus sayin.

lol Though personally I think design wise this looks very close to an ipad pro but with a trackpad that happens to run Windows 10.

I hope they bring out a galaxy windows phone it'd be great for the windows consumer to have more choices as well as promoting wp devices.

Does it have an active pen? How does a Bluetooth pen work anyways?

I want one. One picture at a time -- LG V10

It would be nice if they come out with a mini.

Wow this is so cool. Now the price needs to be in 500 to sell to the avarage consumer Posted via the Windows Central App for Android

Is there any taplet on the market accept HP Touchpad with wireless charging?

Nexus 7. Posted via the Note 4/Nexus 7 (2013)/Lumia 1020/Lumia 2520

Sweet, perhaps a WM10 galaxy phone presuming this sells well?

This looks fantastic. And Galaxy branding on Windows(!). The tide has definitely turned, amazing. Well done, Microsoft.

Man, that's light. A laptop weightig a pound and a half? That's like about the weight of 3 Lumia 920's and a Lumia 521. The big question would be, does it bend? jk.

Cool. Now make Galaxy Tab 7 and 8 inch with Windows 10 or 10 Mobile.

I wouldn't mind an 8-inch tablet with Tab S2-esque specs if it was priced cheaper than what the S2 is.

Am expecting Galaxy note with windows 10...it will be awesome☺

Man, that would be sweet. Posted via the Note 4/Nexus 7 (2013)/Lumia 1020/Lumia 2520

Not sure l trust AMOLED displays on tablets yet. l saw a display Galaxy S6 with burn-in. I imagine the same thing would happen on tablet only faster since UI elements like the taskbar remain on the screen for much longer.

Yea a DISPLAY phone having burn in is not surprising. Posted via the Windows Central App for Android

Doesn't W10 give the option to hide the taskbar and bring it up with gestures? Posted via the Note 4/Nexus 7 (2013)/Lumia 1020/Lumia 2520

If you look at the specs, this blows away every Android Galaxy tablet.

This sounds great for traveling. I like my iPad Pro, but I would kill to have the real MS Office and real Windows apps in that form factor with that battery life.

you rushed I guess? :) ​Perhaps not you, but I know many people fell for the size and keyboard trick and have now regretted the purchase... iOS is iOS. even on the most powerful hardware in the world with the largest screen ever, it is iOS. With its benefits and limitations.

Coool! Microsoft is really pushing the 2-in-1 category and OEMs are all jumping aboard the ship. Only a matter of time before Crapple eats all their refrigerator toaster words and makes a true 2-in-1...they've already eaten half of it and made the half-assed toyPad XL Surface wannabe.

I predict they will be eating their words by the end of the year when WIndows 10 is on 400M+ devices and 2 in 1 sales go from 20M in 2015 to 30M+ this year.

WANT! I excellent to see that because Samsung has a reach Microsoft doesn't have directly (HP, Lenovo, etc, can go even beyond). In Brazil, for instance, Samsung is everywhere!

at least this "pro" device has Windows 10, not like other toys around the world.

Great news! Windows 10 is really catching up. Now I wish that that Samsung also annoucned plans to launch Windows 10 as a variant of their smartphones. A Galaxy series phone running windows 10 would surely garner much higher market share than Microsoft Lumias. Samsung knows how to sell much better than Microsoft, and current batch of Samsung devices look pretty cool too.

I am repeating this again. Microsoft should repeat it's strategy to use full Windows 10 with a tablet mode on the smartphones as well with an extra "mobile mode" and an Intel atom processor with an extra easy swappable battery. This will really turn around things for them.

Samsung getting closer to Windows sounds awesome. Expect some Windows Mobiles also.

those OEMs finally realized that only ful Computing OS like Windows can make a PROduct. not iOS , Andoird or ChromeOS

No USB 3.0 port. A deal breaker.

If the early claims of Windows 10 on ARM chipsets weren't complete bull I wouldn't have to be still hoping Intel and AMD can finally make a decent mobile chipset to get even close to the best ARM chips.

There are a lot of Samsung fans out there and this will make it easy for those to move to W10. Good news.

Nice 3:2 tablet aspect ratio. Thank you Samsung. The amount of 16:9 convertibles still coming out is surprising, because that's just a terrible aspect ratio for a tablet. 16:10 is a little better, but 3:2 is definitely the sweet spot.

The closely-packed keys design looks almost identical to Surface Pro 3 type cover.

My original Focus still runs great (fire it up just to play every now and then), I'm sure anything running MS by Samsung will be good. I'm curious about the "bluetooth pen". Does it function like the S-Pen on their other devices? If it actually has apps that distinguish between the pen and hands, like the Note series and Surface, that would be great. My Note 10.1 is almost 3 yrs old. It's been running great since a factory reset a few months ago, but I'm always watching for a replacement, in case it craps out on me!

Does make me pause for thought comparing it to the surface pro. But I'm missing a stylus here and from what I've seen of CES demovideos so far windows 10 really needs some more love on the tablet experience side of the OS.

Tablet experience with Windows 10 is poor, and not optimized properly, performance wise too. They have violently ripped apart everything and you can still see the cables. Destroying the Windows 8.x tablet experience and avoiding it as a plague has yielded very poor results. There were some horrible choices there. One of the reasons I am skeptical about Surface Pro now, is exactly that. I would prefer Windows 8.x on it.

may I invite you to join this discussion here on the microsoft community. Look at page 1 post 3 of the list we have compiled already and the progress. Your feedback is apreciated to improve the tablet experience on windows 10. It is our impression that microsoft is looking at this thread. http://answers.microsoft.com/en-us/insider/forum/insider_wintp-insider_d...

Don't know what youre talking about. My Surface pro 3 is am amazing device. Most productive tool I've ever used. It replaced a laptop and a tablet. 8 can't compare to 10.

May I invite you to the microsoft community link as well? See. the link I posted.

good move from samsung..... now it is REAL pro with Windows 10

This sounds too good to be true. Price?

A dual boot Galaxy device would be awesome. Android and Windows...