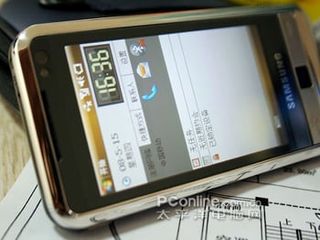 Looks like PConline got their hands on a Samsung i900 - one of the upcoming batch of über-Windows Mobile phones - 6.1 Pro, 240x400 (weird) screen, 1500mAh battery, FM Radio, TV out.
You can hit up PConline to take a gander, though we warn you that you can look but reading might be a little tougher (not English). We've also tossed our favorite shots below.
Verdict: Too soon to say for sure, but I'm thinking this is a pass what with the existence of the HTC Diamond. Plus: we still hate these little touchpads replacing traditional 5-way dpads.
Thanks surur!
At only 13mm thick with a 3.5 inch screen, I suspect many would have gone for this device, if only they had used a VGA screen. The extremely non-standard 240x400 screen will put most people off.
Its otherwise pretty packed - it even has GPS,and of course witha microSD slot it actually has more storage potential than the Diamond.
Surur
Windows Central Newsletter
Get the best of Windows Central in in your inbox, every day!
Thank you for signing up to Windows Central. You will receive a verification email shortly.
There was a problem. Please refresh the page and try again.