Samsung's new 860 QVO SSD brings high-capacity storage on the cheap
With capacities of up to 4TB and prices starting at $150.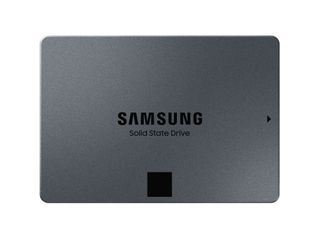 Samsung today announced the new 860 QVO SSD, a high-capacity SSD drive for consumers with an affordable price tag. Coming in 1TB, 2TB, and 4TB flavors, prices for the new drive start at $150.
The goal with these new drives is to offer up an alternative for people relying on a combination of SSD and HDD storage for booting and storage, a practice typically done to avoid the high cost that a large SSD or multiple SSD drives would carry.
"Today's consumers are using, producing and storing more high-resolution files than ever, including 4K videos and graphics-intensive games, escalating demand for greater capacities and performance in storage devices," said Dr. Mike Mang, vice president of Brand Product Marketing, Memory Business at Samsung Electronics. "Samsung continues to lead the move toward multi-terabyte SSDs with the introduction of the Samsung 860 QVO, delivering fast performance, reliability and value to more consumers around the world."
As for performance, Samsung claims the new drives can hit sequential read and write speeds of up to 550 MB/s and 520 MB/s, respectively. The company is also including a three-year warranty on each drive.
The 860 QVO is expected to go on sale on December 16 with pricing starting at $150 for the 1TB option.
Windows Central Newsletter
Get the best of Windows Central in your inbox, every day!
Dan Thorp-Lancaster is the former Editor-in-Chief of Windows Central. He began working with Windows Central, Android Central, and iMore as a news writer in 2014 and is obsessed with tech of all sorts. You can follow Dan on Twitter @DthorpL and Instagram @heyitsdtl.
What whitchcraft is this? How did they get the price so low? 1 terrabytes SSD for 150 usd. Damn, sign me up.

Yes, $150 for 1TB will be awesome. What's amazing is that will be the normal price. Presumably it will get cheaper sale prices, like everything else.

It's not amazing. They are using inferior NAND to make it happen. It's QLC, which can be half as fast as the TLC in the EVO (and other, better SSDs), when the drive gets full or asked to move a lot of data. In the worst-case scenarios, QLC drives can get as slow as a mechanical HDD. That's why this stuff is cheap; it writes more slowly and lasts less time (note a 3-year warranty, rather than the 5-year one of a good drive). Lastly, the EVO is cheaper at Amazon right now ($128), and only slightly more expensive at Newegg ($160). It's objectively better NAND, don't let QLC drives trick you into the idea of low prices for a great SSD, unless you are going to use it as, like, a write-once game drive or something.

Just to be clear: These are SATA drives. While yes they are slower than TLC and MLC drives, all of them are faster than the SATA interface which is all that is important. QLC in faster form factors, such as NVME, would have challenges competing with TLC drives, but for SATA it just does not matter.

> all of them are faster than the SATA interface Last I looked SATA bus was capable of 6 Gbit/s (let's call it 700 Mbytes/s for simplicity). You will get half of that when *reading* from the consumer SSD if you are *very* lucky, quarter of that when *writing*. Am I missing something?

There is reason they are getting cheap, 4bit per cell storage. Basically storing 4 bits of info in one location. Problem is if all 4 bits used and you need to change just one of those bits it has to re-write all four bits. So write performance can get worse as it's used. Probably fine for general low write usage but if you want more consistent write performance you'll want a more expensive SSD.

You can also bet the amount of spare sectors it has in reserve is pitifully small. That's the one specification SSD manufacturers don't want to advertise....

Overprovisioning will run about 7% as with other SSDs on the market.

The price is no big deal. I bought a 2GB Micron 3D SSD this weekend for $240 and saw a 2GB Crucial MX500 on Amazon for $208. Those are sizable discounts, sure, but the prices on good SSD's have fallen to levels that Samsung decided to respond to. Really good quality SSDs are selling for $150 per TB regularly.

That's exactly what I was thinking. Samsung would have had to go lower than $150 to wow me. Maybe $120?

That would do it for me too.

The controller is the key to how well these perform.

Controller, onboard memory and overprovisioning...

what is the return policy on black Friday orders?

Uhhh.....what? 1tb SSD's go for $120-$150 including the Samsung's 850 EVO which is $127. How is $150 for inferior SSD's newsworthy?