Samsung's new DDR5 is the first to use HKMG technology, here's why that's a big deal
Samsungs new DDR5 memory module is more efficient and more than twice as fast as DDR4.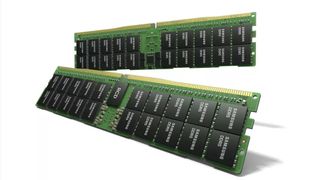 (Image credit: Samsung)
What you need to know
Samsung announced a 512GB DDR5 module that utilizes HKMG technology.
It is the first DDR5 module to utilize the HKMG process.
The memory module should reach 7,200 Mbps, which is double that of DDR4.
Samsung announced a new 512GB DDR5 module that utilizes High-K Metal Gate (HKMG) technology. The memory module is the first of its kind, according to Samsung, and it delivers up to 7,200Mbps. The increased speeds should be able to handle the most demanding workloads, including supercomputing, AI, and machine learning. It should be a massive boost compared to the best DDR4 RAM that's available now.
This isn't the first DDR5 module, but it is the first to utilize HKMG technology. The technology is used in logic semiconductors. As DRAM structures have been scaled down, insulation layers get thinner, which leads to a higher leakage current. The new DDR5 module replaces the insulator with HKMG material. According to Samsung, this will reduce leakage and improve performance. On top of that, it will use approximately 13% less power, according to Samsung.
Soo Sohn, vice president of the DRAM Memory Planning/Enabling Group at Samsung Electronics, explains the benefits of using HKMG tech:
Samsung started using the HKMG process with its GDDR6 memory in 2018.
The new DDR5 module from Samsung stacks eight layers of 16GB DRAM chips to reach its 512GB capacity. It leverages through-silicon via (TSV) technology.
TechRadar reports that Samsung's HKMG-based 512GB DDR5 memory will likely arrive in the latter half of 2021. It is currently in its verification stage.
News Writer and apps editor
Sean Endicott brings nearly a decade of experience covering Microsoft and Windows news to Windows Central. He joined our team in 2017 as an app reviewer and now heads up our day-to-day news coverage. If you have a news tip or an app to review, hit him up at sean.endicott@futurenet.com (opens in new tab).
One of the best things about DDR5 is the fact that ECC (Error Correction Code) memory is now a MANDATORY part of the spec! It's not an add-on, it's part of the memory die from the start. It's only single-bit ECC, but that's still a huge improvement.
With the large amounts of memory that most systems ship with now (16-64 GB) ECC is much more important than it used to be, especially if you do any professional work on the system.
Single-bit flips due to any factor can cause lots of problems, especially in Databases that store BLOBS, and in imaging where a single bit-flip can change a lot in the image.
Now that it will be mandatory in all DDR5 designs, it will finally become mainstream.
30 years ago Intel cheaped out on ECC memory, deciding they could save a few bucks on systems by not including it. When you only had 16K to 640K of memory, the odds of bad memory (especially in the SRAM days) was pretty low. This relegated it to Server hardware generally, and that drove up the price a lot. High-End workstations with Xenon processors supported it, but it was very expensive due to the low rate of consumption (and the relative price-insensitivity of the Workstation market where spending $20K on a system has been considered NORMAL for far too long.)
Now it will go mainstream, and that is a big win for consumers and the stability and reliability of their systems.

512mb RAM. Windows is just too legacy to make use of it.

Pretty sure 64-bit Windows could make use of it but most users would never watch enough cat videos simultaneously to make it worthwhile.

It's not that Windows won't see the ram. It's that a Win32 app isn't flexible enough to stretch its footprint in memory. It wasn't designed for that size.
On a 64gb and under heavy load it can't use more than 24gb for a single app.

The module is 512GB, not MB.
Average DDR4 memory comes in 8GB or 16GB modules so this is substantially larger. GB=GigaBYTES, Gb=GigaBITS (although many writers swap them around without knowing that.)
Windows Central Newsletter
Thank you for signing up to Windows Central. You will receive a verification email shortly.
There was a problem. Please refresh the page and try again.