SanDisk hits new storage milestone with huge 1TB SD card prototype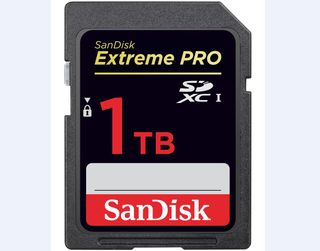 SanDisk has announced a 1TB prototype version of its Extreme PRO SD card, marking a new milestone in mobile storage capacity.
The new product was revealed as part of the annual Photokina trade show and is being developed primarily for professional photo and video creators, who need more and more storage as images and video reach 4K and even 8K resolutions. SanDisk states:
Since this 1TB SD card is just a prototype, there's no word on a release date or price from SanDisk. However, it's likely to be on the expensive side when it does finally go on sale.
Windows Central Newsletter
Get the best of Windows Central in your inbox, every day!
And since the Lumia 950 and 950 XL can work with even 2TB SDcards, they already support this 1TB card before it's even released!

This is an SD card, not microSD. Typically used in cameras.

Yeah, but a MSD version is inevitable,,, unless the walking dead take over....

Inevitable yes. But not in this article lol.

Yep. Six months from now, tops.

Oops.. I keep forgeting that they are two different things :( But, as rodneyej said, a microSD version might come too since they already managed to create a SD card of this size. Anyway, thanks for the reply :)

A 1T Surface Phone would be aight.

Very nice! I'm looking forward to seeing how this can translate into microSD format. Maybe 512GB isn't so far away?

BMPCC is waiting for it :-)

Only 256 GB max available

Another Step in the right direction...makes me sad when I think Microsoft went from unlimited to 5GB (15 in some cases) Onedrive storage.

For a guy with "KEEP CALM AND STOP WHINING" as an avatar you sure did a fair share of whining above.

Those are two different things. Microsoft did not change unlimited to 5GB.
1. They changed a few test/trial users who were experiment with unlimited storage with OneDrive to 1TB (those that have 365).
2. Those that had 15 GB of free OneDrive storage had it shrunk to 5GB, unless they requested it to not be shrunk Posted via the Windows Central App for Android

As attractive as it is, this should come with lifetime warranty tag.

No thanks. If this is like all my other SanDisk purchases it will either die a quick, unexpected death (several USB thumb drives in the past year) or be very slow (200GB Ultra card has pathetic write speeds, had to return it).. No, from now on I stick with Samsung for my storage needs. SanDisk is dead to me.

You sure you bought "real" SanDisk products? There are some VERY convincing fakes out there that are notoriously slow and have much higher failure rates. I've bought memory chips on Amazon that turned out to be counterfeit. Fortunately Amazon allows them to be returned with no questions.

Funny enough a mate of mine have problems with Sandisk products, I have two sandisk thumbdrives and they are fine. Not sure what they like now the belong to WD. TYend to by Lexar stuff myself thumb drive and SD card wise.

You might have bought a fake one or used a weak one as a boot drive (or to run some major app) too long or just damaged the end of the thumb drive by pushing it too hard it incorrectly. If these don't Happen then they'll last for years (still using one from 5 years ago today)

This will be about £800 when released at best. Posted via the Windows Central App for Android

That's cool... I want a really slim USB drive that is 1tb... and as fast as a SSD.... but, i am sure it could buy a new car with the cost of it :-\

Yes!!! 1TB space for my 3DS!!!

Not sure, but some of today's cameras may not even support this. Have to look for new devices now. :)