Satya Nadella just got a big cash bonus from Microsoft, but it could have been even bigger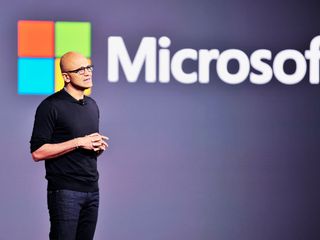 Microsoft CEO Satya Nadella just received a large cash bonus for Microsoft for exceeding most of his needed milestones during the company's 2016 fiscal year. However, he didn't quite get all of the bonus money he was eligible to receive.
In a new filing with the U.S. Securities and Exchange Commission (via Business Insider), Microsoft revealed that Nadella got $4,464,000 in bonus money thanks to the company's evaluation of his performance. That number was 124% of his target bonus, which means that Microsoft's board of directors think he's doing a very good job leading the company. Overall, Nadella got $17,692,031, including his base salary and stock options, during Microsoft's last fiscal year that ended on June 30. That's actually down from the $18.3 million he got in 2015. BI points out that Microsoft's chief financial officer Amy Hood and President Brad Smith hit 140% of their target bonuses.
Microsoft stated in the SEC filing what Microsoft's Board of Directors considers in their evaluation of Nadella's performance:
A comprehensive review of the Company's and Mr. Nadella's performance across a series of factors listed below under "Performance review process for other Named Executives;"
Input from Microsoft's senior executives about Mr. Nadella's leadership;
Mr. Nadella's evaluation of Microsoft's and his individual performance over the past fiscal year;
The Company's performance relative to other technology companies;
Input from the Compensation Committee's compensation consultant;
The Board's assessment of Mr. Nadella's performance during the year.
While the board gave mostly high marks to Nadella, the filing does show some elements in the company's performance that could have kept Nadella from reaching that 140% bonus amount. It states that "revenue was slightly below target due to our change in phone strategy" and also that "Windows 10 MAD fell short of expectations for the year, in part because of the change in phone strategy, pushing the goal to achieve 1 billion Windows 10 MAD beyond fiscal year 2018." It added that "mobile devices fell short of plan and execution against competitors could have been, stronger."
Having said that, Microsoft also stated in the filing that the decision by Nadella to cut back on its mobile phone strategy "allowed the Company to fund more strategic priorities". It added, "Mr. Nadella's decision to streamline the phone hardware business created the opportunity to reprioritize assets to growth areas." It also saw growth in its Office 365 and commercial cloud business, and on the consumer side it stated that "Xbox Live users grew 33%, and the Cortana Search box exceeded 100 million monthly users."
Nadella also got credit for keeping employee confidence in Microsoft high, according to the filing:
Do you think Nadella is doing a good job in leading Microsoft? Let us know your thoughts in the comments!
Windows Central Newsletter
Get the best of Windows Central in in your inbox, every day!
I think he's a genius. He is certainly getting what he wants and cashing in.

His response to not receiving the full bonus was, "Wait, what? We have a mobile OS?"

@MrCatfish Once you get to that rung on the corporate ladder, you'd have to be pretty stupid to not cash in. The hard part is getting there.

You misunderstand. I mean that he is moving things about in/with MS and getting bonus moneys as well - yet we tear him down one side and down the other.

Why don't he just donate part of the money to Windows Insiders. Windows 10 wouldn't be perfect if it wasn't for them.

Or donate to the Windows 10 Mobile marketing department so people know we exist lol

And also mostly for W10M as a whole (plus extra to W10 PC as a result).

insider program is the reason why windows 10 is in such a pathetic state.

He is in it for the money, not to help anyone.

@Gerard Corbier, hopefully he is in it at least partly for the money, or the Board has no ability to influence him with performance incentives and bonuses. As long as his compensation is tied to performance and business results, his being "in it for the money" is a good thing. That said, nobody, and I mean NOBODY gets to anywhere close to Nadella's level in the business world if you are just going to work for the paycheck. It requires a passion, brilliance, vision and dedication to team members and customers. Even if Nadella is making the wrong decisions (choosing the right path from among several partly good and partly bad options is incredibly difficult), he's already demonstrated those strengths or he would not be in the position he's in.

Sums up most of the population

Or sent everyone with at least 3 diff WP a NEW surface phone or whatever the next one is? I got a 800/900/830/BLU/950XL, I did my part to keep WP alive before you.

The rest of his bonus is available for download on iTunes or Google.

actually it's available on Groove or the Windows Store.

But only playable on Zune

why is this man paid actual money. he is killing the company !?

maybe he is paid to do it :))

You might be stupid. Check out the upward trend in their stock, you know the money the company is worth, since he took over.

The bonus is being paid out of earnings from interest of the estate of Steve Jobs.

Killing the company have you seen the stock prices? If he was killing the company he wouldn't be getting the bonus, that's not how the real world works

The companies stock price hasn't been this high since Gates was CEO. You just made an incredibly stupid comment. Why has the company been ruined? Let me guess the lack of available Lumia phones. I also use and like W10M but Nadella is doing a great job as CEO. W10M will be a priority again when the time is right.

Hearing you, but the time IS right, its been right for years, just MS incompetence in the mobile space is all.

You don't just exceed your goals for a huge tech company and boost staff morale by being a crummy leader. Some of their decisions might be alienating of us, core Windows fans, but you can't say leadership doesn't have a hard decision to make in that position.

All he did was please the shareholders don't get your hopes up for nutella.

Pleasing shareholders via corporate earnings is his single mission as ceo.

As long as it's not only short term earnings the CEO is interested in that's fine. So far Mr. Nadella's stock valuation "success" (which far to many people interpret as a measure of actuall suceess) is largely a function of cost cutting (firing tens of thousands of employees). For shareholders that is a success, but it's only one for the short term. That's why I don't yet see a lot to get excited over. He has let W10M slide. MS now needs some other means of maintaining their very fragile foothold in the consumer market. If this is all Mr. Nadelle has to offer, then this would be the time to sell MS shares.

@a5cent, If he is only looking at short-term success, then he will fail and lose money. His compensation includes long-term options that ensure he has an incentive to drive not just short term value, but also long-term value. Both matter and finding that balance, building tens or hundreds of billions of dollars of value for shareholedrs over the years, is the Herculean task that merits the incredible pay CEOs of large public companies receive. They certainly don't always get it right (Léo Apotheker of HP comes to mind) and are, hopefully, quickly fired when they don't.

@ a5cent Agree with that.

Mobile was lost well before Nadella became CEO. And it's hardly accurate to conflate the smartphone and consumer markets. It's fairly probable we won't be using anything that looks like today's smartphones in 10 years. We'll almost certainly still be using Office and Azure services, and I wouldn't want to put any money on Windows not being very relevant. MS has more consumer centric apps, services, and games than any of their competitors. And they're a platform company besides; Windows is more relevant to gamers than it's ever been, Windows Holographic is positioning it to be dominant with VR and AR, Azure and MS cloud services are increasingly important for consumer centric experiences, applications, and services, and their investments in AI, coupled with investments in new interface models like HoloLens, stand to have signifcant and transformative effects on the consumer market. The short term thinking is thinking that continuing to pump out cheap lumias to maintain a sub 5% global marketshare is somehow going to improve MS's long term prospects. There was no way MS was going to be able to get any real traction in phones without a serious disruption to that market. They were too late to the party and the market was too entrenched. Taking the short term hit of letting go of a doomed product category and putting the focus on areas that are likely to see growth while pushing for disruptive technologies is definitely a saner play for long term relevance.

Holy smokes a comment that's articulate based on reality and makes sense! Kudos to you. We'll have to wait and see what begins to develop next year for mobile

You beat me to it. Great post. Goals far more important than the consumer phone market. @eolirin

For sure, but long term, without a consumer phone, MS faces irrelevancy in the consumer market. The days of mums and dads all over the globe sitting in front of a PC has passed, so without a strong mobile presence moving forward google is positioned to usurp MS given enough time.

I guess you probably don't understand that the Azure cloud is the biggest priority for Nadella and it should be. MS is way more than a phone company. @a5cent

Boost staff Morale? From a few former employees commenting here and other places its like cancer inside microsoft because of this ****.

Moral at companies is based on idiotic criteria. At my company the case moral on attendance and hours worked. A far as I know, that just says we need to eat.

Well...maybe.....However, I have worked in places where moral was high on the priority list...and guess what...they were great places to work. Just becuase you had a feeling like you were wanted there. I have also worked where you were a number, and all that mattered was you making profit. Those places were cancer. Then I worked for myself, and made sure My employees were treated with respect, and had a great place to work. Guess what....My companies were the goto companies in the private construction industy here for many many years! now, I work for myself, in my motorsports customizing/restoration/powder coating business, I work on my time, at my pace, bang out awesome works of art and performance and my clients are extremely happy. And so am I. The movie office space comes to mind whenever i hear enterprise, and business based. That is a parody, however it is soooooo true to life in the corporate work world that its almost a documentary.

I'm not saying moral isn't high in some corporations, just saying many companies use asinine measuring criteria in order to visualize moral.

I guess MS's criteria of measuring moral is if your at work and breathing you contribute to high morale.

People like Nadella have another/different brain. Their focus is making money for themselves. That has been proven. But.... You won't believe me whatever I say.

Nope, some people just like to focus on the money they make and give no consideration to the hours/effort they've put in to get there. If you think it's easy or that anyone can do it, go right ahead.

I doesn't matter what I think....

Your right I wont believe what you say

@Steve Adams, obviously would depend on the team, but from the friends I have at Microsoft's Redmond office, morale is high and has improved under Nadella, because he's reduced internal strife and teams competining with other teams (e.g., compensation used to be done on a curve rather than on quantifiable results, so if your co-worker got a big raise, unless you did better than he did, you would get a smaller raise, even if you also beat your goals; that was horrible for morale). He's made it a more collaborative and focused place to work. I'm sure that's not true for all people in all divisions, including any where there layoffs, but in a company as large as Microsoft, that's to be expected -- not every project can succeed, and quickly terminating the failures, moving as many of the best people from those projects to further bolster the successes is a good move for morale.

Yet all that money in bonus and can't get a simple OS to work efficiently and effectively.

Man, we need Elizabeth Warren to start asking him a few tough questions. Lol

You are confused, Nadella is an Indian. Warren just pretends to be one.

That line worked so well for her opponent.

You're a sack of feces for that comment about her

Not fair, probably many Microsoft engineers get like 1℅ of that....the world is not fair :'( Posted via the Windows Central App for Android

C-level people deal with crap that no engineer who does not climb to the upper ranks will ever experience, nor would they want to. I get the on-call rotation once a month. Upper management never gets to be off-call. Screw that. I like having a life outside of work.

Mohamed, The Microsoft engineers are not paid...think insiders!

downvote for the truth again! woo hoo.

No, downvote for your nonsensical comments.

Insiders don't write code! Your an idiot. Building an OS is more than reporting that some feature is working on your old computer.

@Mohamed Fadel El Abadila, the decisions and work of an individual engineer cannot drive billions of dollar in shareholder value. The few engineers who really do drive incredible breakthroughs join the elite levels and, while not paid at CEO levels, are highly rewarded for their contributions. At the CEO level, the person is responsible for creating that tens of billions of dollars of value. Not just that he can, but he must, or he'll be fired. Not a lot of job security at the CEO level. It's also the competitive compensation for that position -- corporate boards have concluded that it's worth spending millions to get the best possible CEO, because if they don't and get only a mediocre CEO (because competitors are willing to pay that much to attract the best possible talent), they will lose tens of billions. Ten million is a bargain in that accounting.

I respect what you said @Granitestatecolin :)

If I read this right, it makes sense that he was denied part of his bonus for how it went with the phone sector.

"execution against competitors could have been, stronger"
I think this echos all Windows 10 Mobile supporters...
I bet if they prioritized app development for their own platform, then they could have had a stronger argument to market their phones, which could have resulted in more phone sales, which could have resulted in more mainstream apps, which would have resulted in even more phone sales, which would have resulted in more... i think everyone gets my point...

He's ultimately accountable, as CEO, but my bet is that the Mobile team failed badly. It's surely not for nothing that Belfiore went on gardening leave? Overall, Nadella's been an excellent CEO in the short time he's been in charge, as the market valuation emphatically confirms.

Yes..their Mobile OS business failed miserably. But its also true that their cross platform mobile app business is doing good and there are multiple business divisions which are not 'directly' involved with Mobile.

Absolutely. The strategy to put MS apps everywhere has been a huge win, Office is hitting it out of the park, Azure is booming, and initiatives like Power BI have been very well received.

And also I like their more and more approach towards Enterprise and Cloud. In the Consumer space they are hated badly without any reason except the fans. So better they should increase business where are prefered, ie, in Enterprise-Cloud, than to fail in consumer space. I can show you examples how badly they are hated for consuemer products.

Hate for them in consumer areas is simply irrational. Good thing they have Xbox and Surface division. Surface especially is starting to get some fanboys.

Surface is just the neat thing from Microsoft that doesn't get hatred due to its Enterprise level status.
But for the Xbox, its not totally true. Just visit any 4-5 random gaming sites you will only see hatred towards Xbox One. And most of them hate Xbox cause its Microsoft product, and very few hate cause of bit lower performance than PS4. Even some hate Alan wake or recent Forza horizon 3 cause its published by Microsoft studios, and also hate other Microsoft studios published games, no matter how good the games are . This is just disgusting.

The hate towards Microsoft as a company is indeed irrational but unfortunately that's likely because of their performance in the past even to present in consumer space to begin with. Not exactly because they always horrible at it but in several factors such as marketing, and execution. They tend to make decisions that makes them people to despise them, even among to us users of MS ecosystem. e.g. OneDrive fiasco, initial Xbox One launch, Vista, 8.X, even 10 in some ways, etc. Microsoft is seriously bad at handling at public relations and how they execute their product no matter awesome it is, and when they make mistakes sometimes it tends to be relatively big deal or slowly becoming a big deal because of abandonment or too slow progress. Unfortunately the issue is rather complicated. The only Microsoft can really do is to really just try to avoid issues as much as possible and continue to provide things that pleases average people, not just enterprise. It will take a while to make Microsoft brand to become cool and attractive. There is a perception problem here that persist even these days, even among its divided fans.

Totally agreed with you.Microsoft really sucks at PR sector. And the decisions they make, is really sometimes just intolerable, like Onedrive free space, and the rest you said. Actually they should give some control to the users and not control the users fully. This factor has created some bad reception of Windows 10 along with some privacy issues.

MS does make it easy to hate them. Screwup after screwup after screwup.

Not if you are a stockholder though lol

I wish people understood that ever since the computer revolution began, There has only been two hugely successful Operating System designs. Win32 and Unix. Unix includes all of Linux and Apple too. Microsoft created one of these two. Probably one of the single greatest creations ever. I wish more people understood what it takes to build software and then maybe they would chill with some of the hate. Oh yeah Android is Unix too. 50+ years and only two successful software operating system codebases, and Microsoft created one of them.

https://1drv.ms/i/s!Ai72nmlZu0kBh6UAEh0K_Ytd96hqig Check this image. And those were the replies when one guy asked to buy Xbox One.

Joe B is/was everything that's wrong with windows phone development. surrounded by Yes people didn't help his pompous persona

And he clearly loves his iPhone.

Of course I'm an excellent CEO. The best there has ever been!

Probably wise to publish this in the PM. I'm not really a professed Microsoft business savvy expert. And I am not blind to some of the obvious confessions they have made via their strategy changes. But overall, across the board I mean, Microsoft seems to be enjoying a robust era. It's as if they have finally busted out of their inferiority complex. I'm bullish on them. And I'm even optimistic about the future on "small displays", whether that means specifically a "phone" or not. (I don't think the current limits of what we call a smartphone will apply in the near future)

The small screen includes Band and Band 2, these are currently selling off to clear their stock, now I don't know what to think but the direction that this Company is taking, it is very interesting to me and I think it's maybe good time now to buy into MSFT's stock because there is gonna be some big huge life altering change coming for us consumers that is gonna shoot their stock value off the charts... Just my two cents.

I don't know how to buy stock is MSFT but I want to Also keeping my fingers crossed for a Surface wearable to succeed the Band 2

"decision to streamline the phone hardware business" Well Nokia is dead, so YOU KNOW WHAT THAT MEANS

Nokia is not dead, we see their vibrance and color in the Xbox One Design Studio and the New Xbox One S bundles. Nokia is the only company with that type of custom finish color schemes.

Oh definitely, but i actually meant Lumia since they've pretty much stopped manufacturing 90% of them. MS dropping Nokia is not streamlining the mobile hardware business, so this is a red flag that Surface Phone is definitely going to be a thing.

You are a fool ,nokia is not dead Posted via the Windows Central App for Android

Haha, killing a hardware line is called "streamlining" these days. I wonder how far these euphemisms in corporatese will go. :D

Now put that money into a better Windows team.

Just goes to show, retrenching pays!

Step 1 fire a bunch of people
Step 2 abandon lots of projects
Step 3 ???????????
Step 4 PROFIT!!!!!!!!

Haha! Love it XD! Posted via the Windows Central App for Android

Step 5 Be IBM and irrelevant.

Well I guess their standards are much lower than mine...

Same here.... Posted via the Windows Central App for Android

At the very least, all us fan boys are asking for is a little direction or uplifting statement on where our beloved projects (Band 2?) are going. Should we give up hope and abandon the platform or is there reason to stick around? SPEAK TO US! Why not show us loyalists a little respect??

Why should we speak to you? There's no reason. You are a consumer and we are committed to the enterprise segment. Buzz off!

The only spirits lifted were investors, employees were fired and Mobile was gutted and trashed. Fans were slapped in the face. It's all good though, the rich got richer.

Except that MSFT this year jumped up five spots in the "best companies to work for" list by Business Insider, so the employees are happier. MSFT is also hiring like crazy. The only fans "slapped in the face" are the Nokia groupies, who seem to take it so personally that the Ballmer-initiated (and against the wishes of a number of board members) Nokia bailout failed so miserably.

It failed because they wanted it to fail.

Arise, ye workers from your slumber,
Arise, ye prisoners of want
For reason in revolt now thunders
and at last ends the age of cant...

I could not have said it better

The same the world over my friend

I don't know if he deserves his bonus or not but one thing I notice is that I stop seeing anything innovative or exciting from MS once he took the driving seat, all I can see is products/departments getting axed and employees getting laid off, therefore it seems strange to me that he got credit for "keeping employee confidence in Microsoft high".

OneCore/Universal Windows Platform? Continuum? Almost every single innovative thing that Microsoft currently has was done under Nadella. Hell, Surface didn't even take off until he was at the helm.

I don't disagree with everything you said but didn't Surface Book come out under his tenure? That's pretty innovative.

Where's my cash bonus from Microsoft? I've stuck with them since Windows 3.1. Heck I even bought Me & Vista!

Tell me about it.. I've been using MS products since MS-DOS 3.0... Heck, I even used Visual Basic 1.0 for MS-DOS to create a couple of cool stuff.

Have you also got Microsoft shares? No? Well that's exactly what you should have bought instead of Me & Vista. Now you'd be getting money from Microsoft ;P (Though admittedly, from a purely financial perspective, Apple shares would be better to have)

just as apple devices would be better to have as well!

@DJCBS. Even wiser move would have been to buy Apple shares when they were almost going bust :P.

Band is dead, future of phone is dismal, DVR for Xbox abandoned after they promised it after killing Media Center. They might be good, short-term business decisions, but it's not coming from the aggressive Microsoft I came to love that would push the limits.

Really though, how much money was saved from the phone side when they hardly do much with it?

They advertise Surface on TV all the time becuase it's making money.
Instead of buying Linked in, put that money in to consumer Win 10 Mobile advertising, showing Continuum and it's potential.
Remember Ben the Pc Guy and smoked by a Win phone great vids on you tube. I loved those Vids.
It was great to see ben give the person a WP, loved it.

Hard to make smoked by ads nowadays when OS is buggy lagfest. Something they are smoking though in Redmond.

So I guess you mean that android of the buggy lagfest?

Windows is the new android.

ha ha. I meant windows is replaceing android as the lagfest, with crappy experience. unlike the new android that is fast stable and has everything working smooth!

The new android fast stable and has everything working smooth. LMAO

hprvez, Yes....yes it does....try it sometime...

After being using WP/W10 for a lot of time I recently bought one of those cheaps BLU R1 phones from Amazon and let me tell you, Android 6 is one of the smoothest experiences I had. Take in consideration the phone is quite cheap and with no so stellar specs and every app I throw at it is blazing fast, absolutely no lag.

Downvote for the truth again....ding ding ding!

If the board thinks he's doing this great, then he must be good after all, contrary to what the others think on this forum, calling him names. Otherwise the whole board should be fired. For incompetence

Indeed, the board seems to have interests that extend beyond Nokia, go figure...

Comes to my mind a board of directors that didn't know Pokémon Go was not developed by Nintendo

Nintendo owns the IP for Pokémon, but the game itself was developed by Niantic, not Nintendo proper

Although, for full transparency, Nintendo is an investor in Niantic, but so is Google, from whom Niantic spun off.

Cool! The board at MS is fair! I agree with the key points the Board made. Mobile hardware has been major letdown this year but I also agree that to get Windows 10 onto ALL of Microsoft platforms, engineers needed to focus. Now that XBox & Hololens are already on Win10 AU, it's time to refocus their attention to mobile hardware. In fact, I'm hoping the Surface Phone comes with a "Surface Watch". The Band was revolutionary but it's also a niche product. A proper watch with dual monochrome/colour screen like the Casio WSD-10 is a good place to start. However, looking at available embedded CPU on the market, I would rather the Surface Watch NOT run Windows 10 mobile and stick to purely C code for better battery life and performance.

I can dig the idea of a Surface Watch. If Microsoft came into 2017 with a bang such as, Surface Book 2, Surface Pro 5, Surface 4, Surface Phone, and Surface Watch and then nothing but advertisements about all of their products everywhere, I'd be all for it. One can dream..

"Microsoft's board of directors think he's doing a very good job leading the company" Only WP fanboys think he isn't. Everyone else with two eyes and a functioning brain sees that he is doing a good job. Shame he lost bonus money because of the WP failure, but at least that's dealt with and next year he might aim higher now. Also, the "allowed the Company to fund more strategic priorities"part is encouraging. Leads me to believe Microsoft, going forward, will be prioritizing what works and not putting money in what is an assured failure. Of course, that might enrage WP fanboys when they realise it means the "Surface Phone" won't happen, but Microsoft will live well with that. Actually, everyone will. More money in things that matter and work benefit all Microsoft customers who aren't clinging to their necrophiliac tendencies.

If the Surface Phone doesn't happen, I'll be happy with updates to my existing Windows Phone. My optimism says things will improve. My realism says you're 100% dead on.

"My realism says you're dead on..." ...arrival?

I agree with most of your comment except for the part of "realizing Surface phone won't happen." There's literally no concrete information one way or the other so I wouldn't write it off yet.

There's also no proof that one exists. That's the thing. People are taking the Surface Phone for granted when Microsoft hasn't even acknowledge its existence. There's no announcement nor commitment to deliver one. And considering how mobile sunk and WP died, there's no real reason for Microsoft to actually invest in trying to resurrect any of it with a Surface Phone. All signs point otherwise. Even Windows Hello, the last remaining WP exclusive technology, is going to Android and iOS. Posted via the Windows Central App for Android

I know its frustrating but W10M OS is not dead, only their Lumia hardware. If Microsoft didn't care about Mobile at all they would have killed it off already, like they do with everything else that fails. They are certainly not keeping it alive for fun, they never do that. The Lumia 950 is over a year old so Microsoft don't need to keep developing W10M, yet they still do. HP also wouldn't have spent millions on R&D for the X3 if they didn't have a guarantee that the mobile OS would be here in 2017 and beyond. Just this week, we are hearing of two big updates coming for W10M, the biggest hitting next Spring. So either Microsoft are simply keeping W10M going for 3rd parties manufactures like HP, or they plan to re-enter the market at some point. Final thought, nobody knew about HoloLens or Surface Book until they were revealed on stage, hence why there is still a real possibility of the new Flagship phone. Just don't put it on your Santa list yet.

They will soon kill it, MS is just one company that has no direction as far as Mobile is concerned.

This site was better when it was named "Windows PHONE central" .
Microsoft fans that use/want iOS/android weren't here

I have bad news for you. I've been here since 2012 when this was Windows Phone Central. But like most people I've jumped ship when WP struck the iceberg and Nokia left.
So your whining won't work for most of us. Posted via the Windows Central App for Android

Ditto DJCBS. Been here since 12 as well. When I first used the lumia 900. I was using various other windows mobile devices before that but just came upon WPC then. After having 4 WINDOWS PHONE devices, and jumped off the titanic when windows 10 was released and MS axed a bunch of great features and broke promises. Saw the writing on the wall that they were in for another W ME failure.

4 devices!!!! Wow you have serious street cred player.
Since you're admittedly an iOS guy now, you're just a troll here. I get it you don't like win10, you've moved on but you just have to keep coming back to talk trash.
Definition of a lame for u and DJCBS

Could mean that all hardware goes the way of phones. Band leading the way.

You seem to miss the point pretty often.

Haahaaa. Mediocre at best. Most things are late, full of bugs, or given no Love. Microsoft is far from the once ambitious tech company that it once was.

Indeed. Though as a company it's probably the best move for them. Shave off all the little parts that aren't doing so well, pull right back to the core. Once that's all done and everything is then running smoothly you can start branching out again, bit by bit. Just like an army would. The only thing that really baffles me is this LinkedIn acquisition. Though I've never used it or even had an inkling to. From my point of view it's just a bloated recruitment agency. Hey-ho

They were definitely correct in stating the mobile business should have been handled better. I am super happy with my 640. The overall OS is genius. The app marketing needs to improve, though I don't see that coming. I'll stay with them, though. Don't want Apple, not impressed with Android. If the mobile market was managed better, if not kicked to the curb, they'd have an overall larger fan base. Now they give up on the Band, too? Something tells me if he were able to grow the mobile business, not only would he get a better "bonus", we'd have overall improved phones. That is my biggest issue with Microsoft and Mr. Nadella. You can't eliminate hardware and software that's depended upon by millions.

Congrats Satya Nadella... You will one day get full bonus from other OS please also for shutting down Microsoft. Keep it up..

in consumer side no, in business side yes he is doing good

And there you have it. His decisions were likely based on board member wants and needs, not necessarily his own.

Indeed thats the case, also when Nadella was appointed, it was said Bill Gates would spend time to help with product decisions, so Bill Gates too has a role to play in deciding to end kill mobiles for consumers.

Do you think, if I asked nicely, he'd cough up some of that bonus for a new phone to replace the increasingly pointless 950 I bought?

Killing the phone is "streamlining"? LOL

Streamlining, focusing, consolidating, retrenching.. Lotsa words for effing up.

I think it's called "sunsetting" in Nadellaland.

Nadella f...d up the mobile business big time. Things were moving in the right direction with 10% market share in some countries. He managed to decimate that in one year time. I most say, that is a big performance by itself, being able to chase so many loyal users away in such a short time. I guess he should get a bonus for that big achievement!

Agreed, I still see Lumia's here in the UK on a weekly basis (while I see zero BlackBerrys anymore). I think they got around 7% share one month in Britain in 2014, though this was likely because they were the cheapest sim free or prepaid options. Italy if I recall was also a good market, over 12% one month. Bruce Wayne had a Lumia 950 XL in Batman vs Superman which would have been filmed in late 2014. Unfortunately Lumia hardware can't be saved now. I just wish Satya had given it a bit more patience the way Apple have with their Apple Watch. Oh well, it was fun while it lasted.

Even Google is making comeback while MS is leaving. Google might also go after desktop users as they see that Nadella has 0 interest on consumers.

On Emmerdale & Coronation Street soaps, all the characters had Lumias. Interstingly the "Just Eat" advert also features the app ordering on a Lumia

Hes done a great job, Microsoft is more agile, they are focused on thier core business. Yes mobile is dead and they have withdrawn from the consumer market, that has nothing to do with Nadella, that has everything to do with hard facts on the ground.

Far too much money for an individual.

What makes you say that? I run a company, im busting by balls daily, when I first started it i had no money for a year, working 17 hour days 7 days a week and all the emotions that come with being a business owner, fear, doubt, fatigue. Also the amazing things like passion, confidence and freedom. I will sell my company for £50 million, if other people are too lazy or dont have drive to set up a business then dont knock them. Hes in charge of a billion dollar business and that is the norm around the world, its capitalism.

He is a CEO. Not a owner.

How much would you pay him to keep him motivated, take into account pay at competitors.

they didnt pay him nada its google and apple who payed him glorious money for his achievements

Capitalism is what I am complaining about, this system sucks and we should all fight it before the whole world is at war (again).

The direction in which he's taking Windows makes me miss Ballmer...

Nope. He is running down windows phone into dust.

lol :)) wtf? he has reached his milestones: laying off engineers, work cheap and deliver mediocre windows quality. yeah, nice work.

Bonus from Google and Apple would be more logical after killing wearables and nearly killing phones.

So..."Satya" is a man name? I thought it was a woman's... Losing the

Nope. It's board slang. "I'm glad we Satya down before we revealed your bonus reduction". Nadella, "Effing phones are still giving me grief".

For burning down the windows phone?! Well, that was just 7 % market share... next, Android !

An obscene amount of money! A lot more useful things could be done with that money.

No it isnt. I guess next your going to say Bill Gates got too much? The Foundation he set up is worthless? Look at what the bankers get, you know, the same ones that tore down the world, made the poor poorer and the rich richer. Traders make a LOT more than he does.

An award for losing the mobile market ?

Did you read the article? Mobile was the main reason he didn't get the maximum bonus.

I heard, through the grapevine, that he is pissed that he didn't get his full bonus. Apparently he can't afford any Apple wireless earbuds for his iPhone seven that he bought with this months salary!! ;-)

Don't hate the player......My new iphone is awesome!

I love all this new awesomeness windows mobile has...like all the awesome first party apps for all the banks, stores, etc...you know...stuff you use your phone for...yeah! Exactly....WINDOWS MOBILE IS A JOKE!

Please, go back to your tiny little 720p display incapable of displaying mobile web pages in Safari, which is the new backwards browser. For banks and stores, nobody needs an app. Only Apple needs apps, to be in control of what the user can do with a computer.

spoken like a true windows fanboy.....apps are MILES ahead of mobile browsers for doing things on your moible devices. plus my 720p display works just fine and works much better than the battery hog higher resolution that does nothing for your device except burn battery! Tiny little? last time I checked its pretty well the same size as the tiny little 950. however, its miles faster, more stable, has every app, wearable, accessory available for it, and runs a much better operating system than windows 10 mobile sewage.

You must be in league with wrong banks as as much as I hate my phone it has though no bank app shortage

I agree that he's doing a great job and deserves a bonus for it, however, I still think executive level pay / stock and bonuses are an order of magnitude too high across all businesses. Does anyone really need or deserve to be paid that much in a single year when others will struggle to even make 1% of it? Leadership is very important in a company but none of it matters without the low level workers actually getting the job done.

I have a goal of a House, it costs £15,000,000, The boat im getting is £1,000,000, the cars £500,000. The rest is to help others, when you have money the ability to help other people is more rewarding than anything materialistic for your self. The more a person gets the more they can help, are you knocking Bill Gates and his foundation? Until an alternative to capitalism appears widespread, were stuck with it. I agree that in many cases you get greesy entrprenuers like Donald Trump, a virus on this earth, Satya is not a Donald. When you set a higher goal you realise being an employee is pointless as you can only get so high in pay (Satya is an employee not a founder and his own pay is limited, he can never make the money Bill Gates made as its not his company) set higher goals and you will find a way to get them, thats the reason many set up a company in the first place.

I agree. He is not donald....thank god! I will give him that!....However, he's not Bill Either!

True as well, Bill was in the right place at the right time and no one will have as much passion about Microsoft as he did/does and will have. Satya does not make decisions, no one in a large a company as this does, they have advisors, Data and metrics we will never see and we on this website have a tiny focus on MS, they have soo much to them especially in the enterprise.

Downvote for the truth again...whooo hooo!

I find out interesting that they outsource every other from, while doin stating the is always someone who will so just as good of a job, cheaper. Why dont we start outsourcing the CEO positions?

To India? Ive dealt with outsourcing, a terrible thing to happen, you end up spending even more in the long run due to the incompetance of a disconnected team.

Is'nt it obvious they already done that.....come on!

Lot of folks lost their job. So he got their share. LOL

I am one not 100% jk support of the mobile retreat on phones. There is still room for three OS and we now see an accelerated decline in developer support and apps leaving. Even execs will need apps in many cases. I am in the position that my company would insist I use an android or iPhone. How do we expect companies to insist their employees use Windows Mobile with no support?

Great we are trying to get Nutella fired and these idiots are paying him even more to act like a lame duck.

$25,000,000 in 2 years....wow.

He missed the big bonus by making one mistake! He miscounted when getting rid of good employee's.

WTF! For doing what? This man should be fired seriously. Devs are leaving.

I really liked the idea of uwp and windows 10 to all devices.... but what mr Nadella pushed to the market was a beta OS with plenty of bugs and poor performance for the price of 600$.... almost a year after and windows 10 mobile is still in beta .... and developers are leaving......windows 8.1 is still the 77% of the windows phones and could run like a dream even in 512MB devices... and this guy killed it and didn't give a **** for the customers behind. and the future plans of this guy are what???? a windows phone with 4 gigs of ram and SD 830???? to use it as a laptop???? I could buy a laptop or tablet with less money.... this man should go home.....

The whole UWP, APP and Continuum thing is all just a gimmick. There is NOT one OS like stated, There are no major Universal apps coming to the platform, Continuum is just a gimmped RT program that cannot run legacy like it should be able to....The entire project is sewage and destined to FAIL!. They should have kept on trucking with windows 8 based OS's for both desktop/Tablet (a much more stable, better user experience than the crap that w10 is, and on mobile its a pure JOKE. windows phone 8 was MILES better than w10m which is terrible.

Intel pulled the rug on mobile x86 chips for the time being. They are no where near to even touching ARM. Mobile x86 chips need to be better in every way to even succeed. So without said chips no x86 app is going to run on a phone. Besides why on earth would you want to run an x86 app on a phone? Majority are unoptimised, hardly been updated or are abandoned. An x86 dock that works in tandem with phones is a much better solution

no they would not run with 512MB. that was actually the mistake, manufacturing such devices when the flash memory is getting cheaper than tap water basically screaming buy me and cook me some code. that guy , could be same as this one, dont know, deserves big bonus as well. i went budget with one of their lumias with 512 and it screams for nirvana with not even one year of life. not having an uptodate browser and meeting with pages that authors dont give a f..k about complying with yours as everybody is using chrome. pages will melt under your eyes. hear their lumia 650 now has 1 gb ram and a poor cpu and people stare at the ....resuming splash a lot. they certainly put lots of asian entrepreneurs in mobile business recently just because of that.

I was happy when he took charge of Microsoft. But now unsatisfied. In the beginning it was very pleasant listening Mr, Nadella, but everything is looking tousled now. He is not a kind of person that can take risks.

Nice, totally wrecking WP/W10M and Band while partly wrecking W10 AND that leads to a bonus of $4,464,000... I could do that w a bonus of just 4 million USD...

Hell to save money I could have done it for 500,000!

Insiders do the same for free. Not fair.

Nice avatar there but feel the urge to mention they didn't just kill their phone they are after our "desktops" as well. exciting times :)

For what? For firing thousands of employees? For killing the Microsoft Band? For killing Windows Phone? For making a ****** windows 10? Or for pleasing the shareholders? I'll be happily watching this man taking Microsoft down.

I am already enjoying it...if he thinks businesses will continue to trust MS with their junk windows 10 OS, lol he is really smoking something

they are defragmenting their OS market. one dumbed down version, secure of course, also fast, playing well with 1GB ram on older 5-6 yrs old computers, phones that have 1 Gb, but basically trying hard to pull a chromeos one from theirs as well. they dont have the search engine, they dont have the apps.they are the only believers in touch capable os on everything so this is where their work goes. of course they lay people off. they renounced their phones but they didn't give up on their idea that we will have to wait until the complete metamorphosis of our desktop into huge phones will take place. then only you will have your phone now in whichever sizes you may. they tried already with 8 but was too soon. people got scared. complained work doesn#t get done. apple still thinks that greasing your beloved screen with your fingers is not the way to go but behold there could be a future where ms will serve everybody the basis for a richness of apps and when that happens you will see the exodus of devs the other way around cause devs do that.

How much of that was for destroying Mobile 10?

Well, maybe half of it for that, half for laying off professionals and replacing them with free insiders and interns

Not exactly their guilt as we are gladly helping them.

I have a feeling some of the money was from Apple and Google the two biggest shareholders in MS

Easy to look that good when you lay off thousands of employees...

Nadella should have only received half what he was entitled to. Given that the central tenet of his stated ambitions on assuming office was "mobile first, cloud first" and that the first part of that equation is now seemingly non-existent, is it not legitimate to ask whether he himself and his strategy have failed?
We all know he was a "cloud" man before he assumed the helm, but under his watch Mobile, which in some cases had as much as 13% market share in certain markets in Europe, has gone to near zero. This is an OS that one can't help but feel that, had the mobile strategy been adequately adjusted and given the proper and required focus and attention, would have stood a very good chance of growth and ultimate success.
Mobile is the future; if Microsoft fails at it then the long term prospect of the company, beyond been some glorified Cloud company come Server farm operator, is surely called into question.

How is MS cloud actually doing? I read somewhere that AWS has 30% market share vs. 10% of Azure.

As 2015 gave way to 2016, Synergy says the public cloud market share wars looked like this:
Amazon Web Services, 31 percent
Microsoft, 9 percent
IBM Cloud and SoftLayer, 7 percent
Google, 4 percent
Salesforce, 4 percent Growth among the five biggest public cloud providers also remains rapid. The Q4 2015 growth rates, according to Synergy, were:
Microsoft, 124 percent
Google Cloud Platform, 108 percent
Amazon Web Services, 63 percent
IBM Cloud and SoftLayer, 57 percent
Salesforce, 40 percent So yes they are growing cloud, but at the "expense" of Mobile. If they can't do front end as well as back end- which is what "mobile first, cloud first" strategy really is, then they should simple come clean.

Short term gain for long term irrelevance. The goal is to become IBM.

windows phone 8.1 was a stable and fast os but instead of upgrade and add features to 8.1 they choose another reboot of the platform... another 2 wasted years and customers where used as beta testers. the remaining few developers had to rewrite most of the apps . windows phone lost the simplicity and fluidity once had. also Lumia phones and nokia behind was the main reason that customers give a chance to Microsoft and used their os. killing Lumia killing nokia and leave phone to companies like acer and alcatel Microsoft is digging its own grave....

Couldn't agree anymore. I'm done with being a beta tester for Microsoft. It Nutella doesn't show full commitment to mobile within 12 months, I'm off.

No he is running Microsoft into the ground. When a company starts making people redundant and senior staff quit then the company is going only one way down. The support staff are overwhelmed with calls so more staff should be transferred there. Also Microsoft try and charge for tech support when they supply the hardware, Software and the apps come from their store. The latest update bricked my Surface Pro 4 and the support from Microsoft was to remove the battery which is not possible.

How is he keeping employee confidence high when all the employees I have spoken to wonder if they could be laid off the next day because Nadella decides to do more "streamlining"? Maybe the cloud division because that seems to be the one area they have absolute commitment.

MS CEO Nadella is keeping the "Enterprise" businesses, the new Cloud services, and Subscription services making money for Microsoft. you get rewards when you make money for you company. in the mobile devices World the "Surface Pro 3 and 4 tablets are a a Billion dollar a year business and their New Surface Book has got best laptop of the year award from a famous group. Microsoft's weakness is in smart phones sales. Microsoft will try to remedy this in 2017 by retiring the MS Lumia brand of smart phones and introducing the MS "Surface" brand of Windows smart phones. I suggest that Microsoft just make just 2 Surface smart phones whice are the 1="Surface Pro" smart phones an ARMS CPU smart phones with as much specs as a HP Elite X3. 2="Surface" smart Phone which would cost less to buy and be like a Lumis 650; Thin, but have a more powerful CPU, more ram and a "C" Usb connector for using it in "Continuum mode". them microsoft should advertise the hell out of them so People know they exist and are up for sale ready to buy ECT !

Get this man a seat on Oprah

He is getting bonus to kill Microsoft Mobile business

He is doing job for Apple indirectly

He could use that money to hire all the people back they keep laying off. Posted via the Windows Central App for Android

So, "streamline the phone hardware business" is it called, eh?

office 365 is doing good, google is the main competetor, mobile is down the toilet, erp in the cloud is making progres, crm is not.
windows 10 a little bit, but the universal app, is hanging with no interest from developers, they are all going android, ios still
azure little better, server little better, developer tools a little better games division still behind sony ms still has long way to go and is doing catchup with google and apple

Cloud and mobile is the most importent things the board and investors want microsoft to go on with.
Microsoft needs to learn in mobile to serve the consumers, and steel and copy good things is a big part of the game without infringement copyrights.
Windows mobile square minimalistisk and booring ui is not the way to go.
MS should go android and apple way in the ui, thats is what consumers need and want.
Microsoft experiments in square apps both in mobile and windows 10 needs to stop, go for the secure and safe ui android and apple has with folders.

He's doing an okay job. As mentioned, Microsoft needs to do better with the phone strategy and give good products like the Band more visibility in the public eye so that they sell more and won't be cancelled.
Windows Central Newsletter
Thank you for signing up to Windows Central. You will receive a verification email shortly.
There was a problem. Please refresh the page and try again.