Satya Nadella reveals more about himself in new video interview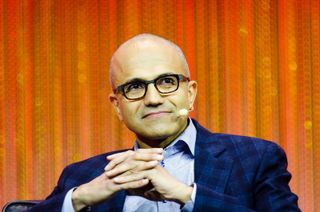 Satya Nadella doesn't usually offer any personal details about himself in interviews, but the CEO of Microsoft did just that in a video chat with The Wall Street Journal called "How I Work*.
The interview goes over a vareity of subject, such as what is Nadella's favorite workday time-waster, which he says is Cortana jokes. He also admits to being a morning person rather than a night-owl, and says that he likes to listen more and talk less during meetings. Other items that are brought up in the 2 minute interview include Nadella's most prized personal possession, what he does first thing in the morning, what his number one smartphone app is and who has influenced him the most in his life. Perhaps the funniest answer is which event would he rather attend; a Los Angeles Clippers basketball game with owner, and former Microsoft CEO, Steve Ballmer, or a bridge game with company co-founder Bill Gates.
Source: Wall Street Journal (YouTube)
His father is a communist and he's now the CEO of a major capitalist corporation. Family dinners must be fun!

"how do explain cricket to someone in US?"... you cant... :p

baseball + croquet + time = cricket?

Good to know a few of these things.

- Which phone do you use as daily driver? - i-ph... I mean i-Con.

I love Microsoft, but this clown has to go. Way more bad than good since he has been here.

And go look at a lot of the other replies. I am not alone. But hey, that doesnt mean your "ignorant", does it? DA

What good have you done..?

With Microsoft? None. I'm not employed by them. Thanks for asking though.

The is the best CEO till now. There are things. When billgates made everyone loved Microsoft but after the antitrust case many of them hated Microsoft during those days and when vista failed ppl hated Microsoft and Ballmer so much which gave apple with Steve jobs a chance to win the market. Now this CEO is making Microsoft again. in his 2 yrs he made great decisions. If it had not been late he would have stopped the nokia acquisition too.

I wish he had been able to stop the Nokia D&S acquisition, then WP would have failed quickly instead of the slow death by a thousand burger menus......

FK him! Can't believe BillG gets a junior managing a company like this.

He totally got choked up mentioning his parents! *verklempt*

Cortana jokes. Terrible answer Satya. But honestly, you're the CEO. What else could we expect?

I don't know, I tend to waste my time with Cortana jokes too...

It's surprisingly fun. Well, not fun. At the very least it doesn't make you want to slit your own throat.

The only think I'd really like to know about him is when he is leaving Microsoft.

He is a lot better than balmer

But Gates is still better than him, some.

Agreed that Gates founded the company along his partner Allen but he cannot be the CEO. Microsoft isn't like apple which was fully relied on single person ideas like Steve Jobs.

When he starts doing a bad job I'll agree with you, Ballmer let Microsoft slide, you think fixing the years of mistakes made in the past just happens overnight? Microsoft still has a long way to go with Mobile, and while I do wish things would speed up I'm not ignorant enough to expect it to happen. I'm happy with Windows 10 Mobile, I'm even happy with my 930, the OS is enjoyable to use, I like the design and I like the simplicity. When I have to use iOS or Android for even a few minutes I get frustrated especially with the keyboard on my wife's iPhone, I can't type anything, it's the fact that the "keys" are always capitalized, so when you press shift nothing changes but the shift key lighting up and low and behold that's where my thumb hovers as I type two handed. Granted, Windows 10 Mobile is not enough for everyone but it never will be. Find the OS and device you like and use it, don't bother complaining to the whole world that you don't like some CEO or you think that company is dead or sucks or you hate them. If for some stupid reason you do hate the CEO and that hate is so strong for you that you don't want to use Windows, then why not go buy a Chome Pixelbook or whatever its meant to be called.

Completely off topic, but iOS 9 fixed your keyboard issue. Like the only good thing about iOS 9, basically.

In contrast, I hate everything about Windows 10 and Windows 10 Mobile. I love Windows 8 and Windows Phone 8.

TIL I will never learn how to play Crickets.

It's not that hard you know ;-)

Well. A MASTERMIND ! Posted via the Windows Central App for Android

Not a villain,but INFP something MASTERMIND!!

Waste of time nadella satya lol what is the plan here with the mobile division..where are you going with windows 10...this time the plate better not be empty

They've been pretty clear where they are going with Windows 10, try reading more articles on Windows Central perhaps?

Oh I know already....they been pretty clear from the beginning like always for some of u?? That's why we get OS reboots coz we are special....right lol

Microsoft needs someone with a vision for ALL the company, not just parts of it like Office for ios/android and the cloud. There is no forward thinking beyond being able to open and edit word or excel docs across devices, nothing about the connected home, nothing about smart devices beyond dumping Windows 10 IoT on the world, no visionary ideas to change the world (and no, wearing goggles on your head 5 years from now doesnt count). Disappointing.

A company as big as Microsoft has too many stakeholders to answer to, hence it CANNOT AFFORD not to have a vision. What Satya is doing is focusing on areas where they are strong, to gain future leverage in areas where they would like to grow. Consider this: an old creaky building is in a very bad state and is in dire need of redevelopment. Now you decide to take up that project. Once you have broken it down and want to build again, do you start working on all the floors at the same time? Or do you start from the bottom, strengthen your foundation, and then build upwards? Or consider a baby developing in its mother's womb. Do all its body parts start forming simultaneously? Or does it start with a single cell, then multiply and grow from there? Posted via the Windows Central App for Android

Worst analogy of all time.

Seems like he is. Your complaints for Windows 10 mobile are valid, but misdirected. He's not killing it, neither is he neutering it, just questioning whether the strategy employed worked and it clearly didn't. There is a reason why he has shifted the focus to a barrage of low end hardware to a Surface like line where Microsoft launches a few great phones and makes them inhouse commercial success. Windows Phone wasn't going anywhere before him. You can blame Ballmer's leadership for dropping the ball there. He was too late and they came out with a product that had to be killed in lieu of an upgrade. They simply didn't react fast enough to the changing landscape and suffered. Later on, they realized that instead of fighting petty OS battles and losing cash while doing it, they can instead position themselves so that no matter what you use, they make money. I like the thinking and the earnings speak for themselves. The drop from the PC division is being offset completely through new enterprise contracts and a bigger services user base. You can't blame them. There is no point launching 10 devices, watching them fail and then repeat. Sure, they really do need to pickup the pace in development but they're better positioned to do that now than they were before. Now they just have to concentrate on making a few devices great as opposed to the usual mess they run into.

Ballmer was very relaxed and criticizing when iOS and Android saying they both operating systems would fail. Well of he would have at that time thought about universal app strategy then WP would have got atleast 10-15 % market share.

Not at all interested in the person. Where is the platform going? Tell me that and you have my attention.

I like him, Im impressed by him and I think he has and will do great things for the company and the customers.

Take Ballmer to a Clippers game so Nadella can make a provacative, vulgar comment on the largest players' mothers and blame it on Ballmer. Suddenly more fun.

Pretty "PC" responses. He should've let his hair down. Oh, never mind...

I'm now used to tue windows phone UI. The only other phone I van now think of buying is an iPhone but its not in my budget. When a windows phone user switches from WP to android due to lack of apps but then misses the UI which used to be the best.

But the problem is cant wait so many years for apps lol

choosing between Steve or Bill.. he answers: "I'll play... (your game) I'll go with Ballmer"

Comic Sans, good or bad font? Satya Nadella: a good font. Well, there goes all my respect....​

All these days I used to laugh at people's pronunication of his Indian name. But it's strange that he pronounces his name incorrectly too!!! Maybe he knows that that's how the whole world knows him so he decided to play along.
Windows Central Newsletter
Thank you for signing up to Windows Central. You will receive a verification email shortly.
There was a problem. Please refresh the page and try again.