Scandinavian Airlines app pins boarding passes to your Start screen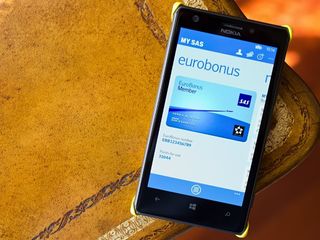 Scandinavian Airlines has just launched its SAS Windows Phone app that allows you to pull up your travel information, manage your EuroBonus points, and also pin your boarding pass to your Start screen. The last feature makes it convenient to have your boarding pass readily available so you don't have to search for it and fumble with your phone when you're at the gate.
Windows Phone users who fly with SAS can download the app in the Windows Phone store through the link or by scanning the QR code below. We are not seeing a download option here in the U.S. store, but Scandinavian users should be seeing it in their stores. Are you having success downloading this app? Let us know.
Thanks to all of our tippers for bringing this app release to our attention.
Windows Central Newsletter
Get the best of Windows Central in your inbox, every day!
Chuong's passion for gadgets began with the humble PDA. Since then, he has covered a range of consumer and enterprise devices, raning from smartphones to tablets, laptops to desktops and everything in between for publications like Pocketnow, Digital Trends, Wareable, Paste Magazine, and TechRadar in the past before joining the awesome team at Windows Central. Based in the San Francisco Bay Area, when not working, he likes exploring the diverse and eclectic food scene, taking short jaunts to wine country, soaking in the sun along California's coast, consuming news, and finding new hiking trails.
Just downloaded it and logged in, looks great, only thing missing from ios-app is the possibility to book flights, but it is only version 0.9.6.0 so we can hope it is coming in a later uppdate ;-)

Thanks for the letting us know!

Beautiful :)
Now Norwegian have to get their thumb out and make an app as well.

Continuing off topic - brilliant acting job taking a dive to draw a penalty kick :)

Something good is coming, too much apps for one week!

Yepp, I am in ... Have no bookings right know, but I assume it works ...

I have a booking, showes up after a search with ref.number. everything looks correct :-) My history of flights is also correct ;-)

I fly sas once in a while. Would be nice to have in the US marketplace.

Got it. Only for Eurobonus members. Unfortunately, I booked a trip before signing up, and it won't show up. They ought to cater to ordinary, non-member customers, or at least "upgrade" existing bookings upon membership... Other than that, the app looks good.

Did you search for it with your referance number ?

I booked before signing up, and I can find my flights just fine....

Well, that's both good and bad news... Guess I'll have to check my booking with support!

Update: It struck me that SAS might have gotten my last name wrong (spelled with a hyphen); lo and behold, I dropped the hyphen and there was my booking!

Here in Australia we sometimes need to board the plane by walking ooutside, and sometimes while the plane is refueling, consequently phones need to be off. So its fine to pin the boarding pass to the home screen, but you need to show it again when boarding the plane, and in between you need to switch the phone off and/then on again. Also the queue management at the gate always seems to flow well when paper boarding passes are being scanned, but the queue always stops moving when a passenger presents their phone instead of a paper ticket, and in the case of JetStar (in Australia) that passenger sometimes needs to step aside while the boarding crew take extra steps to process the passenger. Paper tickets still seem to be mmoreuseful, more reliable and more efficient IMHO.

In Norway I guess it's half mobile phones (qr/bar codes) and they scan as quickly as paper, at least on commute -style business trips.

Have to say, that's just darn smart thinking right there!

Love the app, true WP design! I wouldn't buy tickets directly from airline anyway, either sites finding the best price, or corporate portal.

I fly with sas a lot. Until now, my phone is full of print screens.
I wonder how it works if the phone is offline.

What about a US Airways App...ever since 8.1 I can't open their Mobile Passes sent to my email.

Does anyone else get an "unavailable for your device"? I'm in Norway, Lumia 920 with 8.1.