Scavengers Steam key supply burned through on Day 1 of Early Access
Midwinter have started giving out Epic keys because it's out of Steam keys.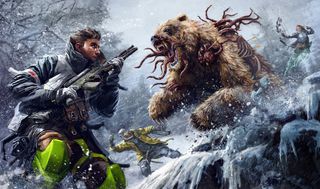 (Image credit: Midwinter Entertainment)
What you need to know
Scavengers is a new PvPvE battle royale game developed by Midwinter.
The game was released on Early Access on Steam and Epic Games on April 28 and is only accessible via keys dropped on Twitch streams.
It's proved to be so popular that the developers have burned through their supply of Steam keys on the first day.
Scavengers, the new PvPvE battle royale game that just entered Early Access, has proved so popular that the developers say they've used up their supply of Steam game keys. These keys have been largely distributed through Twitch, which has also helped to foster gamer interest.
Scavengers officially launched in Early Access on April 28 for both Steam and Epic Games. At the moment, the game is only available to play on those two stores, though the developers plan to release the game on consoles by the end of 2021. Creative director Josh Holmes published a Steam blog post thanking readers for their interest in the game.
For reference, users can currently only access the game if they've watched a Twitch streamer play it long enough to receive a "drop." The drop gives them a key with which to access the game. According to Holmes, "We're burning through Early Access keys at a crazy rate, and some of you may have noticed that we switched at some point from giving away Scavengers Steam keys to Epic Game Store keys… At this moment, we've exhausted our cache of Steam keys, but have been able to secure enough Epic Games Store keys to keep up."
The developers acknowledge that there have also been problems with the game's launch. Given it's an early access online multiplayer title, problems are to be expected, but you still hate to see it. In fact, the server issues appear to be a major reason why the developers aren't opening access to the game, with the other being that the limited key drops are keeping user interest in the game high.
Holmes says of the major server issue: "The summary is: when our pre-game lobby servers hit a certain player threshold, they crash… We're chasing down that root cause as fast as we can and will keep you updated throughout the process." They also add that the game servers themselves are largely stable so far.
Get the Windows Central Newsletter
All the latest news, reviews, and guides for Windows and Xbox diehards.
Rachel Kaser is a Windows Central gaming contributor, who's been writing since 2013 and gaming since the age of five. She's covered everything from gaming news, reviews, and analysis -- if it exists in gaming, she knows about it. She also contributes to Future's other sites, iMore and Android Central. If you want to hear her opinions on games, pop culture, tech, and everything in between, follow her on Twitter @rachelkaser.