Scrible, a freehand note taking app, is today's myAppFree Windows 8 deal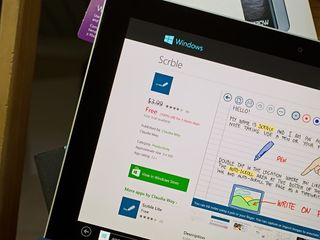 Scrble is a freehand note taking Windows 8 app that is well suited for devices without a traditional keyboard or mouse. In other words tablets.
The app is not shy on features that include support for digitizer pens, touch controls, photo insertion, .pdf file support and more. The Windows 8 app normally runs $3.99 and through the myAppFree deal, over the next twenty-four hours you can pick up Scrble free.
Key features for Scrble include:
A full range of writing support where you can use your fingertip, digitized pen or capacitive pen.
Auto-scroll feature when reaching the right margin the canvas will automatically scroll down.
Multiple sets of inks and highlight colors, each with three sizes.
Pan and Zoom feature to allow you markup photos or drawings more precisely.
Support for inserting photos or capturing new photos using your tablet camera.
.PDF support for importing files as background images to annotate.
Landscape and portrait orientation support.
Four different backgrounds to work on (black chalkboard, white board, match ruled paper and straight ruled paper).
Shape creation tool to easily insert lines, arrows, rectangles, circles or stars.
Notes are saved in .PNG format or exported as .PDF files.
While I am still a pen and paper person when it comes to jotting down notes, in the short time I've tinkered with Scrble it comes across as a feature rich, appealing Windows 8 app. For those not used to free-hand note taking from a tablet, Scrble can be a little overwhelming. To help you get familiar with all the ins and outs, the developer has a nice series of tutorials at the Scrble website.
Scrble normally runs $3.99 with a one-day trial version. However, through the myAppFree deal you can pick up the note taking app free over the next twenty four hours. If you've been on the fence about picking up Scrble or trying a free hand note taking app, now is a good chance to save a little cash along the way.
Please note that it may take some time for this deal to be reflected in the myAppFree app and the Windows Store due to time zone issues.
Download Scrble for Windows 8 (opens in new tab)
myAppFree
Windows Central is proud to be partnering up with myAppFree to bring you savings on Windows Phone apps and games. myAppFree is a free Windows Phone app and service that highlights special deals for software on the Windows Phone Store. Make sure you download their app to keep track of all the specials they run weekly, as you'll never know what you may find.
Windows Central will continue to highlight select Windows Phone apps and games, such as Scrble, from myAppFree on a regular basis as a benefit to the Windows Central community. Additionally, with myAppFree expanding to offer deals from the Windows Store, look for us to shine the spotlight on the myAppFree deals for Windows 8 apps and games on a regular basis as well. Many of these deals will be universal apps so you'll double your savings.
George is the Reviews Editor at Windows Central, concentrating on Windows 10 PC and Mobile apps. He's been a supporter of the platform since the days of Windows CE and uses his current Windows 10 Mobile phone daily to keep up with life and enjoy a game during down time.
Shows up as $3.99 in my windows 10 store beta

Last time that happened I had to use green store.

You have to get it running 8 or 8,1.

How do you, wc, decide what myfreeapp deals you share? Just curious as there are new ones every day for each system (how will that work with w10?), but you share a few times a week.

We work with the developer of myAppFree to highlight deals one or two times a week on a regular basis. We generally run with myAPpFree's recommendations but if we run across additional deals, we'll spotlight them as well. Easiest way to keep up with the myAppFree deals is to install their app.

Yeah. It pings me everyday right after 3. I like it. Like I said, just curious...
Can you find out how it will work now that it's one store? How will pc/phone apps be separated? Has the dev seen any interest in other media? Games deals? Movie? Music?

Hi CJ, If you are interested in myAppFree the best way is to ask directly on our Facebook page for info ;)
Anyway we will for sure go for universal app in the future but this may not be at the launch of W10 due to development efforts. About Games,movie, music and so on, who knows. Right now we are a small group and it's really hard to keep finding 2 apps everyday to put for free.

To be fair, quite a lot of the apps / games offered are really lame. Some of them I don't even understand how they could have the cheek to charge for money in the first place. It certainly wouldn't be worth sharing all of them. Having said that, there have been a lot of good apps / games come through - you just have to separate the wheat from the chaff :P

I thought it was for Windowsphone......

Same here but then I read carefully

I even went to download app ..... But it opened MyAppFree......

Can't find it in windows phone store

Is this better than one note?

Beauty is in the eye of the beholder. It's free right now so unless you don't have space, you should grab it and decide for yourself (even if you don't have a device with a stylus currently you can grab it now and d/l it when you do).

IMO it's not better than OneNote, but from a handwriting perspective, I find it mere flexible. Especially, for solving math problems and it has a neat shape tool, making it easier to do graphs.

This app looks awesome! Hope it is what I'm expecting.

Wp8.1, nevermind. That excitement was short winded.

It's for Windows8 not for wp!

Nice app! I tried it today and really like it. I'm thinkin on using OneNote and Scrble combined as my notes creators for college and work. This kind of apps are making very useful my W8.1 tablet.

It says 'Scrble' in the Store. The article says 'Scrible'. You got a typo there.

It's an interesting app. I would recommend comparing it to other notetaking apps like onenote modern UI and desktop, windows journal and myscript mobile. From what I can tell first impression of this app are very intersting. It is the first app I've come across that is really dedicated to pen or touch use. A real "tablet mode app" if you will. Onenote tries to find a middle ground to service to both mouse&keyboard and stylus users. The ultimate app that encompasses all functionalities of onenote moder UI, Scrble and MyScript mobile is clearly the Onenote desktop app. It's clearly all in one. But I struggle a lot with the UI. It's clearly a desktop program and many elements and styling is clearly designed from a mouse and keyboard design perspective. That's where Onenote modern UI, Scrble and Myscript mobile clearly have a better UI design with touch and stylus use in mind for navigation. Handwriting/Scribbling in all these apps is basically the same experience. They use vectoring so can zoom the handwriting without loss of the curved storkes of the pen. Scrble seems to lose some vectoring at max zoom compared to the other apps, but its minor at best. Myscript mobile unfortunately does not have zoom capabilities and the lined page seems fixed at a certain size. I think it has to do with a better errorfree inline ink-to-recognition api. But the advantage of this compromise is that the inline ink to text recognition is absolutely amazing, even compared to the other apps. I wish all note taking apps had this feature. It would be a far better experience than the current boxed in single/double lined handwriting panel in the onscreen keyboard in windows 8 and 10. In my short experience Scrble seems to have a nice balance of basic handwriting and doodling features for handwriting and touch for a well balanced smoothly working app. All controls are at your fingertips and generally work well and snappy. Two advantages over the onenote app I've found is that is has autoshapes (works quite well!) and that it has built in ink-to-text recognition. These two features I'm still waiting to be ported over to the Onenote app. The Onenote desktop program also has them, so I imagine it won't take long and that popular demand (uservoice for example [hint hint]) will eventually get these features in the onenote app. Marking up pdf documents is a hit or miss affair in these apps. Onenote 2013 does support it. Onenote app doesn't (but the workaround is to open/print a pdf to onenote 2013. It will sync with onenote app and then you can open the pdf. Albeit a strange workaround). Scrble has a button to import a pdf for markup. It's a lovely feature and in some cases a more richer editing experience as well compared to the native microsoft reader app. Myscript mobile unforunatly does not support pdf importing for markup, but it would be a welcome feature for a future update. All of these apps support importing images. Unfortunately except for rezising there are few or no other options between these apps. Onenote 2013 has a greater palette of options. Onenote app only has cropping and turning in 90 degree angles. Myscript mobile and Scrble only resizing. It would be nice if there was a slight refinement option to turn pictures at 5 degree angles. In portrait mode the full screen canvas mode differs per app. Scrble and Onenote app have the best full screen canvas experience in portrait mode with only a top title bar present for certain elements at your fingertips. Onenote 2013 and Myscript mobile provide less full screen canvas wiith respectrively a a notes listpane and taskbar and a full circumferance pane. Saving is different experience as well. Both onenote apps have autosave built in. Scrble too. Even if the app crashes your work is saved. Scrble has some more export file options. Myscript mobile only has an option to save a file or export as a print or image file. Onenote 2013 has the richest array of exporting options, including webpage, pdf, xps other onenote file formats and as a word documents. Handwriting recognition/ink-to-text recognition. Of all these apps OneNote 2013, Onenote app, Scrble and Myscript mobile, hands down Myscript mobile provides so far for me the best natural handwriting to text experience. The others do a decent job, but my experience is still that it is a hit or miss affair. Onenote app unfortunately supports no in-app handwriting recogntion. The use is dependent on using the built in handwriting recognition pane in the onscreen keyboard. This pane has a good handwriting recogntion sofware, but the constraining factor is that the user is dependant on another program with only two lines to write on. In windows 10 the new pane even has only just one line. It's a jarring and constrained experience, because the user is forced to pauze writing after a single sentence. Myscript mobile in that regard provides a more natural handwriting experience where your handwriting is translated inline and the user can continue writing whole pages at a time. An added powerfeature of Onenote 2013 is that it has a built in math handwriting recogntion pane. It is capable of recognizing you handwritten math equations and forumula's and translate them to text. A very nice and powerful feature. Unfortuantely no other app supports that either, not even the onenote app. Hopefully in the future somewhere with a windows 10 update?
Windows Central Newsletter
Thank you for signing up to Windows Central. You will receive a verification email shortly.
There was a problem. Please refresh the page and try again.