Sea of Thieves Anniversary Update adds fishing and story quests
There's even more coming!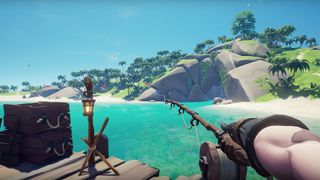 Updated March 28, 2019: Pets and the ability to toggle cross-play on or off won't be added until after the Anniversary Update hits.
Sea of Thieves is an exploration-based pirate game that features great sailing mechanics, but the open-ended plot doesn't appeal to everyone. You have to find your own path as it mostly relies on emergent experiences. Over the past few months, developer Rare has promised numerous changes to the game — from combat to quests — and through constant updates, has managed to turn it around. Recently, Sea of Thieves even became the most-viewed game on Twitch.
For many months, players have been asking Rare to add story-based quests, harpooning, fishing, and other features to the game. While the team has promised to look into this, it wasn't confirmed until today. This morning, the developer said that all of those features, and more, were coming to Sea of Thieves with the Anniversary Update on April 30.
The Anniversary Update brings two major additions to the world. A new competitive mode called "The Arena" will pit pirates against other crews in search of loot. Additionally, Rare announced "Tall Tales," a story-rich collection of quests players can experience on their own or with a crew. The first Tall Tale is called "Shores of Gold," and invites players to embark on an epic adventure of love, honor, and betrayal in search of the mythical "Shores of Gold."
As you can see from the trailer, fishing is also going to be part of the experience come April. While the single-player quests sound phenomenal, let's be honest, all of us wanted fishing. Are you excited for the Anniversary Update? Let us know.
Netflix for games
(opens in new tab)
Play over 100 games for one low price per month

Xbox Game Pass has a lot of important games like Shadow of the Tomb Raider and much more. There is a promotion going on right now which discounts it to just $1. There are also three-month subscriptions available for $30 on Amazon.
Asher Madan handles gaming news for Windows Central. Before joining Windows Central in 2017, Asher worked for a number of different gaming outlets. He has a background in medical science and is passionate about all forms of entertainment, cooking, and antiquing.
The wording of the title makes it look like it's a live, currently available update. A bit misleading, deserves to be worded clearly, IMHO, as this update comes out at the end of April.

Where does it say "available now" in the title? I wrote "Sea of Thieves Anniversary Update adds fishing and single-player quests." The article mentions April a number of times.

@fduid
My comment was deleted but I agree with you. Reading the title even I thought it was already live.

Agree. Plus with a 5Go update live from the store since yesterday, I thought the title of the article was about this update. Should had added "end of April" in the title for no confusion ;)

It's because of the word "adds", it can be interpreted in multiple different ways. That being said, if people would actually just READ articles instead of straight away jumping to comments sections (not accusing you of this but it is something I see a hell of a lot across a myriad of websites) then this kind of confusion is easily avoided.

There is nothing about the title which says available now. It clearly says anniversary update. So that would mean available on the anniversary of its release.

Okay, that would either assume that readers know what the original release date was. Otherwise it's lacking information. But the funniest part is that the anniversary of its release is precisely today. Not April the 30th. So for those who knew the release date, it would be clickbait, or just plain wrong.

Booo the the f'ing hoo, Who fricking cares!?!? What a waste of personal energy to even give a rats ass about if you may have mistakenly thought it was out. seriously, grow up.

Release date: March 20, 2018

Well there you go. They will be late. Hahahahahaha

Release date: April 30th.
March 20th was the announcement date from the very start.

The game came out March 20th 2018 to select countries. My first achievement for the game was unlocked on 4/5/2018, it would have been on the day of release but I remember achievements being bugged and not unlocking for about 2 weeks.

Wow, this will be an amazing update! Arena will be frantic fun, but I'm especially excited about the Tall Tales addition. Could make for some awesome puzzle-solving, trap-avoiding adventures, Indiana Jones-style. This was my favorite game of 2018 and, if this Mega Update is as good as it looks, it'll likely take that crown in 2019 too. Great work, Rare. This is how you do GaaS.

Man I can't wait to frustrate the Hell out of my crew mates by getting distracted fishing while they are getting destroyed by skeletons at a fort.

Was there no SP option to the game yet? I have yet to jump in because of it being MP only (among other reasons), but I would like to.

You can play alone, and it's quite fun too. But the ideal way to play it is with other people. There are groups for that, it's worth finding a stable group. It's a great game.

Technically you can play solo, but I personally find it quite difficult. But a lot of people can manage fine.

Thanks... That makes me feel better about jumping in late.
Windows Central Newsletter
Thank you for signing up to Windows Central. You will receive a verification email shortly.
There was a problem. Please refresh the page and try again.