Sea of Thieves: A Pirate's Life looks like the biggest, most impressive update yet
A Pirate's Life is not only big, but seeks to improve on long-standing criticisms of the game.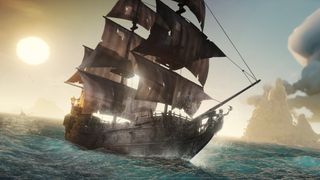 (Image credit: Xbox Game Studios)
The team at Rare delighted fans with the reveal of Sea of Thieves: A Pirate's Life at the Xbox and Bethesda Games showcase last week. According to Executive Producer Joe Neate and Creative Director Mike Chapman, this crossover with Disney's beloved Pirates of the Caribbean franchise has been a surreal secret to keep.
I had the pleasure of attending a group interview and press briefing earlier this week with these two key figures from Rare and after soaking up over an hour and a half of new information, it's wildly apparent that this will be the largest and most impressive update Sea of Thieves has ever seen. From new enemy types to story bits, the expansion looks to not only introduce a familiar franchise but also seeks to improve on a lot of long-standing criticisms players have had about the game.
The Sea of Thieves voyage so far
As someone who's been on the Sea of Thieves journey since launch, it's been incredible watching this game and team grow. Early updates like the Hungering Deep and Cursed Sails added headline-grabbing features such as the monstrous Megalodon. At the time, as a pirate hungering for more content, these seemed like massive additions to the game. With an admittedly shallow pool of quests and content available at launch, players like myself fanatically awaited more details on future updates.
After a period of sporadic and unpredictable content releases, Rare settled into a consistent seasonal approach at the start of this year. While this generally means larger gaps between major updates, the team has promised that this new seasonal cadence will allow for more meaningful content releases. From what I've seen and heard regarding the next update for Sea of Thieves, it appears that the kickoff of Season Three with the A Pirate's Life DLC will undoubtedly deliver on that promise.
What's being added with A Pirate's Life
There's no question that the biggest highlight for next season is the A Pirate's Life campaign, featuring iconic characters from Pirates of the Caribbean. Our favorite swashbuckling hero Jack Sparrow has discovered a great treasure that allows him to enter the mysterious world of Sea of Thieves. Unfortunately, his arch-nemesis Davy Jones isn't far behind. You'll witness an epic original story unfold through five new Tall Tales that seamlessly blend the lore of Rare's pirate sandbox title with the established universe in Pirates of the Caribbean.
In addition to this collection of campaign-focused adventures, which Neate and Chapman stress can be enjoyed with or without a crew, A Pirate's Life adds new enemies, new weapons, new locations, new boss encounters, and so much more. For someone like myself who adores Sea of Thieves, it was incredible seeing the scope of this content laid out in full. The features coming with A Pirate's Life not only address some of my longest-running criticisms of the game but also provide compelling incentives for new players to try this experience for themselves.
Two new locations
As part of the A Pirate's Life campaign, players will venture into two brand new locations in Sea of Thieves: the Sea of the Damned and the Sunken Kingdom. Both of these distinct areas introduce unique environments for pirates to explore. The Sea of Damned, previously only witnessed as an isolated slice on the Ship of the Damned, is a haunting biome serving as a manifestation of the dreams and nightmares of pirates passed. Abandoned buildings, shipwrecks, ghostly pirates, and a dense haze cover this land.
The Sunken Kingdom takes players to the deepest depths in Sea of Thieves. This gorgeous environment filled with neon coral, captivating ocean life, and remnants of a time long gone is teeming with intrigue and terror. For would-be explorers, the Sunken Kingdom is the stronghold for the elegant and deadly sirens. Their hypnotizing melodies draw you into their clutches and once there, it'll take everything you have to escape. Players looking for new encounters and challenges should be very excited about what awaits in the Sunken Kingdom.
Six new enemies and more bosses
Sea of Thieves has a serious issue when it comes to enemy variety. We've seen some clever variations of the classic skeleton enemies that have been featured in the game since launch, but despite some reskins and twists on existing mechanics, different colored skeletons haven't done enough to keep the combat feeling fresh and engaging. However, it seems as though this will change in a big way when A Pirate's Life releases with six new enemy varieties and, if teases are any indication, more boss fights as well.
Our first trio of baddies comes by way of an entirely new classification of enemies Rare has labeled "Ocean Crawlers." These new enemies feature unique animations, abilities, and appearances. The Hermit is a gaseous clam-headed beast that spews noxious fluids on anyone unfortunate enough to come within range. The Eelectric is a lightning-fast adversary that sports an intimidating electric eel whip. Finally, the Ocean Crawler is a rather intimidating crab tank that uses brute force to ravage you and your crew.
Inhabiting the depths of the Sunken Kingdom, two types of Sirens will make your time in the ocean waters far more anxiety-inducing. The basic Sirens will use auditory blasts to attack players from afar and will use their razor-sharp claws to deal severe damage at close range. Siren Captains, on the other hand, wield a powerful new weapon being introduced in Sea of Thieves called the Trident of Dark Tides. This powerful staff shoots devastating aquatic energy balls that can cause serious damage to players and their ships.
If Sirens and Ocean Crawlers don't sound horrifying enough, players must also face off against ghoulish pirate phantoms in the Sea of the Damned location. We've previously seen ghost ships and even ghostly crew members, but this will be the first time we've ever had to tackle ghostly enemies in close-quarters combat.
What about the big boss fights? While we don't know exactly how many will be featured in A Pirate's Life, if trailers and teasers are any indication, we should see at least two major new boss encounters. Long-time players of Sea of Thieves also likely noticed that one of these boss fights features a terrifying Kraken, this time with a face! When it comes to enemy variety and fresh combat mechanics, I truly can't wait to get my hands on this update.
What else is coming with this update?
On paper, there really is a staggering amount of content coming with Sea of Thieves: A Pirate's Life. Not only are we getting new enemies, five Tall Tales featuring beloved characters from Pirates of the Caribbean, new locations, and new enemies, but players can also expect a boatload of Pirates of the Caribbean easter eggs and surprises. You'll even be able to cosplay as Jack Sparrow and other legendary members of The Black Pearl.
Mentally prepare for a ton of new cosmetics and some downright tear-inducing original music tracks that combine classic scores from Sea of Thieves and Pirates of the Caribbean. I won't go into spoilers, but fans can also look forward to some truly special rewards for completing all five of these Tall Tales.
When is Sea of Thieves: A Pirate's Life releasing?
Players won't be waiting much longer to get their hands on Sea of Thieves: A Pirate's Life. Season Three of Sea of Thieves launches on June 22 and will be free for all players through Xbox Game Pass on Xbox Series X|S, Xbox One, Windows 10, and Steam. Be on the lookout for more details regarding Season 3 headlines soon, but in the meantime check out our list of the best games on Xbox Game Pass.
Gear up and dive in!
There's never been a better time to play Sea of Thieves.

Sea of Thieves has more content than ever and many of the core complaints from critics have been addressed with the rollout of Seasons. If you're curious to uncover what awaits on the seas, now's the time to rally the crew!
Get the Windows Central Newsletter
All the latest news, reviews, and guides for Windows and Xbox diehards.
Miles Dompier is a Freelance Video Producer for Windows Central, focusing on video content for Windows Central Gaming. In addition to writing or producing news, reviews, and gaming guides, Miles delivers fun, community-focused videos for the Windows Central Gaming YouTube channel. Miles also hosts Xbox Chaturdays every Saturday, which serves as the Windows Central Gaming weekly podcast.