Why you should play Sea of Thieves in 2021
Bigger, bolder, and overflowing with riches.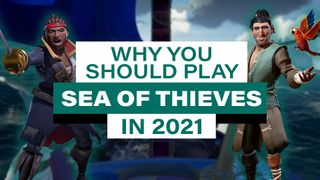 (Image credit: Windows Central)
When Rare's pirate sandbox title Sea of Thieves dropped in early 2018, it was met with immediate criticism for its lack of content. While many players fell in love with the beautiful world this team created, there objectively just wasn't a lot to do. Thankfully, about three years later this definitely isn't the case. Additions like Sea of Thieves: A Pirate's Life and Seasons completely redefine the experience. Whether you're new to the game or a returning pirate legend, here's why you should play Sea of Thieves in 2021 as one of the best Xbox games available.
Why new players should try Sea of Thieves
First off, we'll break down the appeal of Sea of Thieves for those who've never experienced the swash-buckling adventure for themselves. As it stands, Sea of Thieves is the pirate game, especially when it comes to multiplayer. A suite of unique gameplay mechanics like using your compass to count paces towards buried treasure or grabbing your trusty bucket to scoop water out of your sinking ship deliver the ultimate high seas fantasy and there's genuinely nothing like it. There's something undeniably magical about shooting yourself out of a cannon onto an enemy ship or harpooning a monstrous megalodon. This commitment from Rare to push new, innovative ideas is something I can't give the team enough credit for. If you want a social gaming experience unlike anything you've played before, Sea of Thieves offers this in spades.
Like many sandbox games that came before it, Sea of Thieves also struggled with introducing new players to its ocean of systems and features. Players diving into the game for the first time were responsible for figuring everything out through trial and error or looking up guides online. This was exhilarating for some and frustrating for others. Now, there's the new Maiden Voyage that serves as a tutorial and introduction to the lore of Sea of Thieves and some expanded in-game hints for every tool and quest-type, which makes it easier than ever to quickly hit the seas. Tearing down some of these arbitrary hurdles for new players drastically softens the learning curve of Sea of Thieves. It's nice to know that introducing a friend to the game no longer requires a four-hour (sometimes literal) crash course.
I'm honestly a bit jealous of the new players embarking on their introductory Sea of Thieves voyages. As I mentioned, the game launched with a serious content problem. There were only three trading companies and basically three voyage types, so most of your time was spent arduously ferrying pigs and chickens between outposts.
For the uninitiated, trading companies serve as your main path of progression in Sea of Thieves. Encountering different trading company representatives at the outposts scattered around the map will introduce you to the wide range of quest types. Completing voyages will increase your standing with these trading companies and eventually open up opportunities for greater challenges and ultimately greater rewards for those committed to these factions. So when there were only three trading companies, that meant a serious lack of quests.
There are now a total of seven trading companies, which include The Gold Hoarders, Order of Souls, Merchant Alliance, Sea Dogs, Reaper's Bones, The Hunter's Call, and Athena's Fortune. Each of these groups focuses on a different variety of voyages, rewards, and gameplay mechanics within Sea of Thieves.
For example, if you're in the mood to crack some skellie skulls, Order of Souls offers all the bone-bashing PvE you could ever want, but if you're more of a PvP-focused player, representing the Reaper's Bone's nets you rewards for taking out other players. Or maybe you just want to kick back with the ocean breeze in your hair and catch yourself a mighty haul of fish. If that's more your speed, The Hunter's Call will be your trading company of choice. However you decide to play, there's really something for everyone in Sea of Thieves.
Why past players should return to Sea of Thieves
What about the folks who battled their way to Pirate Legend status early on and fell off due to the fairly sporadic update schedule? Well, the new seasonal content releases and Renown system should go a long way in providing a more consistent, rewarding ongoing game and hopefully rekindle the interest of long-time players. Rare understood the frustrations of the community when it came to its less-than-predictable cadence of content releases and Seasons are the first step in its commitment to laying out a more reliable Sea of Thieves roadmap.
The biggest highlight of Seasons in Sea of Thieves, especially for returning players, is the new Renown System. Previously, all progress was directly tied to successfully cashing in your loot. This meant that if you spent hours sailing and completing voyages, but happened to get wrecked by a Kraken or enemy ship along the way, you essentially got nothing for your time. This has been a huge complaint from critics and a contentious area of debate amongst hardcore players.
Renown and Pirate Trials make every adventure on the seas more rewarding. Even if you don't manage to return your ship to port, you still earn progress for literally everything you do. Making your way through the 100 levels of Renown each season, for example, will earn you gold, doubloons, and even exclusive cosmetic items. There's also an optional premium tier called the Plunder Pass for pirates interested in shelling out their hard-earned coin for even more unlocks. The amount of value this adds to every session of Sea of Thieves is staggering. As someone who hit Pirate Legend year one and knows the struggles of the early grind, I'm incredibly excited to see changes like this come to the game.
Pirate Trials are another huge addition for accomplished Sea of Thieves players. This collection of seasonal challenges helps pirates quickly climb the Renown ranks and introduces an ever-growing catalog of goals to tackle. Simple feats like sailing 100 nautical miles or slamming enough grog to make your pirate yack are now celebrated. With different categories like Trials of Adventure, Trials of Exploration, and Trials of Combat, you can focus on completing trials that cater to your preferred play-style. This doesn't distract from the joys of simply raising the anchor and letting the sea guide your journey, but instead elevates the excitement of all your nautical activities, whatever those may be. Pirate Trials along with the newly added Daily Deeds and monthly live events like Champions of Souls will constantly give you and your crew something to work towards.
Why players who want more compelling lore should play Sea of Thieves
While I believe one of the greatest strengths of Sea of Thieves is its ability to allow players to create their own memorable stories through world exploration and pirate interactions, many folks desired a more story-driven experience in this universe. Additions like Tall Tales and a regular cadence of live events creatively deliver compelling lore for players to uncover on the seas without damaging the freedom of the game's sandbox design.
It doesn't sound likely that Sea of Thieves will ever receive a traditional campaign or "Story Mode," but the Tall Tales added last year offer a unique series of voyages that tell a story with a grand beginning and an epic conclusion. Not only do these Tall Tales give insights into the mysterious world of Sea of Thieves and its inhabitants, but they also introduce dungeons, boss fights, and new game mechanics. Every tale in this collection stands as its own distinct adventure, giving the progression a very episodic feel. If you want to learn about the origins of the Ferry of the Damned or explore the infamous Shores of Gold, Tall Tales will be your vessel for more focused storytelling in Sea of Thieves.
A more recent update called Sea of Thieves: A Pirate's Life even brings iconic characters from the world of Pirates of the Caribbean to the Sea of Thieves. Team up with Captain Jack Sparrow and other established heroes from Rare's own pirate-sandbox universe to stop Davy Jones from gaining dominion over the Sea of Thieves. This compelling original story adds meaningful lore to this universe, delivers remarkable fan-service, and stands as the greatest video game crossover ever.
Another clever way the team at Rare has catered to players hungry for more lore in Sea of Thieves is by introducing rotating live events and Bilge Rat challenges. These more subtle avenues of dispatching pirate mythos focus on and often tie into larger content updates for the game. Fan-favorite characters like Wanda the Warsmith and Stitcher Jim were introduced to Sea of Thieves by such methods as well as major world events like The Fort of the Damned.
Bilge Rat challenges might not be the most overt method for presenting stories within Sea of Thieves, but there's always plenty to unveil for keen-eyed pirates. With the newly adapted seasonal approach to content releases, players can look forward to roughly one live event per month. This means there will always be something new on the horizon.
Why Sea of Thieves is more rewarding than ever
Sea of Thieves is in a drastically better state now then compared to its launch three years ago and Seasons are the beginning of a confident new chapter for the game. With a more focused and deliberate approach to updates, players finally have a better idea of when they can expect fresh content and rewards. Renown and Pirate Trials eliminate the unrewarding stretches in between voyages and make every session on the seas feel meaningful.
The promise of providing a rich, fulfilling pirate sandbox to explore has gradually been realized over the past few years and the passionate crew at Rare show no signs of slowly down. As someone who played hundreds of hours during year one, I'm thrilled to see how far Sea of Thieves has come and even more excited to see what the future holds. There's never been a better time to grab a crew and hit the seas.
Gear up and dive in!
There's never been a better time to play Sea of Thieves.

Sea of Thieves has more content than ever and many of the core complaints from critics have been addressed with the rollout of Seasons. If you're curious to uncover what awaits on the seas, now's the time to rally the crew!
Main
Get the Windows Central Newsletter
All the latest news, reviews, and guides for Windows and Xbox diehards.
Miles Dompier is a Freelance Video Producer for Windows Central, focusing on video content for Windows Central Gaming. In addition to writing or producing news, reviews, and gaming guides, Miles delivers fun, community-focused videos for the Windows Central Gaming YouTube channel. Miles also hosts Xbox Chaturdays every Saturday, which serves as the Windows Central Gaming weekly podcast.