What is Sea of Thieves' Plunder Pass?
Sea of Thieves gets its answer to a Battle Pass.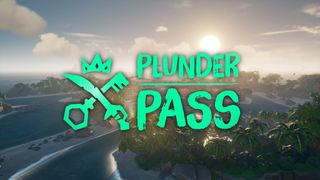 (Image credit: Windows Central)
Rare recently revealed that Season One of their swash-buckling pirate sandbox game Sea of Thieves will release on January 28, 2020. This seasonal approach to new content drops provides new challenges, objectives, a new progression system, and the game's answer to a premium Battle Pass – the Plunder Pass.
But what exactly does this paid service bring to Sea of Thieves? And what do you get with this optional premium offering? Here's everything we know so far about the Sea of Thieves Plunder Pass.
What will 'Seasons' bring to Sea of Thieves?
Historically, Sea of Thieves focused on big monthly content drops or live events that highlight the new features and rewards coming to the game. Moving forward, Seasons will change the way updates are introduced.
Seasons will span across three months and begin with a primary piece of new content. From there, each month will see its own special live event, similar to "Fate of the Damned," that focuses on featured activities and offers unique rewards. Season One will kick off with a new merchant alliance voyage type that tasks players with locating lost shipwrecks around the Sea of Thieves.
In addition to new voyages for players to tackle, Season One of Sea of Thieves will also introduce a new seasonal progression system, which Creative Director Mike Chapman says "is the biggest change to our progression system since launch." Players can progress through 100 levels of Pirate Renown to unlock new rewards by completing Pirate Trials with some special items for Pirate Legends.
The focus for this new progression system is to add more tangible value to every single session of Sea of Thieves you play. Even if you don't complete a voyage or Tall Tale, you can celebrate existing content in new ways while earning exciting rewards through these Pirate Trials. If you're familiar with Battle Passes in games like Fortnite or Smite, the Renown levels are essentially the same idea with a piratey twist.
What is the Plunder Pass?
Like many other ongoing games that offer a paid Battle Pass equivalent, the Renown system in Sea of Thieves won't be an exception. While the 100 levels of Renown will be free to progress through for anyone who owns the game, the Plunder Pass introduces an optional premium tier to this progression system.
The Plunder Pass will introduce a mix of exclusive unlocks and exisiting items currently available in the Pirate Emporium. For players interested in shelling out their hard-earned coin you can opt in to this service for 999 Ancient Coins, which is roughly $10 USD. In our recent interview with Executive Producer Joe Neate, he claimed the 11 items available to unlock in the Season One Plunder Pass equal roughly $40 in value.
And if you're worried about missing out on these premium items if you don't participate in the seasonal festivities, Rare has also confirmed that all items available in the Plunder Pass will make their way to the Pirate Emporium at the end of the season for individual purchase. The Sea of Thieves team also wants to make sure there isn't an unhealthy amount of grinding required to obtain these items. Players looking to unlock everything in Season One should plan to invest about 40 to 50 hours of playtime across the three months.
What does this all mean for the future of Sea of Thieves?
Sea of Thieves originally started dabbling with premium cosmetic content with the introduction of the Pirate Emporium. While this paid shop undoubtedly offers some incredibly fun and impressive ship liveries, pirate outfits, and even pets, the price of entry for many items is very high. The Plunder Pass seems to give players an optional way to earn some of these impressive items at a big discount.
Overall, Seasons look to usher in a new chapter of Sea of Thieves. The Renown system, even without the paid premium tier, and Pirate Trials make shorter sessions still feel rewarding. This is exciting for those days when you don't feel quite like committing 4 hours to playing Sea of Thieves.
Changes are coming
Get yourself ready for Season One.

It's looking like there's never been a better time to join the Sea of Thieves. Sail the high seas looking for treasure, engaging in battle, or just having fun on an island.
Main
Get the Windows Central Newsletter
All the latest news, reviews, and guides for Windows and Xbox diehards.
Miles Dompier is a Freelance Video Producer for Windows Central, focusing on video content for Windows Central Gaming. In addition to writing or producing news, reviews, and gaming guides, Miles delivers fun, community-focused videos for the Windows Central Gaming YouTube channel. Miles also hosts Xbox Chaturdays every Saturday, which serves as the Windows Central Gaming weekly podcast.