Sea of Thieves serves 2 million players, becomes Xbox's fastest-selling new IP of the generation
Sea of Thieves is incredibly popular despite its problems.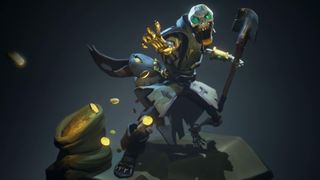 A few days ago, we reported that Sea of Thieves crossed a million unique players in 48 hours. A little over a week later, the game is at two million players and has already become Microsoft's fastest-selling new first-party franchise. Not only that, but the title is popular on streaming platforms like Mixer and Twitch. Note that the two million players doesn't mean two million copies sold because the game is available on Xbox Game Pass.
While many users have voiced concern over the limited amount of content at launch, it seems like the core social gameplay is appealing to many. In a post on Xbox Wire (opens in new tab), Rare Studio Head Craig Duncan confirmed various statistics and vowed to make the game better.
It's great to see that Sea of Thieves has a strong user base. Hopefully this will translate to more support from Microsoft, so the game gets a lot more content in the future.
Sea of Thieves is an exploration-based pirate game which launched on March 20, 2018. Rare is known for many famous franchises including Banjo-Kazooie, Conker, and GoldenEye. However, in recent years, the team focused on developing Kinect games for Xbox One and Xbox 360. This was a curious decision, so when Phil Spencer became Head of Xbox in 2014, he assigned Rare a new project. Sea of Thieves is a shift for the developer and a concept the team hasn't tackled before.
The game is currently available at retailers for $59.99 or as part of the monthly $9.99 Xbox Game Pass subscription. Players who purchase an Xbox One X also receive a free copy of Sea of Thieves with their purchase for a limited time.
Keep an eye on WindowsCentral.com/Gaming for all the latest in Xbox and Windows 10 gaming, accessories, news, and reviews!
Asher Madan handles gaming news for Windows Central. Before joining Windows Central in 2017, Asher worked for a number of different gaming outlets. He has a background in medical science and is passionate about all forms of entertainment, cooking, and antiquing.
Aaron Greenberg tweeted fastest IP does not include gamepass numbers

https://twitter.com/aarongreenberg/status/979005629971931136?s=19

We just said that the 2 million players can't be counted as sold. The fastest-selling IP information is indeed separate.

Ahh thanks for clarification

No problem. Thank you for sharing.

This game is fantastic, I just adore it! Congrats to Rare!

I agree, they really came back from their Kinect focused development with another great franchise. I'm really excited to see how they improve this game. Great for Rare, but also great for Microsoft and Xbox, they really needed this to be a great Xbox Console exclusive.

Now we need a new Halo!! Rs

I love it too. I know it doesn't have that much content but I can't help but keep playing it again and again. Every time I log in there's a new tale to tell. I think that's what Rare wanted and that's why it appeals to people.

My whole family is in the same boat (excuse the pun) we absolutely love the game, and it's the first game we can't wait to get home just to play.

Now, if they just added Kinect support... lol

I was interested in this but have decided to take a wait and see approach so I can guage how Rare progresses with its on going development. As it stands now it really looks limited in what it has to offer. Some of the subsequent reviews I have seen recently seem to be echoing this view. Looks like it has great potential though.

I would recommend playing it right now, it has a quality that keeps you coming back again and again.

I think at this stage it's best to wait. This looks like an game on early access. Unfinished game with lack of content and no real goal.
I would say wait for the content and see if it's worth it in few months...

The goal is to become a "Pirate Legend". I say that's a pretty real goal.

Grindfest.
Doing the same thing over and over for possibly hundreds of hours??
Brilliant goal. Please do tell us when you eventually becomes "Pirate legend". Like I said there is no real goal as in no story, no real end goal.

Get the free xbox Gamepass and try it out! Trolls or what?

If you have never tried Gamepass, get yourself a 1month code from cd keys, comes with a free month. So two months for £1.49. Bargain.

I was part of this game since the first Alpha. It's fun, and has gotten better obviously as time has worn on. However, most of the players I had to team with were children who liked to scream a lot. Also not too good at following orders. I hope the game does well, but it's not a $60 game in my eyes and even after I helped shape the game for over a year, Microsoft didn't feel the need to even give me a discount. Pretty lame.

I cannot for the life of me understand the obsession with this game unless you are still in school. It has no progression and an extremely repetitive game loop. The seas are beautiful, don't get me wrong, but all you fight are skeletons and rarely a group of tentacles. This game comes nowhere near the grand vision the developers laid out years ago as the most ambitious Rare game to date. How exactly is this game ambitious? It isn't the first open world game... or the first pirate game... or the first multiplayer pirate game? So it's claim to fame is the first open world multiplayer pirate game? This is whats going to sell Xboxs? I played the Beta for 3 lag free hours and couldn't be bothered to come back. All of my friends had the same reaction to playing or watching gameplay. "Seems like there isn't much to do and PVP looks annoying". I concur. I would suggest watching Angry Joe's review as it is pretty much pitch perfect. https://youtu.be/9kl3hf1aJ9s?t=32s

The problem is that most people I see who hype this happen to be MS/XB fans.
Even in the Angry Joe review, he said XB fanboys were bagging him too go easy on the game. Some are probably just hyping it to make people spend money on it. The problem is if people keep encouraging such type of product, games as a service and full price game with microtransactions, then they'll keep doing it.

"Extremely repetitive" basically every online shooter out right now. Point, shoot, die, respawn, repeat. You can say the same with the likes of PubG and fortnite.

Does PUBG and fortnite have randomly generated fetch quests? I'm talking about the quests. Compare these quests to quests in Witcher 3, Zelda BOTW, Horizon ZD...

That vid was great. I really am getting annoyed with developers releasing games half baked and then selling at a premium price on day one with the promise of more content down the Rd.. My opinion is gamers should stop supporting this model. If a game doesn't have enough content to warrant the premium price on day one then do not buy it on day one. Let the developer progress things first to the point where it is worth the premium price. It would be interesting to see how the attachment numbers are for this game a week or two out from now.

"fastest-selling first-party new IP of this generation." The only other truly new, first-party IP of this generation I can think of are Project Spark, Lococycle, and Kalimba, and none of the studios that made those games are even a part of Microsoft Studios anymore. Every other new IP published by Microsoft Studios was second party (Quantum Break, Ori and the Blind Forest, Xbox Fitness, and Screamride), and some second-party ones aren't even Microsoft IP (Ryse, Sunset Overdrive).

Microsoft includes Quantum Break, Ori and the Blind Forest, etc. as first-party too.

Instead of talking about real complaints and talking about content they are giving PR BS and what looks like meaningless numbers.
- 2m users? It doesn't mean 2m copies sold. Everything is different now because of game pass. How many of these people just use free game pass trials?
How many will be there next month? We've seen how userbase for a game like NMS dropped so quickly after
- Selling more than any new IP 1st party games? What does that mean? So what was the orginal IP made by a first party studio? There aren't any. If they are talking about published by MS than what are they comparing it to? Ryse, QB, Recore?
1) There are a lot more XB1/Win10 userbase now than back then. 2) MS marketed these games A LOT more. It was literally one of the two main game talked by MS in the last 2 years. This was a bit like ending a drought. 3) And since there are no actual numbers the statement is meaningless as we don't know how well Ryse, QB or Recore started.
Windows Central Newsletter
Thank you for signing up to Windows Central. You will receive a verification email shortly.
There was a problem. Please refresh the page and try again.