Secrets and Treasure, an Xbox game for Windows Phone and tablets, is shutting down soon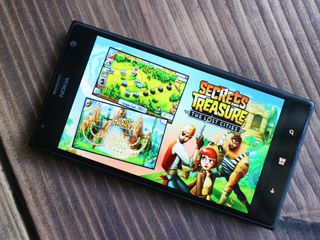 Although we've recently seen an uptick in Xbox Windows Phone and Windows 8 games from Gameloft, mobile games with Xbox support are still few and far between. Microsoft still pops one out every now and then though, such as Secrets and Treasure: The Lost Cities (developed by Mediatonic).
Secrets and Treasure is a free to play puzzle game that plays a lot like Peggle. After releasing the game in October, Microsoft updated the game a month later with 75 new levels. Sadly, that will be the last update Secrets and Treasure receives. Both the Windows Phone and Windows 8 versions of the game are being delisted later this month. Grab Secrets and Treasure now if you want to play it!
How the shutdown will affect players
The announcement that Secret and Treasure will be shutting down came from the game's Facebook page. Word is the game's online server will be shutting down mid-January. After that, players will not be able to download or re-download the game.
We also have some good news and bad news about continuing to play Secrets and Treasure if you already have it. The game will still work, and you'll still be able to unlock Xbox Live Achievements. Those Achievements will seem much more precious now that new players won't be able to get them!
On the downside, in-app purchases will no longer function once the servers shut down. That means no more buying gems, the game's premium currency. Gems aren't needed to unlock Achievements, but they do make things easier, of course.
More disappointingly, Daily Challenges will no longer be playable after the shutdown. Secrets and Treasure has one Achievement related to Daily Challenges ( All in a day's work), and that will become completely unobtainable later this month. Annoyingly, the process of completing the Achievement's requirements is largely random, so players need to start trying for it now if they want a chance at getting it before it disappears.
An unfinished tale
Secrets and Treasure has an adventure-themed story. The current 200 levels of the game don't finish telling the story, as the developers apparently planned to complete it in a future update. Since no more updates will be released, the tale won't be resolved in-game. Luckily, the Facebook announcement does offer a neat little wrap-up:
Another mobile Xbox game bites the dust
Given how scarce new Xbox Windows game releases have been since 2013, the loss of a title like Secrets and Treasure is always bad news. The game only released in October 2014, meaning it will have been on the market about four months before Microsoft kills it. They didn't give it much of a chance, did they?
The lack of support for Secrets and Treasure shouldn't come as too much of a shock to experienced mobile Xbox gamers. In March 2013, Microsoft published a unique sci-fi strategy game called Galactic Reign that offered cross-platform play between Windows Phone and Windows 8. Then in August of that year, they announced the game would be shutting down. If a free to play game published by Microsoft doesn't rake in the money, don't expect them to keep it around for very long.
There are surely reasons for Secrets and Treasure and Galactic Reign tanking – in Galactic Reign's case, Microsoft wasted a bunch of money paying developer Slant Six to create pointless cinematic space battles that everybody just disabled in the options. They should have put that money towards creating a single-player campaign instead. Galactic Reign was also ahead of its time in that the mobile Windows ecosystem did not support true universal purchases back in 2013.
Galactic Reign
As for Secrets and Treasure, I personally found the game's generic title, Store page screenshots that barely show any gameplay, and free-to-play nature unappealing. Had it been a paid game with no free to play nonsense, I'd likely have bought it. And in that scenario, the game wouldn't need special IAP servers and would probably not be getting pulled later this month.
It's a shame that Secrets and Treasure must die, but at least Microsoft and Mediatonic did the right thing by announcing the delisting in advance. Anybody who really wants those Achievements can grab the game now, before it disappears. Just watch out for that Daily Challenge Achievement; it's risky!
Source: Secrets and Treasure Facebook page via TrueAchievements
Windows Central Newsletter
Get the best of Windows Central in in your inbox, every day!
Paul Acevedo is the Games Editor at Windows Central. A lifelong gamer, he has written about videogames for over 15 years and reviewed over 350 games for our site. Follow him on Twitter @PaulRAcevedo. Don't hate. Appreciate!
Hm Ok but why Delisted? does the game work without In-app purchases? If so why Delist. I thought the point of developer accounts not expiring was so if an app works but is no longer updated or supported it will remain in the store. and of course to eliminate the need to renew licenses Perhaps WindowsCentral can reach out to developers and ask why delist? and instead update their Store page with a notice about game servers and In-app purchases going away

It can't make any money without the IAP function, so that's why they're pulling it. I agree leaving it available as a free game would be nice, but Microsoft doesn't keep Xbox games around that can't turn a profit. (The decision to delist is Microsoft's.)

Why not just strip out the IAP and sell it for $2.99? As it stands, they lose out on all those sunk costs.

Agreed, that would be way better. But you know Microsoft and mobile Xbox games... Not a lot of great decisions in the last few years.

Yet they keep XBox around, which can't turn a profit... not that I'm complaining.

What the hell is this happen.. Wheres the Xbox support games...only a little..

WHAAAAAAAAAAAAAATTTTTTTTTT

They really need to spotlight an XBox Live category for games with achievements. I know people who have windows phones who didn't even know they existed. Bad marketing.

I only get games if they have an Xbox banner on them. I agree a list dedicated to Xbox is needed

There is a list (if you look), go to STORE, then (categories) GAMES, then (genres) XBOX.
I must admit its a bit of long way round to find xbox games, they should have a shortcut but its interesting to check to see if any games are going to become xbox titles.
It showed the Asphalt games and Total Conquest games in xbox section before they officially became xbox titles.
Angry birds Go! is in there as well so that will be made in to an xbox title sooner or later.

That list does not even include a full list of Xbox games available. Just the top of each genre. Weird. ​

No it doesn't, to see the full list you have to go to windowsphone.com.
I wish they could make the phone store more like that. It's so much more user friendly. I just have a shortcut as I prefer it to using the phone store.

Agreed. And what Microsoft is thinking? They need new leader. Maybe a new set of brains...

And a true cutting edge flagship phone!

MS not even carried to make this game available here in Brazil...

You are the only one that cares about Brazil, mate.

In Brazil Windows Phone is selling more than iPhone. Take that.

it's just a game, I am sure you would have more fun learning and making games that than wasting time playing games. who cares about this one anyway? it will be gone soon. also... it's a problem with your country, not Microsoft or the developers. if your country wasn't that way about games and needed some certification or whatever other things other countries don't need, then you would have all these games available for you. This is and won't be the only game not available in Brasil for the same reason.

Seriously this 'not available here in Brazil' comment sounds a lot like the new 'seems faster' comment to me. Super annoying!

3 months and they kill the game why?

Double M, please stop making rude comments. You've been doing too much of that on this story and others.

Where does it say the daily challenges will be disabled? Q. Can I still buy or earn gems? A. You won't be able to buy gems for real money, but you'll still be able to earn them in Daily Challenge mode.

They specified that in a reply to a user comment on the post.

I really appreciate news articles like this.

so sad.great game after last big update.farewell... =(

If I read the reviews it seems to be a pretty crappy game

Don't be a review whore, play it for yourself. I like it.

Oh no, I love this game!!!!

I have this game but it won't show up on my app list, strangely. I went to re-download it and it says it's installed, but like I said it won't show up in my app list. Strange things afoot with my phone lately.
Sorry to go somewhat off topic, just thought it was strange.

Didn't like it anyways but it's still a loss when Xbox games are delisted :(

Anyway another game lost from wp.

Thanks for the info Paul! Will start grinding...

Not cool at all and i liked the game

So will all of the purchased stuff be the players still or will all purchases be wiped?

Purchases won't be lost as long as you don't uninstall the game.

I uninstalled this some time ago. Game was based on luck far more than skill, it took ages to load levels, and crashed all the time on my Lumia 820. I won't miss it.

Now that devs are converting non-Xbox games into Xbox titles (kudos Gameloft :-) ) I'm really not gonna miss games like these.

General complaint related: How do we not have notices from the App itself that it will be delisted!?!?! (see frustration over not 100% FIFA 14 because I had to reinstall for a buggy achievement and lo and behold... not available when went to redownload.)

Hi Paul, I've read in the devs Facebook account that Daily challenges will still be available: Q. Can I still buy or earn gems? A. You won't be able to buy gems for real money, but you'll still be able to earn them in Daily Challenge mode. It's still a good idea to get those chievos ASAP, just in case, though.

Good point! The developers are conflicting on this. In an answer to a user question on the same article, they say in no uncertain terms:

"The Daily Challenge and achievement will no longer be available once the servers are shut down."

Hard to say which answer is correct, but better safe than sorry.
Windows Central Newsletter
Thank you for signing up to Windows Central. You will receive a verification email shortly.
There was a problem. Please refresh the page and try again.