Secrets and Treasure, an Xbox game for Windows Phone and tablets, is shutting down soon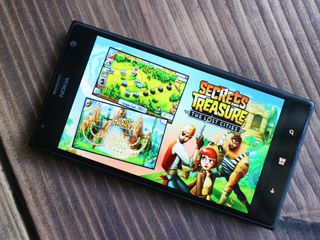 Although we've recently seen an uptick in Xbox Windows Phone and Windows 8 games from Gameloft, mobile games with Xbox support are still few and far between. Microsoft still pops one out every now and then though, such as Secrets and Treasure: The Lost Cities (developed by Mediatonic).
Secrets and Treasure is a free to play puzzle game that plays a lot like Peggle. After releasing the game in October, Microsoft updated the game a month later with 75 new levels. Sadly, that will be the last update Secrets and Treasure receives. Both the Windows Phone and Windows 8 versions of the game are being delisted later this month. Grab Secrets and Treasure now if you want to play it!
How the shutdown will affect players
The announcement that Secret and Treasure will be shutting down came from the game's Facebook page. Word is the game's online server will be shutting down mid-January. After that, players will not be able to download or re-download the game.
We also have some good news and bad news about continuing to play Secrets and Treasure if you already have it. The game will still work, and you'll still be able to unlock Xbox Live Achievements. Those Achievements will seem much more precious now that new players won't be able to get them!
On the downside, in-app purchases will no longer function once the servers shut down. That means no more buying gems, the game's premium currency. Gems aren't needed to unlock Achievements, but they do make things easier, of course.
More disappointingly, Daily Challenges will no longer be playable after the shutdown. Secrets and Treasure has one Achievement related to Daily Challenges ( All in a day's work), and that will become completely unobtainable later this month. Annoyingly, the process of completing the Achievement's requirements is largely random, so players need to start trying for it now if they want a chance at getting it before it disappears.
An unfinished tale
Secrets and Treasure has an adventure-themed story. The current 200 levels of the game don't finish telling the story, as the developers apparently planned to complete it in a future update. Since no more updates will be released, the tale won't be resolved in-game. Luckily, the Facebook announcement does offer a neat little wrap-up:
Another mobile Xbox game bites the dust
Given how scarce new Xbox Windows game releases have been since 2013, the loss of a title like Secrets and Treasure is always bad news. The game only released in October 2014, meaning it will have been on the market about four months before Microsoft kills it. They didn't give it much of a chance, did they?
The lack of support for Secrets and Treasure shouldn't come as too much of a shock to experienced mobile Xbox gamers. In March 2013, Microsoft published a unique sci-fi strategy game called Galactic Reign that offered cross-platform play between Windows Phone and Windows 8. Then in August of that year, they announced the game would be shutting down. If a free to play game published by Microsoft doesn't rake in the money, don't expect them to keep it around for very long.
There are surely reasons for Secrets and Treasure and Galactic Reign tanking – in Galactic Reign's case, Microsoft wasted a bunch of money paying developer Slant Six to create pointless cinematic space battles that everybody just disabled in the options. They should have put that money towards creating a single-player campaign instead. Galactic Reign was also ahead of its time in that the mobile Windows ecosystem did not support true universal purchases back in 2013.
Galactic Reign
As for Secrets and Treasure, I personally found the game's generic title, Store page screenshots that barely show any gameplay, and free-to-play nature unappealing. Had it been a paid game with no free to play nonsense, I'd likely have bought it. And in that scenario, the game wouldn't need special IAP servers and would probably not be getting pulled later this month.
It's a shame that Secrets and Treasure must die, but at least Microsoft and Mediatonic did the right thing by announcing the delisting in advance. Anybody who really wants those Achievements can grab the game now, before it disappears. Just watch out for that Daily Challenge Achievement; it's risky!
Source: Secrets and Treasure Facebook page via TrueAchievements
Get the Windows Central Newsletter
All the latest news, reviews, and guides for Windows and Xbox diehards.
Paul Acevedo is the Games Editor at Windows Central. A lifelong gamer, he has written about videogames for over 15 years and reviewed over 350 games for our site. Follow him on Twitter @PaulRAcevedo. Don't hate. Appreciate!