See how the Surface Movement advert was made with this fun behind the scenes video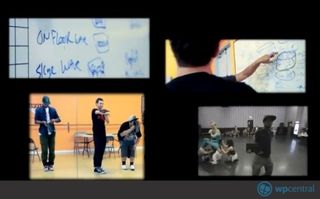 To kick off the Surface advertising, Microsoft did an impressive advert which aired during a TV program called Dancing with the stars.
Featuring young folk jumping, twisting and larking about with their Surface tablets, not an easy feat to pull off as the following video goes on to show..
As we can see, it looks like an epic bit of organisation went into the making of this with lots of dancers and tons of practice. I actually enjoyed watching the making of it more than the ad itself so they made a wise move putting it out there.
As Microsoft launches Windows 8 and open the doors on their stores to start knocking out those Surface devices. We're expecting no less than a media bombardment in the coming day and weeks.
We have seen some of the music orientated adverts that are going out but we're still left wondering when we'll see a more extensive effort directed towards Surface promotion outside the US. More will be revealed tomorrow we're sure..
We're keen on what you think so far of Microsoft's features, do they show off Windows 8 well enough? Let us know below in those comments, we're watching.. always..
Cool. I like this behind the scenes clip.

Amazing how much work goes into this.

I agree. The commercial is one of the best Microsoft has made. I Think it captivates the audience. Few people I told I am getting the Surface already knew about it due to the commercial.

HOLY SHIT!!!!! I never knew this much thought goes into this!!!! O_o

danding dudes touched surface before media.

Amazing. Microsoft needs to do more of this. Capture the wonder of your product and the minds of the viewers.
Windows Central Newsletter
Thank you for signing up to Windows Central. You will receive a verification email shortly.
There was a problem. Please refresh the page and try again.