Send Anywhere jumps from iOS and Android to Windows Phone for unlimited file sharing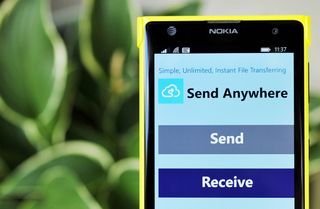 In 2014, the ability to share files with other smartphone users, regardless of platform, is one of the top features that users want available to them. Sure, there is email and SMS as the old standbys, but increasingly people want direct ways to offer a song, photo, video, or documents.
Send Anywhere (send-anywhere.com) launched in early 2013 on iOS and Android, and now a port of the app by the company is available on Windows Phone. The free service works by uploading to a server the intended file, generating a numeric code, which you then give to the recipient. Using the same app, the receiver enters the unique code and retrieves the file to download to their device.
Send Anywhere for Windows Phone is not a pretty port, but it works. Graphics overlap on the right edges, and the stodgy UI looks extremely basic. However, putting aside aesthetic concerns, the app does what it is intended to do, send those files.
The question for many is on Windows Phone, just how much can you send? The Windows Phone OS is typically more locked down than Android, so sending everything in the file directory is usually not possible, but surprisingly a large number of files are supported, including:
Photos
Videos
Documents
Music
Downloads folder
Ringtones
Files are accessed from the camera roll, phone, and just as importantly OneDrive. Once the file is uploaded, you need to send the numeric key to the recipient as there is no usage of the Windows Phone Share picker, which is a bit of a shame. Instead, users need to copy and paste the code into whatever message app they plan to use to give the code out – not a deal breaker, but a little bit clumsy, especially since there are APIs to make this task easier.
You can watch the demo video below from the company to see it in action.
Send Anywhere works through cellular or Wi-Fi data, so please be aware if you have limits on your plan. File sizes look to be any size, though we have not exhausted all attempts just yet.
Overall, it is great to see Send Anywhere jump to Windows Phone, even if the coding (and the copy paste app details in the Store) are a bit sloppy. Besides Android, iOS and Windows Phone, you can also share files via their website send-anywhere.com or through their beta Windows desktop app.
Thanks, Richard S., for the tip
Windows Central Newsletter
Get the best of Windows Central in in your inbox, every day!
Daniel Rubino is the Editor-in-chief of Windows Central, head reviewer, podcast co-host, and analyst. He has been covering Microsoft since 2007 when this site was called WMExperts (and later Windows Phone Central). His interests include Windows, laptops, next-gen computing, and for some reason, watches. Before all this tech stuff, he worked on a Ph.D. in linguistics, watched people sleep (for medical purposes!), and ran the projectors at movie theaters because it was fun.
Nice one...windows phone is picking up the speed

Good application... I was looking for this ..

I would agree if this were an official app which it is not. We've had unofficial clones since it's inception in 2010

It is official. What are you talking about?

My mistake, the article read now "a port of the app" making it sound like it was ported. I stand corrected.

"I stand corrected, said the man in the orthopaedic shoes". .......... Sorry, couldn't resist it.

@krayziehustler,
You are someone else who can't be bothered to actually read the article before posting a comment.
What's up with people like you? Do you enjoy making yourself look silly?

I enjoy people making themselves look silly lol...always brightens up my day...especially the comebacks!

Lol. I really should just sit back and laugh at all those inane comments but sometimes I can't help but to get involved. Posted via the Windows Phone Central App for Android

It's good but I prefer Pushbullet.

It would be cool if Battlelog for Battlefield and Commander app "jumped from iOs to Windows Phone" too... ;-;

Did you forget PlayStation®App app ? because i still want it !

I forgot about Steam Mobile too

I couldn't agree more. That is the one app that I am really missing, though I would love the BF4 and watchdogs companion apps, from when I switched to WP. I sadly don't see there ever being an official Steam app thougt. Valve and MS are kind of petty toward each other. <Sarcasm>Lol, Maybe MS can pony up another few billion and buy them out too.</Sarcasm>

And merge it to Windows store, awesome but not gonna happen.... sadly

I guess we can all still wish.

Were lucky we got an outta date build of autolog(only supports HP) that now doesnt work(my guess is since the back end server security change)

Has anybody heard of a whatsapp update coming soon ?!

Severyly off-topic, But if WhatsApp is that important to you then you probably shouldn't be a WP user. Life is too short to be putting up with half-baked solutions and broken promisses.

Wtf? Do u know that whatsapp in middleeast which i live in is the most important social media app ?! :) and u suppose to rncourage me to use wp not to make me ditch wp ... Btw windows phone is my favorite and in middle east very few people use wp .... I feel lonely but i cant help it ... Love wp platforms than others android and ios....

Sorry I reporterd your comment by mistake. But my main poin is; are you aware tha Whatsapp is avialable in WP right?

I know of course but what do i get if im reported without doing anything

WhatsApp works fine for me, what's the problem? :-o

Dont know some people think that whatsapp is not usuable at all to all people...

I use whatsapp everyday. I honestly don't see what the problem is. People talk about it like it's unusuable.

Yeah bro it is indespensible for me.. I have heard a lot of people saying that it is unusuable ..... :/. Where do u live?

I'm in the US. It works fine for me.

And for me as well. I'm from Dominican republic

Hey I thought I was the only dominican using a windows phone!

It works, but it could work much better, as it does with ios and android

Screw WhatsApp and try actually speaking to someone face to face or in person. ;-D Posted via the Windows Phone Central App for Android

Quite good....good to see more and more productivity apps coming to windows phone ecosystem.

It's nice to see apps coming to Windows Phone but one question: How would this be any different from sharing directly from OneDrive? That app is also available on other platforms.


I was wondering the same. We can create links on OneDrive if there is no app installed on the recipient phone. Also more secured sending via OneDrive. But its nice there are alternatives. Any idea what is the file size limit?

Yeah. I thought the same thing. Especially since the app allows the person to take the file from Onedrive... Why not send it directly from Onedrive is it's already on it... Why waste your time with an extra app... And people don't even need Onedrive on their phone to access your file, they can simply download it from their web browser.

Ditto, and more confused why the author didn't even touch on it. OneDrive seems to do this better, and the fewer companies I let store my data, the better, I'd think.

I'm confused. So technically, this app works like AirDroid?

Waiting for an app like share it..!!

There actually is a ShareIt app, not very useful though.. And I guess it wont be till WP gets WiFi Direct..

Yes. It's in ALPHA though :D
I think WP has WiFi direct.
See device info in Field Medic app by Microsoft.

Why do we need this app when we have OneDrive?

We don't need this app... This app is for people who don't know how to use their phone properly.

I use a shared folder in one drive send pics, videos, documents and pdf to people. But this looks like with a few updates it could be way easier than that.

Can't OneDrive do this? And if not, what not?

OneDrive can do this... It's one of those apps that exist only because they are useful on other platforms, but we don't really need it on Windows Phone.

What do you guys think about the app superbeam on windows phone, or swipe and share, works like wifi direct.

Anyone notice that the app uses the file manager api from the phone pretty well I.e. U can access practically any file and send it. Hopefully WhatsApp, hike, fb take notice and add this feature :)

Would be nice if the 8.1 requirements were given just as much importance as 512 mb ram are

Sure is nice, but something utilising Wi-Fi direct would be quicker & better

And why not use Onedrive, Dropbox or any other cloud service you are comfortable with?

Does it requires data connection?

LOL. Hoping that you were joking.

No, all done by pigeons :-/s

App is looking awesome lets try it

I suppose it's a start. Windows Phone still has a long way to go with first-party apps, but lately I find I don't need them. :) the services I need are all right here on WP :)

Why the Os is still so F*****g limited even after 4yrs? This is ridiculous..

Limited? Could you explain?

Read the article..Why all the features of this app is not possible in WP?

All docs/photos/videos/music/ringtones can be sent. WP it's the most security OS out there (thanks god) and because of that you can't hmmmmm access your entire phone (like a Android kingofmalware) and send all kind of files. The "normal" files, that a normal user need, it works fine. Just read the reviews of the app. Have you even installed the app and tested? Or you just read what someone said?

Y you people always bring android into everything...Talk about ios, it also can access all files and it doesn't have malware...So what you have to say about it?
Regarding limitations..still cant send pdf and pre recorded mp3..still cant attach files in mail..What more you need to hear?

I suppose you never used an Iphone.

I have used and I also have an iPad..Now tell me what's your point.

So, open an existing email, and try to attach any file please.

Yes do explain, I don't find it limited in any way.

Guys check " easy transfer " app... It is an awesome app...

Never tested it though I have it. How does it work?

Why we need WiFi or data connection ?? Can they utilize WiFi direct?? Or is it not there in Windows phone?

What's wrong with SkyDrive/OneDrive? Have been sharing files that way for years

I have a question. Are the app developer for Android or iOS having hard time doing it in Windows phone? Or do they have to study or learn something different when making app for windows phone?

Is it harder for the developer to make Windows phone app than making Android app?

I'm left wondering "who's server" am I uploading my files to in order to share them?

NSA's for all we know...right?

With Feem v4, there is no server involved. I don't know why SendAnywhere keeps touting themselves as secure when files clearly pass through their servers.

This may help with transferring between Windows Phone and iPhone. I use Bluetooth with my Windows and Android friends, but I can't share anything with my iPhone friends except by email which isn't as convenient.

This is the reason the app exists in the first place. IOS is so far behind that they don't allow file transfer via Bluetooth natively, which leads people to create apps such as this. Windows Phone doesn't need this sorry excuse for crap.

it needs regular support by devs. that's what we windows users want from devs. " suport". they havent updated and app opens very slowly. we need better support.

Umm, why would I need this? Any file I have, I can upload to OneDrive if it's not already there, and share a link that anyone on any platform can open, provided their device supports the file type. This looks redundant and pointlessly unnecessary.

One of the worst designed app on Windows Phone

guys anyone know how to recover a bricked phone !!!!!!! need immediate help !!!

Yes> http://forums.wpcentral.com/

there was no response so had to ask here !!

There is also another feature called search, try it.

Share your contact here and hopefully one or two advice might arrive..

Of course, because people come here to give responses about bricked phones

Do I have to have the app installed in both phones to send files?

WP8.1 is boosting awesome

Guess what, it doesn't run on WP 8.0. Rant, I'm on Verizon and don't have 8.1 yet. I did but downgraded to get a fresh copy if and when it is ever released.

Not getting the value of this app. I don't send songs since they're copyrighted. And I don't send photos or video because I already post items I want to share via some form of social media or to shared locations on my OneDrive.

Last. ;-) Posted via the Windows Phone Central App for Android

This app is pretty dire. We used to have a much better solution for Symbian in the form of the Dukto app. That was awesome and worked a hell of a lot better than this iOS/Android reject.

And now we have Feem v4. Works great on Windows 10 Mobile.

I won't even install this, I have some minimum design standards when it comes to my phone. Horrible

You know these sort of apps wouldn't be as common if Apple simply added the Bluetooth file sharing functionality basically every other smartphone on the market has. It shits me to no end that it's 2014 and the worlds most popular smart phone still does not have this basic functionality.

Its very simple.
Just open ur internet sharing , connect ur friend to ur wifi network and then open your easy transfer app.. Now easy transfer gives u a link 192.168.137.1 (something like that ) . Open that link in ur friend's phone's default browser... And have fun !!!

I think OneDrive and Bluetooth are sufficient ,but more options would be fine.

Personally I prefer Citrix sharefile however it is nice to have options :).

What is your problem? You've been posting asinine comments throughout this thread.

Eww, I refuse to use an app that the developer put such little thought or effort into. If they aren't going to care about my experience, why should I care about their app? That's exactly how I feel about Xbox Music too, but my annual subscription doesn't expire until March, so locked in for now.

And now Feem v4 just launched on Windows Phone 10 with proper Wi-Fi Direct support.
Windows Central Newsletter
Thank you for signing up to Windows Central. You will receive a verification email shortly.
There was a problem. Please refresh the page and try again.