Setting up and configuring your new Windows Phone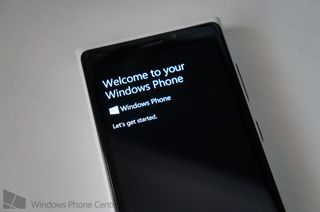 Got your new Windows Phone? Congratulations!
The first step you need to take is to actually set up the smartphone for the first time. We've continuously stated how user-friendly the experience is, so why do we need a tutorial on setting up a new smartphone running Microsoft's mobile operating system? It's a fair question, but truth be told that many aren't as computer savvy as those who were born in this millennium.
That said, it really is super simple to get cracking from unboxing the new gem in your life to making calls, downloading apps and racking up the gamerscore on Xbox Live. What do you need to get started? Nothing really, just the new phone, ample enough charge to get through (it's always recommended to zap some juice into the device before use) and our quick step-by-step guide. Shall we begin?
1. Turn on the Windows Phone and wait until the splash screens for both the system and manufacturer pass by and the welcome screen pops up. You'll now be greeted by the install wizard and you're now beginning your Windows Phone journey.
2. Firstly, you're required to accept the Windows Phone terms of use. The next screen will ask you exactly how you'd like the smartphone to be set up. The choices are "recommended" and "custom". Depending on whether or not you've used a Windows Phone before, we urge everyone to go with "recommended".
Should you choose the recommended option, the device will be configured to automatically download software (not app) updates, as well as sending phone usage feedback, WiFi connection data and keyboard touch information to Microsoft.
Selecting "custom" from the screen will enable us to configure each above the above, but you can limit what's sent to Microsoft after the phone is set up and ready to go.
3. After choosing exactly what data (if any) is collected and sent to Microsoft, we're now tasked with setting up and configuring the date, time, country and time zone. Be sure to choose and set each field carefully as incorrect settings could cause issues further down the line (note that alterations can be made after the installation is complete). Simple stuff.
4. The following screen will alert us that we can login using Microsoft account credentials. Note that while this step is not mandatory, it's strongly recommended. Setting up a Windows Phone with a Microsoft account enables consumers to:
Secure your Windows Phone with automated backups and location-based measures (Find My Phone).
Enable Xbox LIVE, Xbox Music (free trial available) and Messenger.
Receive and send emails using Outlook.com.
Synchronise your Windows Phone (and its content) with a Windows 8 PC.
Make use of SkyDrive and the generous free storage quota available.
Purchase and download apps and games from the Windows Phone Store.
Integrating Twitter and Linked In into the People Hub.
Receive personal results in Local Scout, Music + Videos and the Windows Phone Store.
Automatically synchronise contacts with Outlook.com.
We've looked into Microsoft accounts and the benefits of owning one in a more detailed article, so be sure to check that resource out for more information.
5. Almost there! The Windows Phone will now complete the installation and fire up some apps so everything is ready to go. This shouldn't take more than a few minutes.
You're done. Now you can enjoy your new Windows Phone. Be sure to check out our complete guide to the platform. Head on over to our 101 guide to Windows Phone for more tutorials.
Windows Central Newsletter
Get the best of Windows Central in your inbox, every day!
Rich Edmonds was formerly a Senior Editor of PC hardware at Windows Central, covering everything related to PC components and NAS. He's been involved in technology for more than a decade and knows a thing or two about the magic inside a PC chassis. You can follow him on Twitter at @RichEdmonds.
Make sure to use same account as you use on Xbox, if you have one.

That's a good tip, especially if you have an Xbox as well.

Nice article Rich, it's good to see this site catering to new users as well as us veterans. I've been seeing a lot more people with Windows Phones about these days so it shows that Windows Phone is gaining momentum.

I just pick the DJ last night for my wedding and he had a WP. I think we talked more about WP then the wedding. The best part my fiancee was enjoying the conversation as well.

congrats

BTW, isn't she your wife now?

Thanks guys :)
On June 9th she will be last night was picking the DJ. Last vendor now I can relax.

I'm seeing more WP out and about too! During my morning commute I definitely see more folks with WP (usually 8X).

Yeah, it's weird seeing the platform I've been using for a couple of years, WP7 on the HD7, grow from having next to no people using it to seeing other people using it. It shows that people do want Windows Phone.

I don't recall the screen in step 1 when I set up my Lumia 920, have they changed it after the updates? I set up mine with WP8 PR1.0. Or perhaps I was too excited to remember it? :P

I don't remember from my 8X but I did see it when I got my 928 the other day.

My friend kept pestering me yesterday about his live account not downloading apps. Turns out his account was in kiddy mode and I had to awkwardly "add him as a child"

I was just on amazon and the Nintendo 64 new never used is selling for over $1,499 that's crazy!

Selling for and sold sold for are two different things...

Good thing I still have my original n64

If you use Gmail, make sure you create app specific passwords and load that generated password into your phone, much safer when accessing services over free wifi

Not really related to the topic, but does anybody encounter problems with Gmail syncing?
I have noticed today that email recieved in the inbox was notified to me 2 hours later, on my phone (settings:as it arrives).

I'm having this problem with my work email on office 365

Another thing, my Linkedin contacts which were syncing correcty, don't anymore. It's seems to come from MS, or not.

My 8X did that but haven't had that problem on my 928.

My office 365 work ok.
Thank Rich, as a new WP user I'd like to hear about the settings on the phone, why I have to use the Nokia account, the feedback, ecc

I have to reset my phone every few months to get rid of the "other" storage and I must say it doesn't take me long to recover all my data in my phone. I just wished that I didn't have to reset to get my space back. :(

Wait does anyone else have more information on this? I started noticing I had almost no space on my Lumia and have over 2GB in other and deleting apps and things doesn't clear this up. Does anyone actually know what's classified under other?

Unboxing the new gem in your life...nice. Richly said!

Maybe someone can help me. I've been using a Windows Phone since Windows Phone 7. Between me and my wife we have owned several different devices. I now have a 920 on AT&T. When setting up my Microsoft account all looks good.However I get no mail icon for my Microsoft account. I had to setup a separate mail account to link to my outlook account in order to view messages. Does anyone else have to do this? Should probably post this in the forums with screen shots.

There is a relatively massive flaw in the WP set up process that I never came across any other moden OS (desktop or mobile). It defaults to mobile data and does not provide an option to connect to WiFi during setup. Essentially, if you don't have mobile data connection, you also lose out on the app backup and restore functionality. Learned this the hard way by getting charged for mobile data on 4G LTE network and by the time I could intervene to shut data off, within a few mins I was about a 100 dollars poorer (Not in USA and out of data package charges are prohibitive, to the tune of 10 dollars/MB).

They either need to provide a WiFi connection option or to not tie the app backup and restore functionality to full resets and setups (i.e entering a MS account at anytime even after setup should restore the apps tied to that account or have the option to)

App/data restore doesn't work *at all* with MVNOs, like Straight Talk. 3rd party service providers require APN configuration to connect to the internet, which isn't accessible until after you've skipped passed the opportunity to restore your data. An option to configure WiFi *before* the restore process, would resolve all this of course.

MS has been completely unhelpful and unresponsive re:this. Nokia, on the other hand, not only first said that they would elevate this but a few months later I did get a call from some higher up re: other problems and they mentioned that they are pushing for this and that this is a known issue for them. I suppose this sort of a problem is in MS and US consumers blind spot due to the ubiquitiousness of data packages. Nokia however would be keenly aware of the shortcoming considering their massive userbase in developing countries

That's great to hear. Thanks for sharing that! I still don't understand why so many people in the US pay $90-120 per month for AT&T service, when MVNOs will put you on the same network for $45 with unliminted voice, text, and data. Sure you only get 3G data speeds, but the MVNOs are so much cheaper and most places don't have AT&T 4G coverage anyways.

This is my biggest issue as well. I hate having to barrow someone elses' SIM card everytime I want to restore.

Actaully having a Microsoft account back up my contacts saved my ass countless times, my phone is out of juice and i need a number quick ... No problem my Windows 8 people hub have them all :) Simply amazing. (Even if i haven't had my w8 with me , a quick visit to my outlook page would've solved this problem too.

Great article Rich. I have a lumia 900 and waiting for the EOS to come out. Do you have plans on making a similar article for users running WP 7.8 then moving into a WP8 phone? It would be nice to know how that works and I can except to have problems with. Thanks

If you're upgrading from one windows phone to another, is there an easy way to redownload all the same apps? Even a download history would help I'm sure.

If you made a backup, on initial setup (after signing in), you can restore your app list. Note all data is gone.

Oh I didn't know about the backup...how does that work?

In my experience I just went to windowsphone.com, logged in to my hotmail account and there is a tab for my phone, click on it then go to my apps or purchase history or something like that...then it will give you a history of all your apps that you have purchased and downloaded..then from there you just reinstall them..it seemed pretty simple to me.

Wish it was possible to restore a backup after initial setup...

I'm in the U.S and I have a Lumia 920, but I'm thinking of getting an unlocked Lumia 620 to use as a media device/backup phone. I'm assuming the 620's being sold on eBay, Expansys, etc. are being imported from Asia. If the phone is from China, for example, will the set up process still be in English, or in Chinese? Obviously it will be difficult to set up the phone (including choosing region and country), if I can't read what's on the screen. Anyone know the answer to this question? Also, is it possible to have two phones connected to the same Microsoft account at the same time?

Yes you can have two phones set up with the same account..my husband and I did that with our phones.

Unable to reinstall apps from purchase history, unable to contact phone. Any help?

In ur settings u have to go to > find my phone n then click allow apps to be sent via push notification but I'm assuming u already found a fix by now lol

I HAVE GMAIL AND ALL MY CONTACTS ARE IN THAT EMAIL HOW CAN I SET IT UP WITH MY WINDOWS 8 PHONE WERE DO I SET MY GMAIL ACCOUNT SO I CAN RECEIVE MY CONTACTS ANY HELP PLEASE THANK YOU