Setting up a Microsoft Account for Windows Phone 8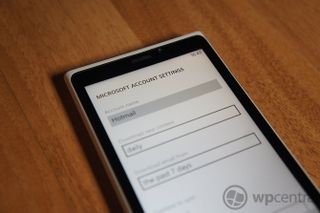 So you're currently looking forward to receiving / purchasing your Windows Phone 8 handset, or have just unboxed the device, but what's to take in before getting started? While Microsoft services are recommended over competitors to further enhance the experience and overall functionality available, they're not a requirement.
You don't have to go all out Windows should you choose not to. In fact, Microsoft has made it so you can continue residing in an competitor dominated home while being able to make the most of what Windows Phone has to offer. So what are the Microsoft equivalents of what you may already be using on a daily basis?
The services we speak in this article are not mandatory, but it's strongly recommended you have a Microsoft Account set up and ready to go. Creating one is super easy and you're more than likely already in possession of an active profile. Have a Live ID or play Xbox LIVE? Sweet, you're already good to go. If not, head on over to the signup pages - more on this below.
Why get a Microsoft Account?
Here are some reasons why it's a wise decision to set up an account with your Windows Phone:
Secure your Windows Phone with automated backups and location-based measures (Find My Phone).
Enable Xbox LIVE, Xbox Music (free trial available) and Messenger.
Receive and send emails using Outlook.com (or Hotmail).
Synchronise your Windows Phone (and its content) with a Windows 8 PC.
Make use of SkyDrive and the generous free storage quota.
Purchase and download apps and games from the Windows Phone Store.
Integrating Twitter and Linked In into the People Hub.
Receive personal results in Local Scout, Music + Videos and the Windows Phone Store.
Automatically synchronise contacts with Hotmail / Outlook.
A Microsoft Account is a consumer's key to access services and products offered by the company. From Xbox Music to Outlook and the Windows 8 Store, it's further being integrated into Windows with the latest version of the desktop enabling support for Microsoft Account for user management and device personalisation.
Coming from an iPhone/iOS or Android?
Here are some Microsoft counterparts to services you may be used to with competitor hardware:
Internet Explorer - Safari, Chrome, Opera.
Microsoft Office - Pages / Numbers, Google Docs.
Bing - Google Search.
Xbox - Apple Game Center.
Outlook - Gmail, Yahoo!.
Skype - BBM, iMessage, Google Talk.
SkyDrive - iCloud, Google Drive.
Windows Phone Store - Google Play, BlackBerry App World, Apple App Store.
After you've created your Microsoft Account, or located login details for an existing profile, it's time to add it to your new Windows Phone. This is a simple process than can be completed through the initial stages of configuration. When setting up a new Windows Phone, one will be greeted by a login (or registration) for Microsoft Account.
Creating the account & setting it all up
While we touched on services available to those who already have a Microsoft Account, you may find yourself in a position where you'll need to create one. Doing so is extremely simple, easy, and only takes two moments.
1. Creating an Account - There are two ways to create an account, both lead to different results for usernames. Heading on over to live.com (www.live.com) will enable you to create a @hotmail or @live email address, whereas outlook.com (www.outlook.com) is the place for @outlook email IDs. If you sign up for a Live ID / Hotmail email address, it is possible to create an Outlook alias as well.
When on either website, hit the "sign up now" link under the login form. Here you'll be presented with a form to fill in, including personal details, as well as what ID you'd like to use when logging into Microsoft services. "I'd like to use my own email address!" - we'll get to that shortly, head on over to 1.b if you're interested in using your own third-party address.
1.b Using your own email address - It's possible to use your own email address, someone@awesome.com as an example. This will replace the Live ID you've created, while Outlook addresses can be used as an alias for the main email account - emails can then be sent from Outlook.com, but using a different email address. Once you've created a Microsoft Account (with the @hotmail, @live or @outlook extensions), you can head to the control panel by clicking your profile photo in the top right-hand corner, then select 'Account Settings'
Account details will be present on-screen with the option to "update email address" under the account ID. Hit this link and you'll be presented with the same screen as shown above. Be sure to select "Use a different address" and then type in your externally hosted email ID.
Note that you will want to do this before setting up your Windows Phone. If you change your Microsoft Account ID after your Windows Phone is configured with the old ID, services including SkyDrive, Xbox LIVE and the Windows Phone Store will cease to function until the device is reset and the updated account information is entered.
2. Setting up on the phone - It's strongly advised an account is set up during this stage for previously stored backup to be applied and loaded (if you've used Windows Phone before), but do note that you cannot change the Microsoft Account on the handset. To be able to use a new profile on your Windows Phone, you will need to perform a hard reset (Settings > About > Reset), which will wipe the device clean and start fresh.
When setting up your new Windows Phone, it'll ask you to login to your Microsoft Account, do so. Once the Windows Phone has completed installing apps, your contacts, mail (should you wish to use the Microsoft Account for email) and other content will be loaded on the device. The Windows Phone Store will be accessible and apps may be downloaded (should a credit card be present on the account - see below step, cards can be added when attempting to buy apps and games from the Store).
3. Billing - You can ensure billing information is all correct for use in the Windows Phone Store by checking account information on Microsoft's website. You can remove / view credit cards by heading to the Account CP (again, select your name / photo in the top right) and select Billing in the sidebar (when logged into your Microsoft Account.
This is where your subscriptions (Xbox LIVE, Xbox Music, etc.) can be manipulated, as well as payment gateways on your account. We'll be heading into "payment options" in this step, which is where all cards attached to the account can be viewed. If you have your card set up and good to go, then perfect, you're all set and ready to purchase apps and games for your Windows Phone.
If not, have no fear as you can buy apps and games from the Store, which will prompt you to add a new payment option on your device (see below). It's worth checking this billing section of your account often to see what's being purchased, as well as the status of subscriptions. Note that with Kid's Corner, this feature blocks access to cards attached to the account, so the kids wont be able to purchase a hundred games.
Wrapping it up
With your payment options configured, you're good to go and purchase content from the Store (with over 100,000 apps, there's something for everyone). If you're thinking about going over to Windows 8 at some point in the future, you'll login using your Microsoft Account and all settings will already be configured for use (with credit cards on record for use in the Windows Store, etc.).
Xbox Music and Xbox LIVE will both automatically configure settings to personalise the experience (check the billing section of the account to view status of subscriptions). If you have playlists and a music collection with Xbox Music, it'll be accessible on the phone, likewise with Xbox LIVE with Avatar, friends and gamerscore.
Windows Phone comes with a Microsoft Office suite as standard with a OneNote Mobile app available on the Windows Phone Store. The Office Hub will pull all documents down from the cloud (as well as recent documents), while OneNote will synchronise all stored notes with the Microsoft Account on app launch.
If you wish to use your Microsoft Account as an email account, this is possible through both Hotmail and Outlook, but it isn't mandatory - handy if you use an external provider. It's a useful gateway to the realm of Microsoft and the company has done a superb job at not restricting use due to owning competitor products.
As mentioned at the beginning of this walkthrough, you can continue to use third-party services, such as Gmail and more. App solutions and internal integration are both available. Keep an eye out for more tutorials and guides to help ease you into the world of Windows Phone.
Windows Central Newsletter
Get the best of Windows Central in in your inbox, every day!
Rich Edmonds was formerly a Senior Editor of PC hardware at Windows Central, covering everything related to PC components and NAS. He's been involved in technology for more than a decade and knows a thing or two about the magic inside a PC chassis. You can follow him on Twitter at @RichEdmonds.
Very usefull article! Thanks. Will definitely bookmark it for future use :)

I get this error message when trying to rrname my hotmail to outlook: There's a temporary problem with the service. Please try again. If you continue to get this message, try again later. (Getting this error since outlook came out)

that's weird i had no issue with mine is it on multiple pc's?

So you don't think using the Store is mandatory to use a windows phone, sounds like you'd be wasting your time if you used a Windows Phone without a Microsoft account. Though I guess sending texts and making calls still work.

Since you can merge your existing email and MS account, there's no reason not to, is there?

Just a heads up that if you go direct to http://signup.live.com you don't have to choose between live and hotmail. You can use your normal email address.

What if you never had a microsoft account before? Can you just create one when setting up your new phone?

I have a question,
My current LiveId is set to Location: U.S. without any possibility to change it to Colombia (my real location).
Using this ID, may generate trouble with xbox music and payment options?
It is more easy to create a new account with Colombia as my Loctaion?

Here is a question about 2 windows phones and 1 email account. My wife and I share an email address (Gmail). I set up a live.com account (on my phone) to get my phone started. Can she use the same live ID? Or will she have to create her own? And can she sync our Gmail acct to her phone as mine is or will the universe collapse on itself because it can't be synced on 2 phones? Kinda scared to try it. Her phone just arrived today...

This is fine. It will work really well actually, because not only will the same email sync with both phones, but any apps you purchase can also be installed on her phone for free (because the license is linked to the MS account).

I think that games that have xbox branding should've been available for everyone because not every country have xbox live and can't play the latest n greatest games..or they can make another version without xbox branding..i'm sick of playing crappy games...

So this "might" be a dumb question but I hope someone can help (with generosity :) ) I'm using WP 7.5 now, and will receive my WP8 device soon. I use Zune to sync. How do I back up my WP7.5 data and load it on a WP8 device later? Is it really all done in Zune? Last time I checked my CONTACTS don't sync with Zune. My Peoples Hub in Outlook.com doesn't sync with my WP7.5 device ASSUMING because half my contacts are synced with the Gmail contacts, and only changes in Gmail will edit the Peoples Hub automatically. Will I still get my contacts from People Hub (outlook.com) loaded into WP8? I guess a good way is to just delete all the gmail contacts in outlook.com, export a CSV file from gmail and just import it back to outlook.com so it's a "outlook.com contacts"?

Just had a chance to check out the live demo set of Lumia 920 yesterday and found that the calendar is limited to Outlook/hotmail calendars ONLY? Is that true? I did not see settings to add other calendars, e.g. google calendars. Does anyone has advise how use google calendars on wp8 or import events to outlook calendar?

You can use the Google calendar just fine on Windows phone. It will ask you what to sync from your Google account... email, calendar, and/or contacts.

However, I know there have been issues in the past if you need to sync more than one Google calendar. I'm not sure if this has been resolved. I think there is a way to do it by telling Google to make all calendars available, but it's not as easy of a setup. FWIW, this seems to be Google's fault, not microsoft's.

A VERY sweet thing using Windows Live: You can actual let Windows Live host your own e-mail domain: Just go to http://domains.live.com and setup your domain name. You will be provided with MX details to setup your DNS records - and then it is just rolling! :)

can anyone just tell me the server address for the microsoft acocunt on windows phone 8, i changed mine to force a sync, didnt expect it to be so difficult to track down!

I can't login even, change my password on Microsoft but that @hotmail password ask something else, can't upgrade anything, because it ask that Hotmail Password. That problem appears when the freaken phone upgrade to 8.1.

Uh oh...we've reached that weird spammy point of the evening again.

Must I use the primary name on my hotmail account or can I use an alias? I ask because I used an alias and now can't open my Office 365 apps, which I bought with the core hotmail address, which is strange Anyone?
Windows Central Newsletter
Thank you for signing up to Windows Central. You will receive a verification email shortly.
There was a problem. Please refresh the page and try again.