Shark Dash Review for Windows Phone 8: Chomping up Achievements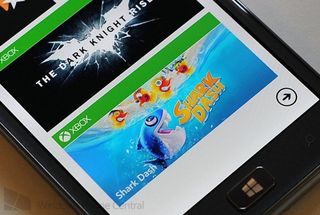 Gameloft has made quite a name for itself as a prolific publisher of core games for smartphones. When we say core games, we mean titles that provide a meatier, more console-like experience than typical mobile games. In fact, most of Gameloft's lineup consists either of licensed games or clones of popular console games. N.O.V.A. 3 is a Halo clone; Modern Combat 4 replicates Call of Duty, etc. That's why so many of us love Gameloft – they give us the mobile games that other developers refuse to create.
Still, Gameloft is a big company and it can afford to produce all kinds of games – even a few casual ones – without diminishing its reputation. One such game is Shark Dash for Windows Phone 8 and Windows 8. No, the world wasn't exactly crying out for another physics puzzle game. But Shark Dash is just fresh, charming, and affordable enough to make it worth a look. And who can say no to easy Achievements?
Tub trouble
Shark Dash centers around the conflict between a toy shark named Sharkee and an army of rubber ducks. As seen in the introductory sequence, one day Sharkee and his toy shark girlfriend are happily relaxing in a human-sized bath tub. Suddenly a horde of ducks arrives and steals the female shark away. Sharkee thus sets out on the road to revenge. He won't stop until every last rubber duck (and there are lots of them) is eliminated. Of course, he'll also need some help from his fellow toy shark friends. Compelling, huh? Hey, at least the developers thought of a reason for the sharks to not get along with their rubber ducky prey.
Pull back and go
The basic goal of every level is to eat or otherwise eliminate every single duck. Make too many moves and the plug gets pulled from the tub, sending your toy shark to his dry death. The number of moves left is indicated by a series of colored dots on the plug. Running out of moves generally won't be a problem except on the harder levels.
To get those ducks, you'll pull back on the shark's tail and release. This launches him through the air or water like a slingshot. The harder you pull, the faster and farther he moves. A series of dots assists with aiming what the shark's trajectory will be when he launches. Sharks can bounce off of objects and they move slower through water, so you'll need to take those simple physics concepts into account when aiming.
Sharks aren't invincible; they can perish in a number of ways beyond running out of moves. These include getting stuck out of the water for too long, getting stuck under an object, falling out of the tub, or touching a mine. Mines are particularly dangerous; you'll need to either avoid them or push certain objects like beach balls into them in order to set them off safely.
A level ends successfully when the shark offs the last duck without getting himself killed. That will get you one star. Getting rid of the ducks within the target number of moves gets you another. That tends to be the hardest star for me to earn in later levels. The third star comes from collecting all of the coins in the level. As with Cut the Rope and similar games, you'll need to reach certain star milestones in order to unlock new sets of levels.
Far off locations, four friendly sharks
As of now, the game offers four sets of levels (with more levels promised in a future update). Each set contains 24 regular levels and three Expert ones, for a total of 108 levels (not 96 as the store description states) as of this writing. To reach new levels within a set, you'll need to beat the preceding levels. Problematic ones can be skipped for a hefty sum of coins, but it's far wiser to just look up a solution on YouTube when you get stuck.
Levels include:
Home: Standard levels set within a normal bath tub. You play as Sharkee in these stages.
Japan: This exotic location introduces Sawy the shark. His sharp nose can cut through chains, usually causing objects to fall or swing from the chain. Sharkee still shows up in some levels, and sometimes players will control both sharks at once.
Hotel: These challenging levels add Hammy the shark to the mix. Tapping the screen while Hammy is airborne causes him to dive downward, while tapping underwater shoots him up into the air.
Roman: This elegant bath setting brings Scuby the shark into the action. By tapping and holding the screen while Scuby is underwater, you can make him swim left or right in a straight line. Release and he will stop.
Coin economy
Coins collected during levels can be spent in the shop. Players only keep the coins if they beat the level, which means you won't earn too much coinage whenever you're struggling with levels.
The shop sells three kinds of items: Sharks, Elixirs, and Specials. Sharks are simply 'cooler' skins for each of the four sharks. They're expensive but they bring the added bonus of revealing more of the shark's shot trajectory. Elixirs allow you to wind back moves during gameplay. Since you can restart levels at any time, elixirs are basically a big waste of money. Finally, the Special items will unlock all four shark skins for a real $2.99 purchase or all levels for $4.99.
Achievements
The best thing about Shark Dash compared to other physics puzzlers is this one doesn't have any Achievements for collecting stars or 3-starring levels! That means you can just play and enjoy levels without having to actually perfect them. If you miss too many stars you won't have enough to unlock new level sets though.
Many of the game's Achievements involve little actions that you'd do anyway such as launching a ball through a hoop. A few will require calculated actions on specific levels. The hardest one, 'Deep Blue' will take multiple tries but it's really not that hard. It involves eating six ducks while underwater. To do so, you'll have to launch the shark into a group of ducks at just the right time so that a falling block ends up pushing him into the next set of ducks. Arsenic17's Achievement guide explains it well.
Overall Impression
Shark Dash is one of those physics puzzle games that will appeal to both casual gamers and a fair number of mainstream players, much like Cut the Rope. I wouldn't say it matches Cut the Rope in quality since this that game has way, way more levels to keep players busy.
But Shark Dash plays a bit differently than other Xbox physics puzzlers, its 3D graphics please the eyes, and it has a great difficulty curve. I didn't start running into trouble until the third level set, in fact. Plus you can get all of the Achievements during the third set of levels (out of four sets), making this a quick completion.
Shark Dash for Windows Phone 8 costs 99 cents. It's a 98 MB download and runs on devices with 512 MB of RAM, so even Lumia 620 users should be able to download it without too much trouble. Get it here on the Windows Phone Store.
Get the Windows Central Newsletter
All the latest news, reviews, and guides for Windows and Xbox diehards.
Paul Acevedo is the Games Editor at Windows Central. A lifelong gamer, he has written about videogames for over 15 years and reviewed over 350 games for our site. Follow him on Twitter @PaulRAcevedo. Don't hate. Appreciate!