Shark Dash makes a splash on Xbox Windows Phone 8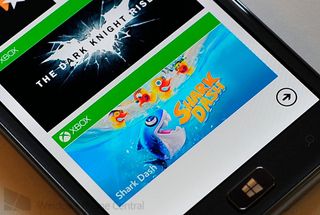 Following on the heels of The Dark Knight Rises, we have a second Xbox Windows Phone 8 release from Gameloft today. This one leaves the urban streets behind for a much brighter setting: nice, happy bathtubs. Yep, Shark Dash is now available and it only costs a dollar. Dare you dip your toes into these waters?
Quack attack
Shark Dash's story involves a bunch of toy ducks kidnapping the heroic toy shark's girlfriend. It's retty much just there to give players a reason to eat lots of ducks. This game consists of 96 levels spread across four different aquatic environments, and more are promised in the future.
To get those innocent looking, yet nefarious ducks, you'll tap and pull the shark. Release him and he slingshots around the tub, bouncing off of walls, knocking things over, and eating any ducks he bumps into. Whatever coins he collects along the way go into your bank. They can then be spent in the game's shop to unlock items and new skins for the various playable sharks. Coin collecting provides a nice metagoal beyond just perfecting all the levels.
After playing the Windows Phone 8 version of Shark Dash for a bit, I can say it compares quite favorably with the Windows 8 PC and tablet version. The simplistic 3D graphics and art style are smooth and inviting, while the short levels are perfect for playing on the go. The Achievements are nice and easy too. Even if you're not big on physics puzzlers (I'm sure not), give this shark a chance.
Bath time!
Shark Dash for Windows Phone 8 costs 99 cents. It's a 98 MB download and runs on devices with 512 MB of RAM, so even Lumia 620 users should be able to download it without too much trouble. Get it here on the Windows Phone Store.
Thanks to Rocket Riot and Mark Tepper (once again) for the tip!
Windows Central Newsletter
Get the best of Windows Central in in your inbox, every day!
Paul Acevedo is the Games Editor at Windows Central. A lifelong gamer, he has written about videogames for over 15 years and reviewed over 350 games for our site. Follow him on Twitter @PaulRAcevedo. Don't hate. Appreciate!
It's funny, I have finished the Windows 8 version. So easy!

It cost 99 cents for me and plays perfectly on the 920.

Thanks you guys. Looks like they switched it to the proper price pretty quickly!

Although it heats up my 820 and eats the battery like crazy.

Plays great but anyone's 920 getting super hot near the top?

Not anywhere near as hot as it has gotten on WP8 games

Paul, in Brazil this game costs R$ 1,99 (~ U$ 0,99).

At 0.99€ I bought it. Seems similar in logic to angry birds and I like Angry birds.

Tough decision. Buy this game or a snickers bar!

You can get a Snickers Bar for 99 cents?

Not sure on this just yet. Seems neat, but not a fan of Angry Birds, so not sure if I will like it.

Not bad a bit like Angry Birds under water but you have to continue from where you stop after each move so it adds a bit more strategy.

One has to wonder: Is there any Xbox Live game that Paul can't make a catchy pun out of?

The developers and I keep trying to outdo each other. :-D

I really like this game. Well worth $0.99.
Didn't I read dotw making a return on wp a while ago? Or am I dreaming?

It's coming back eventually. We don't have a date though.

Yay! Every week I wonder if the program will ever return.

Does progress sync between Win8 and WP8 editions?

No. But it's not a big deal because the game is fairly short on either platform.

I like this game, but seems to have just a teeny bit of lag in my 820. Anyone else notice this?
Windows Central Newsletter
Thank you for signing up to Windows Central. You will receive a verification email shortly.
There was a problem. Please refresh the page and try again.