Fallout simulator Sheltered now more dangerous on Xbox One and Steam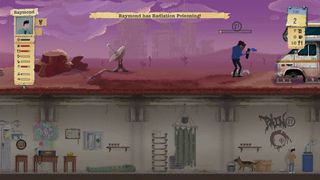 With Fallout 4 currently eating up many a gamer's precious recreation time, it's easy to forget that other post-apocalyptic games have come out this year too. Mad Max sort of came and went, a victim of a crowded release season. And on Xbox One and Steam, a little game called Sheltered surprisingly deals with many of the same themes as the Fallout series. Plus it keeps growing!
Team17 and Unicube's Sheltered is a fallout shelter simulator – sort of like the mobile game Fallout Shelter but far more complex. Sheltered currently exists as part of the Xbox One Preview Program and Steam Early Access, where the developers continue to enhance and refine its simulation aspects and gameplay. Today Sheltered gets a huge update that adds raids, loyalty, horses, and more. Read on for full update details!
Sheltered Update 8 details
New Features
Shelter Raids:
Raiders attempt to break into your shelter to steal food and supplies
The shelter door can now be upgraded to be made stronger and more resilient to attacks
New craftable traps to keep them out are now available: Paint Can Trap, Spike Trap, Shotgun Trap
New Radiation and Oxygen Functionality:
Radiation is no longer present at all times
Radiation clouds now accompany dust storms
The oxygen filter is now used to provide oxygen for the shelter instead of clear radiation
The oxygen filter must be upgraded to provide more oxygen as the number of people in the shelter increases
Recruit Loyalty:
Newly-recruited members of the shelter begin in auto-mode. Player must gain their loyalty before they receive full control over them
Recruits can now be dismissed from the shelter
Recruits that become too stressed or unhealthy will leave the shelter
When recruits leave, there is now a chance they may steal something or sabotage an object
There is now a chance that a recruit is a psychopath and may sabotage the shelter or kill a family member if triggered
Horse Pet:
The player can now select a horse as the shelter pet
Factions:
Certain areas of the map are now controlled by dangerous factions
Each faction has new and unique visuals and dialogue
General Changes
Doors now open automatically for characters
A saddle and stable are craftable if the player starts with the horse
Damaged objects may now catch fire
A fire extinguisher is now craftable to put out fires
Expedition parties may now encounter wolves and bears
A 'Move All' option when transferring items has been added

Bug Fixes, Changes, and Balancing

Too many to share here. See the Sheltered Update 8 Patch notes for the full list.
Gimme Sheltered
Sheltered is a Kickstarter success story, with the game successfully reaching its funding goals in 2014. The Xbox One port happened as a result of s stretch goal, as console gamers clearly wanted a fallout shelter simulator enough to put their money on the line.
The game takes place after a global apocalypse that drives humanity nearly to extinction. One fortunate family of four discovers an underground shelter that will keep them alive a little longer. But even with walls to keep the deadly radiation out, the family won't be truly safe without player's help. Death threatens all around, whether it's from dehydration, lack of food, physical injuries, external radiation, or raiders.
Sheltered is a complex and challenging simulation – think of the hardcore elements of modern Roguelikes and even games like The Oregon Trail. Bad things will happen to your family, and you'll have to observe and react quickly to keep them alive.
As part of the Xbox One Preview Program/Steam Early Access, Sheltered is fully playable but still in development. Player feedback will help the developers at Unicube improve and perfect their game on the way to official release. Grab the game (or its free trial) now and you can help make Sheltered become the ultimate fallout shelter simulator.
Paul Acevedo is the Games Editor at Windows Central. A lifelong gamer, he has written about videogames for over 15 years and reviewed over 350 games for our site. Follow him on Twitter @PaulRAcevedo. Don't hate. Appreciate!
I'm looking forward to this one because I've wanted to play Fallout Shelter, but WP never got it. Sheltered looks much more fun that that anyways.

I play fallout shelter on bluestack its a never ending game lol, not too fun when the population gets above 100, too many things to manage.

I mostly gave up on it for that reason. Its still a great game, but when you have too much going on it seems ALL you do is race about fixing problems. I was hoping that it could be possible to create a sort of SimCity self running society where you could get everything 'just right' and the game would pretty much play itself, but alas...

Looks like they are trying to copy fallout shelter's idea?

This game went to Kickstarter in 2014, way before Fallout Shelter was released. So it seems to be the reverse.

This game looks interesting. I'll have to check it out.

This looks amazing! I'll have to check out the free trial now. Thanks for this article.

This does look great but it's a real shame there isn't a Fallout related game for Windows Phone

Do I dare get into another game like this? Could get obsessed with it. Looking forward to seeing more.

Bought this awhile back on Xbox addicting and enjoyable. Didn't have Achievements when I bought it, haven't played in awhile will have to check out the update.

Why not on windows phone yet? I am really hyped for this game!

Looks like this will have a longer life than Fallout Shelter. That game fell apart after about 15 hours because you'd have finished everything by then.

This game actully looks pretty fun. I'm tempted to buy it right now, but I've been so busy lately and I'm not sure I would have the time to play it, and I hate when that happens.

Looks like a fun game Posted via the Windows Central App for Android
Windows Central Newsletter
Thank you for signing up to Windows Central. You will receive a verification email shortly.
There was a problem. Please refresh the page and try again.