Should Microsoft bring Next Lock Screen to the forefront of its Android efforts?
Microsoft made Arrow Launcher a core part of the company's Android efforts, but should the same focus be put towards Next Lock Screen?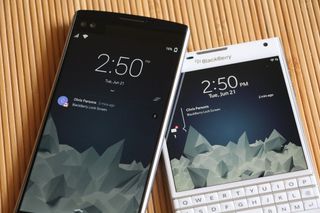 Microsoft has dozens of apps available on Android. These range from core Office applications to niche apps like Excel Keyboard. Some of the most interesting Microsoft apps on Android come out of the Microsoft Garage, an "experimental outlet" for Microsoft employees.
Microsoft took one of the most loved Microsoft Garage apps, Arrow Launcher, rebranded it, and added new features that integrate it with Microsoft's vision of mobile computing. But there's another well-regarded Microsoft Garage app that doesn't get the same attention, Next Lock Screen.
There's a variety of factors that could contribute to the app being left to a relaxed life of mostly receiving bug fixes, but I think it might be worth Microsoft giving Next Lock Screen the same treatment that Arrow Launcher received.
See in Google Play (opens in new tab)
A unified experience
Next Lock Screen is made by the same team that made Arrow Launcher. As such, it shares many of the same design cues and goals. Next Lock Screen features a crisp design with minimal icons and is centered around getting users into apps quicker. It handles notifications beautifully and does the little things that you need a lock screen to take care of such as controlling music and quickly accessing tools.
Next Lock Screen can be an extension of the Microsoft Launcher experience. While it doesn't utilize features like 'Continue on PC' it extends the look and feel of Microsoft Launcher onto the lock screen of your Android device. Microsoft sells multiple types of Android phones in their stores, and many are preloaded with Microsoft software. If you had a device preloaded with an upgraded version of Next Lock Screen, Microsoft Launcher, and Microsoft's other core apps, the phone would feel more like a Microsoft phone than an Android phone running Microsoft apps.
How Microsoft is turning Android into a phone for Windows
What's in the way
I've used Next Lock Screen on and off for quite a while and used it on my daily driver for the last week. I think that it would be an excellent lock screen if it were my only lock screen. Unfortunately, Android doesn't handle third-party lock screens as well as it handles third-party launchers, browsers, and other apps. Next Lock Screen is basically a skin over my device's default lock screen.
Some Android phones might play nicely with Next Lock Screen but I use a Galaxy S8+, and I often have to swipe down to clear Next and swipe up to clear my Galaxy's lock screen. I can skip this dual swiping step by using my fingerprint to unlock the phone and clear both lock screens at once, but this is more of a workaround than a solution. You also can have some features restricted or limited by Next such as Google Pay which requires you to unlock Next Lock Screen before you can use it.
Additionally, in an age where smartphones unlock quickly, the importance of a lock screen has diminished. Face unlock on some phones is so fast that my guess is many users wouldn't notice if there wasn't a lock screen on their device at all.
Lock screen customization is dead
Microsoft's vision of mobile computing is connecting all types of devices to Windows 10. Features like 'Continue on PC' and apps like Your Phone show that this is a priority. Next Lock Screen can extend the look of Microsoft Launcher to the lock screen, but even if upgraded, it can't do much to further connect your phone and your PC.
What needs improving
I like Next Lock Screen on the whole, but for it to be in the league of Microsoft Launcher, it needs some updates. Firstly, Microsoft would need to find a way to make it feel like a default lock screen rather than a skin. This might be mostly out of Microsoft's control, but there's a chance they could work with OEMs to allow Microsoft Launcher to be an option for a default lock screen. Samsung's partnership with Microsoft has strengthened over recent years, so maybe there's a chance the two companies could work something out. While Microsoft is hypothetically speaking with Samsung, they could also work on getting Face Unlock to work with Next Lock Screen.
Second, Next Lock Screen needs some more customization options. I'd love to be able to use any icon pack I want on it. I use round icons matching the Pixel's icon style, but on Next Lock Screen, my icons are a mixture of round and square default icons.
Third, I'd like to see quick actions to contacts to support more apps. At the moment you can only call, text message, or email contacts through Next Lock Screen's shortcuts. Microsoft needs to add support for apps like WhatsApp, Facebook Messenger, and Telegram.
Lastly, I'd like to see more options to have Next replicate other lock screen's features, for example, adding the option to swipe either down or up to unlock the phone.
Will Next be the next big Microsoft app?
While I like Next Lock Screen and think it can help complete the Microsoft experience on Android phones, I doubt Microsoft will make it mainstream like Arrow Launcher. It doesn't fit into the company's mobile mission to connect phones to PCs, and there are too many limitations of third-party lock screens on Android to make it worth a heavy investment.
Microsoft could surprise me and find a clever way to expand Next Lock Screen's functionality, and I'd be happy to see it, but it seems unlikely. If the app was brought to the forefront, there wouldn't have to be many upgrades or changes to make it a premiere lock screen experience.
As a side note, I don't think Microsoft will ever release an Android phone, but if they did, I'd like to see an iteration of Next Lock Screen be the default on that device.
See in Google Play (opens in new tab)
Windows Central Newsletter
Get the best of Windows Central in your inbox, every day!
News Writer and apps editor
Sean Endicott brings nearly a decade of experience covering Microsoft and Windows news to Windows Central. He joined our team in 2017 as an app reviewer and now heads up our day-to-day news coverage. If you have a news tip or an app to review, hit him up at sean.endicott@futurenet.com (opens in new tab).
The third-party limitations are why I stopped using it. Most of the time I want to unlock my phone as quickly as possible anyway. I think they're smart for not putting a lot of resources into this.

Many say yes, but you should try it for yourself.

In answer to your query, I say yes, they should.

I don't care about a lock screen.

Yes, I would love to be using this... but it doesn't play nice with my phone's finger unlock. It forces me to enter a PIN (or pattern) also

I'd agree with most of what you said here. It would, of course, be most helpful if you could replace the default lock screen with Next, instead of layering them. I also have the issue that the default lock screen will display over Next, so that the quick-glance reason I have Next is subverted. (I have set the system lock setting for as long as possible, but my corporate policy sets a maximum of 15 mins.)

Why bother. Better put some effort in improving the quality of Windows feature updates. These half assed updates are getting out of hand.

The ideal lock screen gets out of your way. Minimal with quick launch notification buttons to launch the associated app. This is where, for me, the AOD on Samsung is perfect. If I need more than that, I have the rest of the OS. If they want to take Android seriously, Microsoft should put more effort into their launcher than a lock screen. Users are always trying to find the fasts way to get past the lock screen and into their device.

More effort? They've been updating their launcher at a rapid pace already.

I think you may be misinterpreting that comment. Note the actual words. They said that Microsoft should put more effort into their launcher than their lock screen, NOT that they should put more effort into their launcher then they currently are. It was NOT a criticism of their current launcher efforts.

They're work on MS Launcher has been commendable considering in a short period of time, it's managed to offer almost every feature (for free) that the Android holy grail of Nova Launcher does ($9 for Nova). I think a lot of Android diehards (I'm personally a Windows Phone guy forced to use Android) have taken MS way more seriously just because of the effort put into MS Launcher.

Still, the investment in the $6 Squarehome is worth it.
I have given the MS Launcher a view tries, but the lack of information density that tiles provide me (even with the Limits of Android Apps) always brings me back to
a) getting back to my Lumia 820
b) or at least using Squarehome.

I also installed Launcher but its pathetic experience forced mt to uninstall it after giving 3 days of trialling. If my experience is repeated, if, then the shift to android focus could harm ms' consumer business and thence their business business.

I agreed that the lock screen is fading in importance due to very fast biometrics authentication. No need to put too much efforts in.

i'm used to having my phone screen side up on the table and using tap to wake. does that work on any android phone or is there something better that Android has?
it seems like a lot of phones have the fingerprint on the back so you'd actually have to pick up the phone.

Barring the redundancy, it's a great app. I just recently stopped using it for that reason only.

Why? If it doesn't make my Android lock screen look like a Windows Phone lock screen there is no point.

The way Windows Phone handled it was perfect, as far as I'm concerned. Nobody does it better.

Nice app but it's a power guzzler.

3rd party lock screens don't really work on Oreo now, if you set a fingerprint and pin the default lock screen will display asking with a pin in which if you unlock it you get a flash of the custom lock screen but that's it.

I was using Next and loved it until my S7 Edge upgraded to Oreo when it became useless. Haven't used it since.

"Additionally, in an age where smartphones unlock quickly, the importance of a lock screen has diminished. Face unlock on some phones is so fast that my guess is many users wouldn't notice if there wasn't a lock screen on their device at all." That's me, but with fingerprint. I did the same thing with my HP Elite x3 Windows 10 Mobile device before my BlackBerry Key2. I just unlock and turn on the screen at the same time by touching the fingerprint sensor. I never really look at a lock screen, although now that this article prompted me to I don't really see anything wrong with the one that came with the phone.

I would like to see Microsoft add live tile functionality to the launcher app.

I used it for a while, but that extra step you have to take to unlock consigned it to the uninstall pile. That and it seems to have been mostly abandoned by MS (as well as their 'Picturesque Lock-screen' App).

No, Microsoft should release Andromeda. And yes, such comments will keep appearing if all we can see is that MS is repeatedly incapable of pulling itself together.

Not for nothing, but MS *has* pulled itself together. It has done so by ditching Windows Phone (and, really, Windows) and focusing on where it can compete: In the cloud. Sure, it's dead in the water as a consumer-facing company, but it's a massive growth company, now. It's a shame, because I think they are in long-term trouble if they can't get back into the consumer space somehow but, for now, the strategy is working.

I think they just merge the next lock screen into Microsoft launcher

It is possible to disable default lock screen in MIUI! So, NEXT lock screen looks and feels like native one for Xiaomi phones at least!

What absolute BS this is. MS trying to turn someone else's OS into a Windows-like experience and investing squillions to do it. This is so bloody typical of the stupidity of MS today. Why spend the money doing this when they had their own shop? For a fraction of this cost they could/should have ploughed money into their own stuff instead of trying to be "me too". These days under Nutty MS is just brain dead. Turn off the electricity now.

Pour recources?! "Resources," probably not.

I quite like it, but the ' GPS battery drain' bug stopped me from using it. I do miss the on screen features though, and hope MS will integrate the relevant part of it into the Launcher at some point. It's nice to quickly glance at the screen to see information, instead of having to unlock your phone.

No they should pour resources into getting Andromeda ready to go and out the door.

It means nothing to me, but there is a huge part of the market that is strongly influenced by flashy, but inconsequential, element like this. MS will and should expend effort as they think best. Historically, MS's decisions in this regard have proven to be ineffective. MS has a lot of starts and stops and restarts, abandoned projects, reimaginings, etc. that have died on the vine. As users, this is frustrating, but with innovation, the opportunity to excel is always paired with the risk of failure.

Uninstalled the Microsoft Launcher and kind of find having an outlook installed is enough for me. Not really using anything Microsoft Office related on my Samsung Galaxy S8. Word, power point etc. are more useful on a big screen.

"Should Microsoft pour recources into developing Next Lock Screen?" No, recources are too expensive. They should use resources.