How Microsoft is turning Android into the mobile OS for Windows users
By Sean Endicott last updated
With Windows 10 Mobile dying, many former Windows phone users are turning to iOS and Android. But has Microsoft successfully turned Android into a phone for Windows?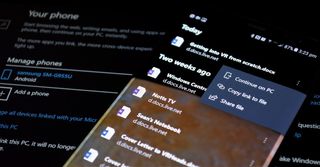 The fact that Microsoft didn't play nice with its major competitors has been in the rear-view mirror for years. With Microsoft apps filling the Google Play Store and Apple's app store today, it's easier than ever for users of Microsoft services to jump ship to other mobile OSes. Even Bill Gates is on Android.
While most of Microsoft's services are available on both iOS and Android, the open nature of the latter means that Microsoft can create strong links between Android phones and Windows 10 PCs in both looks and functionality.
5 tips to help Windows Mobile users switch to Android
Apps and services
Between customizing the look of an Android device with Microsoft Launcher, continuing to browse a page from your Android phone to your PC on Edge, and a variety of other Microsoft apps and services, Microsoft has a strong presence on Android in the apps department. And with Edge coming to the platform in preview recently, there's reason to expect Microsoft's support of Android to continue.
For users, this means that they don't have to switch away from products they already are accustomed to using on PC, such as Office, if their work shifts away from Windows hardware. Even if an entire company switched from Windows to Android, they could still use most of Microsoft's services.
And Microsoft's support on Android, including specific versions of Android, isn't half-hearted. When Samsung unveiled the DeX Dock, which provides a Continuum-esque experience, the Office suite was used to show it off. Microsoft has made a concerted effort to have a first-class experience for Microsoft services on Android.
On top of Microsoft's support for Android, Google's mobile OS also lets users select default apps for a number of functions. A person used to the Windows 10 ecosystem could use Cortana as their default assistant, Edge as their default browser, and Bing as their default search engine on their Android phone.
Though there are many Microsoft apps available in the Google Play Store, there are some missing services. Two notable exceptions are the Photos app, and Movies and TV. You can view photos and other content in the OneDrive app, but that isn't the same as using apps built for viewing content.
Using Android in the Microsoft ecosystem
Continuing the experience
Plenty of apps work across platforms. And using Microsoft apps arguably makes a device into more of a "Microsoft phone" than a phone that's specifically for Windows. But Microsoft has pushed the phrase "continue on PC" for a reason. They want users to be able to do a task on one device and then jump over to finish it on another. This isn't available in its final form on Windows 10, Timeline is set to be released as part of RS4, but there are already some ways that users can continue their experiences across devices.
The feature is quite literally at the center of Microsoft Edge on Android. You can continue your browsing with the tap of an icon. And Microsoft has also included continue on PC in Microsoft Launcher. It's clear that as these features are fully fleshed out and Windows 10 continues to be developed, this process will become even more streamlined.
In addition to Timeline, Microsoft is planning to release a Cloud Clipboard that will allow you to copy and paste across devices, including Android phones. That inclusion of Android phones is a trend that's very apparent in many of Microsoft's efforts. If a feature can be used on Android, or iOS for that matter, Microsoft seems keen to make it work across as many devices as possible.
These features bridge the gap between a phone running Microsoft services and a phone for Windows by forging a connection between Windows 10 and Android and continuing the user experience across devices.
Samsung Galaxy S8 'Microsoft Edition:' Everything you need to know
A 'phone for Windows' isn't a Windows Phone
All of Microsoft's work to bring its services to Android, while also continuing the user experience between Windows 10 and Android phones, is very useful for users but that doesn't make an Android phone into a Windows phone. And it's not just about Live tiles or user interface, though those are a factor. Windows is about more than Office, apps, transparency, and continuing things on Windows 10.
Windows 10 is about a complete unified experience across devices. It's about unifying OneCore across devices and bringing a single OS to a variety of form factors through CShell. It's about UWP apps being able to easily scale between devices with very little extra coding for developers. To a large extent, that vision is being fulfilled with PCs, Windows Mixed Reality, and Xbox One, but without phones, there is a gaping hole.
So while many Windows users can, and do, use Android phones to extend their Windows 10 and Microsoft experiences to their hands, it isn't the same as having a completely unified experience.
What do users really want?
How much do end users care about the Universal Windows Platform (UWP), OneCore, CShell, and other deeply unified aspects of an OS? It's likely that many readers of this site appreciate the efforts that Microsoft is making to unify Windows on different form factors but it's also likely that many users don't care.
If a user can create a Word document on their personal phone, continue it on their PC at work, embed photos from OneDrive that they had stored on their home PC, share the document through Skype or Microsoft Teams on a work phone, and then check off an item on their to-do list using Cortana or Microsoft Launcher, will they care how many OSes were involved or what code was used?
This scenario is an example of the mobility experience that Microsoft CEO Satya Nadella often speaks about. And it's how a device can be a phone for Windows without actually being a Windows Phone.
What do you think? Is Microsoft turning Android devices into phones for Windows? Or does Microsoft need to have its own mobile OS to extend the Windows experience to people's hands?
Sean Endicott is the news writer for Windows Central. If it runs Windows, is made by Microsoft, or has anything to do with either, he's on it. Sean's been with Windows Central since 2017 and is also our resident app expert. If you have a news tip or an app to review, hit him up at sean.endicott@futurenet.com.
the "Microsoft-ication of Android". Or do they plan to make the "Cloud" "The OS"

Now, if Microsoft can only fix the horrific, played out, outdated, rudimentary, decrepit, 2008 era, grandfather clock, WinMo era, looks of everything Android... Then WP fans might not puke in their mouths everytime the have to use their phones. SMDH 🙄
.......
In other news. Can't wait to get my Note 9.💜💜💜💜😍😍😍
Finally, apps!!!.... Lol

I would settle for the keyboard functionality of the MS phone... I hate messaging on my Android.

Oh, WP's keyboard went down hill after 8.1... Be careful what you wish for.

Agreed 100%. I keep having to go back and correct the spelling on my L950. On my old L930 I can just tap the send key with confidence.

Sad, because I'd argue that WP had the best input experience once before.... Sigh. It was great.😍😍😍

Microsoft have made a launcher, and a good one at that. A keyboard app isn't far fetched. Perhaps send some constructive comments their way, and see if someone takes notice.

Microsoft does have a keyboard app for Android, Swiftkey is owned by Microsoft.

iMore apk,windows 10 thema

Yea and it sucks. The .?! buttons are all a single button and right next to the space bar...which is tiny AF. So every. Sentence looks. Like. This.

Yeah and we still don't have the joystick from the Windows Phone keyboard... SwiftKey is nice but it's not the Word Flow Keyboard or whatever they call it.

SwiftKey is already Microsofts keyboard app and the best one there is at that.

🎹 🎹 🎹 ..... Does it play cool tunes????

I am a beta tester for the Mircosoft Launcher as well. It had a bit of lag at first but a recent update has made it the best launcher I have used. I use Microsoft a ton at work. Basically my phone is another PC now. Total interrogation with one drive and google drive is wonderful. The pretty much copied the Now laucher but made it better.

I use Microsoft launcher, Bing, Edge, OneNote, OneDrive. I've always been a android fanboy, but after trying to integrate my phone with windows I'm starting to change.

WP7 had the face roll keyboard. You basically slammed keys and magically, everything was perfect. It's the one thing I wish I could have back from it. It was basically iPhone style auto correct with 98.6% accuracy.

My personal fave is when I actually do spell a word correctly and my L950 changes it to a word that means something entirely different or capitalizes a word for no apparent reason. Even going back and changing it back to what you wanted doesnt stop it from changing it again once you hit space.

Keyboard went way down after WinMo 6.5. I still think the keyboard on my HTC HD2 was the best keyboard ever!

It's still better than Android. Which surprised me.

I thought that as well until using the keyboard on the GS8+ and swift key to me isn't that great either or I haven't gotten user to it in 3 weeks.

Have you tried SwiftKey? It is really good

It's terrible, it predicts better when installed fresh and the more you use it the worse it gets. I got fed up and tried others, surprisingly Google's keyboard is WAY better at prediction and the closest to Windows Phone of all I tried.

Really? Are you sure you've been using SwiftKey? I use it on my Pixel, it has been great

Using SwiftKey on my S8 and love it.

Honestly I don't like Swiftkey as much as I did like the windows 10 mobile keyboard... I have English and Dutch installed and it always mixes the 2 up...

Android keyboiard is fine, I can message pretty fast by swiping around the keyboard. Swift key was default on my P10 Lite i have just got, but prefer the Android keyboard.

I use the Blackberry software keyboard, it's really good...

Guess our "Android fans? Didn't like that.... 😆😆😆😆😆

It's true. If only Microsoft can carry over the UI to Android it'll be the best of both worlds.

The dead UI that will be dropped with CShell and Fluent Design? Modern UI is slowly being replaced. CShell certainly won't have Live Tiles. I won't be surprised if it looks a lot like the Microsoft Android launcher.

🤓🤓🤓🤓🤓🤓🤓🤓🤓🤓🤓🤓🤓🤓🤓🤓🤓🤓🤓🤓🤓🤓🤓🤓🤓🤓🤓🤓🤓🤓🤓🤓🤓🤓🤓🤓🤓🤓🤓🤓🤓🤓🤓🤓🤓🤓🤓🤓🤓🤓🤓🤓🤓🤓🤓🤓🤓🤓🤓🤓🤓🤓🤓🤓🤓🤓😆😆😆😆😆😆😆😆😆😆😆😆😆😆😆😆😆😆😆😆😆😆😆😆😆😆😆😆😆😆😆😆😆😁😲😲😲😲😲😲😲😲😲😲😲😲😲😲😲😲😲😲😲😲😲 🤑🤑🤑🤑🤣🤣🤣🤣🤣🤣🤣🤣🤣🤣🤣🤣🤣🤣🤣🤣🤣🤣🤣🤣🤣🤣🤣🤣🤣🤣🤣🤣🤣🤣🤣🤣🤣🤣🤣🤣🤣🤣🤣🤣

CShell will look the f*cking same 😁 Sad news for you, lonely little troll 🤣 Windows devices will always have live tiles, whether you like it or not 😉😝😝😝😝😝

Microsoft hasn't improved Live Tiles in years or even mentioned them really. They pushed them to the side in Windows 10. They will be dropped in the near future. RS4 probably or whenever CShell is ready. Classic Microsoft move. Ignore it for a while before dropping it.

Did you see Zacs video, when he did run CShell on an Elite x3? Or did you read any of the articles here, or anywhere? You can keep writing bullsh*t comments here, but that won't make live tiles go away, no matter how much you want it to.

There is plenty of time to update the UI. It certainly won't have Live Tiles though. Every product they have released that was based on Tiles has failed.

You can't stop with your bullsh*t, right? 🤣

Thurrot said it in one of their articles about Andromeda. It isn't a crazy idea. Microsoft certainly hasn't been update or improving Live Tiles and they certainly aren't showcasing them anymore. You really think it isn't just a matter of time before they remove them? It would make sense to update the UI with Fluent Design.

🎃🎃🎃🎃🎃🎃🎃🎃🎃🎃🎃🎃🎃🎃🎃🎃🎃🎃🎃🎃🎃🎃🎃🎃🎃🎃🎃🎃🎃🎃🎃🎃🎃🎃🎃🎃🎃🎃🎃🎃🎃🎃🎃🎃🎃🎃🎃🎃🎃🎃🎃🎃🎃🎃🎃🎃🎃🎃🎃🎃🎃🎃🎃🎃🎃🎃🎃🎃🎃🎃🎃🎃🎃🎃🎃🎃🎃🎃🎃🎃🎃🎃🎃🎃🎃🎃🎃🎃🎃🎃🎃🎃🎃🎃🎃🎃🎃🎃🎃🎃🎃🎃🎃🎃🎃🎃😂🎃🎃🎃🎃🎃🎃🎃🎃🎃🎃🎃🎃🎃🎃🎃🎃🎃🎃🎃🎃🎃🎃🎃🎃🎃🎃🎃🎃🎃🎃🎃🎃🎃🎃🎃🎃🎃🎃🎃🎃🎃🎃🎃🎃🎃🎃🎃🎃🎃🎃🎃🎃🎃🎃🎃🎃🎃🎃🎃🎃🎃🎃🎃🎃🎃🎃🎃🎃🎃🎃🎃🎃🎃🎃🎃🎃🎃🎃🎃🎃🎃🎃🎃🎃🎃🎃🎃🎃🎃🎃🎃🎃🎃🎃🎃🎃🎃🎃🎃🎃🎃🎃🎃🎃🎃🎃🎃🎃🎃🎃🎃🎃🎃🎃🎃🎃🎃🎃🎃🎃🎃🎃🎃🎃🎃🎃🎃🎃🎃

You tell his @$$, Random!!!!!

from your post, I can see you've never used Android.... Aside from the vast variations of software layers offered by different manufacturers, you also get the ability to change the Launcher (which you probably will to Microsoft's Arrow), and even then you might also have theme support for many with the ability to change layouts, icons, gestures, interactions, etc.. Don't get me wrong, Windows Mobiles was very elegant, simple, fluid, and modern looking... but they failed by trying to emulate the "Apple system" too much.... way too many restrictions. I have a Sony Xperia XZ and a Surface Book. Awesome integration between the two of them

Please, I've used Android years ago, and long enough, to understand.. And, I see it up close everyday. Not as cool as WP 8.1.................. Of course, that's my opinion, but this is Windows Central, so if any iDroid fans disagree they can bite a salty one.

Years ago is not today. And you should stop this android fans windows fans childish nonsense

I've actually used both Android and iOS as recently as 3 months ago when I dropped and broke the screen from my L950. Couldn't stand it so I went back to this dead platform with another L950.

Yeah man.. Android is so boring and my friend's iphone reboots once a day. I swear if microsoft was still investing in the phone it could kick some butt. The new phones are so boring. Android is ugly!! I hate it. I am gonna switch on a 950 xl when the used one that I bought from ebay gets delivered soon!

Until then Android, and iOS, remain where it's at, and the future looks promising for new things in mobile to come, whatever they are, and from whomever they may be... That, I think we all can agree upon.😍😍😍😍😍😍

Had to reboot my Samsung 3 times in a year. Money buys quality with any OS.

Android is not boring if you know how to use it, giganotosaurus. And if you're suggesting that WinMo is somehow more stable than iOS (your friend's iPhone rebooting), then you're in LaLaLand. I love WinMo, but it's over. Move to Android 7 and install a capable launcher and widgets, the latter of which continue to evolve.

Nobody ever said it was boring. Lol. It's terrific. Just ugly. Lol

Says the guy from phonearena..😀😀😂

Android and iOS are variations of Windows 3.1. Just as Windows XP showed that Windows 3.1 is boring, so did Windows Phone 8 show that it is time to change up the mobile user interface and experience. You can put lipstick on a pig, but it will always look like a pig with lipstick on it. Every single Android launcher has the same format...dedicated icons on the bottom, and screen space on top to either put icons on (ala Windows 3.1) or a special widget window (ala Windows 98). It's a functional and familiar system which is why it's considered user friendly(MS taught the world well), but that does not negated that the design is boring. Outside of the launchers that poorly mimick the WP, all the launchers follow the same boring pattern, and we the users just try to make the best of it by changing wallpapers, arranging our widgets and icons to fit our lifestyle. Meanwhile the phone, contacts, app folder, messaging, and email sits faithfully on the bottom of the screen. That's the Android/iPhone design and after many many versions it's now boring.

Like myself, I still prefer the walking dead W10M, Eventhough have Android 6 in 2 others devices with as much M$ apps as possible in it, W10 runs precisely fine, as fine as ever, in other three devices of mine. IOs runs in one, but, even considering iOS experience fine, the system is something "dumb proof", in my opinion, and has its audience among people not interested in dissecting or learning about what they only want working. IOS best characteristic is also its worst, asides a well constructed but dated hardware sold with insult as "innovation". I'm really upset about my future life after W10M extinction. is there life after death, or after loving? I'm really not intending to migrate to Andromeda project, I feel myself misused by M$, and my experience with the remaining systems doesn't thrives. Long living for walking dead W10M!

You guys must be simple consumers commenting because he says he sees it up close and personal everyday as do I being a IT director, network admin, systems analyst, and multi level tech. We see and deal with client users who don't know how to use phones/ computers everyday so we must know do we can help these people.

Dude, get real. I know what Android looks like on multiple screens. Android is everywhere... Do you own a 2017 Mustang? No?.. Ok, then you haven't a clue about anything that car looks like, or has to offer, according to your thought process. Please. Spare me the BS..
....
Now, if I was complaining about the performance that would be a different story, but I'm talking about the UI... You act like we don't play with these phones in stores, and our friends, family, and coworkers don't show us their phones all the damn time. WP fans are more familiar with Android, than you Android trolls are with WP, because we couldn't avoid it if we tried. Please. Think about that Yes, we check them out, and we know very well what the UI is about... Get real.

I was responding to bleached, not you Rodney.

Either way... Trolling is pathetic

Lol. Oh, I'm the troll. Haha. 😂😂😂😂. You guys are going to be the death of me. 🙄

Question. What's your reason for being on this post? Are you a WP user looking to switch to Android?

Again with this trolls and fans meaningless reasoning, how old are you five? Android is very customizable nowadays so everyone can make it look good to their own taste. Unfortunately our beloved W10 is dead so we found a more than decent alternative.

That is one good thing about Android, just a shame that so many manufactures stick their own UI on it, some are worse than others. My old Nexus 4 was pure Android, the best way to be honest. My new Huawie P10 lite have something called EMUI on it, while it is noty as bad as Samsungs touchwiz, I would have prefered it if they kept the phone opure Android or at least gave us a bit of a choice,. But even so I can still change the launcher and change othyer things, including the browser as defualt, try doing that on a windows phone and i do not get the awful tiles.

"they failed by trying to emulate the "Apple system" too much.... way too many restrictions." They failed by not having a convincing enough story or a large enough market share to convince third party developers to port their apps over to the platform. Windows Phone as an OS was almost universally lauded as an amazing platform (until 10), but the "app gap" was always an issue.

And, that was all because of POOR DAMN MARKETING!

And the failure to prioritize 1st party app development on their own platform. We all witnessed the new updates and features from Microsoft and their subsidaries, while we either got it half-assed and late or not at all. No dev is gonna prioritize Windows when Microsoft is focused on competitor platforms. So failure to market and failure to prioritize app development is what ruined it all. Just realized this was an article reposting haha

I'm with you on everything you said about puking! I'm only using Android because I have to. Even with the Microsoft launcher I miss W10M. Keyboard is horrible, store design is garbage, the device home screen is static and boring..I miss information at a glance. Today messages aren't the same and never will be.!

I replaced my Lumia 950 with a Note 8 and I still prefer that Microsoft succeeded with Windows phones. Android is still Android just like iOS is still iOS. While they have all the apps, the bare essentials are what mattered to me. It's a choppy experience on Android and damn near an insulting limiting experience on iOS. I also have an iPhone running iOS 11. Windows bests them every day with seamless integration of everything. Apple is all proprietary while Android is still a laggy mess. Still lagDroid even with flagship. SwiftKey is nice but WP8 keyboard was awesome.

I 100% agree with you. No nonsence and incorrect apps in windows phone. The needs are well done and very fluent. Calling, Receiving calls, texting and receiving sms, Photos, Videos, and the best Mailing and the design of Lumia 550 is just awesome. Music and what not.

They are called widgets, they have much more information and flexibility than tiles.

Yet, Tiles just work... You've never used WP.

Who me? I've used and developed for WP. The more you write the more you look silly.

Paolo, he's just a bat **** crazy fan girl. Careful or you will start getting 50 smileys and what not. Bat 💩 crazy.

Unfortunately, more functionality doesn't always equate to a better visual or user experience. Widgets are so finicky depending on the designer. And usually never fits the design flow of your screen. Yeah, it works, but it's also an eyesore. MS live tiles is a nicer approach...and yes needs to be improved on, but still nicer looking than the widgets.

On this i can agree but not being able to improve them in years made them useless so I'm all for bad looking but useful widgets if I have to choose. As always bad execution and lack of commitment is the problem at MS.

"Static"...that's the word I was looking for. Thanks.

I have l950 and Nokia 6. The nok 6 build quality is AWESOME. I USE both. I wish l950 had keyboard 'vibe' like the Nokia. I refuse to use my nok without launcher 10! The launcher itself is an enhanced version of the real thing. It's downright BETTER. THE screen is better on l950, but the android multitasker is superior IMHO.

I went from palm to went windows, cause palm was dead and now windows to google pixel 2 xl.(just ordered yesterday) honestly its apps for me too Im really really tired of friends using snap chat and updated facebook and Instagram apps, that can do things I can't on WP lol, its time. If this new thing is good, then in three years after ive got my moneys worth on the pixel 2 xl. Them ill consider coming back. Till then I'm goin to enjoy having some real apps for once.

Lumia 950 would connect to my car stereo Bluetooth. Cortana automatically reads your message real time and ask if you want to respond if yes it dictates all hands free. Show me that function on the other devices because I need it.

Yeah, that is the one function I will miss, it worked great. (The phone was not reliable with bluetooth so...... :( )

What do users want, you ask........developer support..... Which was too much to ask for, so now, I for one, would have be happy with a W10M experience that incorporated Project Astoria - using Android apps on a Windows phone.......... Which, we all know W10M is dead, so..... I guess the last step, is for full W10 on a phone, with an Android launcher and Google play support running in tandom. It can't be dual boot, it needs to run both at the same time.

That's exactly what I've said and discussed with my tech co-worker, consultants, etc. That Microsoft is building a cloud OS/ cloud mobile device; at the end of the day, whatever Satya is doing, Microsoft must have their own hardware and fast. Microsoft shows it's hand with tech, patents, etc then let's other tech companies release it before they do 🤔

Microsoft started out as a Company that wanted to sell software to many devices running different operating systems so putting Microsoft Software & Services on Android devices is not an NEW game to them. However next year look for Microsoft to debut a dual screen Mini tablet with a built in Cell phone that runs the Andromeda version of Windows 10 with C shell and Windows 10 on ARM. This device wil be able to Run Win 32 Desktop PC Programs and probably ALL the Apps in Windows 10's New "Microsoft store"that has free and paid for Apps and also sells Microsoft hardware & other software and services

Gregory; Clearly you and Microsoft still don't get it.

Nooooo, I'll hang on to my 950XL until it falls from my cold dead hands lol

Right. Unless MS modify Android to the point of UWP app compatibility and get the Windows Store on it, no dice. Considering the new foldable Windows Phone-that-isn't-a-phone-but-kinda-is seems to be moving on a pace now according to WC sources, this Android stop gap isn't so necessary. As a side line I have no problem with it, but it's not a good Windows Phone replacement. Not for me.

If my 950 had at least reliable bluetooth, I would have stuck with it. However, it does not and therefore, it was time to move on.

That is unfortunate. I can't see why the L950XL has reliable Bluetooth and yet the L950 hasn't. MS can make such a pigs ear of things when they try. No probs with my 950XL Bluetooth for everything I use with it (many audio devices, sat nav, mouse, keyboard, loads of stuff). If the new Windows folding-not-phone gets delayed it'll make a nice device to connect a Win tablet to as an alternative to a horrid Android fate.

My 950 has no more issue with Bluetooth than does my Android.

Only issue I noted is the absent of audio equalizer through BT

Have you tried factory resetting your 950? Might solve the issue! I was on 950XL which didn't have any Bluetooth issues. On OnePlus 5 now though.

I recently did a full restore from WDRT on my Lumia 930 to get back to the production ring, and the bluetooth issues I had experience for the past year all went away. I'd recommend either a factory reset as raj_wp mentioned, or a full reset using WDRT.

I wish that were the case with mine but, alas, it is not. It would have issues with my Dart UConnect randomly until recently, where it just stopped working at all. Also, it would sort of work with my Vivoactive 3 until the 950 bluetooth just stopped working at all. The Sony Xperia XA1 bluetooth just works and connects immediately. :) (Even my Honor 6X had bluetooth issues, just not as much as the 950 did.) This was even after a full reset and update with the WDRT.

Hmm, I guess it had aerial issues then, or something. Bad luck, you missed out on a great phone there.

Yep, I currently use a GS8+ and it definitely has issues. It makes you really appreciate what MS was trying to do with W10M until Satya became CEO and focused all efforts on cloud. He says early in that they would focus on windows first and mobile would follow; We all know what happened there!

I agree. WP was never great with Bluetooth.. Wait, you said WiFi. Either way
.......🎃🎃🎃🎃🎃🎃🎃

My BT on my L950 is totally fine.

I have to say that I wish mine had been, I did not want to move away from the 950. But, sometimes, it would connect to the Dart and sometimes it would not. With the Vivoactive 3, I would get it connected but, it would not remain connected. Or I had to have the Garmin App always running just to get it working. The worse thing is at the end, just a few days ago, the watch would be seen, try to connect when trying to set it up but then it would fail. This was after I redid it from scratch.

Take an HP Stream 7, fold it in half. Yay?

Well, minus the folding part, that's kinda my plan if the new Windows Phone-ish device gets Nadellad.

Sounds terrible to me, but whatever works for you.

Thanks to xamarin it easy to have an uwp app running on all devices, from Mac trough iphone, droid, xbox, soon your fridge too.

Nobody is going to use that.

I would have been happy to hang on to my 950 except that the bluetooth is having issues, again, on another phone. I am now on a Sony Xperia XA1 and am quite content with that. (Also, the Windows Mobile live tiles no longer function correctly anymore.)

Have you tried factory resetting your 950? Might solve the issue! I was on 950XL which didn't have any Bluetooth issues. On OnePlus 5 now though

Stop wasting finger movement responding to this person; he's posting like a broken record about Bluetooth; sound like he's trying to convince himself to get an Android when all he has to do is go buy one.

What the hell is wrong with you, are you a rabid MS fanboy or something? The bluetooth stopped working on the phone, period. I appreciated the suggestions that folks are giving and if I had not already done so, I would have done what they suggested. I already own a Sony Xperia XA1 and the bluetooth works correctly, so far, with the 2 days I have owned it. My first 950 and my second 950, which was a warranty replacement, have failed bluetooth HARDWARE! Why must people be so freaking.......... Basically, I do not prefer to spend money if I do not have too. But, with the Band devices gone and this phone having faulty hardware, I had no choice if I wanted to have access to all the functions I use everyday. (Vivoactive 3, Dart U Connect and an XA1.) Dart U Connect never quite worked right with the 950 and the Garmin devices were hit and miss.

That's what I said. Then, my daughter dropped it 30 feet off of bleachers to a concrete death. After a couple weeks of pain, I would not go back to my 950XL from my current OnePlus 5 loaded with Microsoft goodness

I tried Android once before, so I can certainly say the same in reverse. NEVER AGAIN! (Shiver...).

Which phone and version of Android were you on?

Lol!! Same here, the experience is not comparable...

Sure, except that their Outlook app is still stuck in blue and white land. It is like to old Model T thing where you can get any color you want, as long as it is black. You cannot customize Outlook or have tranparent widgets on the Android screen for Outlook. The only reaons I even have it installed is so I can sync my contacts to my phone. (I use Aquamail otherwise.)

Bluemail or Nine are excellent mail clients

I think you are right. However, Aquamail was the best for me when it came to the ability to have transparent widgets on the home screen. (Bought the pro version as well.) Now, I have yet to find a calendar app that works as well as the Outlook calendar did on the Windows phone. (Want a transparent widget for that as well.) Any ideas? Thanks.

I use DigiCal, mostly because its week agenda view looks exactly like the Outlook calender setup I had on my windows phone. Also has a number of widgets available but I haven't really used them.

Not really sure why someone would downvote you, must not have a life. :D Thanks for the suggestions, DigiCal seems to do the trick. (Transparent widgets are a must and Outlook does not have them.)

Business Calendar, the transparent widget is very similar to Chronos Calandar on my L950.

No android for me and never will go back to it again. Same for iOS

Same boat as you. I use Windows phone not just because I like, I use it mostly because I dislike ios and android. But what I really miss is the old Windows mobile

Unfortunately the wheels will eventually fall off of your current windows phone. I've been looking up reviews of all of the top android phones after Microsoft decided to shutter Groove Music Pass and it's surprising to me that there are only a handfull of phones that have the same features that my L950 has. You'd have thought all these high priced phones would at least have the same functionality has my 2 year old Windows phone.

What unique functions does a 950 have?!

🤣🤣🤣🤣🤣🤣🤣🤣🤣🤣🤣🤣🤣🤣🤣🤣🤣🤣🤣🤣🤣🤣🤣🤣🤣🤣🤣🤣🤣🤣🤣🤣🤣🤣🤣🤣🤣🤣🤣🤣🤣🤣🤣🤣🤣🤣🤣🤣🤣🤣🤣🤣🤣🤣🤣🤣🤣🤣🤣

Does not matter, if my 950 had fully functioning bluetooth with my Vivoactive 3 and Dart U Connect, I would have just stuck with it until it no longer worked. (Exactly what I did, by the way.) I kept switching back and forth between my 950 and Honor 6X because I loved the intergration of the Windows ecosystem. Now though, bluetooth no longer works reliably at all, I cannot even successfully connect my Vivoactive 3 anymore, even with a WDRT reset and full update to 1709. Not going to waste money on another one since this is the second one I had fail on me.

My poor Bleached...forever trying to understand the WP user. LOL. The unique thing about the Lumia 950 and I'll add the Lumia 1520 is the combination of features. If a competitor phone has a good camera, it wouldn't have wireless charging. If it has iris scanning logon, it doesn't have glance screen functionality. If it had a powerful processor, it didn't have interchangeable battery covers. It's not that the 950 had a unique functionality, but that it was unique in that it has all these functionalities in one package. As a 950 user, moving to any other phone means I have to sacrifice some functionality. And That's why we keep coming back...not to mention it runs Windows Phone OS. :)

😆😆😆😆😆😆😆😆😆😆😆😆😆😆😆😆😆😆😆😆😆😆😆😆😆😆😆😆😆😆😆😆😆😆😆😆😆😆😆😆😆😆😆😆😆😆😆😆😆😆😆😆😆😆😆😆❓❓❓❓❓❓❓❓❓❓❓❓❓❓❓❓❓❓❓❓❓❓❓

"guess you'll be rocking the old faithful flip phone if you can find one" 😐

No Android. Because it feeds the great evil, Google. I might go for iPhone but not Android, unless I find a Google-less android.

Until MS provides a full android fork that completely strips Google out of the phone, except for maybe the Play Store, or an app similar to Launcher but that brings live tiles and the WP exerience to the phone natively, no it's not a Windows experience. That said, I use an Android now but pretty much hate it. I wish i could part with the dough to go iOS... at least their software/devices/ and CEO are on the same page.

Until MS provides a full android fork that completely strips Google out of the phone

Cyanogen try it and you can imagine how good it went

Cyanogen does not have the resources that MS has. A better analogy is Amazon, and as you can see, the Fire line of devices are rather successful.

"as you can see, the Fire line of devices are rather successful" Except for the Fire phone...

I tried Cyanogen, and thought it was a poor substitute for Live Tiles. :( I just have to put up with the crappy Static Icon GUI...

Widgets are far more powerful that Live Tiles. No comparison.

You're e tilted too you're opinion and as a current and previous user of Android, I disagree! But as stated, we're entitled to our opinions!

That isn't an opinion. Widgets are way more functional. Live Tiles have no function at all. Just random information with no interactivity.

😆😆😆😆😆😆😆😆😆😆😆😆😆😆😆😆😆😆😆😆😆😆😆😆😆😆😆😆😆😆😆😆😆😆😆😆😆😆😆😆😆😆😆😆😆😆😆😆😆😆😆😆😆😆😆

😂😂😂😂😂😂😂😂😂😂😂😂😂😂😂😂😂😂😂😂😂😂😂😂😂😂😂😂😂😂😂😂😂😂😂😂😂😂😂😂😂😂 🤔🤔🤔🤔😭😭😭😭😭😭😭😭😭😭💜💜 🤓🤓🤓🤓🤓🤓🤓🤓🙄 🥓🥓🥓🥓🥓☺☺☺☺☺☺☺☺😂😂😂😂😂😂😂

And even if you had the dough to go iOS, the experience is still not Windows like. At least with Android you have launchers.

You mean Nokia X? BTW I'd be a fan of Google-less Android.

" And using Microsoft apps arguably makes a device into more of a "Microsoft phone" than a phone that's specifically for Windows. " What lol?

You don't have to be a Windows user to use Microsoft apps. Using Microsoft apps on an Android turns it into a Microsoft-phone rather than a Windows phone.

Zac, that's not going to cut it! I use the GS8+ with MS apps and it doesn't make the Android experience better or make med love the device despite the hardware beautiful design; I use it because I must and I refuse to give Apple my money!

Zac, that is just a massive cop out. Perhaps you should ask people who develop real estate crms what would they rather develop for I.E. Or safari and chrome. For instance Jupix does not work properly on Safari or Chrome since it is primarily geared for I.E so therefore has 90% of total functionality on Windows phone 8.x and WM 10.x. It would have been so much easier for them to transition to edge. But I doubt they will want to, since the user reach compared to Safari and Chrome is not as great.

Have you noticed Microsoft has stopped making apps for Windows phones. That is only going to happen more and more. Android will certainly be the premier spot for Microsoft apps.

Bleached, what exactly do you mean by this? Are you suggesting Microsoft has stopped making apps for Windows Phones running Windows 10 Mobile? Which apps did Microsoft specifically make for Windows 10 Mobile that they are not making now? Do you mean to say that are not making any new apps for Windows 10 Mobile? Surely that's not current news, as you would imply. They've been making apps for Windows 10 for some time now and as far as I can tell, still are. Or are you suggesting that Microsoft are no longer supporting exisitng Windows 10 Mobile apps? Which ones specifically, because I don't see that. Or are you referring to Windows Phone (8.1)? That's surely also old news... I doubt they've released a Windows Phone app for some time now. And how can you say with such certainty that Android will be the premier spot for Microsoft apps? Have Microsoft stated anything that would validate your opinion? Or do you have some inside knowledge that you'd like to share with us?

They haven't been making mobile versions of their new apps. Linked In and Mixer are the two newest ones. Their other apps are also behind the Android or iOS versions. With them killing off Windows 10 Mobile it will definitely become the norm. Apps will slowly lose support and fall behind and new apps won't even be available.

Microsoft need to get over them selves, apparently they still think they are the most important the world had (not the case) and they can **** on their customers whenever they want.. For microsoft to recover from what they have done to their loyal users and Partners their will be a lot of work needed. A lot

I think 1 really great mobile device would do it. Android...not so great

Well, you are very optimistic... If you think people will start switching from an ecosystem to a very unstable one ruled by microsoft just cause they released a great device....

Recovery from what?.... Are you looking at the small picture?... Yes.🙄🙄🙄🙄🙄

In 2007 what percentage of all devices were running Windows? Like 85% or more? What is that number in 2017? Less than 20%?

🤣🤣🤣🤣🤣🤣🤣🤣🤣🤣🤣🤣🤣🤣🤣🤣🤣🤣🤣🤣🤣🤣🤣🤣🤣🤣🤣🤣🤣🤣🤣🤣🤣🤣🤣🤣🤣🤣🤣🤣🤣🤣🤣🤣🤣🤣🤣🤣🤣🤣🤣🤣🤣🤣🤣🤣🤣🤣🤣🤣🤣🤣🤣🤣🤣🤣🤣🤣🤣🤣🤣🤣🤣🤣🤣🤣🤣🤣🤣🤣🤣🤣🤣🤣🤣🤣🤣🤣🤣🤣🤣🤣🤣🤣🤣🤣🤣🤣🤣🤣🤣🤣🤣🤣🤣🤣🤣🤣🤣🤣🤣🤣🤣🤣🤣🤣🤣🤣🤣🤣

Actually am looking at the big picture, but of course...when we talk about... another ms smartphone (probably will never exist). As for the company. Azure goes well, but soon somebody will surpass them if they do not lay it low on the greed. ,They are just high priced, to high mostly. Then, their is holo lens. If you ask me....this virtual reality will never really fly, at least not in this era.. Apple might somewhere in the 2050 sell them as innovation. Microsoft makes a lot of money out of their partners, but partners can get sick of you, if you know what i mean. They took a dumb on a lot of their partners to,o, not only on customers.... So,i am still sustaining my claim. If MS wants to gain their trust again. Well it is time to stop being bunch of supercilious morons.

"they still think they are the most important the world had" ... to what are you referring? I've never heard anyone say... "Oh, Microsoft. They are so full of themselves." or "Microsoft thinks they are all that and then some." Just curious where you got that take-away. I can understand the bit about ******** on customers whenever they want, even though that is also not a great characterization.

Well, if you work with them, you'll understand a lot;). They were a bit better, under Gates and Balmer. Now reaching the highest pinch of not giving a f**, cause they have enough. Apparently they do not have "enough" anymore and lost credibility and customers at high speed. Might be that this time nutella noticed this, finally. It is not bad to slap some cocky as*holes from time to time so they can return at doing their job how they supposed to.

How are things there in the Upside Down?

I'm going to keep my 650 until it dies, or until I find all the features I've liked on the Windows Phone available on Android. But I am getting more used to the idea.

You should switch to a 950. Nicer phone than the 650 and stunning camera! I switched from my 950 to a S8 recently, and the S8 has some great features to it, which Windows needed. But the S8's camera is pretty rubbish in comparison. My 950 takes photos that will rival a DSLR, and people don't believe me when I tell them it's from my phone - no joke!

Just highlights their incompetence with their own mobile platform even more.

Ugly android and ios interface are not for me. I will use my Lumia 720 and 640xl till the end...

Yes, Android is ugly.. Now, iOS isn't bad, but it honestly looks boring, and just plain feminine... Yes, iOS is definitely the more femininely styled OS.

Because every Android looks the same? Maybe they should put squares around everything!

😆😆😆😆😆😅😅😅😅😆😆😆😆😆😆😲😲😲😲😲😲😲😲😲😲😲😲😲😲😲😲😲😲😲😲😲😲😲😲😲😲😲😲😲😲😲😲😲😲😲😲😲😲😲😲😲😲😲😲😲😲😲😲😲😲😲😲😲😲😲😲😲😲😲😲😲😲😲😲😲😂😂😂😂😂😂😂😂😂😂😂😂😂😂😂😂😂😂😂😂

Get some sleep and stop trolling people because they still prefer using W10M despite it being killed by Satya; they have just as much right to use it as you and I do Android. Put another way, "grow up" and stop being childish because their using what they want and not what you think they should!

Trolls have fear more than anything.. There's millions of Android fans that could care less to be on WC complaining about a platform that has nothing to do with them... Why the **** would I be on Android Central complaining about Android, when I have little interest in it?. Just ta troll. That's pathetic. What a loser. SMDH

Don't worry. In 10 years when Google is screwing everything up, I will be "trolling" them too. You will probably still be the one supporting their terrible decisions and cheering them into irrelevance.

That's what I don't get about bleached, he moved on years ago or at least 1 - 1.5yrs ago yet takes pleasure in trying to "sway" people's opinions.

I thought I was the only one that thought iPhones looked feminine.

What makes you so special?... 😂😂😂😂😂

I seriously wonder if there are more Android users that use all these Microsoft apps than there are Windows mobile users. In light of that question I wonder why they would not put all this effort into Windows mobile directly. Nutella...

The Office apps have 100 million plus downloads on Play Store, so does One Drive, Sharepoint has 500 million, the Xbox app has 10 million and Cortana 1 million. How many Lumias did Microsoft sell? I loved my Lumia 950XL and before it my 1520, and the 1020. I still have the 1020 and 950XL but can't use them for work anymore. I really dislike iOS, but Android is customizable and my Galaxy looks and works a lot like a Microsoft phone. I signed up for the Edge beta to get that within seconds of reading about the opportunity. I'm sad that Microsoft made the mistakes it did in mobile (and the terminal mistakes were really made many years ago and not by Satya Nadella) and that I was forced to give up the platform, but I've moved on because I had to. And making my Android phone full of the services I loved on the Lumias is a pretty good alternative plan.

My experience is quite similar. Android works when it's full of MS apps.

Downloads are not equal to users. God knows how many times I've downloaded the same app in my life.

I don't disagree, but I've never seen any indication that the download numbers are horribly skewed by that fact. I'm open to another measurement. One more thing about using Android with MS apps and services that I like is that I haven't paid a penny to Google for their services. I had to create a Gmail account to setup the phone to begin with, but I haven't linked it to an e-mail app and haven't checked it once. I've never downloaded an app I had to pay. And my hopes for future Microsoft apps to come to Android would be Photos and Movies&TV (not for new purchases, but to view my existing purchases)..

I am mourning the loss of the best phone OS by far. I will hang on to my Windows phone as long as I can and hope that they surprise us. No delusions though that this hope is tangible, just part of my mourning process.

Ironically, I just wish Android had a YouTube client as good as MyTube on W10M. With all the rhetoric about us not having an official app, I had assumed incorrectly that the options were better on Android, I think.

Exactly! Sent from my Note 8, with it's inferior YouTube apps.

I agree, MyTube ou'd much better than YouTube but not available! I use MyTube on my W10 PC for it.

I think you have to sideload the 3rd party YouTube apps or just pay for YouTube Red.

Paying for YouTube? Hahahahaha! I'm not even willing to watch the ads on YT. I've been saying for years that Windows was the best platform for YouTube users. I could tell people didn't believe me because they absurdly believe an official app is somehow better. Who the hell thinks official Twitter apps are good?

Moving MS apps and services to IOS and Android will end up with the consequences like GE, Walgreen, Delta have done - switching to IOS. It makes sense for them to do so, since they don't need Windows anymore. OneWindows will be shifting to OneAndroid and OneApple. The migration tide just started. Thanks, Microsoft.

They should port all the following Windows apps to Android and iOS:
Photo, Calendar and People (as separated apps), Messaging, Maps, Groove (as internal music player), Film & Tv. Releasing all these apps to Apple Store and Playstore, will make millions of users happy and will ease a lot their life in the Windows ecosystem.

With all that googleness baked in there is no way I am ever using an Android.

Exactly. If MS released their own fork of android, completely stripped off anything Google, then at that point I would consider it. The problems with that are: 1) It'll probably never happen & 2) They might as well have just pushed ahead with project Astoria.

You can have that easily. Flash a custom ROM and don't add GApps. Now you have a phone with no Google and full access to other app stores like Amazon.

I have switched to a G6 and can only say that just because the apps exist on it does not make it a Microsoft Workflow experience. Maybe over time that will change but for now it is a hodge podge of apps more than anything else. I enjoy having apps that I never had on my MS phones but it does not overcome that day to day work flow process. I miss the simlicity and middle of the road operation of the MS OS. Microsoft was beween the lockdown of Apple and the wild west of Android. It was utilitarian and I miss that. At this point I just cant find the flow on Android. I hope microsoft figures out how to bring the Microsoft experience to Android but at this point they are not there. Can they get there someday maybe but I still miss WP. I also hate the fact that all of the Google apps are there and waste space and I cant get rid of them in a simple manor.

Agreed with the last line.....I just wish I could get rid of more then half of pre loaded apps I'll never use or even open them at all.

You can disable most of them

You're spot on and on the GS8/8+ Samsung does the same thing with some of there apps, you can force stop and disable them but not uninstall them too.

This is exactly where I had to disagree with this article. Even with MS apps, it doesn't feel MS.

No, I don't think microsoft is turning android devices into phones for windows. Although android devices seem highly compatible with windows 10 with continu on pc, which makes the current solution interesting. It does make me think why I need windows and microsoft. It's mainly about the productivity suite. And for me the great pen experience with surface devices. Most of my business software is on the web. And android customizability and ginourmous app stores provides the rest my consumer needs. So really windows has become redunandant in its entirety. But I will still sorely miss windows 10 mobile OS and the startmenu UI with live tiles, that fit my workflow. I think that is something I will truly miss with android despite the launchers. I'm not too convinced about selling the idea of windows on pc. In all the years I have had office mobile on my phone I never found the necessity to make a new document in word, powerpoint or excel. They are useful for reading office documents and changing small things on the go. Onenote, in this regard is more useful for making quick notes in conferences and meetings. It's more flexible in many ways. I was sold on the idea of having a mobile pc in your pocket with continuum. Start off with day to day tasks and communications in the mobile OS. Once I really needed to be administratively productive its conveneint to sit down somwhere, connect your phone to a larger screen, and start using office apps or other productivity tools. I think this transformative idea is more practical view of how one could use the concept of continuum or DeX. I'm not sold on the idea of browsing something on your phone and then opening it later automatically on your pc. Maybe sometimes but not always. It's just as fast to just save the page as your favorite and open it on your pc on in continuum later. There are enough scenario's in Edge to please everyone, I think, and syncing favorites and bookmarks via your account in Edge helps. For me, I would still prefer an integrated windows experience across devices with a windows mobile OS. Android sounds tempting with the large marketshare potential, larger app store and potential customizability of the android OS. But in essensce I will have to deal with managing two operating systems. On the surface it shouldn't be a problem, but when it comes to troubleshooting, I think it will be a challenge. Staying in one ecosystem makes this problem easier, in my experience. And then there's the different ecostyem with regard to products and the stores and possibly more inconsitencies with managing two OS'es. I was really hoping for the windows phone and pc in one. Ik think microsoft was already there with the current continuum. The two major bottlenecks were that I could work with two apps, snapped side by side, in continuum, and the lack of uwp apps accessible in continuum. If those were solved, there would be less of a problem than the current implementation.

Neither Android or iOS satisfies my needs. Luckaly the 950 still does.

Nah, I'm Kool with my 950XL. I just can't replace the experience of windows mobile. iOS and Android just don't do it for me...

Don't need it yet, still happy with my lumia 650, but if i have to move i hope microsoft maps will be available on android and ios.
I love the maps app. Adding favorites on maps on pc and then use them on mobile. So please bring maps to android and ios.

They need the people app. The outlook app stinks for contact syncing to the phone. They will sync but then you can't make changes to a contact in the default contacts app. Or else you can't forget about outlook and use the gmail app to sync your email and contacts from your microsoft account. Funny thing is you can then edit the contacts and they will sync unlike outlook. I always attribute this to MS's half assed approach to apps, they never get the basics correct but keep adding uneeded crap to them.

I used to have all MS services and apps the time i had WP devices, now with Android i don't have the need to install any MS services, sure those are good for some but i don't see the point to install those since there are another great options.

I am a former WIndows Mobile user who had to move to Android, and have leveraged a lot of the MS tools mentioned. But MS still has so many gaps and inconsistencies to make this all work. For example: Cortana - Lacking 'Hey Cortana', lacking the ability to read texts when in BT over Car Audio, lacking ability to send a text message using just your voice (requires you to select a number via touch if more than one). There are too many MS apps that have reminders or ToDos and none of them sync - Cortana app has the reminder capability, MS Launcher (formerly Arrow) has To-Dos, or even Microsoft ToDos.app. They are not cross connected.
You can view Cortana reminders in the W10 Mail app, but not Outlook for Android. Those are just a few of my concerns..

Microsoft brought this on themselves, by driving users to their competition they just gave their competition everything on a silver platter. The core of Windows was the universal app platform, which they undermined spectacularly by focusing on ios and android apps over UWP apps. So users being driven away and no focus on their own platform, why do you think developers would even consider giving Windows the light of day? As to target windows means they would need to develop UWAs as win32 development has largely ceased and many applications don't get many feature updates, just bug fixes or left to well just float around on the internet. All that work in unifying the windows kernel... thrown down the drain what a waste. All is not lost, they can still pick up and be relevant they need to focus more on their own UWP platform before their competition's ecosystems. They NEED a mobile device to tie in Cortana, Xbox and all of Microsoft's services in one showcase device.

If my 950xl worked on Verizon I'd still be using it. Use a lg g6 now with the Microsoft launcher cortana assistant and edge browser and outlook mail. Nice but still not as good as my 950xl.

QUESTION FOR YOU ALL: If Microsoft brought the full UI capability to Android (Live tiles in widget form, UI, wordflow keyboard, notificaiton center, etc) would that convince you to switch? Or is there something special about UWP platform/exclusivity (for example apps like MyTube!) that keep you on platform. For me its not just about the UI Its about the consistency of hte experience. There are 3rd party Windows Phone launchers out there, but they are so horribly inconsistent. Some widgets scale properly to wide tiles which other times they dont. You are literally better off with a stock android launcher to be honest.

No. Because it would STILL be Android. And it would be essentially "married" to Google. I'll hold onto my 1020. When it dies, I'll fall back on my 950.

Microsoft is moving away from Live Tiles. They won't have them on Windows soon let alone Android. You already have Interactive Live Tiles on Android anyways.

No Bleached, you have widgets. Android and iOS use widgets because they aren't a tiled OS.

I buy a fair amount of apps and games and movies on Windows 10 so if those purchases don't carry over to my phone that's a huge problem. MyTube is just one app that I've purchased and love, Tweetium would be another good example. I use these apps because they do things like block all ads on YouTube or keep my PC and phone synced up to my last read tweet. Using different apps on phone and PC would be a huge setback for me. If Cortana doesn't have all the functionality, speed and capabilities on Android that it has on Windows like saying Hey Cortana from anywhere, then I have to use Google's AI. Then I've got different AI and map apps on PC because Google doesn't make any Windows apps. This becomes a useability nightmare for me juggling multiple apps between devices instead of everything being synced and the same across every device I touch right now. And forget playing mobile games on PC anymore if I have to buy them twice for both phone and PC. The way it is now I buy Hitman/Tomb Raider/Deus Ex GO once and I can play it on my phone or PC. Having to juggle two operating systems would mean giving up on having paid apps on both. I feel very fortunate to have the same OS on phone, tablet and PC. I feel bad for people who didn't get to experience this. People are dumb to embrace this split OS lifestyle.

I think Microsoft needs to build a mobile device with the build quality of surface and put android on it with the Microsoft launcher and preloaded with their apps. I think it would be a solid device

Na.... Not gonna happen right now. It's an idea, though.

Yeah, something similiar to Nokia X series. Android + Microsoft services instead of google. But Satya killed it.

MS makes FAR more money on just their Patent Licensing for Android (rumored to be $4-$8 per phone) than they ever made on WP so them dropping it makes good business sense. I LOVED my 950, but the writing was on the wall so I moved to an S8 and am quite happy with it (on AT&T.)
Their sales of Office365 more than justify dropping the proprietary Office on WP, and the Android Office Apps are fine.
If you miss the old tiles, there are several very good launchers you can use, I personally use SquareHome2 and I like it a lot. Look here for good info on how to migrate to Android; https://www.androidcentral.com/getting-more-microsoft-apps-and-feel-your...
I have to use an iPhone for work and I HATE the "Fisher-Price" interface and the restrictive locked-down feel of the whole iOS, that and Safari is the WORST BROWSER EVER CREATED. Really. It sucks hard.
Anyway, if you "just can't quit ya" with the WP, keep using it (I know people who won't give up their Blackberries until they die.) That's OK. Use what you want.
You CAN however have a good experience over in the Android world, despite what others may tell you.
The Android Auto App alone makes it worth the move as my car fully supports it and it is WONDERFUL.

Does it get anymore Fisher Price than giant colorful squares?

The Tiles on Windows10 phones are transparent, very sexy and modern. Makes the Droid phones especially Samsung skin look like it is for little kids. I looked at my brothers Galaxy phone and laughed at how stupid the OS looks. It really does look like it is meant for very young people who think emojis are cool, not for adults.

It works both ways. As Android users become familiar with using Microsoft products the easier they can swop to a future Windows ARM device with a telephone facility that also operates via a display screen and keyboard. Microsoft must be aware that the future is mobile and therefore the strategy makes sense. Why not make Android users aware of the great Apps we have on Windows mobile that fully integrate with our other devices. Ah yes it's only Windows that has this fully developed - Android is on catch up. What we need now is a display and ketboard in laptop form for our mobile devices. If you don't like Windows then go and work for Android.

Or it goes the other way. As Windows users get more used to Android and Google services they migrate totally away from Microsoft. The power if the default is much stronger.

Microsoft needs a mobile presence because the apps for the PC, Surface devices, Xbox and whatever else comes along will calcify. On the Windows phone I followed the mantra, I have the apps I need. Moving to Android I not only discovered a ton of apps I now feel I cannot live without along with a well kept secret. One that is not a big secret among Android users. The apps on Android are easily updated every month if not more often. Window phone apps are lucky to update once in a year. Microsoft needs the consumer. Business users are also consumers. People with purchasing authority will buy Android tablets and/or Macs if they have only experienced Microsoft apps. Microsoft needs the Wow factor to keep people engaged. Microsoft lost it with the phone and may with augmented reality. Microsoft has cool technology that dies because they think the consumer is not worth the effort. Then Apple and Google walk in and steal the limelight, sales and wow factor. They get in the news and Microsoft from the consumer point of view is IBM.

No tiles, no deal until I'm forced to move to Android.

Do you really think Windows will continue including Tiles?

Microsoft can (and should) continue making their products accessible on other platforms - they can't (yet?) afford to be a walled garden.

No mention of Squarehome 2 ? 1 million downloads and gives an excellent Windows 10 style UI rather than having to put up with a grid of icons...has made the switch bearable for me ...check it out.

Amazing app! Really makes my Note 4 feel like WM!

Staying with my 950 until it dies. Android is evil and iOS is for the stupid. If forced I'll probably go with stupid.

android takes our money right under our nose and says im free. windows says i take money less than what i deserve but we still punish it. iOS says your my slave, low life. buy me everytime or ill whip you. and we love it. this is what i call modern stupidity. whatever treats us like animals and cavemen, we love. and whatever empowers us with great abilities we punish.

Windows is really expensive and targets ads directly in the UI! How is that ok with you?

Microsoft takes our money with great promises for the future, but either deliver too late so others can run away with their ideas, or don't deliver at all. It will take an enormous leap of faith to buy their next half-finished product with the promise of perfection in the future.

I have both Evil and Stupid. Evil works better with MS and starts to be nice. Stupid will always be Stupid.

I must say I just got the Pixel 2. I let me ICON rest a while back. I notice double tap is back! lol. And then I lost wireless charging! Duh! So many things that are "new" to Android I had on my previous Windows Phone. Although I certainly miss the fluid OS of Win mobile I have accepted change and it's been a welcome change. I still use One Note, Skype and I'm digging the Edge preview but it's still Android.

I agree with all you say. I'm using the Galaxy Note 8 with everything MS has to offer. Some things are neat, but miss the fluid powerful simplicty of the Windows 950xl. (still keep it charged up on my desk)

Watch. We'll end up happy, and then the shocking news... MS discontinued Android! Haha Sure, they don't control Android, but they may just find a way. LoL

I think Microsoft should release some form of mobile device whether it be Surface phone or some new UWP device. Us diehard Windows 950XL users love to beta test.

Movies and TV should be on Android sometime soon they have too be working on that

You speak of adding Window apps to Android , but allowing WIndow phones access to Android apps, might have kept Windows phones around much longer. Alot of people in Windows Central comments mentioned the app gap. There are a lot of apps that are a must for a smart phone, and Window phones didn't have them available. several people had to buy android phones, because of that app gap.

It would have taken more than several people. Why but a Windows phone if you want to use Android apps? Just use Android.

Agreed. Otherwise you'll end up with a pretty crappy Android experience, as the one on BlackBerry 10 and Sailfish OS. You want Android apps? Get an Android phone.

Yep that was me. Loved with does mobile. Was my favorite os on phone but with lack of support app developers left in droves. EBay PayPal. Even 3rd party you tube apps became unreliable.. But stop supporting a less that 3 year old lumina 930 with creators update. Take 12 months to give me back a weekly calenders view, 11 months to give me back linked email, and don't even bother bringing gestures to Windows 10 mobile then and you lost me as a customer permanently. And still Microsoft won't let pc desktop edge open new tabs to my default home page.

"To a large extent, that vision is being fulfilled with PCs, Windows Mixed Reality, and Xbox One, but without phones, there is a gaping hole." A gaping hole!?! You would have an easier time jumping your bicycle over the Grand Canyon than this "gaping" hole.

It is really sad to hear that Bill G is on Android.. nothing more to say

They are good for nothing company. Google laughing at Microsoft. No value of market 💹. I think now it's time to leave Microsoft, they are finished. Bye Microsoft

They are smarter than you know. https://www.howtogeek.com/183766/why-microsoft-makes-5-to-15-from-every-...

😆, $5 to $15. Go ahead Microsoft 😁

Can I get a weekly view widget from Outlook Calendar? I hvae dumped it for Google Calendar but till then... oh well....

Calendar widgets abound. I use the one that comes with MS Launcher, but there's an Outlook one as well.

I'll never be able to get excited about a phone whose UI looks like the Program Manager from Windows 3.1.

I made a huge effort to de Google my life and now I will be forced to go back to android. It's actually not acceptable. Microsoft should be held responsible for their lack of effort. I use Cortana a lot on mobile. Also Xbox voice navigation via kinect. Ending all of these is just crappy. I don't want to change to Android or IOs. It's not only about the look. It's also about how the files are stored. I've noticed Microsoft lacks the ability to understand consumers. Study it up Microsoft. There are books on it

I enjoy using Cortana on my Android phone all the time. All syncs well with my PC. I get text message notifications on my PC from Android phone. Swfit keyboard is awesome, but the killer app is watching an Edge window pop-up on my PC after I send it there from my Android phone. All my favorites are synced up too. I think MS has done a lot to make us Windows users happy on Android. Now, if they'll only add tiles to the Launcher!

Donot count Microsoft out yet they are workng on debuting and selling a 2 screen Mini Tablet with a built in Cell Phone Running the Andromeda version of Windows 10 with "C Shell" and Probably Windows 10 on ARM software to enable it to run Win32 Desktop PC programs and the Free and Pay for Apps in the Windows10 NEW "Microsoft Store". It will be a very useful device if MS CEO Nadella has the Courage to bring it to the the market place.

My wife dropped her 950xl and broke the screen. Now she is trying to decide to repair the screen or buy and android phone. She has three live calendars. One is her personal calendar. One is a calendar share between the two of us and one is a calendar shared between the entire family. The family calendar lets the kids see their sports and school activities on their own calendars. Here is what she wants to know if she switches to an android phone, 1) can see she see her next appointment (regardless of calendar) on a glance screen? 2) can she see her next appointment (regardless of calendar) on the lock screen? 3) can she her next 3 appointments (regardless of calendar) on a live tile? 3) can she use a calendar app to view all 3 calendars' appointments by day, week, month and agenda? 4) will that same app let her add/update/delete appointments from all 3 calendars? If the can do at least numbers 2-4 she would switch to android. I don't have an android device so I cannot advise her. Does anyone know the answers? Does she simply install the MS Outlook app from google play and she is good to go?

Google's calendar app will let her enter several calenders. I have access to my Outlook calendar (entered as an Exchange account) and Gmail calenders together in one app. There are also third party apps that use the Google Calendar information and provide a more customizable experience (like dark theme, account colors, and more widget options. I use Business Calender 2. I'm not sure about the lockscreen. There are apps that will do that. If she enters notifications for calender events they should appear at the interval indicated.

I have 5 calendars all on Outlook; mine, my SO, Family, Tripit ICS feed, and a Homeaway ICS feed. I use MS Launcher which has a view that shows all calendars in one view. (MS Launcher formerly Arrow is really great). They are also avaialble in the stock Google Calendar app if you set the accounts up s EAS. I did have some issues with calendar colors not being differentiated but I solved that with an app called Calendar Colors that I found on the play store. The same unified view is also avaialble in the Cortana home page is you use that on your Android phone. Good Luck.

It can be challenging to switch to Android. In my case I wanted voice based hands free text messaging in my car to work as smooth as it did with my 950xl. Still not there yet but I'm working on it with my Galaxy Note 8. She could buy a used 950xl on eBay. But I recommend that she 'bite the bullet' now. She can still get her calendar stuff on the 950xl over wifi while she transitions to Android. The solution will probably take some adjsuting too, but multiple calendars are common. I still keep my 950xl charged...

What's that saying again of putting lipstick on a pig?

...and with that Microsoft becomes A droid! No more live tiles. No more personalisation. No more people centric. Just dumb icons that represent an operation. Just like Nadella's dumb head (when it comes to consumer space) representing 'The Operation'!

what i see in this movement is not good for android or IOS. no thats just the cover. microsoft is using apple and googles phone platform to remake its brands name in younger generation in this road its taking advantage of the last years of bells invention. you know like, make them ask what is this company that owns three of the five greatest apps in another companies platform. and the next step is mobility and mass market. its next gen microsoft. as far as i know, i cant call phones mobile. yes they are movable in a bag that you carry more than a backpack. but you still need to put it on the ground, pick it up, and very difficultly recharge it in a very bad shape. i want something more mobile and something that is not ment for children. im a power user. todays old fashioned ARM is not cutting it for me no more.

Cortana is too slow so I stopped using her (Huawei p9) I liked the MS launcher but find myself running low on memory and having slow down, average free ram less than 500mb from total of 3gb so I have gone back to Nova launcher and have average 1.5gb free ram with same day to day use and apps. I will try MS Launcher again because I like the function and speed but somehow it is slowing me down after sometime.

I have great success with Cortana on my Galaxy Note 8. Launcher works awesome as well.

Can Cortana be the default assistant in Android? Do we've that option?

Yes, it's possible to set Cortana as the default assistant, e.g. when pressing and holding the home button. But I honestly don't see why you should. Cortana is not very useful and hardly has any integration what so ever. Google Assistant or Bixby is a much better choice.

What is with the procrastination, caution, and confusion. Microsoft....you can easily jump back into the mobile market...Just use Android, like everybody else!!! Make your premium built "Surface Phone." Give it incentives, like free Office, and packed with all your apps. Market it with Surface bundles. Use your Microsoft launcher for the home panels (android icons mimics desktop experience.) Use a custom app drawer that uses the live tiles (mimics the Windows start screen/menu experience.) Make two versions...make the 5 inch normal LCD version, and a 6 inch XL AMOLED version. Don't cut corners, on the build quilty (keyword premium!!!) That means no cheap plastic, no exploding or short battery life, no sucky screens (looking at you Pixal XL!) Include sd cards expansion (up to 2TB storage,) with adaptive storage on minimum Oreo. Definitely include that headphone jack (with a high quality DAC!) The heaphone jack alone will grab some upset audiophile eyes. Make sure those screens are calibrated, vivid, and minimal screen retention/burn in! Also make them 120hz, and market the hell out of them. Make sure all the sensors, cameras, and overall specs are excellent. Put in excellent Xbox streaming! You need to get it to the point of 'raving reviews.' If people start questioning if they should get your phone over the Iphone and Samsungs than you've already won! You can lead the mobile market...It just takes a large investment of time, money, and enginneering/creative skill!!

So they should continue a money losing endeavor without a sufficient market share willing to buy a Microsoft phone?

MS won't build Android hardware because at it's heart MS is a software company. They may build great hardware, but only to intice others to be creative and ultimately to sell more Windows licenses. With phones like the Galaxy Note 8 out there they don't have to build hardware to promote thier software on Android.

Too bad half of my Microsoft account stuff doesn't work. Want to save a date on the calendar through outlook on the Andriod phone ... opps, no MS account availability, have to save to ******* gmail. Really ******* pissed at MS for abandoning us Windos Mobile users. This change over sucks.

the problem is the way Android functions, not the apps

Full Windows on phone with blustacks

Memu is much smoother than bluestack TRB!

Yeah, here is the third mobile ecosystem, ... SatyaNaDroid !!! Hail !!!

I held out a long time with my 950xl and I still think it's a superior phone with more to it than any of the critics recognized. But now i've moved on to the Galaxy Note 8 where I use all the MS goodies including the fabulous Launcher. The Beta version of Edge works great, and way cool to watch the browser open on my PC when I hit the button to contnue on my PC. It would be awesome if MS offered a tiled look to the Launcher. In the mean time this game is far from over - just over the horizon are foldable and/or bendable screens or other form factors that MS could capitalize on in the mobile space. In the mean time, quite content with MS apps on Android.

Concerning that Microsoft is making a significant investment in Android. I still look forward to a Windows 10 mini-tablet with LTE and a blue tooth earpiece.

Quite simply, no. Not for me, anyway. Android disgusts me. Google disgusts me. There's nothing Microsoft can do to put enough lipstick, perfume or costume Android. Period.

Aren't there some clouds outside that you should be yelling at?

Nope, don't want a "big brother" phone. I want a product I can buy and use as I want, not free spyware.

You seem confused. This isn't an article about why most users rejected the free Windows 10 upgrade.

Android cannot become an equal Windows phone or mobile experience. I am using the launcher, MS apps, etc. IT IS TERRIBLE EXPERIENCE!!! Especially Outlook. Maaaan, Outlook was so easy to use and so complex for a phone client on my Lumia. Android version is nowhere near to it. Lack a lot of option, it is full of design flaws....I wanted to check which phone had all the features that my Lumia 950xl had.....Samsung S8. Sad. MS just needed to put a little effort into creating more attractive devices. It is natural that the market share declines if there is no HW to sell. Windows phone was not perfect but Android is like messy salad in comparrisson. I DONT LIKE THE EXPERIENCE. Is it that bad being third on the global market???? No, it is not. Nutella killed the mobile division as a personal vendetta. He hated the decision of his predecesor and did not want to feel responsibility for it.

The Microsoft apps on Android are pretty good. Office works. Outlook is arguably the best email app for those with other than GMail accounts, Microsoft Launcher has me using its feed as my V20's homepage and I love the ergonomics of being back to a verticle scroll UI. The Bing app rocks too (especially for those who eschew the Goog). But, I think that anyone - and everyone - who switched from Win Phone to Android would want Microsoft to REALLY ramp up Cortana's evolution to bring us things that Android simply (and criminally, I think) cannot do. I mean: Completely hands-free text-to-speech Completely hands-free speech-to-text "Hey Cortana" from any screen at any time Callers and message sender name announced ONLY through Bluetooth device... We used to get the excuse that The Goog refused to play nicely with Microsoft because - well - they did...so Cortana would never have the access she needed to perform on Android as she does in her own home (Win 10)...and the lack of an official YouTube app for WIn Phone was the prototypocal case in point. But then, Bixby...which kind of blew that argument out of the water. Here's my point: if Microsoft can get Cortana on Android to where she is in Windows 10 (phone or PC) and integrate her across the Microsoft Launcher, Edge for Android (pretty great, by the way) and the Office for Android suite, Satya will have himself one VERY powerful and unique set of offerings that make up for the dismal (by comparison to Windows Phone) failure that "Ok Google" is. Given that younger generation's first exposure to computers will likely come through mobile device experience, it seems essential to me that, for the health of Microsoft revenue (Office et. al) they go all out in developing for Android.

I stupidly cracked my Galaxy S8, while it's being repaired I'm using my old 950. Oh my god this phone is goddamn awful. It's not just apps, the phone is painfully slow, websites hate mobile Edge(but anyone who doesn't hate Edge is a fool). Microsoft dropped the ball on Windows 10 Mobile and never even tried to pick it back up.

Too me a unified experience would be complete on Android simply by being able to dock my Android phone with dual monitor support and then being able to remote desktop into my W10 PC.

its just so disgusting seeing microsoft apps on android. its like reverting back to windows XP with these godamn Gridded icons. Fujkking ancient sh!!t that apple and google has let it stuck around for over a decade. THe tiles were supposed to be the evolution of this. Specially for mobile. Microsoft should have at least kept Windows Mobile 6.0 style if this was going to stay.

Don't like the grids - change them? It really is that simple. My Android looks identical to the Lumia 950 xl I had before it with a start screen full of tiles and live tiles. Only mine is more customisable than the L 950xl.

I still have my L930, but my primary device now is a Samsung Galaxy S7 Edge... I have so mixed feelings. Sure, the UI experience is junk compared to Windows 10 Mobile, S7 Edge's audio capability is a joke compared to the L930. Had many bad experiences in a first few week with Android. Calendar and Contact syncing, so I was forced to move my contacts to Google... Swift keyboard is kind of okay. Office is definitely live up to its name. But the fact that I needed sideloading to access Cortana isn't good, Groove is laughable in Android, and needed sideloading as well. Arrow/MS Launcher is... well started to get used to it, but the whole ecosystem is still fragile, it's not a comprehensive theme app... just a launcher, so its pretty mixed up. MS messed this up greatly, and even now trying to give a huge push, not as it was before. Cortana freeze up quite frequently, but well... when its work, its work. On the other hand, I have all the apps that I want and need which I can't say on WM... The device surely its more powerful, and have more things packed in it than in the Lumia line altogether. Now I have Gear Fit 2 Pro. It's not a Band 2 but its working, and probably will fail less time as Ban 2 failed its owners. Overall one of my eye is crying, the other is happy. Sill every time I look my L930... I dearly miss the WP/WM ecosystem with its clear design. Even that MS took away tons of amazing features from it on the road from WP7 to W10M.

The Microsoft 's story and narrative is broken without a mobile OS of their own. While they have surrogates on Android and iOS they are preparing to sell us on Windows-on-ARM. The latest Windows-on-ARM rumors are nice, but let's see what they will deliver. Microsoft killed the ARM-based W10M citing of a lack of apps and then works on an ARM-based W10 version that essentially has the exact same problem: A lack of acceptable apps (from the Store). And no, do not count on x86-simulation. If they ever try this, Intel will sink that boat via the court room. So with this fabulous Windows-on-ARM device you effectively will get a Windows 10S device (S like "Sorry") that totally will depend on Store apps. I once had a device very similar to that, and it was Surface branded. Looked cool but essentially was unusable and USB devices attached to it did not work because no one cared to write a driver for it. OK, now Microsoft tries the very same thing again, just a couple of years later. So again: Microsoft first utterly failed with Store apps on their first ARM-based Surface device, then they epically and repeatedly failed on the very same subject with Windows Phone and now they want to lure us in on yet another ARM-based Windows device that will fully need to rely ob those Store apps no one wants to write and maintain? That will be interesting. .

MS is not on the best track on android yet, but they can get there if they try. They need to separate outlook mail and calendar, cooperate with that guy that makes laucher 10, because it is much better choice than MS launcher. Fix people app, Skype so it stops creating fcking duplicate contacts (cloud first... Serious fck up on their side when synch of one fcking service is not working properly) iOS... Kinda lol of MS user converts there. You can't really use MS services on ios because you can not choose default apps... Android is the only choice for true MS services user. And Samsung note series is the best choice as it offers glance screen, pen support and continuum (dex) etc... All very familiar features for MS fans. And swift key is on android as well...

I checked some android phones out and went to my local Samsung store to ask them a few android questions.
1. can you split email account. Answer is no.
2. Create contact groups. Answer is yes\no you need to create new message with contacts and keep that message in future.
For IOS You need to go to a desktop and create in iCloud.... Ffs Seriously single basic operation not available and we are on android 7 and the 'Greatest ios' I want to get rid of my Lumia but just can't as I know the change over will give me a lower experience. I don't really care about apps only use a handful but I get the feeling the hand full apps will no long be supported such as Fitbit, banking

i will be using my Lumia 550 untill Microsoft pull the plug. If i have to move over to android i will opt for a Nokia android phone...... Makes sense right? They created Lumia they know what their doing.

I moved to a LG v20 (Great Phone, Excellent for music creation and audio quality) Back In April from a Lumia 1520. However my 1520 still works fine and keep it around as a backup and still takes great pics and 4k video as well course the latest OS update is 1703 (not 1709, but expect a hack soon anyways). However they should have added Live tiles to MS launcher. It makes sense for them to at least have made a live tile version of it which would help with the transition for long time Windows Phone users. However there are some decent Windows 10 style launchers in the store adn have been trying 4 of them out which are the Metro Theme, SquareHome2, Win Launcher, and Launcher 10 which is the one im leaning towards. However there has been al bunch of request for a Live Tile version from Microsoft so we will see if they take the path of Apple and not listen to their customers or be open to ideas outside of their bubble. :)

Is it possible to turn off all intrusive bs on any android? I mean, delete all the apps I don't want and stop all the apps wanting access to my contacts, photos, app usage, etc. Then maybe.

I switched to Android from my Icon about three weeks ago. I am really liking my shiny LG V30, and am slowly learning my way around the OS. I appreciate the Microsoft apps that are available (although why I can't sort my contacts by last name in Outlook is ridiculous). I miss the live tiles terribly, but I love the variety of apps. There are apps for things I didn't even know I needed!! It was a good run W10M...

I was driven to Windows phone because I wasn't comfortable with the way Google was using my personal data. I haven't read their EULA in a while, but i doubt anything has changed, since that's their whole business model. I'll hold on to my 950 until it dies. I am a huge fan of the unified ecosystem. I like that i can view all my pictures and videos on my phone,xbox,tablet,and desktop computer using the same app across all devices. I also like that i only have to buy a movie/song/app once and I can use/watch it on any device I own. I also need my phone to have an SD card and removable battery. When Android can do all this, and stops scanning my emails for keywords to target me with ads and other invasice practices, I'll consider swithcing

What MS is there that Android cannot already do? Office? What happens when Android makes the equivalent app if MS has one it does not? Continuum....who uses it?

I need proper integration with my Windows 10 computers and therefore, Cortana is a must.

I haven't switched to Android yet (plan to soon), so some of these might be working in Android, but based on what my wife has complained about since she switched from WM to Android: When I get a text, it pops up on my PC. I can send a reply text right from my PC. I did NOTHING to set this up. It's automatic if I use the same Microsoft ID on my phone and PC. When a text comes in while I'm driving, not only will Cortana read the text to me over the car's speakers, but I can dictate a reply. I don't have to touch a single button or take my eyes off the road for a second. Nor do I have to have my car's audio source set to bluetooth streaming for this to work - as far as my car knows, it's a phone call. Same with GPS voice navigation - I get voice prompts regardless of what audio source I'm listening to because my car thinks each voice prompt is a short phone call. I can listen to the radio, a CD, or nothing at all and I still get voice directions. I have Cortana on speed dial in my car, which means I get all of Cortana's digital assistant goodness by touching a single button. And because it uses the car's microphone, you can leave the phone in your pocket or your purse or whatever and it can still hear you just fine. And anything Cortana says comes over the car's speakers, not a muffled little phone speaker stuffed in my pocket. And again, I can be listening to whatever audio source I want, or nothing at all, and it still works perfectly. Those are few things that come to mind. They are all things that work out of the box with WM. You don't have to configure anything, download anything, or sign up for anything. They just work. Not the case on my wife's S7. The Android alternatives are clunky and less functional.

I have been using windows phones since the palm pre & am leaving Windows mobile for android! I stayed due to UWP especially with surface, mobile, and Microsoft band 2. I loved them all! Problem is Microsoft did not as two of those items Microsoft has given up on. Microsoft does not have a device problem but a commitment to double down on its superior products. I laughed when the Invoke was announced as a year ago I would have bought, but now I do not want another device from Microsoft to watch them discontinue a year later. Once I am out of the UWP, I foresee me using the programs not more but less

You should right an article with poll? How long before Microsoft discontinues the Invoke? Put me for Aug 30, 2018. Products are awesome, commitment to them no soo much!

I don't use Microsoft apps exclusively so now when I buy apps I have to buy them twice for two different operating systems and if it isn't the same app it won't even sync. Screw that. I am not giving up using one OS on every device.

Because Android has roots in an open source version I think it's too Risky for me to use because Hackers have a lot o open sourcef Data to make Android bugs. I would buy an Android tablet for entertainment, games, movies, nusic but that's all. I think if Microsoft does make another smart phone it could be an Android one with Modern UI tiles and all but But MS CEO Satya Nadella who killed Windows smart phones wont have Microsoft making any smart Phones which is a Mistake because some Companies want a Table & smart phone to have a matching OS. Microsoft does not have that NOW with Windows smart Phones GONE. Microsoft seems to be getting ready to start selling a Windows 10 "Andromeda Version OS a Dual screen Mini Tablet with a built in Cell phone. It will hopefully run some version of "Windows 10 ON ARM" CPU software enabbing it to run Win32 Desktop PC Programs and ALL the Apps in the Windows 10 New "Microsoft Store" that has free and Apps you have to buy. it will be a useful device because of it's huge catalog of Win32 PC Programs & "Microsoft Store" Apps which are increasing in number due to the popularity and use World wide of MS Windows OEM partners & MS Surface Laptops, Tablets & 2 in 1 devices

Open source software being more vulnerable is one of the most ignorant and stupid software myths one could possibly believe.

Open Source has always been an issue when it comes to hacking hence the Linux Community as an example has many hacking tools as well. Worpress is Open source and the most hacked Platform on the Web Period due to its Open nature being easy to hack and exploit. While I like the concept of Open Source it also has its negative side as well. Meaning if your developing a product under open source its also up to you to keep a constant monitoring of hacking attemps and security issues. Open source does give the hacker a roadmap to get into your systems looking for holes and making it easy ti get in from their perspective.

That's such an idiotic belief that I shouldn't be surprised that the fringe weirdos on this site actually believe it. WP is the most targeted platform because it's by far the most popular. It's the same reason Windows is the most targeted desktop OS, even though it ISN'T open source.

The one thing I agree with you about is that the more popular a platform is, the more it gets targeted. Everything else you said is flat out wrong. Years ago, people thought open source was inherently more secure than proprietary products. The idea was that open source had more eyeballs looking at the code, and hence more people able to plug holes. No one believes that story any more because real-world experience has shown how wrong it is. Turns out nearly everyone looking for vulnerabilities in open source code are looking for things they can exploit, not holes they can plug. Even when companies like Google hire people dedicated to stamping out security flaws, they are vastly outnumbered by the bad guys. All else being equal, an open source platform will be exploited more often than a proprietary alternative. That's reality.

Microsoft isn't "turning Android into" anything. This article has a daft title.

That would be like taking a Ford and making it look like a Chevrolet because you liked Chevrolet better. If I had really wanted an Android phone I would have gotten one back then but it looked just like the iPhone screenwise and that turned me off. Still do not want one to this day.
I really like the personalization I can do on my windows phone such as having a live tile of each of my family members I call the most with all the different ways to contact them. Can that be done with Android? I have not seen that ability in any of the Android phones that I have seen. Two taps on one of my tiles and I can call, text, or send an email to them all without scrolling. Do that on the Android phone.
As for having the launcher available to make the phone look like what I have now means an extra step to do what I do now from the start. Will not move to Android or iPhone anyway since my hearing is getting much worse and I will be giving up a phone.
Who needs an app store with a gazillion apps available with about 10 thousand of the same type of app available. It is like going to buy some new shoes, black, and finding 10 thousand different shades of black to choose from. Who needs the headache?

Honestly I'll figure out how to text and make phone calls from a small Windows tablet before I switch to Android or iPhone.

cool8man. I already am, with my NuVision 8" tablet bought for $69.00 from Microsoft Store. Using Skype for calls. Unlimited calling is 2,800 Bing Reward points a month, and I pay $38 per year for a Skype phone number. WI-FI is all over the place where I live and work. Plus calls are superior to cell phone calls. I am hoping for a pocketable version later this year or early next year.

Honestly i like the design of edge for android than chrome. But it doesn't have dark mode yet. Also skype should have an option to be default messaging app (and so there should be no loading time because there is long loading on my phone even if it's a mate 8) Since photos (the one with movie maker) app for windows should be ported as well. And groove (rip) should support music from storage and be available worldwide. Lastly all apps should have light and dark mode. Homescreens can easily be transformed to dark mode but the apps are not.

I use quite a few Microsoft services on my Android phone and Samsung tablet. Most of what I use at home on my PC's is available for my use. Also, I'm an Office 365 Home subscriber.

I like to know, if Cortana can be a default virtual assistant in Android. Anybody know the answer to this?

Let squeeze that a question a little bit more? If I am not in the US, what shall be done in order to be able to use cortana on an Android device?

Yes Cortana can be used as your default Voice Assistant on Android BUT only Google Assistant can be triggered by voice activation. If you set Cortana to default it can be called up anytime from anywhere by long pressing the Home Button or it can be called by saying "Hey Cortana" but only when in the Cortana app itself. Cortana can be used outside the US too. I'm in the UK and have Cortana on my Huawei P10 but I don't set it as default because it's not as integrated as Google Assistant

Yes but it is not as good as in w10 phones

Users really wanted a Windows Mobile with apps that they use daily

They why didn't anyone buy one back when MS was still trying to sell phones?

Apart from Photos, movies app it also misses maps, sms relay & native contact management

Here Maps is availalble on Android with a lot more features. Having said that I am not abandonning my windows phone before it stops working. Even then I'll probalby just get another second hand 950

Choosing a mobile OS is a bit of a minefield. Microsoft's decision not to continue developing WP; and critically, NOT to produce new hardware for the platform; is even destroying die hard support. Just read (or listen to) Steve Litchfield on the subject. Android has a serious (possibly permanent) problem with security updates. We have "leaky" core Apps as well. I've used Android for about seven years now. But I still worry about it. Now the only remaining relatively safe OS (in this regard) is Apple's walled garden. Which I never liked. These days, I have no incentive to use MS tools & Apps even on Laptops or desktops; let alone on any mobile devices. Microsoft may simply be marginalised out of all markets; because of decisions at the top. I am seriously questioning my own use Windows or Microsoft Apps & tools on anything. That is really a direct result of the decision to kill WP. A platform I never even used.

Gummy bears or Hershey bars, Hershey bars or Gummy bears.......perhaps Hershey Bears

That is funny, MS fails on their own phone OS, so they try to take ovewr another. If i wnated a windows phone full of MS apps I would have got a Windows phone. I do nto have any MS apps on my phone, I did have Skype, but i have taken it off, still have it on my tablet.

You mentioned the missing photos and films on TV apps but there is one other glaring omission and that is the maps app...

That's because it's awful. Google Maps obliterates Windows Maps in every way shape and from. Then you gave several other maps apps that are leaps and bounds above it too. HereWeGo on Android is pretty much the same as the Windows Maps app

For a company that wants to have you use their products and services on Android its been a slow and. Bumpy start. And long. I have a s7 edge and on my Windows 10 PC I love groove. Unfortunately in the 2 years I have used my s7 edge groove still can't read my sd card. You know the place I keep my music and some movies and tv shows. Do you really think Microsoft can be taken seriously with such oversight going on. Hell my iPad doesn't have a groove app unless you want to use the mobile phone version on a large iPad. Lazy very lazy yet it sums up exactly why Microsoft is going to fail. The cloud will be affected because of these issues and the fact there is no Windows 10 complete hardware economy system unlike Apple and Google have.

I can't stand Android or iOS, I have used all three platforms. My beloved Nokia 1520 started having speaker issues after I spilled food on it (never any keyboard issues) so I switched to Android for the second time, boy what a mistake. I am not really an app user, I primarily use Exchange at work, Gmail, and the necessary stuff……I can tell you at least for me that windows phone is so much easier to use and that beautiful interface that just doesn't exist with Android, and Continuum is just fantastic. I never felt I need a phone to show other how independently special I am and cool as hell with my apps, that's what I see people doing most with their Android and iOS phones. I couldn't bare the stress using my Android phone, thy are so buggy and the updates are just a joke, so I went back to Windows phone and picked up an Alcatel Idol 4S Windows 10 phone from the Microsoft store for $199 and I love it. By the way, I am selling my Sony Xperia XA Ultra (F3213)….interested anyone?

I am selling my Sony Xperia XA Ultra (F3213)….interested anyone?

So many mistakes. So much lost time. Zune was amazing. Windows Phone was amazing. Too bad they didn't make it WinRT from the beginning and too bad they didn't push marketing and offered free OS licensing from the start.

For me, I like what they are doing on Android, my only problem is that they are not following the Material Design by Google. If they will follow it & do the same on Windows, for me that'll be great :) http://obtera.com/tag/onewindows/

With Android Microsoft have more access to customisation such as the launcher and Cortana replacing the assistant. Both of those options I quite like and my LG G6 uses both. The problem comes in several areas. Firstly by default Android phones are pretty much Google phones. People have to go and download apps then configure stuff. It's extra steps for the user and other than Microsoft fans I am not sure how many would specifically do this in a determined way. Maybe some people would download Word to read a file sent to them in email but more likely people would use Google services. For Microsoft the challenge is to nudge people to make their phone more Microsoft friendly or, in the small number of places they have a retail presence, offer a service to help customise phones. Secondly, the Microsoft fan, if I can use that terminology actually wants a Windowsphone. The fan may do the customisations but for them the experience is not as good as what they really want. The bottom line is that if you don't own the platform you are faced with being a second class application citizen. You are dependant on others.

Zac, I understand that w10m is dead, but as you have confirmed yourself, a (Surface branded?) win 10 coreOS Cshell pocketable, probably folding ARM device that can run x86 apps and has esim and thus regular calls and texts IS coming by 2019. Now, I will just have that device on me when I go walkies, and no, I don't need a 2nd phone for work, and if CoreOS doesn't support Silverlight and thus no WhatsApp, then that's a sacrifice I will be prepared to meet. There's no way my future CoreOs windows pc-fone running all the Msft apps won't be far more of a Msft fone than a droid running Msft apps.

Moved to Android 6 months ago using all the Microsoft apps along with Arrow. Now if Google can fix the darn reboot your phone or uninstall reinstall app to correct problems issue it would be a comprable to my 950XL. There is just somehting wrong with a phone that has 3GB of ram and constantly kills the background thread that plays music while you are using the Waze GPS app while driving.

the unification of services and os is the reason why systems work. With Microsoft exiting the OS business and google's offering getting ever more stable it seems like it's time to start migrating away from Windows, Office, Bing, OneDrive, Groove and Hotmail. New phone next spring so need to start moving everything over for then.

I recently installed MS Launcher, SwiftKey, Cortana and Edge on my Nexus 6. Also using Outlook as the default Email client. Whats missing besides Photos and Movies and TV is also the Maps app. I'm suprised at how well the handoff works from Edge and am liking the SMS integration to the WIndows PC. Still needs some work with managing a full thread but its pretty nice to be able to do a quick response to a text. If Skype got full SMS integration and could replace Message to become a true iMessage competitor it would be awesome.

I very much doubt it would rival iMessage. Google can't even get their own messaging apps like Allo and Duo to be the go to messaging apps over the likes of WhatsApp. Skype is a distant competitor

"How much do end users care about the Universal Windows Platform (UWP), OneCore, CShell, and other deeply unified aspects of an OS? It's likely that many readers of this site appreciate the efforts that Microsoft is making to unify Windows... " I can't imagine that many readers appreciate the effort, maybe the idea but not the commitment. Mainstream end-users do not even know what they are because of the lack of effort. From day one Microsoft has been saying that UWP will develop from the pc and trickle down, all while anyone familiar with Microsoft was saying that will never work.

Faced with the unpleasant fact that sooner or later I will have to be using iOS or Android, I'm wondering if anyone has done some objective comparisons of their respective integration experiences with PCs in relation to the WM and PC experience. I came to WM from Android about 4 or 5 years ago and still do not relish the thought of going back to it, mainly because I find it ugly. But I can deal with ugly if it has become more like the WM experience over the years. OTOH, I use an iPod Touch with iOS 11, so I'm relatively familiar with the current state of iOS even though I use the iPod for little more than Sirius/XM and podcasts. (The iPod is a replacement for my beloved Sirius Stiletto 2 which finally died last spring). My subjective view is that I feel somewhat "hobbled" on iOS due to lack of customization options, and I really hate scrolling through all the little round icons. But I like the availability of some useful little apps I can't get on my 950XL. And frankly, IMO, Siri sucks in comparison to Cortana, at least for things I do with Cortana. I'm mainly wondering if anyone has made a comparison of the integration experiences using iOS and Android with PCs compared to the experience between WM and PCs. For example, is there SMS integration? I love the ability to answer an SMS text from my PC keyboard with Skype if I'm already working at the keyboard.

I recently moved to the dark "android" side. 😞. LG V30 now with Microsoft Launcher and Cortana from 950XL.

Microsoft is smart to co-op android user. That said, I would think it's a matter of company pride for Microsoft to have a superior hand set (call it a phone or a pocket pc.). Even though ,like most of the surface line, it would occupy a high end niche and probably wouldn't be affordable for all. They've show that they can make some high quality hardware and I would love to see what the Surface team could come up with.

If MS care for customers, must release special Android ROMs for Lumia Phones. They can even build a unique android UI for Lumia's. For a giant software company like MS, it mut be damn easy. But won't going to happen.

@White Emperor, all they needed was project astoria to be released. All android apps could work on windows 10 mobile. I would still be there! Running a 950 and 1020. but alas...the dumbass running the show said can it. Rest is history, been using my iphone 6s for almost 2 years now and LOVEIN it.

I plan on being in the Guinness world book of records for being the last person using Windows Phone. Never Android and never Apple.

You will have me as competition!

I remember when I got my HTC Evo, I was so enamored with the way it looked. The traditional flip alarm clock look on the main screen. How you could pin the most common used apps as shortcuts. What I didn't like was having to flip through multiple screens. The widgets were confusing and congested. Then I saw a Windows phone and it was all about the live tiles. Honestly that's the biggest attraction. Before even knowing anything about the OS itself, I wanted one based off how it provided information to you. Back when you could only make the tiles two sizes, when there wasn't any transparent tiles, when you didn't even have Facebook messenger, or Instagram or a plethora of other applications that iOS and Andriod had, it still presented you with information at a glance that was important to you how you wanted it. Despite all the renditions, loosing hubs, and rooms, and other awesome features, no other mobile OS does that quite like Windows does, so unless Andriod completely adopts live tiles and integration is the same, then it won't be the same, and I will stick with Windows.

HTC EVO was my first Android phone. I then moved to the HTC EVO 4G. From there to the Lumia 1020, and now the 950 XL. I spent hours and hours and hours on the EVOs trying to make them look the way I wanted, but I was never satisfied until I reduced the home screen to a nice background with just the clock and 2 expanding folders with my most used items. I put all the widgets on other pages so I wouldn't have to see all that garish stuff when I looked at the home screen.

Just sold my iPhone and bought new Xiaomi MiMix as my secondary phone ... won't turn this MiMix beauty to Satyanandroid ... no WP mimicked ! ... Android is Android ... WM is WM ... L950 (and next Andromeda Phone) would be still my primary phone

Satya nadella is a Google Trojan Horse in MS. His goal to destroy windows completly

Plan B seems to be going off without a hitch... 😕

Another MS app i would miss is Maps with favorites sync.

As long other options exist, switching to Android is not an option. Windows 10 Mobile is still supported, and in two years time anything can happen. Even if Microsoft completely step out from phone devices, iPhone is still far better choice than Android.

ZSkeledzic said "iPhone is still far better choice than Android". Great that you have an opinion, but it's rather useless unless you explain your thinking.

You are a real window phone user, God bless you my friend.

The Outlook app on Android is ok for mail, but the contacts and particularly the calendar elements are rubbish. I can cope with the shortcomings of the contacts, but the calendar is a pain. I've looked hard and there isn't any other easy way to get even an outlook.com calendar functional on Android. The irony is that the google calendar is well supported on Windows, so reluctantly I'm having to use it in preference to the Microsoft service. But in other respects, particularly thanks to the Microsoft Launcher, I've learned to live with Android, and it does things like Android Pay which MSFT will never be able to compete with in the UK (though if MSFT ever launches a good new mobile option it would be in Google's interest to make it work on Windows - and yes I know it means my shopping habits are being tracked, but of all the bits of data I generate online that's something I really don't care about and am happy to trade for convenience).

This is an interesting discussion that I wish we weren't even having. But we are. Seeing as how we're here, though, I guess the way I feel about the Android surrogate for a Microsoft experience on a phone in lieu of a genuine Windows option that's viable is that it's an inferior, and more limiting, but altogether more feasible and achievable solution. And even though it's not as immersive or "good" as the deeper, Fuller integration of a stand-alone One-Core, CShell Windows Andromeda "ultra-mobile PC with telephony and sms", I think for most people, and for most things, it will be increasingly good enough. Though it will likely never reach the levels of integration and amazingness as a fully fleshed out "Continuum" option could, or even come remotely close to that, what -IS- possible is that it could come to equal what Apple can do between macOS and iOS, only on the significantly more prevalent Android mobile ecosystem and the absurdly ludicrously more prevalent Windows ecosystem. So basically the same thing as Handoff, only on less specialized, more widely adopted platforms. Meaning that in terms of interaction and integration between mobile and desktop, this road may still enable Microsoft to equal - or even beat Apple....without even needing its own phone platform. And even though it won't be quite as deeply integrated as Android to Chrome post Play Store, given the total lack of true high end computing on Chrome, MS's solution borrowing Google's own mobile OS may even beat Google's own offerings. And all this could be done with very little work over what both platforms already have. So, it's super duper smart under the circumstances. Look, in terms of the "theoretical" and "ideological" level, nothing in the entire industry beats or even comes remotely close to Microsoft's one core vision of mobile and desktop integration. It's the best, just the best - by a long, LONG shot. PERIOD! And, I won't completely and utterly abandon all hope for the eventual arrival and eventual viability of such unless or until Microsoft themselves come out and say they've officially and completely abandoned the project - which as of this writing has -NOT- happened yet. As long as they're at least theoretically working on it, then I'm at least theoretically continuing to view it as a possible future thing, and the amazing ideal (of course, I'm not putting my mobile life on hold while we wait for it, either). But that's not to say that as time goes on, I don't become increasingly less optimistic and less hopeful of that day ever coming, or that even if it does come - and even if it's everything they've promised it'd be and 10x more, that it'll be adopted by enough users, and supported by enough developers and carriers to ultimately even matter. The hole of their own making is so deep now that it's only this side of impossible to climb out of. While this Android option is so much less ideal or capable than One-Core, and even indicates a defeat of sorts, it is also exponentially more likely to succeed in the market and with consumers. And if absolutely nothing else, it is at least a viable stop gap that is 99.xxxxx% likely to succeed while we wait for the [maybe] eventual "real thing". I hate that they're going down this road. I HATE it! Yet, under the circumstances, at least in the short term, I think it's ABSOLUTELY the right thing to do! Even if it only serves to make the theoretically more ideal one core option even more unlikely than it would've been otherwise long term. It still gives them something tangible and useful right now to slow, or even stop altogether Microsoft's gradual slide into irrelevance that it finds itself in without a way to tie its desktop OS to the mobile space in a successful way in the meanwhile. It's also at least a secondary factor in my decision to have returned to Android (Pixel 2 XL) from Apple this round. I do have a mac, yes. But outside of recording my podcast, I use the PC quite a bit more than the mac, and as such, if I'm gonna "handoff" with one or the other, it's to my advantage to be able to do so with the PC. We'll see what happens! Cheers!

What Microsoft is proving is that they do need a mobile platform for Windows. This IOS/Andorid integration seems good right now but what if Google changes making the Android more close in similar ways like Apple if not just like. Microsoft then would lose all those customers who left WM to go Android/IOS because they didn't have a choice and then make the choice to change eco-systems. WOA proves they need a mobile platform which is why cutting the Nokia staff was just plain illogical. The Cloud is an extension of the desktop and should be an extension of the vast territory of mobile which would make for a complete eco-system for they both enterwine on given frequencies and intervals. What on earth is Microsoft thinking...

Eventually I'll switch to Android; I've become accustomed to using alot of apps on Windows Phone, knowing these apps will be available to Android is peace of mind when I do make the switch.

I need there own platform. I want to move from Android, but can't of course. Is is not an option.

This article has a good point. I've never thought about that...

I keep a Samsung Galaxy S5 on my shelf; I keep it updated with the latest software updates, and try out various apps; it's my go-to to see if i'm really 'missing something' by sticking with my daily driver 950 XL and Windows 10. Although I hear all the 'hype' that Windows mobile is 'dead', I just can't see myself switching permanently to Android; in my case, for my personal needs, i'm actually not 'missing' anything. For example, up in Canada, Android pay only works with my Credit Cards; my bank's Debit Card is not supported, so the lack of payment options in my Windows 10 wallet is of no significance. My S5 is basically set up with all the same apps I use on my 950 XL; I've got a number of mobile web sites pinned to my start screen in place of the few Android apps that are missing in the Windows (Microsoft) store. I just don't buy all the hype of the 'grass in greener on the other side' of all this. I've got the S5 to 'prove it'... I'm sticking with my Lumia for now...

I'm also wondering why anyone who has ever used iOS would ever use Android. Android has a lot of apps, but the app gap between it in iOS is in App Quality. I really like the hardware that OEMs are putting out, but every time I use an Android phone and put the apps I need on it, the pretty obvious gap in Quality and Features between the Android and iOS versions - in iOS' favor - is pretty stark, and disruptive... So, I feel locked onto iOS simply because I don't want to deal with poor app quality (I have an Android phone I use as a PMP with a burner Google Account on it for Play Store Access [but have used a Galaxy S8], so this is not me remembering what it was like "5 years ago").

Also, Microsoft really needs to implement this in a more elegant manner... Too many pop-up menus. On iOS/macOS you just open an app and it pops up on your PC next to the doc, and in your multitasking interface on the phone. It feels a lot more seamless, and the workflow is a lot better as a result (plus, the functionality is made to seem obvious to the user).

Microsoft definitely destroy this Android OS😁 like windows mobile 📱. Microsoft plz keep out of this OS.

Sounds like I need the W10M Photos (maybe Cameria also depending on integration) and Maps apps on Android before I am willing to give up on W10M! Otherwise, how would I get phones automatically on OneDrive or my favorite locations I have on Maps on my phone?

Android is still ugly and will never have the UI experience as WP did. I've tried everything to make my Android phone look and act like WP with different launchers and such, but it's not there. :/

Use Widgets... its the closest you can come to Live Tiles and its not that bad....

Widgets failed in Vista and were killed slowly in 7.
The only widget that I use on my Android is the clock, because it has the date and weather included.
Oh, and the widget is from the Microsoft Launcher... so...

SquareHome2 launcher is about a close as you can get.... Try it.

Denial Anger Bargaining Depression --> We are here, moving on to the next stage <-- Acceptance.

In my own experience Cortana is severly gimped as an assistant in Android. Everytime i open the app i have to click like 5 times or i end up with that halloween costume quiz, I have to click multiple times to get to my day or interests. added packages need to be manually removed after they've been delivered, I should be able to click and no longer track this once I pick the package up like in Windows Phone. While i like the lists (checklist/shopping list/to do list) feature my desktop doesn't get them synchronized even though I log into both with the same microsoft account. I'm probably doing it wrong. :)

As a recovering AppleSheep, I have always been disappointed in the promised but mostly non-existant hand-offs within the Apple ecosystem. I'd love to be editing an MS document on my iPad and continue directly editing on my MacBook but I have to save to a cloud and reopen it. I'd switched to Apple in 2005 thinking Apple would eventually turn from being a consummer company to a business company with programmers giving me solutions for my civil engineering profession. That just never happened and I have to run Windows in VM to get the functionality I need.

I've had the Lumia 920 and 930. As of three weeks ago, I now own an iphone 7. I will never own an Android smart phone as long as I live. I'd suffer with a dumb phone or feature phone if I can find one first.

... and I will never own another Apple device after my last. I've used both, one is better, and it aint iDevices

I have a windows phone launcher download from the play store and it ol most the same as the original windows version. I o so try the new Microsoft app and it is not windows it have not live titel. I miss that. I hope dad Microsoft make a real good windows 10 mobile launcher with live titles.

"Even Bill Gates is on Android" He wouldn't be if there was a decent Windows mobile device of comparable nature.
Windows Central Newsletter
Get the best of Windows Central in in your inbox, every day!
Thank you for signing up to Windows Central. You will receive a verification email shortly.
There was a problem. Please refresh the page and try again.