Even in preview, Edge on Android already shows promise
Microsoft continued its march towards filling Android phones with Microsoft services by bringing Edge to the Google Play Store. But how well does it actually work? We went hands-on with Microsoft Edge Preview.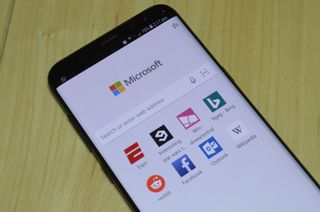 With Microsoft Edge Preview in the Google Play Store, users are one step closer to being able to use Android phones exclusively with Microsoft services. The app is in preview so it would be unfair to do a full review but I used the browser exclusively over the weekend and have some thoughts on where the app already is and where Microsoft can take it in the future as it moves out of preview status.
Android makes it easy to only use Edge
One of the biggest advantages of using Android over iOS, especially for users looking to bring the Microsoft experience over to their mobile device, is that you can customize which apps open by default. It's easy to do and means that when you click on a link in a text, email, or anywhere else, you can have it open up in Edge. This creates a native-like experience using a browser other than Chrome. Of course, this advantage isn't at all exclusive to Edge but it's still a big benefit to people who like it as their browser of choice.
Connecting phone and PC
One of the main points of bringing Edge to Android is that it further connects your phone and your PC. The goal of connecting the phone and PC is why it's more important that Edge is in the Google Play Store than if it runs the same engine as Edge on PC. By sharing your favorites, your reading list, and allowing you to continue your experience on a PC very quickly, Edge makes your phone more of an extension of your PC.
And this connection is already fairly solid with Edge, even in its preview state. Signing into Edge on Android quickly synced my data and made it easy to jump to my favorite websites. I don't use the Reading List feature that often but it does work and looks pretty much identical to Windows 10.
Over time we'll see things such as purchased books sync over, among other things, but for many users who use a browser primarily for looking at websites, Edge is already a solid option when it comes to bridging your PC and phone experience.
A feature that is clearly highlighted in Edge is "Continue on PC." The icon to share a website to your PC is smack-dab in the center of the bottom of Edge. You don't even need to tap on an ellipsis menu to get to it. Continue on PC can already be a share target on Android but with Edge it's easier and faster.
If you have more than one device running the Fall Creators Update, you can select a specific device to open a page on. You can also select "continue later" which sends the site to the action center on your PC. Both of these options are very handy and great if you find a great article or video to watch but want to do it on a bigger or more capable device.
Edge is already good enough
Microsoft Edge Preview isn't perfect on Android. Aside from being a brand new app that's in preview, which can't be held against it, Microsoft needs to do some polishing to Edge's design and needs to add some features. For example, reading view doesn't take full advantage of screen real estate and Cortana still needs to be integrated. But for many users who use a browser to read articles, open up websites, and simply browse the web, Edge is already good enough.
Edge also does a good job of extending your PC to your phone in the form of synced favorites and extending your phone to your PC through "Continue on PC."
Where Microsoft needs to improve
Edge is very much in the same state as Microsoft Launcher. It is a good looking app that further connects Windows 10 users to their phones. It has enough features to be usable — even in a preview state — but needs to further integrate with other Microsoft features and services over time.
Specifically, Edge will be greatly boosted when it can sync over all of your browsing data such as passwords, and tabs, both of which are currently planned.
Other things that would be great to see on Edge on Android are Cortana integration, casting to devices, and theme customization. At the moment the only way to get a dark theme is to switch in InPrivate browsing.
Overall, Edge shows a lot of promise and shows that while Microsoft is backing off their efforts in Windows 10 Mobile, they aren't retreating from their efforts in the mobile phone space.
See at Google Play Store (opens in new tab)
Windows Central Newsletter
Get the best of Windows Central in in your inbox, every day!
News Writer and apps editor
Sean Endicott brings nearly a decade of experience covering Microsoft and Windows news to Windows Central. He joined our team in 2017 as an app reviewer and now heads up our day-to-day news coverage. If you have a news tip or an app to review, hit him up at sean.endicott@futurenet.com (opens in new tab).
Can't wait for more features! Reading mode isn't bad, and I'm looking forward to being able to read books via the app... (though I wouldn't complain if Microsoft resurrected their Reader app).

No address bar on bottom...bookmarks on top corner...no reading mode. Shameful. Glad they got rid of swipe gestures though...that was so annoying on windows mobile. Need ad-block and permanent full site button.

>no reading mode it has reading mode

Where should they put the bookmark, in the middle of screen It is just like windows 10

I agree the swipe feature in windows 10 Mobile was very annoying. It was far too sensitive. I always use reading mode to overcome the ad problem.

I'll stick to fingerprint password and ad block extension on Samsung Browser.

Don't know why you're being downvoted, it is a great browser on Android that should be considered as an option - especially thanks to its ad blocking.

I was happy that shortly after I picked up the Note 8, installed Launcher 10, and setup my Note 8 like my Lumia 950, I got the email to download Edge for Android. No importing of my stuff, easy syncing of my browsing data. Having Edge in my use case (Desktop and Surface Book daily drivers) on my Note 8 makes the transition even smoother. So far, I haven't had any browsing issues in Edge. It just works. Address bar not being on the bottom doesn't bother me anymore.

Has anyone else noticed that the LastPass form filler doesn't work with it either? I filed this as feedback to the Edge team, but I wonder if it's on LastPass to fix it instead.

My thoughts exactly. I mentioned it to both Lastpass and Edge on Twitter but didn't hear from either of them.

I just tried it. Keypad not popping up.

If you are using third party or OEM Keyboard, might happen. Try switching to swiftkey or GBoard. Works fine for me.

I use FF on my Note.5..tried Edge...like it very much! Waiting for more integration with PC before making a switch from FF...

Lastpass needs to work as well as it does in Chrome before I can replace my daily browser with Edge. Still, it's a great start to a browser that just keeps getting better. This would drive me back to using Edge full time on my PC and only use Chrome for the developer tools while working.

Urgent features: Password sync and URL bar at the bottom.

How hard is it to add a Home Button? Why have a Home Page when you have no Home Button to access it?

I have a feeling that telemetry shows that very few people use a home button these days. I can't remember the last time I've clicked "home" on any of my laptops or phones.

So how do you get back to your home page to start a new search etc without closing the current tab or opening a new one. It just seems unproductive. I know that more and more browsers omit the Home Button and you have to enable it in settings so surely they can add the option?

type your search query in the address bar and it'll bring up the results.

I miss the home button also.. At least give us an option to include or disable..

I really hope Edge on Android will support addons/extensions. Regarding Microsoft's Launcher: I think it's not that bad so far indeed, but lacks some featues, compared to other launchers like "Nova", which also comes with useful plugins and is - in my opinion - the best launcher available for Android.

Microsoft launcher has improved a lot though. The new version supports gestures almost as comprehensively as does Nova, and it lets you use third-party icon packs. But the big reason to use the Microsoft Launcher is integration with Microsoft services. If you want the Google Now feed integrated into your launcher then it's not for you. However in my case I like that search results pull up automatically in the Bing app and my newsfeed integrates with my interest in Bing and Cortana.

Not so sure I like this on Android as it uses Blink and not EdgeHTML for rendering which essentially makes it a reskinned Chrome with a few extra features.

I've been using it as my default for a couple of days and I can say I like it too. The sooner they implement favorites and password syncing it'll be my browser of choice permanently.

Already using it as my default on my new S8 love it too.

Ok, ok, if you say so. But how about outlook integration? I Do NOT want to transport my contacts into a google account, NO way! Actually, i do not want a google account! How about that? When android can do that, then i will be a bit happier with that crappy system. If not, rather go with jolla.... This is how much i like google.

Download nine. It is how Outlook should be. All of my contacts synched as soon as I started using.

I use Outlook Mail and my outlook contacts show up in my contacts list. I'm not sure why it isn't working for you.
It hasn't added them to my Google account.

I want something simple.....really simple...I want Cortana to work on my Blackberry Keyone over BLuetooth...it doesnt and seems its a limitation on Android itself...How can you have a Voice assistant that doesnt aaccept voice from a BT headset, is this an issue with Cars as well? Am using Google Now, Why is MS pushing me away? I guess for the new carry on PC you need Cortana? Jeez

I think only the OnePlus phones had Cortana integrated into the OS, so in theory they could allow you to use Cortana with Bluetooth. Sadly, that will likely never happen on any other android phone.

How long can they argue that developing a completely different browser engine for PCs if Edge on mobile platforms is forced to use WebKit? Wouldn't it make sense for them to switch to WebKit on the desktop as well? I wouldn't like this, but I'm curious.

Difference on desktop is that it's integrated into the OS, and I'm sure they want total control.

Tablet compatibility... When my nexus 7 can run it I will be happy.

How do I continue on my phone from PC?? Isn't it ridiculous that this (obvious) feature is missing? Yea I could make a temporary bookmark or reading list, but that's just a workaround.

I am actually liking Edge on Android. Have it on my LG V30 phone, along with the MS Launcher. It rocks compared to Chrome, especially when you disable Java Script by default, then just white list the pages you need it on. On a whim I installed both the Launcher and Edge on a little LG Lucky L16C phone from Trac Fone. It has a 3.8" display, a 1.2Ghz Snapdragon dual core, and LG doesn't even list the RAM. Lol. It actually handles the Launcher and Edge surprisingly well! A lot better than Chrome or any other browser I tried save Opera Mini, which is kind of crippled to begin with. So, I am pretty impressed with Edge on Android so far. Now they just need to release a version for tablets. I have a couple Samsung tablets I would love to ditch Chrome on and Edge will fit the bill.

I would have liked to see search at the bottom, just like on windows phone. It's more natural and convenient to have the search bare at the bottom. A search bar at the top makes sense on a desktop, but not on a mobile device. I hope sync to pc will remain an independent connective feature away from Cortana. The biggest problem is that cortana is basically only for US users. I currently don't have region and language support so I can't use cortana. It's a real hinderance to acces of micrsooft features and services. It would be better if sync to pc with microsoft apps was part of onedrive. I think this would solve a lot of problems cortana is giving on the global arena.

Liking it so far on my S8, can't wait to see more features in the future. TY MSFT for a great experience so far on Android. Just switched from WP to Android last week, but still using a full running Alcatel Idol 4s running Win 10 Mobile, so I get the best of both worlds till they kill Win 10 Mobile.

Its replaced chrome for me. It also has a nice security feature that is missing from Chrome. I was sent an obvious phishing link and tested it in edge, it shows boldly that the login is insecure. No such notification on Chrome. So for more gullible folks it is a great safety gate.
Windows Central Newsletter
Thank you for signing up to Windows Central. You will receive a verification email shortly.
There was a problem. Please refresh the page and try again.