Samsung Galaxy S8 'Microsoft Edition:' Everything you need to know
Samsung today launched the Galaxy S8 (GS8) in four markets, the U.S., Canada, Puerto Rico and South Korea.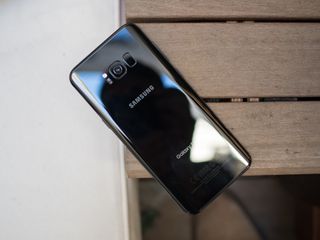 What exactly is the "Microsoft Edition" of the Samsung Galaxy S8 (GS8)? How is it different than the regular version? And why would you want to buy an Android phone from Microsoft? Keep reading for answers to these questions and more.
Shortly after Samsung's official GS8 announcement, Microsoft quietly (and somewhat curiously) said that it will sell a version of Samsung's new flagship smartphone in its U.S. retail stores. The phone, The GS8 "Microsoft Edition" immediately grabbed online headlines, and after we published a short news story on the device, Windows Central readers quickly sounded a collective, "What the ... ?"
Updated November 30, 2017: We just heard from Samsung, and the company told us that there was apparently no "Microsoft Edition" Galaxy S8. All the information in this post is still accurate, except for the name "Microsoft Edition," according to Samsung.
Microsoft still hasn't made an official announcement or issued a press release for the GS8 Microsoft Edition. So a number of questions remain ... or at least, they did. Read on for everything you need to know about the GS8 Microsoft Edition
What Windows users need to know about the Samsung Galaxy S8
What the hell is the Samsung Galaxy S8 Microsoft Edition?
The GS8 Microsoft Edition is exactly the same as the regular GS8 you'd buy from a wireless carrier or other retail, with a few very minor differences. The Microsoft Edition is available directly (and only) at physical Microsoft Stores in the U.S. Also, Microsoft reps in stores selling the device will help new owners install a wider variety of Microsoft Android apps on the devices before they actually leave with their new phones.
Is there anything that's different about the GS8 Microsoft Edition, other than apps?
Nope. It's all about the apps and the in-store purchase experience.
From Microsoft:
In the forums: What do YOU think about the Galaxy S8 'Microsoft Edition?'
Why buy a GS8 through Microsoft?
Why would you want to buy a Samsung phone from Microsoft, as opposed to, say, AT&T?
Um. Well ... we're not really sure. It's not exactly hard to search Google Play for the word "Microsoft" and then install any and all apps of interest. And there aren't any apps that are exclusive to the Microsoft Edition of the GS8, at least not according to a Microsoft employee named Ivan, who helped us preorder a GS8 Microsoft Edition at the Microsoft Store in Boston last weekend.
Microsoft presumably gets a cut of the profits for each phone it sells or some sort of comparable compensation for its efforts. So you could buy the phone from Microsoft simply to support the company. If you live very close to a Microsoft Store, you could do it for convenience. Or, if for some reason you feel as though you'd have trouble finding all of the available Android apps from Microsoft, you could want a Store staffer to help you navigate Google Play. (But honestly, that would be kind of sad.)
Samsung DeX may beat Microsoft's Continuum, but it's still no slam dunk
Is the GS8 Microsoft Edition available for the 'Big Four' U.S. carriers?
No, it's not.
The GS8 Microsoft Edition is only currently available for preorder for AT&T customers. Ivan at the Microsoft Store Boston also told us that the plan is to offer Verizon Wireless versions of the GS8 Microsoft Edition, but the Boston store wasn't offering Verizon preorders when we placed our AT&T order. (Microsoft didn't confirm or deny this information, but we also heard from Windows Central readers on Twitter who had similar experiences.)
Ivan told us that Microsoft currently has no plans to offer Sprint or T-Mobile versions of the GS8 Microsoft Edition. (Again, Microsoft didn't confirm or deny this information.) So unless you're an AT&T customer, the GS8 Microsoft Edition might not be for you, at least not for now. (You could unlock the phone and hope for the best on your carrier of choice, but that's not ideal.)
From Microsoft:
Does the GS8 Microsoft Edition come in both smaller and larger "+" sizes?
Yep. You can get the GS8 Microsoft Edition in both sizes. Again, it's the same as the regular GS8 phones, except for all the Microsoft Android apps and the Microsoft Store availability.
Does it come in different colors?
No, it doesn't. Right now the GS8 Microsoft Edition is only available in black, according to Microsoft.
Will it be available via online Microsoft Stores?
No. The whole idea is for customers to pick up the device physically, so the store reps can help them install the full array of Microsoft software.
From Microsoft:
Is the GS8 Microsoft Edition cheaper or more expensive than the regular version?
The Microsoft version of the AT&T GS8 costs the same amount as the one you'd buy from AT&T: $749.99 for the 64GB GS8 Microsoft Edition and $849.99 for the 64GB GS8+ Microsoft Edition.
When will the GS8 Microsoft Edition be released?
Right now, Microsoft expects the phones to be available for pick up at its stores on the official GS8 launch day: April 21, 2017. The sooner you order yours, the more likely you'll be able to get it that day. AT&T also says it will ship its GS8s so that they arrive "by April 21."
From Microsoft:
Will Microsoft have GS8s on display in its retail stores?
Yes, at least according to Ivan from the Boston store. That's notable because there is little or no Windows phone presence in Microsoft Stores today, and its endorsement of a Samsung Android phone could have significant implications on the future of Windows Mobile. (It's also just weird, right?)
Do Microsoft Office apps come pre-installed on the GS8?
We've heard conflicting reports on this one, and though past versions of the Samsung Galaxy phones came with Office apps installed, the GS8 will apparently be different and will not ship with preloaded Microsoft apps, according to the company.
From Microsoft:
Has Microsoft ever sold an Android phone in its stores before?
No way, no how. The GS8 Microsoft Edition is the first Android phone ever sold in a Microsoft Store.
From Microsoft:
Hit Samsung's website for details on the new phones (opens in new tab).
And for more in-depth GS8 coverage and expert analysis, pop on over to our sister site Android Central:
Al Sacco is content director of Future PLC's Mobile Technology Vertical, which includes AndroidCentral.com, iMore.com and WindowsCentral.com. He is a veteran reporter, writer, reviewer and editor who has professionally covered and evaluated IT and mobile technology, and countless associated gadgets and accessories, for more than a decade. You can keep up with Al on Twitter and Instagram.
Warton Brooks to the rescue❗❗❗❗❗❗❗❗❗❗❗❗🌈🌈🌈🌈🌈🌈🎈🎈🎈🎈🎈🎈

Ok enough Galaxy S8 articles.

This was a pretty detailed article of an Android phone in a MSFT related site.... -_-

Uber app updated yesterday but no news here. Seems like leavings are more important than updates here. And for an android phone yes it's really enough.

Sad its come down to this for us Windows Phone fans : (

I think we need a dozen more articles...

Why so many Galaxy S8 articles?

Someone must be getting paid by someone.

This makes no sense.... Microsoft is clearly sending a message to the 1% club (get out)...

In all fairness, Microsoft has been signaling that for years. This is nothing new, just the natural next step in that process.

we deserve a 50% discount!!!!

Yep. The deal should be turn in the 950 line we scammed you on and get 50% off. That's what the Microsoft edition should be.

I'm curious how much sales would be generated if they had a promotion like that?

They honestly owe us something. Nutella sold us these items knowing he wasn't going to push his support for then, and Do-nothing-a has completely made a mess of the OS it runs. They owe us something.

Well, they still run their trade-in program, but I'm not sure what value we'd get for our phones.

Just checked. Microsoft will give you a max of $65. Lmao. Tells you what they think of their own product.

Nadella owes you nothing.

We also owe him nothing in return. That's how a customer/comoany relationship works. Mistreatment by the company should equal customers leaving...and they are. Im replacing the services I had with my Lumia 950 with non-MS services on my new GS8. Spotify for music. Google Photos for unlimited storage. So revenue generating from O365 & Groove will stop. So, if he wants my business back, at all...he might not technically "owe" me anything, but he does.

At the very least, the Microsoft Edition should have Cortana enabled as the default instead of Bixby or OK Google.

This will be the case. The Microsoft image on the S8 will offer a customized version Of the arrow launcher for Android. Yes I know this sounds weird for the store to carry Android phones.Microsoft is much more focused on cross platform experience and utilization of the apps available on all platforms. I don't think this signals anything regarding windows mobile. People are going to buy S8 regardless now while they're in a store possibly get a PC/surface

the article clearly states that the software and hardware are exactly the same. the only difference is a store rep will help you install microsoft apps. so there's no "microsoft image."

Very easy to do this in Android setting.

Android First, Cloud First, Windows Mobile Last.

there will be windows mobile going forward, just not on phones.

That's like saying there will be TV's in every room....just no electrical outlets to plug them into.

Where is your confirmation? Do you work for MS?... You say that like you know for sure. Is that just your guess?

Lots of people around here parrot catch phrases and theories. They have no idea what MS is doing anymore than the rest of us.

All I need to know is.. If Microsoft figured out how to solve its mobile dilemma. Because I did...

Now that's funny! Great response!

Rehashed article? @ZacBowden, how about that review on how MS tools work on Android?

Yes.... on Android Central please 🤢

Soon, WC will be selling Android devices, and accessories.... No joke!

I've mulled this over many times, and like the author, I really have trouble making sense of Microsoft selling the S8 in its stores. The only thing that kinda, sorta, maybe makes a little bit of sense to me is that by having the phones on display in their stores, they can showcase MS Office running under DEX. Given that potential customers are already in a Microsoft Store, a significant percentage might actually be interested in that; it might be effective marketing for MS's Android apps. Likewise, for Samsung I don't know how much promotion DEX will get from carrier stores, so maybe Samsung sees it as potentially helping their marketing of the feature. But that feels like I'm really reaching for an explanation here.

My thought is that MS knows W10M is dead. They still keep the OS around for Windows on ARM tablets, so they get some testers (us) for free. But the average user who walks into a Microsoft Store will have an Android phone or an iPhone. Microsoft knows they can't get people to use Windows phones, but what if they could show how well MS Software and Services run on the "latest and greatest" (or at least the newest revision of the most popular) Android phone?

Give me a full w10 launcher for android and that's me

Why mark down this perfectly reasonable post? W10M is dead. Nobody wants it, at least not in sufficient numbers to make it worthwhile for MS to bother investing time and money into it so why not an official MS Android W10 launcher instead? It would have a lot of advantages including full integration with MS Android mobile apps via live tiles, outlook for example, but on an OS that people support.

But they do invest time and money in the software and they are a software company. So why be mad at them. Be mad at Samsung for not using Wm. Be mad at lg and the others
....its free to use....instead they poop out more google crap. Pun intended

Look at Squarehome2 http://www.androidcentral.com/getting-more-microsoft-apps-and-feel-your-...

i would look at laucher 10 more, has live tiles and lots of options.

Exactly what I have been thinking! I use on my second android phone Launcher 8 which is very good but I would like a w10 launcher from MS. That will make my smart phone not only w10 theme friendly but also in depth with black background, segoe font, change the contact list form etc. Just like w10. But I want this only if MS give up their mobile platform. Cause right now I m writing from my Lumia 950 which is far better than many many many android handsets and is compared only with Samsung flagships and the iPhone. MS must act severely and quick because we insiders, are not experiment animals, tell us what are u going to do.

look at laucher 10 in the play store, if you buy it comes with live tiles, tile resing, transperacy options tile colour options, wallpaper options, animation options, i have it on my s7 edge and think its fantastic.

It'll be interesting to see if Microsoft ends up selling other Android phones, or maybe even crazier, iPhones. And does selling the S8 mean they're going to offer some level of after sales support for not just their apps but Android as well (i.e basic how to type classes/tutorials like how the carrier stores often do)? It also makes me wonder if they're going to go even more all-in in terms of supporting other mobile platforms. For example, I wonder if we'll see them add Chromecast support to Groove Music on Android (and iOS). Edit: Also how about finally releasing Edge for Android. That seems like it's even more important if they're going to be overly selling Android and want to have any chance of keeping Windows 10 users running Edge.

Maybe there will be a great reveal someday, but all of this (right now) screams that Microsoft is scrambling. They are trying to hang on to Windows Services with the tightest grip they possibly can. Their business model (to remain ON TOP) has failed. They lost in Mobile, they lost in tablets, then brought it back, and with the debacle that was ALL IN with touch and the disasterous Windows 8 (Thanks Balmer), and the bad taste of cramming Win 10 down everyone's throat they are now losing the desktop with other platforms marching towards more mobile computing. They were 1st in so many catgegories, but then they let them die a slow, painful death. All of this makes me so sad.

@beachedwhate42; It's Microsoft themselves who threw in the towel and not the consumers. They let the Nokia team leave showed they were not interested in consumers not mobile but consumers. Refresh of the 1020, 1520, 950/xl phones where the team to support was in place leaves the main question of what happened to the patience because the market was growing with the Nokia team being one of the best. What happened to the patience? They kept it with Bing, Xbox... The mobile market is a trillion dollar value regardless of who is #1 or and including #2 it does not matter... The 520 proved there is a market for wp. I trully believe it was those hard nose conservative executives that saw the growth and dismantle the team before wp grew any further cutting off any success.

They could get people to use Windows phones if they tried. They're not trying.

Here's another thing. Continuum isnt really gaining traction because the market wont take anthing MS puts out there seriously. If Samsung puts out DEX and the press fawns over it and promotes how great it is to be able to dock your phone with a desktop experience, the public might warm up to the concept. That leaves MS in the position of saying, Oh, you like that? We do it better.

Is it April fools, because someone at WC is fooling around with these S8 articles

If we can use "Hey Cortana" instead of Bixby then maybe I would think of changing to Android. I use Cortana often especially while driving to add appointments, make reminders, make phone calls, and all the other stuff Cortana does.

It is Android. You will likely be able to set default apps.

I have Cortana set as my personal assistant on my Galaxy S7. All I did was set the default app and turn off notifications for the old app.

Can you use Cortana "hands free" while driving? Like read incoming texts, make phone calls etc? How crippled is Cortana in Android? Thanks

I'm not sure about the "hands free" part as I have Hey Cortana turned off to preserve battery life. I know Cortana is limited when it comes to which apps it interacts with, as you have to sign in with a Microsoft account, but that is really no different than Cortana on the PC.

WindowsPhone did the handsfree SMS thing beautifully. Never worked right with WM10 and no matter what apps I try, I can never get it to work with my Galaxy S7 Edge. Things keep going backwards. :(

You can set Cortana as the default assistant for voice controls, but I don't think Samsung is letting users remap the Bixby button.

you can set Cortana as the personal assistant and replace bixby or google now

The thin line between 'Need to know' and 'Nice to know'. For me? There is no need.

Maybe this is how they got the interview with Dona Sakar.

I've known enough... Stop it already 😒

I suppose there is no carrier lock on those devices. Not sure what the program options for such phones are in US here over the pond we can get anything that a plan with a phone can give you. It's usually cheaper (you don't pay back the phone) and you have the freedom to choose any device you like with your plan of choice. E.g. there were no carriers selling Lumia 735 when I bought the phone yet I'm here using it happily and I can even change carrier if I find one with a better plan without any fuss.

Yes, there is a carrier lock. It is locked to AT&T.

if you pay full retail though at $750 or whatever the amount is you can have it unlocked.

Yes and no. It won't be SIM-locked to AT&T anymore, but it will still be on AT&T's software track. Meaning updates have to be approved by AT&T and it includes AT&T's bloatware.

And updates takes 3 months for testing from the lazy att...

Holy cripes that phone is expensive. And it's locked? What a useless POC, why would anyone spend that kind of money on a phone and not have the freedom to use it how you want. Americans get gyped on their mobiles.

The carriers have payment plans to make it easier for consumers to buy them. That is harder to find with unlocked phones.

I should probably mention that phones on Carrier plans are also unlocked here, the way they see it is you are paying them money anyway, so what if you chuck a different sim in there (also it was seemed anti consumer). The only phones that come locked are your cheaper prepaid variety, and even they can be unlocked for a cost.

I have a great payment plan that works on every device. I save up and don't buy it until I have the money.

That's actually so weird. In Australia it's the opposite, if you buy a prepaid phone from a provider it's locked (because it's sold at a discounted rate). If you get a phone in a contract (pay in installments over 24 months) it's unlocked.

And it has a ****** camera like the s7

Camera on S7 is pretty good and there are some weaks under the hood to add some benfitis.

It's actually not a **** camera

That's called brain washing!

Hey guys, have you heard that Microsoft is selling a Samsung Galaxy S8 smartphone in its retail stores? I think WC should write some articles about it! :D

I love you guys but y'all are breaking our hearts right now

No interest in using Android. Will avoid this.

You might not have much choice soon.

Maybe. But they continue to work on and upgrade Windows 10 Mobile and don't think they'd do that if they were going to ditch it anytime soon.

Mixed messaging at it's finest. Maintain it, but don't promote it. Support it, but don't sell it.

This still doesn't make sense to me.

I think Microsoft really has lost the plot. They've lost a lot of respect and confidence in their own OS by selling an Android device.

Windows 10 on ARM was demoed on a Snapdragon 820 proc I believe. The GS8 has an exclusive on SnapDragon 835 for a short time. Surely Microsoft plans to offer an upgrade path to Windows 10 ARM edition this Fall on the GS8. I'm sure that's what this is all about. Right? C'mon guys, right?

Nope Samsung won't allow it.

Its possible. Samsung and MS are natural allies. Samsung is actually a competitor with google more than it is with MS.

it is a possibility - if not on S8 then possibly on S8 note or the S9 series.

I want to agree with you but I don't know if that's what this is all about. I wish Microsoft would tell us something but because they don't say a thing, it just seems like they are giving up.

Its possible. Samsung and MS are natural allies.

Would be nice if they released ROM of sorts to let people that want install W10 on this. Maybe even dual boot.

Thats not that easy. You would need Samsung support too (new firmware). You cant just flash the rom and have a working phone

Copy & pasted from this week's podcast article: With the idea of Microsoft flashing W10M onto Android phones, there'd be a few big hurdles: -Every phone is a different beast. While each phone may use a Snapdragon processor, they don't all use the same screen, microphones, camera, etc. This is why Google can't just push Android out to each phone at once; it specifically requires code from the manufacturers. -Who is going to handle warranties? If a customer buys a relfashed W10M device, that's obviously going to be outside the original warranty from the manufacturer. When/if a future W10M update breaks something like Bluetooth, it'll be up to Microsoft to rewrite the custom image for that device. -Why would a manufacturer want to work with Microsoft on this? This isn't accusing the manufacturers of malice, but Android has the advantage of already having an established consumer base and application store. Windows does not. Android allows manufacturers to make their own customizations to fit the manufacturer's design language and feature set, giving them something to stand out from other phones. Windows does not. Every man hour that an LG or Samsung employee would spend optimizing Windows - as little work as they may have to actually do - would be better spent optimizing that company's version of Android because Android provides a much higher return on their investment. -The ability to flash a custom ROM is a huge security risk, which is why it takes longer and longer for the Android custom ROM community to break Samsung devices. Samsung's Knox software has already been approved and deployed in enterprise and the Department of Defense, and I very much doubt Samsung would want to give up that revenue stream for a few possible Windows 10 Mobile sales. -Are there really that many fans that would line up to buy a high end phone, then void their warranty in order to get Windows 10 installed? There's going to be an extra cost on the part of both the manufacturer and Microsoft in terms of developing a ROM for each device, then provide training to employees to backup/restore data correctly and flash the ROM correctly. I know this is a Microsoft comunity and is therefore a bit of a bubble but let's honestly ask ourselves: would there be enough sales to justify the costs to deploying this.

It's just funny that to this day, ppl are still absolutely CLUELESS when it comes to having and using a Microsoft account for using Office or any other Microsoft related services. So, since News of Android being the most widely used OS and the fact that Microsoft holds many patents, the fact that they're doing this isn't completely foreign. They STILL make money AND they can get ppl on board with a majority of their software with services by virtue of familiarizing users with an account to access the array of productivity apps they produce...and fam, if you don't care they WTF are you here??? 🙄

I hate what MSFT is doing to Mobile, but as a sock holder... Their stock has doubled the past year and a half.

That's not why the stock rose. Layoffs and other cost cutting measures, plus sokme good news with Azure have investors speculating. Stock prices do not necessarily measure how well a company is, doing or will do, moving forward.

Official press release was pretty vague but it did say that they would have a special "image" for the GS8. Image means some sort of "rom" to us techies but there really is no definition of "image". I severly doubt this has to do with MSFT employees simply installing apps on a phone.

Microsoft isn't going to be flashing images after you buy the phone. They are just trying to sound like they are doing more than adding a few apps after the fact. They may have an automated system for adding the apps, but they aren't changing the software.

I'm waiting for someone to install windows 10 mobile on this baby.

I don't really see a point in rebranding the phone as MS Edition. 🙄

They sell it on MS Stores. It 's essencial to have the word 'Microsoft' somewhere in the product name. If not, it looks like it isn't a Microsoft product. Wait... it isn't!

Here's the thing. If I go Android. There's a good chance I'll drop a lot of MS services too. I probably wont keep using Cortana. Its just not as good on Android and Google Now, or whatever its called now is integrated. I've already migrated my contacts to GMail because Outlook doesnt sync contact pictures. Why keep OneDrive as my cloud backup when Google has unlimited photos and doc storage better integrated? I've tried keeping Groove on Android, but it cant play local files. Google music lets me upload all my music and has their own streaming options. This is how it ends for MS. It wont be overnight, but if the mobile war is over and MS is out, I dont see the rest of their ecosystem lasting either (which means it probably isnt doing well right now). Office will still be ok, but Bing, Groove, Onedrive, Skype? Who will use those if they are just a lesser integrated option on other platforms? If your die-hard fans switch to other services, who is left? I see Windows eventually becoming a server OS and for the few who need power workstations. Unless, of course, they have something else up their sleeve...

True, I have s7 only ms app on is skype.. My kid love Cortana on s7 he can't say hey Cortana so he hates the phone, lol.. He loves Surface Pro coz he can talk and listen to Cortana sing just by say "hey Cortana"