Advertisement Feature
Should you buy the HP ENVY Photo 6255?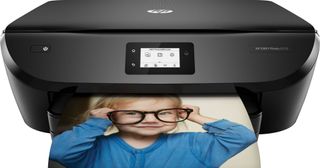 Should you buy the HP ENVY Photo 6255?
Best answer: The HP ENVY Photo 6255 All-in-One printer is a great choice for individuls who are in the print media or photography business as this printer delivers high-resolution images with crisp and defined lines.All-in-One photo printer: HP ENVY Photo 6255 All-in-One Printer

(opens in new tab)

($70 at HP)
Who is the HP ENVY Photo 6255 for?
If you are someone who works in the print media or photography industry, then you will definitely want to take a look at the HP ENVY Photo 6255 All-in-One Printer. This printer is designed to deliver professional-looking and high-quality images all from the comforts of your home or office. You won't have to leave the office and go through a third-party printing service in order to deliver the best images to your clients.
If your photography career or hobby has you on the road chasing the perfect shot, then you will love how easily you can send your photographs to the printer immediately without having to leave your remote location. The HP ENVY Photo 6255 comes equipped with its own email address, which makes sending files, documents, and images to the printer a breeze. This feature also makes this printer compatible with any device from anywhere around the world as long as it has access to email.
The HP ENVY Photo 6255 All-in-One Printer measures 6.3 x 17.9 x 16 pounds and weighs 14.3 pounds, making it small enough and light enough to fit comfortably in small spaces.
How good is the picture resolution?
The HP ENVY Photo 6255 All-in-One Printer is only compatible with HP Original Ink Cartridges that come equipped with HP's signature chip feature. Specifically, it uses HP 64XL High Yield Original Ink Cartridges. This means that you can actually print up to two times more pages than a standard cartridge as high yield cartridges contain more ink and toner.
With the max DPI setting turned on, you can reach up to 1200 x 1200 dots per inch for black images and up to 4800 x 4800 dots per inch for color images, delivering crystal clear pictures with defined lines. If you are printing smaller pictures, you can opt for a resolution of 600 x 600 dots per inch for color and 300 x 300 dots per inch for black images. Enjoy true-to-life images with authentic colors at a print cost of only around 5 cents per page.
When your ink starts to run low, you can register for the HP Instant Ink replacement service. With this service, the HP ENVY 6255 will automatically inform HP when your ink is running low and a replacement will automatically be sent to your home or office.
The HP Instant Ink service lets you choose between four different options. The Free plan sends enough ink to print 15 pages a month, the Occasional plan costs $4 for enough ink to print up to 50 pages a month, the Moderate plan costs $6 and allows you to print 100 pages a month, while the Frequent plan costs $11 with the ability to print up to 300 pages per month. If you're not happy with the service, you can cancel at at time with no penalties.
What else can the HP ENVY Photo 6255 do?
The HP ENVY Photo 6255 All-in-One Printer can do it all. It has the ability to print, scan, and copy all from one device. You can do all of these things remotely from your mobile phone or tablet through its dual-band Wi-Fi. Simply download the HP Smart app and connect your mobile device. This is fairly easy to do as the app walks you through the process step by step. Printing high-resolution images from your social media, the cloud, or your camera roll has never been easier.
If you're out on the job and you need to quickly scan a document, simply scan it with your phone through the HP Smart app, and share it directly with your HP ENVY Photo 6255 printer via email. Choose between various configurations and settings on the built-in touchscreen panel to make automatic printing even easier.
This printer comes prepared for your needs with different-sized paper trays. You won't have to manually change the paper when printing an 8 x 11 photo or a letter-sized document. You can easily choose between which paper tray you'd like to print from in the settings options and then let the printer do the rest. The paper trays will automatically match the paper type to the print settings.
The HP Envy Photo 6255 All-in-One Printer also comes equipped with voice recognition. This is an awesome feature to use around the home or office as you are not confined to one spot. You are free to continously work on your projects while you tell your printer what to do. The HP Envy Photo 6255 is compatible with Amazon Alexa, Google Assistant, and Microsoft Cortana.
Our pick
HP ENVY Photo 6255 All-in-One Printer
High-resolution all-in-one printer

Great for the photography or print media industry, this printer delivers crystal clear high-resolution images at a low cost.
Camille Sanghera is a UX writer and copywriter for global brands as well as an author of self-help books. Although she has lived and traveled internationally, Camille is originally from British Columbia, Canada. She merges over 10 years of writing experience with a love of words to bring authenticity and human connection to every project. When not writing, Camille can be found exploring nature with her dog, sketching to music, or laughing with loved ones.
You can chat with Camille on Instagram at @projectpvo.
Windows Central Newsletter
Thank you for signing up to Windows Central. You will receive a verification email shortly.
There was a problem. Please refresh the page and try again.