Should you buy the Lenovo Yoga 3 Pro?
The Lenovo Yoga 3 Pro looks like a fine convertible laptop, but what do the reviews say?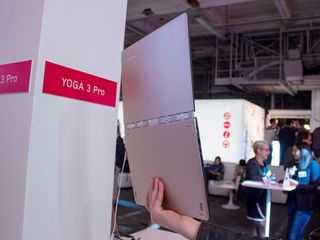 If you're on the fence about picking up the Lenovo Yoga 3 Pro, we're here to help you out. Take a look at these expert and community reviews of the slim convertible laptop, and get a general feel for what it has to offer.
The Lenovo Yoga 3 Pro is a flexible, light laptop that offers a variety of layouts. Prop it up as a tent, fold back the keyboard to have it as a stand, bend it all the way back for one-handed use, or keep the keyboard in front as a traditional laptop. As it stands, the Lenovo Yoga 3 Pro is the thinnest convertible ultrabook in the world at half an inch thick and 2.6 pounds. The 13.3-inch touchscreen offers a 3200 x 1800 resolution, and includes a front-facing camera for your video calls. Under the hood is a 1.2 GHz Core M processor with 8 GB of RAM. Storage includes a 256 GB SSD, plus whatever you plug into the two USB 3.0 ports, or integrated SD card reader.
We Like
Light and slim
Neat facial recognition unlocking
Sharp screen resolution
We Don't Like
Average battery life
High price point
Questionable build quality
Image 1 of 6
Critic Reviews
Our take
Though the Lenovo Yoga 3 Pro is a slim, versatile laptop, but for the money you're better off going with the Surface Pro 3.
Windows Central Newsletter
Get the best of Windows Central in in your inbox, every day!
Buy Yoga 2 Pro instead :P

Or the ThinkPad Yoga 14, which is what I got.

Thinkpad Yoga is a good choice as well. But I personally don't like the looks of it. Too much 'industrial looking' for my liking. But this Yoga 3 Pro is a definite NO. You don't want to pay more for a slower processor and a hinge that has not been tested in real life across a span of years.

Hi Saurabh, I tried Yogapro2 and Pro3 side by side in a store the Pro3 is faster, please check. i think Pro3 is worth the money. The hinge in PRO3 is better than Pro2..

Are you sure you tried Yoga 2 'PRO' and not the Ideapad yoga 2? I am asking because Y2P is not launched in India (judging by your name to be Indian) If you did try Y2P and Y3P comparison, you have to be sure that you were looking at the top end of both of them. i7 on Y2P is far superior compared to the Core M processor (which falls between i3 and i5). Another fact to consider is both have solid state drives, so you have to be sure that both laptops were equally filled in terms of storage as SSD become slower if you fill them over 80% of their capacity. Benchmarks really do show that Y3P is a downgrade compared to the i7 series processors used by other ultrabooks. Hinges are I'd say more of a 'time would tell' situation. I have seen many users complain about hinges becoming loose in the Y3P. So I'd call it a tie maybe. But Y2P uses a traditional approach in their hinges just slightly augmented for the flip Not to mention the bending of chasis other users have said in here which is a result of making Y3P too thin. Y2P uses a magnesium alloy outer chasis which doesn't sqeak or bend (lid does flex though). Dont know about the material used in Y3P. Let me know if anymore information is needed :)

Hi Saurabh, I have tried in a local Bestbuy store outside of India. The laptops were in store so the adware and bloatware on them would be same i am assuming as they are in the same store. I hope u understand that people would think before they post to a forum. I got a 2 laptops 1. Dell E1505 I7 processor with 8GB RAM 2. Toshiba with I7 with 16 GB RAM. both on 8.1 i see no difference in the performance . IE hangs, WIFI connectivity lost after every 15-20 mins. MP4 files take longer to open on both of these , its faster on my LUMIA 1520:). Thanks

Or the 12 inch one. Can't go wrong with a pen.

Or wait for yoga 4pro with win 10. I have the yoga 2 pro and the yoga 3 doesn't beat it

Ideapad yoga 2 is also amazing. I've got it, no major regrets

I bought an i7 Yoga 2 Pro about 4 months ago. Emergency situation. Was a little bummed that I couldn't wait for the Yoga 3, but not anymore.

From someone who bought a Yoga 2 Pro when it first came out, and still use it daily, I can vehemently say that no one should ever buy a Lenovo product, ever. Although they're fantastic at design--the Yoga line is proof of that--they skimp on parts, they're overpriced, their customer service is atrocious, and, well, we all know how much they care about privacy rights. There are too many other great computers out there from Microsoft, Dell, HP, etc. to waste a grand on a Lenovo product.

Alienware 15? About the same price and man..just look it up xD (same price as the yoga thing nor the 2000$ razer xD)

PC World had the funniest line!

The titles of these posts are starting to get hilarious lol

2009 Core2Duo will suit most users needs...
Core M is more than three times as fast, and far more efficient. Only thing that is holding me back is the price to performance ratio.

Anything with Windows 8.1 is perfect

Not if you have a core2duo pc with 2GB ram amd intel HD graphics !

Yeah, it doesn't run well on one of those setups...

I have similar setup and windows 8.1 worked fine for me.

I have a Yoga 3 Pro. Bought it in January and I love it! Battery lasts between 5 and 6 hours in average, depending on what you do with it. The cpu fan is spinning most of the time but you can't hear it unless you put your ear on the exhaust hole. It wakes up from sleep as fast as MacBook does and I use it as a tablet quite often, but in the mode where the keyboard is upside down and the screen is propped up a bit. That's my favourite position and also makes the tablet zero weight on my hands. As a laptop it's really fast for most of the tasks, specifically web browsing. It struggles with initial Windows updates but that's pretty much irrelevant for daily usage. Visual studio starts really fast and app compilation is very fast (for me) so I really can't object on the cpu speed. I play age of empires and hearthstone in full 3200x1800 screen resolution and it's smooth although you need to lower the animation complexity one notch in HS. The keyboard is fantastic and touchpad is great too, but the case is a bit bendy if you grip the laptop for the left or right front corner with one hand and hold it like that in the air it will bend which makes you stop holding it like that, and is my only concern with this product. Sometimes I take the cool dual purpose charger (it charges my phone too) with me, but in these three months I didn't once need it. P.S. It has three USB connectors, but one of them doubles as a charging port.

3200*1800 resolution for 13.3" display. WHYYY??? Or else I guess I need to move on with the world.
Gone are the days when everyone used to enjoy the crispness of 1080p on their devices.
And now these resolutions -_-
I still play games at 1024*768 resolution on my CRT monitor and switch to my tv when I want to enjoy full HD. The only question that is bothering me is that do we really need that high resolution on that small display? I would prefer saving few bucks and going for a lappy with 1080p res (maybe non touch type, though a personal opinion )

Ur right . . . These high resolution display aren't good to play old games like CoD MW2 which are stuck at 1920*1080 the game doesnt look good at higher resolution displays

There's a reason why no gaming machine comes with such high resolution display on a small screen size. These are meant for work mostly, web, programming and such stuff. NO gaming. Even if you're a casual gamer, this is not the device meant for you. Besides on this screen size you wouldn't get any benefit from qhd+ screen compared to 1080p in a game. But it does make a HUGE difference when you start working with text. Text is as sharp as a Laserjet printer.

I have a 1920*1080 resolution 9.7 inch Windows tab with size exactly same as that of iPad Air 2. It weighs 585 grams and although its not a major brand, its absolutely breathtaking It has 64 gb space, 2 gb ram and Intēl Atom Baytrail... And yes, it cost me just 220 USD !!

I would have bought a 1920x1080 display with my Yoga 3 Pro it there were such a screen, but since there was no choice I can tell you that I am super happy now I would not want to go back. The text is super super sharp at nearly 280 DPI and I love it now!

The one at my local best buy has a cracked screen, seems to flimsy for my tastes.

No one has even bothered to look at the yoga 3 we have at work. Will probably need to drop the price drastically to move it.

For that price u can buy a alienware. You can work at the same time play games. I mean the actual games.

you obviously are not seeing the picture here. can you please compare weight of the devices you mentioned?

Because the most important aspect of a computer is how light it is.

A "computer" No, but a "laptop" most important aspect is its mobility and practicality. A laptop alienware is a very niche product anyway. Your argument says that we should all buy desktops and carry them to starbucks. common.

I think you already answered that question pretty well: http://www.windowscentral.com/skip-lenovo-yoga-3-pro-and-go-surface-pro-3-instead This device is an overpriced joke compared to the Surface Pro 3.

Surface pro3 better according to me, since it has Intel i series not core M.

The only difference is a lower base clock. Most Core M processors are still able of turbo clocks of upwards of 2.8 - 3.2 gHz

You should but the U430. Yoga is just commercial

Does Lenovo updated the Core M stepping to the new and non throttling one (like those used late 2014) ?

I will as long it got a fish.

I have an Acer with 2.2 dual core and 2 GB of ram, but it works faster than mac. It runs Linux mint and it feels like a mac lol

I'd say no. The fact that you can't HOLD it while it's closed without bending BOTH sides of the thing bending is a deal killer, outside of everything else.

It doesn't bend while closed, but that's irrelevant since it bend while open.

I see that you give the Y3P a bad rating for "questionable build quality". What evidence do you have to make that claim? I have a Y3P in my possession, and from my experience of it over the past few months, build quality deserves a rating of at least "good", if not even higher.

Can you fix the formatting of the article on the WP app as for example, the "we like" section is larger than the rest of the article. Not consistent.

My job was willing to budget surface pro 3s for the entire sales department and they opted for this instead because of brand recognition. Foolish mortals.

Yoga 2 Pro user here, recently tested out the Yoga 3 while mine was being repaired at depot. They eliminated the keyboard top row. Worst design decision ever. Stick with the Yoga 2 until they come out with a real, worthy successor to it.

Enterprise customers should also be wary. Even though it has the word "pro" in the name it is still a consumer device. The big thing is that it does not have a TPM chip. Granted, a TPM chip is technically not required for Bitlocker to function but the workaround gets in the way of securing devices in a standard way (by leveraging TPM capability). Probably not an issue for readers of this site...

Yoga 3 Pro doesn't have a TPM chip?

Not according to my conversation with Lenovo - before the Yoga Pro 3 was released - and the following review: http://www.computerworld.com/article/2843683/yoga-3-pro-review-intels-co... It's mentioned in the "other specs" section if you want to skip right to it.

One thing I don't like about my Yoga 2 pro is the display is pentile which KILLS it for me. Everything looks like crap on pentile. Also I don't like it being so high res, but I can live with that. From what I've heard the Yoga 3 pro also has pentile. Get rid of this crappy display and I'd be willing to upgrade.


That's it. From now on I'll be skipping the frontpage. If I want to get the information provided by this article I do a Google search and get the same result. Nothing more than generating clicks.

Surface pro 3 the better option? In which universe? To match this laptops performance you'd need the i5, 256GB version of it, putting the base price up to 1200, depending on where you're purchasing it, and then you have to drop another 130 for a keyboard. This one, you get the keyboard, the performance, nearly twice the resolution, not to mention 5th gen technology running more efficiently for less after the entire package is considered. More USB ports, more connectivity, etc. It's no contest. The ONLY reason you'd want the surface pro 3 is for the Active Stylus, if you're into that.
Windows Central Newsletter
Thank you for signing up to Windows Central. You will receive a verification email shortly.
There was a problem. Please refresh the page and try again.