Should you upgrade from a Lumia 920 to the Lumia 830?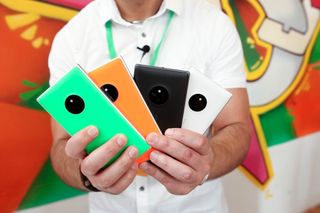 Current Lumia 920 owners from the WPCentral forums are wondering if their next phone should be the Lumia 830. What do you think? For example, Fade_z is looking for a good follow-up to the 920 and thinks the Lumia 830 is the perfect match so far.
There are several responses already in the discussion. Forum member, Tips_y, thinks that it's kind of strange to come from a model that starts with Lumia 9xx and "upgrade" to a lower number, but the Lumia 830 gets a newer processor, bigger screen, better camera, and a microSD slot.
Others are skeptical. Forums member, steve_w_7, is concerned that the Lumia 830 won't get the 'Hey Cortana' functionality when it rolls out with the Lumia Denim update. This limitation makes him wonder what other upgrades he might not be able to take advantage of in the future.
What do you think? Is the Lumia 830 a worthy "upgrade" from the Lumia 920?
Windows Central Newsletter
Get the best of Windows Central in your inbox, every day!
Just found a spec of dust under my 930's ffc... *sigh* Maybe the 830 is a better choice indeed...

For real? Only thing in the 920 that upset me :(

Yes I'm not joking. :( Hopefully it stays at one spec unlike my 920 which is filled with dust.

My 920's front camera has been pristine. Having said that, I'm aware that some 920's have that problem. Earlier batches, perhaps.

Same, I have a Roger's NA version.

920 front cam have lots of dust, really a huge problem

Same issue with my front cam. Images are hazy, making it pretty much unusable.

I know for some time that if you sent you Nokia device to Nokia Care they were fixing it for free. I did that with my 920 before I sold it. It took about a week to repair and have it sent back to me.

Wow never heard of that. My 925 is fine!

My 920 has a tiny speck of dust in the FFC as well, but it never affected photos. Thank goodness for that.

Yep had the same thing with my Lumia 920. Selfies were blurry as f*ck. So I send it to Nokia, they removed the dust AND made it so that no more dust is coming in. I've had it back for a good while now and no specs o' dust to be seen! To stay on topic though, I think I would see the 830 as an upgrade to my 920, even though it has a lower model number :) But my Lumia 920 still works perfectly so I won't be upgrading for a while. I think I'll upgrade when Threshold hits.

@pr0phecy I was thinking holding off until Threshold too. My 920 still works fine and I'd rather not upgrade until hardware is available that takes advantage of anything new MS plans to have in the big update.

I am going to wait for Threshold as well to see what the new flagships are going to be. I still have teh 920 and have the camera issues with the dust and fuzzy images but i'll hold off. Hopefully they accounce them early enough. I want the Icon or something along those lines but i'm on AT&T

This was a defect with the earlier models I beleive. Nokia was going to fit it for free, don't know if they will still be doing it after so much time

@Boolander,
That all depends on the status of the phones warranty. The 920 came with either a one or two year warranty depending on the country/region it was sold in. So, if someone bought a 920 in the UK last year it will still be covered under warranty.

Uhm Nokia won't do it, MS,s responsibility now, and you know the cheap whores they can be, you need a penicillin shot after use

That sucks. 6 months later and my Lumia Icon fortunately still doesn't have any dust in any of the camera areas I can see.

I would hold off on upgrading till the holidays

Get a 1520, and strengthen your girly wrists

My exact choice until it actually arrived at AT&T with 1/2 the memory and no Qi . I can't afford off contract 1520.3 and have been fuming over AT&T pulling this b.s. for months now. If Nokia could have released to multiple carriers without exclusivity like Apple and Samsung are able/allowed to then AT&T probably would not have been able to pull such a stupid stunt!
As it stands I am holding on to my L920 until I have a chance for a proper UPGRADE as the original 1520 would have been if released as Nokia had designed. I know the on phone memory is not the big problem to many, but it was to me as I believe you can not expect SD card memory to perform exactly as onboard in some instances.

You can get the Lumia 1520 from AT&T with 32GB, I got mine through AT&T's web site.

Agreed...I feel like you. But I think I'm going to get a One when the update comes because paying Att for a new phone and not having one is too much to bear. LOL.

Exactly my frustrastion with ATT and their 1520 Lite. I keep checking for the 1520.3 on the web but really can't afford the off-contract price. And I haven't really enjoyed the ATT experience in general having come from T-Mobile. I did so for the 920. I am hoping that Microsoft can use some muscle to deliver their phones to all carriers. I will hold onto the my solid 920 until Threshold, the 1530 with Qi and going back to T-Mobile.

Your shtick is getting old.

Lmfao!! Exactly what I did!

My mom's Icon has a spec of dust in her main camera. My sister has multiple specs in her main camera on her 5S. I feel like it is just really difficult to prevent that when you have cameras that pick up everything.

I had this problem before, Nokia solved it for free within warranty.

My 925 doesn't have any dust in any of my cameras, but I'm planning on upgrading to the 830, especially since I'm on T-mobile US and I could upgrade every 6 months :)

That's assuming that T-Mo is even getting the 830. Not sure they are even that worried about Windows Phone anymore...

My 920's front camera works perfectly.
I already upgraded mine for a new Lumia 1520 but still using 920 daily basis.

Same with my 925 and Surface RT a lot of dust on the front cam :/


My earpiece is full of dust, my front camera has a little dust too, im still wondering why there's no dust in my headphone minijack.

Yup, bigger screen but lower resolution ahahahah
I'll keep my 920 until a 1525 comes out :)

Lower res? Your display is 1080p?

The 920's screen resolution is 768p and the 830's is 720p.

He means lower pixel density.

Wife has 920 and was saying she wants a new phone, but if the camera isn't as good as my 1020 she'll wait with me for a 1030, my jaw dropped like "talk geeky to me again"

Lmao! Careful there buddy..Y'all may end up with more than new phones..

DO NOT LET THAT WOMAN GO! Even if you can't steal phone upgrades from her, she's worth it...

LOL! All your upgrades are belong to me.

"Talk geeky to me. pudda da pu pudadada pu pudada da pu. Talk geeky to me!" - Jason Dephoneo

https://www.youtube.com/watch?v=JO6eydRPpyU Talk nerdy to me

Me too. I rather wait for the treshold than buying a new lumia. And of course, the rebranding will take place.

Agreed. I'm waiting until Threshold and some "real" flagships before upgrading from my beloved 1020

Yeah, it would be impossible for me to go back to an inferior camera. I could even probably deal with a hit on the phone specs, but I cannot budge on the camera. The 1020 has spoiled me, I will just wait until the 1030 is announced before I start planning upgrades.

Man, I'm on Verizon and I want that 1020 since it first dropped. I hope they find a successor for the phone and put it available for all carriers. #iHateExclusivity

Ditto, maybe a phablet (great spec and followup to the 1520) with pen support for OneNote.

MS. Could do this already with an update on the 1520, just get your own stylus and eff your screen up in the process

+1 for that! I'd love a stylus-enabled 1520 successor, although I'd prefer the non-integrated solution to avoid the extra bulk...

Yes. REAL pen support. An active digitizer for all of us that like to do 'drawrings.' Just copy the Note and call it good.

Yes, definitely looking forward to seeing what phones Threshold will bring before I upgrade...and I'm hoping against hope that they go back to work on that 3D windows phone.

Love my 920... Would really want a 1030 upgrade or Surface Phone. I don't know how much longer I can wait. Threshold seems too far away!

Yup. 830 doesn't support new firmware features. It is otherwise a solid upgrade of the 920.

Yep... I'm going to (somewhat angrily) wait. If there are no 1030 leaks in the first couple months of 2015 I will consider other options. MS doesn't get forever. Sigh. I wish for once they would aim to make people happy rather than test to see how much they can get away with. Now the Os is all the way there with 8.1 and they are dragging on decent hardware, cutting features. I seriously sometimes think they really don't want this to work, and are just f'ing with us all to see how much we'll take.

The 920 is superior to the 830.. Hardware

I don't think he read the article

Ok bro, are you saying that the lumia 920 is superior with an older snapdragon s4 SOC vs snapdragon 400 with Adreno 305 vs the older 225, and a brand new 10 mpx pureview ois sensor; and 5" display, and a new firmware, fancy designed edges? are you serious?

Adreno 225 is better than 305.

The GPU in the S4 is much better. The 400's CPU is supposedly a minor upgrade over the S4, but the GPU is a huge downgrade. The 400 is a low-end processor, while the S4 was a high-end on when it launched. Also, for that larger idsplay, you get a lower resolution, going from 1280x768 to 1280x720. Also, the firmware will come to the S4-packing devices, so that's not a point in favor of anything but a lack of patience for certification.

Older devices will get practically nothing from the denim firmware, just like with cyan.

I believe older services will at least get much faster camera performance... those optimizations would be very hard (and obvious) to hold back. That is the most important thing in denim to me.

What did 920 miss from cyan?

The GPU Adreno 305 in Lumia 830/Snapdragon 400 is weaker than 2+ year old Adreno 225 in Lumia 820/ Snapdragon S4 Plus. Even the CPU performance is not much better in 830 as Quad core A7 is not better than Dual Core Kraits. So, yeah, i will definitely not downgrade from 820 to 830 at the same price as the SOC performance should have doubled in 2 years time not regressed. All this could have been avoided by using Snapdragon 800 just like Lumia 820 shared Snapdragon S4 Plus with Lumai 920,925 etc

The 920 still seems like a solid choice, 830 seems very similar so no upgrade

Good post. I personally won't be satisfied holding on to the 830 for two more years after the 920

And you know this for sure before even trying it out? Seriously? That's just wrong

No it's not, it's a really poor upgrade for those who want a high end phone and can pay for it. When I got the 920 it had wireless charging built in, first phone with ois, first phone with 60 hz refresh rate, at the time highest end 720 p resolution, etc. The 830 has nothing "new" to offer

For those looking for a high end phone, there is no relevance to this discussion anyway... They'd at the very least be looking at the 930.

Seriously thinking about ordering a 930 from Expansy's. $650 for 6 month old hardware though kind of makes me warm to wait to see if there's a 1030 or another before the years end.

Some people have imagination and can predict consequences and others need to touch and burn themselves. I wouldn't touch 830 if I had 920.

I don't know this for sure obviously, but I do know that I prefer the Icon and 930 to the 830 and it's not available on At&t. So I'm not buying the 830 as my next phone based on its specifications.

Expansy's has them unlocked, but you'll pay $600.

Do you mean to say that you don't weight whether you should buy a new particular phone until after you have already bought it? That seems like a terrible way to shop. The 830 is clearly not the successor to the 920, so why shouldn't people take a look at it and be skeptical of moving to it.

That's a good way to look at it.

Bought a 925 a month ago, after my 820 died. Like it a lot. Only "upgrading" in 2015, after W9 and the new rebranding.

I also have the 925. Are you happy with the battery? with 3g ON i dont get a day out of it

It's kinda hard to choose you know. You'd think the obvious upgrade for 920 is 930, but 32gb storage without optional expansion is so 2011. I don't know how much people actually talk to their phone to make Hey Cortana a deal breaker, but but 830 is a really worthy upgrade from 920

I am shocked that people care so much about Hey Cortana. And I like Cortana... but this seems like a very minor deal to me.

i like to use cortana, is very usefull. About the 32gb storage, is more than enough nowadays with the cloud service. Very 2011 is having lots of gigs and not using the cloud..

@Joao Redol, I find Cortana very useful too, and Hey Cortana innovative. But its not a deal break for me. And you'll agree with me local storage executes faster and conveniently than cloud streaming. And streaming services are not globally available so cloud storage is only useful depending on where you are

The other thing is battery life for local media access vs streaming...huge difference. If the Icon had SD storage I'd be all over it. 64 gigs of mp3s on a card would make me very happy.

I'm still waiting for my 920 upgrade in AT&T in the US.

Cyan is rolling out as of a couple of weeks ago

I meant an upgrade to the phone. Like 930, but I know it wont be the 930

I have an att 920 and I already have cyan but I had to go back to wp8 cause I had the preview for developer's before!

I'm just going to wait for the cyan update for those of us still in the preview for developers

You can use the Nokia recovery tool to wipe the phone and install 8.1 with cyan. After, just enable preview for developers to install the latest build.

Also waiting for a new flagship phone on AT&T to replace my beloved 920. If I have to, I will consider the HTC One when AT&T gets it.

I love my 920. At this point I will probably just hold out until Threshold devices start hitting. Ideally, if I was to upgrade the only ones I'd want would be the 1020 successor or maybe the 1520.

Ditto! A 1520 successor or a 930 successor would be a great replacement for my beloved 920.

Yup. I love my 920, I'm not giving up any features, that's not an upgrade. I'd consider a 1520.3, but not for $700.

I like my 920 too and don't think buy another model. Even The 930. I'm with The feeling that it Will not receive The update to "Windows 9". So, i'll wait Windows 9 and see what happens! =)

830 better choice!
Surely better autonomy
Glance
SD card

All models seem to have some tradeoff these days, no glance on the 930; no hey Cortana on the 830...make a checklist and decide

I agree. I actually thinking about jumping ship to Sony. 20.7 mp camera. Great double speakers. And sd card

I've been looking at that Sony xperia phone also, it's pretty sexy!

Same here. I was rather dissapointed that we didn't get a follow-up to 1020, so it's Xperia Z3 for me now. Already pre-ordered it. The 20mp mode is supposed to be so-so, though... Seems like you'll get better images when set to 8mp. However, water-proofing is a big selling point for me! Probably going to get the Z3 tablet later on as well (NOT satisfied with my Thinkpad 8).

So it's goodbye then. See you!

Well, I don't believe that you have to chose a platform and stick with it. I love technology and new toys and I don't think you win anything by excluding. I've used both iOS for years and WP8 for about two years. Now it's time to try out Android.

Have you tried Android lately? I have a 1020, and partly out of frustration with view long MS is taking to update it, part of if curiosity, I tried an LG G3 for a week. It has many advantages, but the disadvantages outweigh them. Specifically, I was counting on widgets essentially replacing the Live Tile functionality. However, even the highest rated, and most popular widgets for Abroad proved to be very unreliable. Most stopped refreshing several times a day, requiring a reboot to stop a spinning wheel in place of the widget. Even Flipboard's widget crashed. Add to that an error message about com.google.something not starting correctly on every boot up, and it started looking like a fairly unstable system.

That's been my experience too with Android because without the widgets Android is as boring as iPhone. But the widgets aren't as trustworthy or as available as I would like. In fact using my S4 made me appreciate my L920 even more.

Man, don't tell me that. Just got an S4 mini and am planning on keeping it forever. Still trying to figure stuff out though. The apps on that system are way more polished than WP. Damn Devs, wished they'd put more effort on WP. Anyways, not looking to replace WP. Just a stop gap til the next best thing I s'pose. It'll be like my MP3 player/ GPS device as I expect HERE MAPS to be available next month. At least I hope so.

Nope, never tried Android other than on my Ouya. So I guess we'll find out if I like it or not. I've played around a bit with a Galaxy S4 though, and there were some things I really liked. Sonos controls directly in the notification area is awesome! On WP8 we still don't have an official app, but have to make do with what's avalible. The Android app launched quicker as well, and will probably get even faster with Android L / ART. It's not that uncommon that Live Tiles stop updating though. I use WPGram to display Instagram photos, and when it has reached 20 updates, it doesn't update so I have to relaunch it. And the Nextgen reader's Live Tile never works, so I have to use another app just for the tiles, and Nextgen reader as feedly client. Nothing in this world is perfect =) With that said, I still love WP8, but I love new toys more =) It's been two years and it's time for me to get a new phone, and there isn't anything interesting in the WP8 area, so I'm turning to Android. If a cooler WP8 phone appears when it's time to switch again, well then I'll go back. Simple as that.

Weren't there rumours of Sony making a wp device?

At least don't take low light pics. You will be disappointed.

Sony is making the most feature packed devices these days I think. Waterproof, docking connector, big sensor, sd card and a great design.

I agree too. 16gb for 925, no microsd for 930, screen size for 1520 (for me at least), processor for 830 (no hey cortana support). I'll wait for threshold.. Hopefully thats a surface phone.

1520 is by far the best lumia

Summarized well. This is so totally Microsoft. A ton of people coming up for renewals for their 920 and no great options in the near or even somewhat near future.

That's what gets me...smh

I don't think Hey Cortana is such a major disadvantage for the 830, but that low-end processor

Yes, exactly. And no SD card slot for 930. Maybe a 1520 with a bit smaller screen (5.2 - 5.5) with a new SoC would be great for me.

Na..!! I ain't moving unless the company gives preference to quad core processor phones for updates..!! I hope this does not happen at least for two more years..

930 is a beautiful phone. It really is. I just couldn't justify the 600 eur it coats here, versus the 300 I spent with the 925.

Yeah, I like cheap flagships

If you need micro SD slot than yes. But someone with 920 won't really need to upgrade. But if you want a new phone, 830 is good choice and not very expensive option. If money is not a problem than Htc m8 for windows or 1520 are good choices. Lumia 930 is good but no micro SD slot and less battery time.

I say yes, because even though Microsoft promises both firmware *Lumia cyan/denim* and software *gdr*..
With old hardware, we wont be getting much features, for example I didn't get anything from cyan update besides *data transfer arrows, the Lumia cyan tag in extra and better optimization for the os*..
Best to upgrade I say..

I finally went with a fresh install so I could have cyan with DP and I have found that the optimizations in cyan are really good. Made my 1020 much faster and more responsive so I wouldn't discount firmware upgrades just yet. Features maybe not but stability yes

Either 1520 for me, or wait for better flagships

I'll pass I upgraded to the 1520 at the beginning of the year seems to be the only phone that's dropped in the last lear that was built for the future

Will prob upgrade to another high-end lumia if and when they stop support for the L920. In the meantime, L920...FTW!!

No, im waiting to upgrade to Lumia 1525

Get the 930 or don't upgrade.

I just wished there was a real update/upgrade path for 1020 and 1520 owners. Couldn't they just re-release the 1020 but with a Snapdragon 800/801 in it? Just keep everything else the same...or as close to the same as possible. I'd buy that phone when my contract runs up in May.

The 1520 is still at the top end of specs for WP, not sure what you'd squeeze in as an upgrade right now

I own a 1520. I love it...but its way too big. Unfortunately the Lumia 930 (the one I'd really like) is not offered in the US...and the US version which is the Lumia Icon is only available on Verizon. I won't leave AT&T for Verizon.

Agreed. I was going to upgrade my 920 to the 1020 but since they are effectively the same phone better camera I held off. The 1520 is just to big and everything released to date is missing at least on feature I already have Qi for example or is missing something new I want in my next phone like an SD slot. I bought a 520 the last time they were on sale for $40 and that will be my backup device should my 920 break before a real 1020 successor is released.

Yes, it is!! I want one so badly!!
I will make this upgrade and hopefully in the second half of the next year upgrade to a Lumia 1030, or Lumia 1040... :)

Nope, ill be getting 930/whatever the next flagship is with my upgrade next year... Only real advantage I can see for 830 is the camera. But even then the main reason I love my 920 is the night shots it takes. It's nearly two years old and still a beast, especially now with 8.1. So glad I got this and not the galaxy s3 my wife got... It's really unstable now!!

L920 is still a great phone and is a legend in smartphone history as far as I'm concerned. No need to upgrade until Threshold phones come out IMO

I haven't been impressed with WP hardware since the 1520/1020 last year.

830 is the successor of 720, definitely not for 920

830 is the successor of the 820, its just a good replacement for the 920.

Even the L735 can be an upgrade of a Lumia 820. Also because of size. A dislike large phones very mucht. Definitely will keep mine < 5".

I don't think x30 series follow the same positioning as x20 series. 530 is not the successor of 520 (positioned even let than 520), 630 feels more like a successor of 520 (same price range, heavy cut on features) and 730 feels like the successor of 620 (cheapest full experience), 830 should be the successor of 720 (focus on design, camera but plagued by processor, same price range as well)

I completely agree, also the price points kind of matched( 520 &630,620&730) only exception is 830 which cost so much more than 720, and my main gripe, I still plan to hold on to my 925, 1520's too big for me and 930 has no glance and sd card.

I'm upgrading to a 635 from the 521 lol. Just the gorilla glass makes it worth it because I've fractured the screen pretty bad and the screen smudges sooooo easily.

Neither of those are fixed by gorilla glass I believe... it helps against scratches. What you want for the smudging is oleophobic coating... unfortunately that too is susceptible to scratches.

Maybe you're right, but I had a Note 2 with gorilla glass, and it didn't smudge or get scratched up nearly as bad as the 521 I'm typing this out on now.

But I think that's the oleophobic coating that prevents smudges. I know what you're saying... my 1020, 920, 820, and 620 barely smudge, while my 520 looks terrible. Yes, I have a Lumia addiction.

I have a 920. I have no desire to upgrade from it atm.

Thinking between switching from 920 to 830 or 930. No Glance on 930 is a big dealbreaker for me :-/

Also...I would love it if they offered the Lumia 930 in the US. For a variety of reasons I can't get on Verizon and thus can't get the Icon. I have a 1520 and my wife has the 1020(we sold our Android Phones and bought those pre-owned). I love the 1520 but it is really large. Would love to get the 930 instead. I love everything about my wife's 1020...except that archaic CPU it has in it (which is one of the reasons the camera seems slow, and does had a tiny bit of lag compared to the 1520).

At this point, I wouldn't even bother with a 930. I'd be really disappointed I lost Glance, and I'd lose wireless charging on AT&T as well. The SoC benefit is nice and all, but we're close enough to a possible 935 or 1030 (both?) that I could stick with my 920 for 6 more months just fine.

You're absolutely right...but I am indeed bothered by the size of my 1520. It would've been the absolute perfect phone at 5". I suppose I can ride it out another year (it really goes by fast) and size is really the only thing that bothers me about the 1520. Everything else is excellent. BTW...I love when the Tech Blogs like Engadget and TheVerge want to make the argument that the iPhones have cameras that are the equals of the Lumia phones. Almost all my friends have iPhones (5 & 5s mostly). Everytime I show them pictures that I've taken with my 1520 they all lament how much the iPhone cameras suck. I am constatly asked to take pictures and share them because the camera in the 1520 is so superior to those on my friends' phones. (The only exception of course is my wife's 1020)

That's so true, with my 1520 everyone ask me to be the one to take the pics all the time, and as you said the rest of my friends have Iclones!
But want to say this for sure I prefer to have a 1520 than a tiny phone as iclones or 4.5 devices.
I still have my 920 and the only thing I miss is wireless charging, that was disable by att. Sometimes I hate At&t.

No way, 920 was a flagship, I want another flagship with a wow factor. So far none come close to it. And no 1520 or 930 aren't good enough in my view. 1520 for lack of pen input, and being a massive brick. 930 for lack of glance, and being outdated in a few months. I'll just wait, 920 pulls perfectly still.

Now as for the original question. Yes a Lumia 920 owner could upgrade to a Lumia 830. It is an upgrade in every sense of the word (screen, size, design, even the camera). Although I'd still rather wait and see if there is a true replacement for the 1020 at some point.

1. The screen's a downgrade, as the resolution is lower. 2. Size is preferential. I like the size, but some will not. 3. Design is HIGHLY preferential. I do not like the 830's design over the 920's, because the aluminum center looks ugly to me, as I do not like light colors on my tech devices (why I also abhor the white Xbox One and PS4).

They both have a 720p screen...while the 830 is slightly larger they still have nice pixel densities. Also screens improve over the course of two years (brightness, color accuracy, etc)...so at worst the screen is a push...at worst. Design is highly preferential except you can't deny that the 920 is a bit chunky whereas the 830 is a lot thinner while still retaining the Qi wireless charging and having a replaceable back/battery. These are not subjective things. This are tangible upgrades in the design of the phone. The internals are also better on the 830. That Snapdragon S4 processor on the 920 is really long in the tooth.

I actually like the chunky design and solid feeling of the 920. So yes, it is preferential. And people really need to stop saying that Snapdragon 400 is way better than the "old" S4. It is not. The processor is slightly better, and the GPU is a huge downlgrade. Camera should be slightly better on the 830, but the front facig one is pathetic on the 830. BTW, if we really need to debate weather 830 is upgrade over 920 then it is definitely NOT.

The GPU is not a downgrade... The CPU is significantly better not only because is faster and blah blah blah...is also more efficient. While you may like the chunky aesthetic of the 920 it is undeniable that to make the phone significantly thinner while retaining the Qi Wireless charging, while also making the back removable and the battery replaceable, while also adding a microSD slot its objectively a design upgrade (not talking about aesthetic...just tangible design features that are now present)

The AT&T version of the Lumia 920 has an Adreno 225 GPU on it...which is really old. The 830 has an Adreno 305 GPU which offers not only a preformance upgrade but also an efficiency upgrade. The internals on the 830 are decidedly better than those on the 920. Lets just stop that argument. And it makes sense by the way...the 920 is 2 year old at this point and the SoC on it was already old when the phone was released.

You are correct about 225 in 920 and 305 in 830. 225 = 2.4GP/s 305 = 0.8 GP/s Therefore the 830 has 1/3 the graphics power of the 920.

Lumia 830 will not be a proper upgrade from SOC/hardware point of view, the GPU Adreno 305 in Lumia 830/Snapdragon 400 is weaker than 2+ year old Adreno 225 in Lumia 820/ Snapdragon S4 Plus. Even the CPU performance is not better in 830 as Quad core A7 is not better than Dual Core Kraits. So, yeah, i will definitely not downgrade from 820 to 830 at the same price as the SOC performance should have doubled in 2 years time not regressed. All this could have been avoided by using Snapdragon 800 just like Lumia 820 shared Snapdragon S4 Plus with Lumai 920,925 etc

I wouldn't expecte Qi wireless charging built-in for the AT&T version of the L830.

The 830 is an upgrade from the 920 the real question is it enough of an upgrade. I think the 830 is like pretty much on par with the 920 If not a little better

"The 830 is an upgrade from the 920 the real question is it enough of an upgrade." This right here is the crust of the matter. I would try to ride it out and see if a proper upgrade for a 1020 comes along.

If u got a 920 I say yes, if u got a 1020 I say no

hopefully when lumia 930 offers dual sim i will buy lumia 830

No. The fact that you won't get Cortana's always-listening mode is reason enough not to get the 830. I am due for an upgrade in a month, but I will wait for a proper successor.

Don't do it...its a downgrade..

I will buy 3d touch included product

I think that's codenamed McLaren and will be releasing mid 2015

That I think was the proper upgrade of 920.

If money isn't a problem, 930 all the way. The Glance problem isn't a deal breaker for me and i can't barely fill half of my 16 gb sd card on my 820, so 32 gb is enough space. You will get a way better processor and ram and will take advantage of future added features.

Mistake was not making Lumia 930 compatible with US 3G and LTE bands. (T-Mobile) I would've gladly bought the unlocked device then.

The fact of the matter is that you're going from a flagship to a device that is not a flagship. Right out of the gate it isn't getting features. That will continue. If you're ok with that, the 830 is fine, for now - otherwise the 930 is there, as a direct update. The 1520 is the real step up - it is large though. I would wait until the new year for a proper slew of devices though. More power!!! I'd hold of until the new devices release. A proper flagship device...

well for the same money you can get second hand in like new condition 1520 maybe even less which is the best wp device at the moment and you get alk the features of 830 and even more if its too big you can also find 930

At least for me it's a yes
.........

The 930 and the 1520 are the only "true" upgrades for the 920 right now, but they have been out for a while, which makes me hope something else is coming soon

If they keep the wireless charging on AT&T, I'm sold.

I bet u never used an 920

Bet you never used a 830....

No. If you're going from the 920, the 930 is the only worthy upgrade that EVEN SO will leave you with a certain feeling of not wanting to leave the 920.
The only good thing about the 830 is a micro SD slot. And, to me, that's not enough to justify getting it instead of the 930.

the quad core doesn't mean anything?i'm sure my 920 and 1020 will get denim but won't get enhancements for lumia camera since it's not quad core

My main qualm when thinking of updating to a 930 is not that I'm leaving the 920, but what I'm leaving the 920 for. Maybe the 940, but the 930 feels like a half-step. The 830 is definitely mor ein line with "premium" things I like (removable, but secure backing and batter, micro sd expansion), but the processor (more so the fact that it means it won't get a "full featured" update, and if not what else am I already saying no to in the future). So to me, the 830 and 930 seem like both (sadly) equal upgrades to the 920...

Don't know about 920 users but Lumia 830 is a good upgrade to the Lumia 620! Looking forward to buy it.

No. The 830 is not the successor to the 920. The 930 or fabled McLaren (935) is. The 830 makes for a compelling option but im holding out.

I have a 920 and I love it..and I really don't see my self upgrading to an 830..i just love my 920 too much haha

1. On AT&T, they would take out the Qi, making the 830 down a feature. 2. The 830 has a microSD slot, but half of the internal storage, and card storage is slower than internal, so there's a minor downside there (but also an upside). 3. Despite increasing the display size, the resolution decreases, meaning the ppi also drops, that's a negative. 4. The SoC gives a slightly better CPU, but a much-worse GPU, making it an overall downgrade I wouldn't want (and this is the biggest negative to me, that the core of the phone is worse than its predecessor). 5. Though aesthetics are preferential, I do not like the aluminum band around the center of the device. I like the color offerings of green (for my sister) and orange (for me), but the aluminum coloring bothers me. I'd rather have the 920's single-color, full-body polycarbonate. As for positives, the 1.3-MP camera boost isn't significant for someone who doesn't take many pictures (and even fewer meaningful ones). The SensorCore stuff's usefulness has never really been marketed well, so its benefits are hard to understand (thoguh it's not something I care much for anyway).

I'll wait for the 930 or the Nokia Lumia icon 2

Its a bit strange (or really is it?) that the 930 is hardly being referred to, these days. Is it not supposed to be the flagship?

I've seen basemark OS II benchmarks for the 635, which has the same processor as the 830. I've benchmarked my HTC 8x using OS II . The 635 vs 8x results were Overall 451/465 System 603/488 Memory 707/749 Graphics 217/296 and Web 448/433. The System score was the one that stands out to me. That makes sense with a quad core 1.2 (8926) vs a Dual core 1.5 (8960). Am I willing to use a two year upgrade for such a small gain ? Absolutely not. The 1520 scored 1033/1215/1437/1140/572 respectively with the Snapdragon 800. I'm holding out for something like that, on ATT&T, with a 4.7/5 screen to use my two year contract upgrade

Why would you go to one class lower? I mean 920 was flagship phone when it was announced, so logicaly you would go for the next flagship if you can still afford it. 830 is a downgrade, yes it is a newer model, but this is the same as going from 820 to 730 or from 720 to 630 ...

it deppends on how much money dows he own, for me i'll get 930, but i've to manege my storage. why not 1520 it's huge for me (as 720 user), i'd like to have a mini 1520 :)

Black L930 in the next month for me!!! 'NUFF SAID!!! ... ...out of... I'm sure MS WILL get the Glance Screen on it somehow... ...and even if the 930 has a 20.7 MP Cam, I (myself) don't need a SD-Card-Extension, still have at least 8 GB space on my L920, so now... 'NUFF SAID!!!! ;-)

If you get it for free from WPCentral ;D

I see no real reason to upgrade, they are practically the same, the differences are too minor, but from a lower point of view like the 520 or 620, it might be worth it if you want more punch, who might find it more enticing are the newcomers or people like me that got off the WP8 plataform and are eagerly waiting to come back, I truly believe it to be an afordable flagship and many might see it that way (unless they are brainwashed with specs rather than end-user experience) Hope I can win the contest and come back to the wp experience cuz right now I'm mobileless cuz my three-day-old 1520 got stolen

Sorry to hear that your phone got stolen. Wow.

Nope. This ain't a flagship phone.

This is what we need http://oneplus.net/ but running windows phone os . If some one can make something like this for this price and this specs. Why freaking companies can not do it ? They are freaking greedy. That's why

That's being sold at cost. They're not makibg money, just trying to make a mame for themselves. They have the backing of Oppo if I'm not mistaken though.

No, I just wait for 1530, I would by just 1530, nothing else

Doesn't make sense to upgrade to their affordable flagship that wont have the latest features they are touting with the next firmware. Seems stupid to release brand new phones that can't take advantage of the next firmware. St least that's my opinion.

which feature the 830 won't have?

I'm waiting till next year

Worthy upgrade? Yes. Most appropriate upgrade? No, grab the 930 or 1520 if affordable. Especially if signing a new contract on ATT the 1520 is a bargain.

"Should you upgrade from a Lumia 920 to the Lumia 830?" Mark Guim; I think for U.S that title should be "Should AT&T customers upgrade from a Lumia 920 to the Lumia 830?" Vey annoying Exclusivity.

Wondering if I should upgrade from 925 to 930. Live in AZ and been told by a T-Mobile sales associate that the 930 is coming soon to T-Mobile. Ideas?

Yeap ill upgrade from my 920 to the 830 soon.

Yes 830 is a worthy upgrade from 920

I thought the upgrades would be 930?? I have 920 and so far im disappointed with all the color options

Just waiting for the One on AT&T

Its not an upgrade, 920 has better screen resolution

Get the Amazon Fire Phone.

To give Amazon all your disposable income of course. Or to be an impulsive shopper.

Certainly a worthy and feature rich replacement. Is it a must have upgrade? It is for 52x/62x/72x/82x users who are ready to kick it up a notch. Frankly I see the next revision of the 1020 as the phone targetted at 920 upgraders.

This is just my personal opinion, you may agree to disagree. I don't mind. This is the thing that annoys me. There is no solid roadmap strategy from both Nokia and Microsoft. There are a lot of 920 users who did the first day launch upgrade in November two years ago with 2 years contract that expires very soon (in two months time). They should have announced something worthy of a flagship upgrade in respond to the new iPhone announcement. Right now, I don't see myself upgrading to 830. I don't want a last year hardware either. If I'm to spend my hard earned dollar, it's better be on a new shining hardware. I'm going to switch back to iPhone 6 for now because I need an upgrade to a faster device. The Lumia 920 is getting too slow for my taste especially the browsing part of it.

You are true. I am one of the 920 users and wondering what phone to upgrade to 1520: Won't fit in 1020: I might get this for the 41 megapixels but the year old hardware, slower processor worries me. Also no miracast :(

Instead go for a Lumia 730 or 735 because hardware wise its same as Lumia 830 but it also has much better front facing camera and costs much lesser than Lumia 830.....

I have gone from a focus to focus s to 920 to 1020 and now recently 1520... I am loving the 1520 only thing I miss is the camera off the 1020 but I still carry my 1020 if we are going out to take pictures of the kids or what not... If the screen size doesn't bother u I would definitely recommend the 1520.... It seems I use my 1520 more than I did the others for everyday surfing and games now

no..like me (a 920 user) i suggest to wait for 1020 successor

Well, I love my Lumia 920 and as a lot of people here, i'd change it for a 1520 or a threshold device when those come out. Although the 830 is stunning and really cool as a mid-range phone and I wouldn't having one of those I'm worried as well about the lack of features it may have with future updates.

Will wait for windows 9 Lumia

Yeah, my Lumia 920 was just the perfect phone. Its been working flawlessly for almost 2 years now and nothing that has come out, at least for AT&T has enticed me to buy in the least. Everything seems to come at a compromise of what the 920 can do. I'm holding on for 940 or something else. The M8 if it had wireless charging would have been fine.

I would miss both wireless charging and Glance...

My current contract for my 920 is up in November. Unless there is a compelling new flagship windows phone I will seriously consider jumping to the iPhone 6.

Same here!!! I dont want to do it, but, there is no other clear option and no Im not going to try to convince myself that going from a 920 to 830 is an "upgrade!"

just in time that my 920 cracked huh.., looks like a sign by nature

That depends the options of which phone company are you costumer of!
Att the best option is the 1520 I got on January and I had the 920. The only thing I miss is the wireless charging cause Att disable that option on all lumias after 920

830 is a total downgrade. Sad. 2 years on and nothing significantly better than the 920

DownGrade if I should get this!

im think about to change 920 to 1520 'couse its have IPS and it FUULY CHARGED AND LOAD, its have ALL lumia features, like Glance and Rich Capturing and etc.

I had the 920 from when it was first released and loved it. The only problem was it was heavy and subsequently ripped my jacket pocket. Now have the 925 and love it. Now I'd like a bigger screen and thought the 930 fitted the bill. My problem however is that I now like a lighter phone and the 930 is heavier. Then along comes the 830 and it looks like the ideal upgrade but with a sub power processor. The only thing that's holding me back is the lack of hey cortana support and the availability. Elop says for the holidays it will be released. I think I'd prefer then too wait for a new flagship next year. Saying that I'll probably go for the 830 as an interim measure....

I'd definitely change to a new 830 from my 928. My girlfriend just got a 635, and in some ways that is faster and better than mine.

No, thanks. But 1520, yes please :D

I def need an upgrade to my 920. Persons cannot hear me on cellular calls. I have to put it on speakerphone for them to hear me slightly. Very annoying! My loudspeaker is also very soft now. No idea what's wrong. Cant upgrade to the 930 because the specs are disappointing. Trying painfully to be patient and wait until a new lumia flagship. Cannot see myself going to the 830 or HTC One M8 either. Microsoft needs to hurry up!

Take it to Nokia Care and get the microphone replaced. Looks like that connector has known issues with humidity

I think the "Hey Cortana" would later on be supported for the Snapdragon 400 or 200 because earlier "Ok Google" in Android didn't supported the Snapdragon 200 or 400 but later on they were also supported. I think MS initially didn't supported the lower Snapdragons but later on it may be coming. Hope for the best.

Why would anyone consider iphone 6, its a total garbage phone, apple has lost its imagination and creativity since the day steve job pass away.

Yea its not really a garbage phone. The fact is that it now has features that many of our phones (and androids) have had for a while now. The infuriating difference is that unlike MS or Google, when Apple implements a feature (nfc payment) they have the god damn foresight to get other companies on board to make it a damn standard, and thats the reason why people will say "Apple revolutionized the way we pay for things" etc. its not because they were the first to do it (we've had this feature for two years now but not once have I been able to use it) its because they were the first to do it proper! I dislike the iphone, I dislike iOS, I HATE iTunes, and I dislike Apple as a company, but I cant hate them for being infinitely smarter than MS! It kills me to say this but WP is doomed, and its because of the way MS runs things!


Nope not for me, I really love my 920 but I'm tired of the Lumia design, time for a HTC M8 Windows version as soon as AT&T has it.

Daniel, can you please perform a benchmark test between the existing 920/925 and the 830? I'd like to see how the performance compares. If the 830 is better in most aspects it seems like a solid upgrade from my 925 if it goes to T-Mobile or MS sells it unlocked (wish they would sell them all unlocked on the MS Store!). I would really like the SD support and built in wireless charging. These are the only complaints I have about the 925...

Why bother getting the 830 when you could get a 1520/icon/htc one?

For the same money you can get a 1520 unlocked at eBay.. Better I all senses!! And don't worry about the big size, in a week you'll get used to it! .. I did!

Not going to happen. Doesn't look like an "upgrade" to me.

I just (actually today) upgraded from 925 to 1520. Not sure if it was a smart choice though, I just couldn't resist that beast.

Hell no. I mean the 830 looks to be fine as a midrange model, but the lack of active listening for Cortana kills it as an option for me. I can wait for a true flagship from MM.

Upgraded from a Lumia 800 to 925 this April. As much as I'd love to pull the trigger on a 930, I'll probably hold out for a new device that comes with threshold. Either that or go with one of the fruit branded shiny toys, although I'd prefer to stay with this ecosystem.

If the 830 won't get the Hey Cortana functionality, for me its a non starter. With the exception of downgrading from DP to get Cyan on my 920, I can't see upgrading by downgrading makes sense.

I could upgrade my L800 to the 830 but my 920 to the next 15xx.

Well...
I'm willing to upgrade from 920 to 830.
The spec from what I see is an upgrade for sure.
We'll see bout the price in Indonesia...

Been looking for a good upgrade to the 920 myself. Just don't think this is it. Will hold off for a while. I don't want a bigger or heavier phone. I like the screen size of the 920. Can't stand the Phablets. What about he HTC One M8 Windows? It's lighter (5.64 oz compared to 6.3oz) , a little bit bigger screen (5 inch to 4.5 inch), battery is better (2600 mAh to 2000 mAh), it's got 1080 x 1920 pixels compared to 768 x 1280. 2 GB RAM vs 1 GB. 2.3 GHz. QUalcomm Snapdragon...compared to 920's 1.5 etc etc etc. Memory card. Yes. Lumia No. NO wireless charging though on the M8 Phonescoop compare http://www.phonescoop.com/phones/compare.php?p=4549,3906

I'm conflited on this point also. My main concern about this "affordable" flagship is just that it doesn't have "all" the features being touted, which highlights the age and limits of its processor. Call me petty, but it seems like a phone that will only remind me that for all my support of an ecosystem andcompany, I can still only move as far as "this" for the best device. (yes, swap the processor and maybe the front camera and you'd have me).

i'll wait for a 830 like phone, with better processor, but otherwise the same (maybe bigger battery) :)

920 is to bulky and gets warm fed up of that that's why 830 is a better choice. Its got better processor and slimmer design plus the camera is a pure view so its really not a downgrade.

I read the article about the 830, seems nice, but I'm waiting for something better than my 1020, it just when you get used to a great camera, can't go back..
SD card? That's sounds so 2008 why should I need it,when I have 1TB on OneDrive..
People, please go forward....

as for me i will wait for the upgrade of 1020,

I guess I'll make up my mind after I see what Cyan does for my 925 or what comes down the pike for T-Mobile...

I use my phone for games, so going from a soc with two strong cores and a good gpu to a soc with four weak cores and a weaker gpu really doesn't make any sense. The 830 is a sidegrade at best.

Newer processor != better processor.

I'm sticking with my 920 for sure. I expect the new rebranded lumias to be Nextgen rather than a consolidation of the gains made since the introduction of the 920. Basically the difference between the 920 & the 830 is akin to the difference between the Galaxy S4 & the S5 (not much).

No since there isint much "new" features in Nokia/Microsoft phones why should you upgrade to Lumia 830? Just few features better and Windows phones still lacks alot of apps that are in Android. Lumia is a very good phone but not that good smart phone

Maybe Nokia/MS doesn't offer a new device with similar specs with HTC M8 ATM, for M8 to have no direct competitor for some time.

First thing is that.....the way microsoft is going...need to rethink about WP......secondly, not sure abt hardware, camera ,resolution etc etc.....but 920 gives a feeling of solid phone...great design....i don't feel I will get that feeling in 830. Plus not liking that black circle around camera and flash...not looking good... And why to "upgrade"....just for few new specs.....rather, will wait for something really great comes out.......

Looking like a 930 for me....my 920's screen is flickered from time to time and glance sometimes messes up...calendar info at the top of the screen time at the bottom.

Nokia 830 takes 12000 scores in Antutu (watch the latest Iwalker2000 videos on YouTube). Nokia 630 took the same amount. How about Nokia 920? Who knows? Posted via the Windows Phone Central App for Android

I don't see why not. It got some good specs.

No I'm think I'm thing to wait and see what else is coming down the pipeline

Well I'm planning on getting the 830 since the screen on my 920 is showing some strange ink in the middle and edges but I really wanna have 'hey Cortana'. I don't really know what to do because my contract is over in April.

830 can be an upgrade to 920. But 930 is also an upgrade that fits more to it.

I think the 930 it's the natural 920 upgrade, the SD slot it's not a problem for me and glance neither so I think it's a good upgrade. Or maybe wait for Threshold?.

I won't be downgrading to an 830 from my 920. If I don't hold out for a 1030, I'd be going with either a 1020 or an Icon.

Will be getting Iphone 6 plus when my contract ends in November...still cant get cyan update so no more windows phones for me. Will miss one drive but that's about it. Lack of apps has been a constant problem since day one.
Nice cameras though.

Personally I sold my 920 after the 1520 debuted. That said, if it was still my daily driver I would hold out until after Threshold and get a new phone then.

I'm due for an upgrade on my 920 in January, and I'm really not all that impressed with the 830. Was hoping to see something at the 930 level come out on AT&T, but they're too busy pushing the amazon phone lately. The 1520 isn't an option, it's too big for me. Been thinking about switching to Verizon anyway, since they sell phones with Qi charging. Yeah, I'm that spoiled by it. So, unless AT&T comes up with a real game-changer by January, I'm off their customer list. An 830 and no wireless charging won't keep me from leaving.

How can I upgrade T mobile until now is in MUTE mode with no new Lumia phone...

If I were in the market to replace my 920,I would go with an Icon/930 but I'm on AT&T and no glance and Qi blows. I got the 1520 pretty much since it released. Love the phone,though I really miss Qi wireless charging. I really love being able to get all of the new updates especially! I'm curious to see what the next high end (not 830,though I'm not knocking it,it's probably a superb phone) will be. I really hope that Microsoft surprises us with a game changing high phone before the holiday season,but I doubt it. I do think that there's a chance that we may get the 1020's successor. Otherwise it's a wait until Threshold release drought. But I can wait if need be.

The 1520 is awesome; I feel your pain with the QI charging, as that's one of the best features...

So far, no other Windows Phone has compelled me to trade in my 920. This phone has aged well, I love it. It's been my daily driver for two years (December). The 1020 didn't have the screen resolution I wanted, and the 1520 is too big for me. I'll be waiting until next year, when the Nokia name fades away from the hardware.

The 830 is perfect, good screen size, expandable memory, good camera.... For it's perfect, but because of the price I will choose the 735, my wife's 720 is stil doing great.... So that's something to consider...

My Successor to 920...??! definitely not a windows phone.. enough with this windows. would better go with a high end Android or apple phone.. Windows phone has been tremendously developed since I bought my phone. but stil when compared to famous Andriod devices we still lag behind

In which way, pray tell? A relatively unimportant app-gap is the only downside as I see it; what other areas can you point to? And skip the versatility argument; that's a given, for better or worse...

Tech moves on, and the 920 has a few years under it's belt. A true upgrade in the hierarchic sense would be the 930, but even the 830 is effectively an upgrade in terms of capability...

No i am just hoping for Microsoft to release a high end phone for holidays better than 1020

If my 920 were to die anytime soon I would consider the 830 due to the price.

Simply no. It's not worth the upgrade or 920 is so good that nothing is giving us satisfaction of upgrade.

Looks like it. I think the Lumia 830 is better than the 920 in so many ways - 1. removable battery 2. SD card support. 3. 10mega pixel pureview cam 4. thinner and lighter 5. faster camera app 6. Most camera enhancements could be included except for 4K. 6. Sensor Core 7. larger display at 5" [L920 4.5"] The only ugly part of the L830 is the front facing camera - 1megapixel Also, I think the whole Hey Cortana should NOT be "the" deciding factor unless Cortana really gets to be useful like if you get a call from your L930 and its getting low on battery you can tell hey Cortana transfer this call over to my other Lumia [which she should be able to figure out]. One thing I want Cortana to do is to be able to tell me what my telephone bill is like hey Master your bills is like crazy now would you like me to turn on DataSense at maximum? Or when you are in a meeting and you want to record it, you say Cortana please record and save to Skydrive afterwards and then covert that audio to word format so I can read afterwards and email to me. This is crazy but Cortana should be able to answer calls or SMS for me like if I say Cortana meeting mode please and she will put my phone to silent and answer incoming calls like hey my master is on a meeting now can I take your message or if your wife calls you Cortana displays wife is calling take this take this.

I'm not even considering it. The 830 feels like a step sideways at best. Really the only thing that it had over my current L920 is a clear FFC and a micro SD card. For me, the HTC One is a better upgrade: Higher resolution, nice design, much faster processor... But even this isn't ideal. I'm not a big fan of the camera. Not to mention that this is still a 32 bit processor and we know that there is a transition to 64 bits soon. I am keeping my fingers crossed for a true 1020 successor. 64 bit processor, 3 gig ram should shouted up the camera app.. 1080p resolution and micro SD slot are essential.

that sounds more like a hardware list for an Android device.. WP doesn't need all that beastly hardware.. but i understand wanting it though.

I would love to upgrade from 920 to 930, but since NOKIA REFUSES to put a damn SD-Card slot in 900 and 1000 phones I see no option but to upgrade to 830.
I'm so tired of this anti-SD card nonsense! crApple can at least say they offer multiple storage option, what is NOKIA's excuse? That SD-Cards are "Uncool"?

I get this feeling we have not seen all the phones MS will release this year. The reason I believe this is due to the denim firmware update. Why make an update that works on only 3 phones? This is MS chance to take a huge chunk of the US market. Both Samsung and Apple released phones with just minor updates. If MS releases a strong competitive phone with great features adding nice features and opening APIs with GDR 2, it would shake things up.

If he is looking for a follow up to 920, the 830 is not it. It isn't technically in the same class being "affordable flagship". The successor to 920 is 930. Many of us are waiting for THE new flagship and not a niche one (read: 1520). Though with the 5.5" iPhone announced, phablets wont be so niche soon enough.

Awww I think there is already a 930 or is it?!

I'll wait for the next upgrade of the Lumia 920, I'm not impressed...plus I can buy a new 1520 for cheaper than this.

No way I'm jumping to an iPhone 6 (shudder) I'll just wait until the Lumia 1030 is out I guess. or a Lumia 935 with Glance. Whatever, I have to wait until something is on AT&T in the US, so the 930 simply isn't an option. The 830 is close, but it's a compromise on GPU and display resolution... not sure I want to do that.

Technically the 830 is a hard upgrade. Better camera (likely), similar CPU but slower GPU (1/3). But likely better battery life. Barely an upgrade really. Still quite an attractive phone though. If they released a 935 with Glance and AT&T compatibily (but with Qi) I'd be all over it.

I would probably pick one up for the MicroSD card slot alone, but I really wan tto wait for the new flagships.

I have got the front cam cleaned on my 920 3times so far in the 18months since I've bought the phone. It is possibly one of the very few complaints I have with my phone. Other was the brown patches on the LCD but they are gone too since I managed to break it and it had to be replaced. I'll probably wait for the next 10xx instead. Currently quite happy with my 920 esp. Since Cyan has sort of breathed new life into my phone for now.

Thought about it, but I'll just wait until threshold and I HOPE that Microsoft doesn't disappoint after us waiting for a good flagship after all this time

Well ... I'll be waiting to see what they will do with a possible 1030. Because I'd really love to have a 20+ mp camera. But sadly 830 "only" has a 10 mp one and 930 has no glance. 1520 is a bit to big for me.

I think the Lumia 830 is absolutely a worthy update from the 920. If I was to get another Lumia phone,then the 830 definitely would be the one.

Hey, there. I'm on my second 920, a used one. First one was new, but got robbed. On both, front camera dust issue was absent, I think they were from other batches. ONLY TWO complains, ON BOTH: "CALL ENDED" issue when it didn't even got through, and also the "SUDDEN- NO SIGNAL" issue. Beyond that: beautiful piece of machine. Anybody else with these problems?? Anyway, waiting (and $aving) for the 1020 replacement....

Don't see a huge reason to "upgrade" to the 830, although it looks like a nice phone. Disappointed about the lack of Hey Cortana and it looks like no 802.11ac. Really like the SD card expansion and replaceable battery. My problem now is my 920 battery is nearly dead. I have to keep it on the charger all day at work and it won't last through the whole evening. The random overheating problem on the 920 seems to have taken its toll on my battery and I'm really pissed I can't buy a replacement. Other than the battery, I would be completely happy just sticking with my current phone. That is why I will never buy another phone that does not have a replaceable battery. I would prefer something with a SD800, but may be stuck getting the 830.

Nope, 830 is a waste. It's nearly identical to the 735 and 735 cost way less. Why pay $400 for 830 for a midrange and you can get highest end flagship for $100 to $50 more?

Going to pass on the 830, January is only 4 months away so not very long.

I just sold my 920 for 170€ used , and I am buying 1320 new for 200€ . What do you guys think ? I know all the specs and that stuff. Camera is downgrade I know . What about GPU ? Your opinions needed . Thanks!

I guess Mark Guim could compare how both models perform in reality side-by-side. I mean where apps launch faster. Who knows maybe Microsoft optimized WP 8.1 to work better with the quad-core processors. Posted via the Windows Phone Central App for Android

The 830 isn't really an upgrage, it's more of a lateral move.

Was more thinking in the lines of a 1020 successor whatever model number they would use for such a beast.

Well I don't have a Lumia 920 but a very capable Samsung ATIV S.. I'm definitely looking at this as an upgrade.. tentatively though. I still think its priced kinda high. another area is that S400/adreno 300.. The S4 Plus 1.5GHz dualcore krait/Adreno 225 in my ATIV out performs the SoC in the Lumia 830, according to benchmarks.. Oh well..maybe there's some optimizations made to the 830. Additionally, i'm not a big gamer on mobile phones.. so I think i may still pull the trigger on that 830. I'll wait on in dept reviews first.

I have a 925, I am for switching to 830 for a newer processor, SD card support, but.. then 925 has bigger sensor, a 1.3 mp front camera, twin flash, better display. The problem with 925 is the 16 mb flash with no SD card support. You can easily run out of space if you do Full HD video recording. A 5 min video clip takes about 500 mb 4 to 5 videos and you are done with 3 GB of space and then there is Music. I don't have all my music on my phone but still it is about 2 GB Not able to decide, let me see the phone for myself before I make any decisions

Well this is probably last chance tob by Nokia phone,since they announced that Nokia Lumia 830, 730 and 735 will be the last ones of Nokia brand.This is just very sad.I was thinking of buying 930 but without glance screen is just disappointing.Now i'll consider buying 830.

I waited for the announcement and then bought an L930. Snapdragon 400 was a deal breaker for me. Also feel a 5" phone can only be called flagship at 1080p. In the UK the L930 has fallen to a pretty good £369.

No... In my opinion, long time user of Lumia 920

I am on Lumia 900 (Win Phone 7.8) and what I have seen out there in US GSM, it's pathetic. I am going to order 830 even though it might not be premiumest Windows phone but considering that MSFT has messed up upgrade cycle with Carrier/Country specific release cycles I do not want to wait any longer. Having said that as long as I can get Denim support out of the box I think 830 will be a great upgrade for anybody who is not on premium phone (930/1020/1520) assuming contracts and money is not an issue.

This is how they are messing up. Apple people get their phone and know when they are due for an upgrade in 2 years there be a new phone rolling out at that time. Here I am right on top of the 2 years and it looks like a replacement might not be for 2 1/2+ years. Ugh

I think I may be holding on to my 920 for the foreseeable future. 1520 too big and gimped...830 too wimpy...nothing just right...

The 830 is far too small an upgrade. It's not 1080p, doesn't have an OLED display, sports a weaker processor and comes with half the RAM. It's practically the same phone in a new shell. It's kind of ironic, actually, because people were complaining that the 930 was an incremental upgrade and here we have people discussing replacing the 920 with an even smaller leap in tech. I'm personally still waiting for that 930.

920..has been the turn on for most scenes when with contenders....and definitely show stopper even now (except thickness :|) but 920 still on for,me...until a better prince arrives....its still the King!!!!

No, it's not. Especially at that price

No. 930 all the way. Frustrating that this little "flagship" device only has Snap 400 (clocked at 1.2 ghz) and Adreno 305...

Nope I rather upgrade to 930 and wait for Denim. Come on 15th September!! I wanna get my hands on the 930!!!!

Depends on what users want. It's not a discussion.

Wouldn't the HTC one be considered an upgrade from the 920 series? I'm thinking about swapping my 925 for it.

U should as only u will have lots of new stuff only thing u will be in disadvantage will be u wont have passive voice Cortana which u wont have in 920 as well. So newer the better. And u will have Lumia DENIM

I think the 930 is the only real option of an upgrade to the 920. Also I'm still liking the 1020 a lot. In the same argument I own a Lumia 925 of similar specs to the 920 and I think a little bit more processor it's just not enough to be considered an upgrade.

So, the 930 is by no means a decent upgrade, but the 830 is?! Seriously...

Waiting for Windows 9 phones...Be patient people...Your next phone should be an UPgrade...That means you should have better everything...Better screen should be a no brainer and if you have one of these you would still be rocking a 720p screen...I want at least a 1080p screen myself....The 830 is nice for someone coming from a low end device for sure though.

If you're on the 920 then the 830 is a downgrade. It's not a flagship. It doesn't have all the features and it's updateability to Threshold is a big questionmark. It might be a WP 8.1 version of a Lumia 900.

I say wait for the HTC one m8

Forgive me if I'm missing something here, but has it been officially confirmed that the 830 won't have passive voice? I have yet to find a straight answer anywhere, but doesn't it just require SensorCore and at least 1GB of RAM, which it does have? Again, apologies if I missed something big and made a noob mistake by asking.

I don't think they've said anything official about this feature or whether the extracting stills from video feature will yield 8MP shots. Those are good pieces of info to know.

They really would be, yes. You'd think those would be important to clarify before the phone actually goes to market... Not knowing all the facts yet is making it hard for me to know if I'm going to pull the trigger on the 830.

I have a 925 and not wanting to downgrade.

It's nice not having a front facing camera on my 520.

Going to switch to the iPhone 6. Only OS I haven't tried before. Might switch back if I don't like it. I'll keep my 920 as a backup phone.

Does this phone have built in wireless charging or do you need a sleeve like the 1020?

I just wish they would get the 930 here. That's a upgrade from the 920 or the 1020, don't you think?

I'll wait for Threshold AND then wait for the first major update. Only then I will be considering upgrading from my 820.

Nope not good enough, I'm going for iPhone 6.

920 until Microsoft releases McLaren or some next level shit...

Ehhh, I'm unsure. All depends on whether the processor is good enough for you. I think the 400 will be fine for me as I don't bother with intensive games at all but for someone who does it would definitely be a problem. I'm probably going to "upgrade" to the 730 due to both cameras being good quality (whereas the 830 only has a good back camera and a terrible ffc) and preferring the more classic Lumia design. I think either phones are valid upgrades but it all depends on if the processing and graphics power is enough for you. Still, we're likely to see some more higher end hardware announed around January (probably a 1030 and 1530) and maybe even a Lumia 925-esque device too (though I'm not sure if the 830 is supposed to fulfilling that role this time).

Microsoft may show off some new hardware in January for CES, but dollars to donuts, I'll bet you a release date will coincide with the Threshold release in mid 2015, probably late Spring, or early Summer.

I've switched from 920 to 930 and I've no regrets :)

After much thinking, I chose 1520 as 920 succesor and gave my 920 to my wife with cyan upgrade. I was considering 930, but SD on 1520 was exactly the difference that went against 930. Big screen is nice for my eyesight, not so much for a pocket. Sometimes I use wife's old 710 just for a phone... 1520 is more of a PC/phone I use for work.

The problem with Windows Phone is the fact that you have all these people using the same OS but have vastly different experiences. Windows Phone injects comprises into ever consumer decision involving its products. Fix this and watch adoption soar.

I'm on a Lumia 1020, and went through three of them due to the same random-power-off issue. I love, love, love the camera, particularly when I went on vacation on the Meditteranean for a couple of weeks. Still, an uncertain upgrade path (no supposed Lumia flagships until next Spring/Summer for the Threshold release), and a severe lack of quality apps, and lack of features even within the same brand name applications, will more than likely bring me to an iPhone 6 around the holiday season. I'll always have the 1020 camera, and will continue to use it on wifi, but IMO Microsoft doesn't seem to be able to get it together in mobile.

I decided to jump ship. Never had an Apple but got a great deal on a 64gb 5s so going with that. Had a blast with WP, it really felt like it is maturing nicely, but it still needs a lot of work to make it a platform I'd return to (if it irons out the inconsistency then i will). Plus as stated elsewhere 3 Lumia phones all faulty in different ways put me off a bit & whilst the HTC is nice I still have the WP nag. I hope WP does keep improving & I'll be watching with interest for developments. But for the next 12 - 18 months I'm in the fruit box. Enjoy folks.

He should stick with his 920 and wait for the next wave of new phones coming out.

I've had the 920, 925 & now the 930. The 925 is definitely the best for the rounded edges and the thin form factor. But the 930 is miles ahead in every other respect. Especially the screen... It is unbelievable. 930 all the way, it's seriously fast too. I think the 800-series' phones are not in the same league as the 900-series so I would say the next obvious upgrade from the 920 would be the 930.

Just got a 1020 for the wifey and myself. Used to have a 920 but couldn't wait for the 830 since ATT didn't say when they are getting them. They were like I'm the only person dedicated to the OS recently and they wont stop carrying windows phones. That comment did bother me.

As a Lumia 920 user, Right now the real upgrade to Lumia 920 is not available; in some aspects Lumia 930 can be a good improvement, as it has full functional camera (Thanks to SD800 features), better display compare to 920 and better scratch resistant Gorilla Glass 3. Overall performance is almost the same, because the OS is neither limited to a hub like iOS, nor unstable Like Android. So, with the arrival of Denim to 920, except the half inch of display and 2 more MP, you already have the 830 in your pocket.

I'm not. Heading to android once my contracts up. I love my Lumia 920 but the app gap is serious for ME. I seriously love my Lumia 920. The camera is simply the best out there.

The ship has sailed for me. I'm getting the note edge come October.

The lack of real flagship 920 replacement devices seems to be the key for a lot of 920 owners jumping ship. I'm one of them. I'll see you in 2016 windows phone :)

My Omnia 7 finally started to slowly die today (memory access is getting corrupted i assume) so i'll wait for 735 to be available. Would maybe consider 830 but i think it will be too pricey. And 930 costs as much as iphone 5c, on 2 yr contract. If i would spend that kind of money i would get iphone...

I love my curvy red 920. It's small enough to tuck in a pocket, large enough to watch House of Cards, and well-built to withstand everyday life. What I'd love to see is a new Lumia that uses the case design of the 920/1020/1520 models. Colors that don't make me need to cover it with a shell (even rhinestones would be an improvement over the citrus selection they're offering), the fastest processor on the planet, at least 32 GB storage, and SensorCore so I can Hey, Cortana when that becomes available. I do not want a phone that mimics the iPhone's case style, with a silver band around the edge. Thankfully, my contract expires in late April, so I should be just in time for Windows 9 and the Lumia 1030. Now if Microsoft blows it and introduces flagships that look like they fell out of the generic smartphone cookie cutter, I may hang on to my 920 for another year.

I want a beautifully made thin phone about the weight of the iPhone 6, or even better, the weight of the yezz Billy phone 120g powerful and fully loaded.

My wife is making the upgrade, im jumping to the 1520. I want it all!

I myself am a Lumia 920 user and I think a Lumia 830 would be a good follow up although some of the features might not be available indeed...

Nope. Waiting for high-end

Definitely not. The Lumia 920 is an amazing device and it is so powerful. I don't think the 830 is worthy successor . In fact I don't think a worthy successor is in sight for quite a bit

My lumia 920 drained battery sooo much..are 830 too?? Did you guys have same problem with me..? On your 920?

The 830 looks like a nice phone, but besides the sdcard why should I buy it and just not keep using my 920? It really hard to believe Microsoft doesn't have a phone ready for 920 owners to upgrade to. Yes I know the 930 but only if you are on that carrier. It's hard to understand the thinking of Microsoft... I guess I'll just be keeping my 920 and wait.

920! I have a 1520 also,but the 920 is the perfect size,so much that I will purchase another 920,because the Sims card pins broke off,trying to put a nano adapter.

920 to 830 but lower specced or 930 but higher priced :(

Even am thinking to get 830, my 920 has a quick battery drain especially when I use WhatsApp or any internet app, doesn't last long or using a camera.. U can drain it out completely on 3-4hrs. And the voice is a low sometimes when I call somebody as they always complain.

Lumia 930 is perfect choice

Why? Just to have a better camera,no,if I want a good camera I will buy it.920 makes phone calls just like the 830 does,or is there a big improvement in phone calls with the 830 ?

Come on, the screen over sensitive issue still there on Lumia 1520. Does MS plan to fix?

Nope, not even on my radar as a 920 owner, and the 930 being 32gb with no SD and no glance kills it for me too :(.

I have N925.Can anybody suggest me that is it good to upgrade N830 or I have to wait for 1030.

No, you shouldn't upgrade. Here is why: The Lumia 830 is slower than the 920, a phone that uses a chip that is 2.5 years old now. The "newer" quad-core Snapdragon 400 chip in the 830 is slower in most cases than the dual-core Snapdragon S4 in the 920 - a chip that is 2.5 years old (introduced with Galaxy S3, HTC One X & S way back when). Single-threaded performance is very important with phones, and the Snapdragon 400 is slow with single-threaded tasks. Absolutely slower with graphics, and slower with computational abilities, except for a few rare scenarios that are multi-threaded. For proof, read this page at Anandtech. The 830 uses the same chip as the 630, and the 1020 uses the same chip as the 920. So, read there how the chips from the 930, 1020, and 630 all compare, and it's freaking irritating that the 830 has a lowly Snapdragon 400 instead of a Snapdragon 800. This affects app loading times, shot-to-shot camera latency, multitasking, web page loading, etc. I will not "upgrade" to a slower phone. I've been waiting for something from Microsoft to replace my 920 that a) was on AT&T (so no Lumia Icon), b) was fast (no 1020, 635, 925, etc), c) and isn't ginormous (no 1520). I'm tired of the thick, slow, chunky 920. The fact that Microsoft/Nokia's solution was the 830, with this slow chip that will provide the same if not slower user experience as the 920, has made me give up on Windows Phone. Just pre-ordered the iPhone 6, will miss Cortana and a couple other things, but I just want a fast phone that can take pictures sooner and faster, load web pages faster, start apps faster, and not be a chunky, heavy brick. Thanks to OneDrive, Office, and OneNote, the switch will be easier. Hope more devices can come down the pipeline, but I had waited till now for Microsoft/Nokia to give me a good upgrade option on AT&T, and they failed.

I upgedatet to the 1520 lol.

I upgraded from a 920 (which was an amazing phone) to the 1520 and I honestly couldn't be happier! I was unsure about the drastic size difference but I really like it now and it doesn't feel as awkward in the pocket as I thought it would.

T​here is no way I would upgrade from the 920 to the 830...Ive gone from a 925 to a 735, and although I love the new hardware (and I rate the design of the 830 very highly too).... Both have the same Achilles heel: The snapdragon 400 processor. On the, OS it is fine....messging, email, calendar....no problem, but on everything else it is dog slow and far from snappy! My Lumia 925 and Motorola Moto g are both much much quicker....and sadly, this is why I am going to wait for a Lumia 940. ​ ​ ​