Siegefall's latest update adds a tiger, a wolf and a unicorn (oh my!)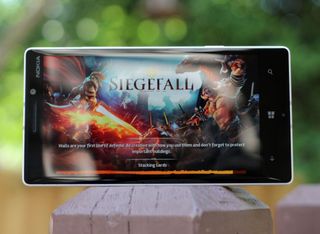 Gameloft has released a new update for its fantasy strategy game Siegefall. It adds the tiger-like creature Geru Ashenfang as a fighter and two spirits: Luxeros, a protective Unicorn, and Fenris, the dark blood wolf. The update is available for Windows Phone, Windows 8.1, and Windows 10 for PC and Mobile.
Here's what's new in the Siegefall Update 6 version:
A TIGER TO LEAD YOUR ARMY!
Geru Ashenfang is a mobile melee fighter that can dash through targets to either build up damage or cross the map faster.
EVOKE THE NEW SPIRITS
Luxeros, a protective Unicorn, is the first Light-elemental Spirit and can provide the Hero with a shield when the pair destroys a tower.
You don't want to cross Fenris! This blood wolf is the first Dark-elemental Spirit and attacks more viciously as the battle drags on.
OTHER FEATURES
Vanguard REVAMP! Dominate the battlefield with upgradable Heroes, Troops, Cards, and more!
CARD Fusion: Fuse multiple copies of cards to create a more powerful ""Enhanced Card.""
New resource: Fusion Elixir! The perfect material for fusing cards.
We've re-invented the RUNES! They're now more smoothly integrated with the new VIP system.
2 NEW Guild Raids and even more Raid levels!
Trial of Heroes! Bi-weekly events targeted to specific Heroes. Unlock them all and go to battle to win amazing resources!
Download Siegefall from the Windows Store (opens in new tab)
Nice title :D +640/Win 10

This game can't play on windows 10 mobile os so it is bullshit windows update....

True i have install many times but it stuck on loading screen....

The ones who play this game only knows that with each update gameloft becomes more & more greedy, tries to force more IAPs.. Not to forget this is the most buggy game from gameloft. Have been playing this game since it first came out. The old bugs still persists. This game could be a lot better if gl tries to fix the bugs instead of coming up with new features every 2 months introducing more bugs! The same old players have been posting in forums since past 8 months, but gl doesn't seem to care about it...

Gameloft being greedy is true of almost all their games.

This happens with 90% of their games. Look at Total Conquest, it's a broken mess that runs at 10fps.

They have changed the whole gameplay. Now we need orbs to upgrades heroes! 2nd Chest opening now costs 49 gems where about it costed only 19 before. Troops upgrade now needs stone,woods,irons everything you have! Where in previous update only gold was sufficient. No more rings for PvE battle...but PvE chest. Moreover, this update crashes in attack sometimes.

I understand. I have almost maxed all the stuff. But I have heard that the hero upgrades now requires orbs which is too bad. There is a long long list of bugs & a long long list of new features which has ruined the game even more...

Pso....i can't play windows 10 os what to do??)

Try reinstalling. Works fine on my windows 10. & as I said earlier, the new update has many new bus with the old ones too. So there's nothing much u can do about it rather than wait for the bug fixing update.
Windows Central Newsletter
Get the best of Windows Central in in your inbox, every day!
Thank you for signing up to Windows Central. You will receive a verification email shortly.
There was a problem. Please refresh the page and try again.