Super clean and squeaky Simple Calendar gets 2.1 update today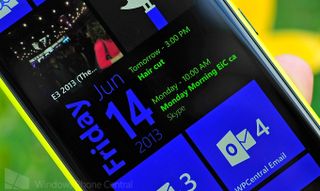 Earlier this week we saw the release of our new favorite calendar app, Simple Calendar by developer Wes Peter.
The app, which features in our opinion one of the nicest Live Tiles for appointments, has just received a 2.1 update today, which should improve quite a few things for users.
Version 2.1 changes
Month view performance improvements
Option to hide private appointments can be different between app and live tiles/lock screen
Option to fade out past appointments in month view
Option to show week numbers in month view
We can also say that a version 2.2 is right around the corner, with that update bringing a refined and more clear "Buy features" section to make it easier for people to understand the in-app purchasing model plus other bug fixes and improvements.
The great IAP debate
Speaking of, some people have complained about the free app's IAP system, where you are charged to unlock certain features, like removing ads or two of the more design-fancy Live Tiles ('Frodo' and 'Gob').
In-app purchases (IAP) are always controversial but we personally support it—nay, endorse it (see my Talk Mobile 2013 piece for more). For one, it actually reduces cost for apps (not necessarily games) as users only pay for what they want to use. Number two, options are good and this allows developers another method to offer deals, more ways to offer features and build up the app with our asking you to re-buy the software in its entirety. Number three, while some of you complain, the fact is IAP works and it's very successful—so you might as well get used to it, to be blunt.
We can haggle about the right price e.g. $1.29 versus $0.99 for a Tile, but in the end, you're getting a free calendar app with some paid-bonus features. It's up to you though if you think the value is there—we certainly do, which is why we're happy to see this app on our platform.
Have you been using Simple Calendar? Love it? Hate it? Let us know in comments!
If you already have Simple Calendar or you want to grab it to try, pick it up here in the Store. Windows Phone 8 only. Thanks, doubleodon, for the heads up!
Daniel Rubino is the Executive Editor of Windows Central, head reviewer, podcast co-host, and analyst. He has been covering Microsoft here since 2007, back when this site was called WMExperts (and later Windows Phone Central). His interests include Windows, Microsoft Surface, laptops, next-gen computing, and arguing with people on the internet.
Was using Simple Calendar for a while. Mainly because it displayed the meeting title and meeting location in separate lines. After Chronos's big update today, I've gone back to using Chronos. The 3:4 tile layout format does this now and I just love having an awesome background image on my wide tile. http://sdrv.ms/154LhmJ

I'd like the option to launch the built in calendar app from this tile.

Love it and bought all the bells and whistles. Hope this update fixes the live tile issue I believe I had where it was not showing updated or my next appointments.

Photos of haircut to be posted by 5pm tomorrow please Daniel :P

lol, on Instagram, no doubt

Still cant see subscribed calendars? Seriously, what is the point then?

No. Not possible till MSFT opens up APIs to the native calendar.

Well there is another app that can.

You are right. I am using Chronos, and it can. The way Chronos works around the MSFT limitation is that it syncs with Google?microsoft servers directly. :-) Unfortunately, this is not a complete solution because these 3rd party apps cannot edit appointments in Exchange (like my work account), and Yahoo accounts.

which pretty much makes it useless to folk sliek me who live an dwork out of our Exchange Calendars. C'mon Microsoft - if you're not going to make the native Calendar top notch at least let Developers create fully functional alternatives.

and don't ever suggest to me that porting my personal information over to Google so I can access it after THEY have trolled it for information, is an "alternative". If I want to get scroogled I'd have an Android phone :-)

for some reason my lock screen stopped showing all day events. Wtihout those, it is pointless to me.
So, still love the app. But, I was really excited for lock screen, and now that doesn't work for me.

Double check your lock screen settings in the app, there is a setting to hide all day events and another setting to hide them after a certain time. There is also a bug (which is fixed in v2.2 coming out next week) so it could be that bug. You can send me mail using the link in the about page if you are still having troubles.

Wes566 thank you for the reply,

I do not see a setting in the lock screen settings to hide all day events. I see that in the settings for all the different live tiles and I have all of them unchecked.
But, that setting doesn't exist (for me) on the lock screen setting page.

There was a time when the all day events showed up, then they went away, then they showed up again (not sure what I did to make that happen), now they are gone again and I can't get them back.

Ok, think I know what's going on and the fix should be in V2.2

Just wish you could edit/delete appointments within the app. I contacted the dev and he emailed me back saying considering it in a future update.

I can edit my google calendars just fine i have to add it manually as a google one not use the phone settings one..

I can edit through my regular calendar and it shows up in simple calendar, but the only thing you can do within the app is add appointments

I would think the ads would be removed once you buy a tile. I like the app but I feel like I am being nickle and dimed.

Well, in a way, you are. That is what IAP basically does. The thing is, you could pay X amount for the whole app or Y, Z amount for only the parts you use.

I wouldn't quite mind the n&d'ing quite so much if this perma-ad version was released at the same time as the frodo one. As it is I have bought a tile for $1.50 and a few days later I am being asked for another to remove a perma-ad that wasn't there before. It feels slightly underhand and makes me reticent to pay as a future update may introduce something else I have to pay to remove. IAP's are ok when everything is known up front.

Good feedback, I have ads hidden for the first 7 days of app install (been that way since v1) so that people can experience the app without ads for a few days... but I can see where you are coming from... the "buy features" page in v2.2 helps make it more clear, but I'll think of a way to make it better... or maybe just show ads right away. Either way, I appreciate the feedback.

Well honestly, Wes, and I say this as someone who paid for the ad-free app and the Frodo tile, a lot of people are disappointed in how this all went down.

I've never seen a non-game app require a user to pay for not only removing ads, but to also enable a tile that adds no further functionality. If anything, the tiles should come as a package- one price for all, instead of N&D'ing us to death. I still don't get what you mean by 'getting only what you need/want'...isn't that why we have the ability to turn things on and off? I mean, it's not like the difference in the size of the app is an issue, right?

Now for all the haters out there, note that I haven't spoken out against IAP; I have many, many apps on my phone and if they had a purchase option and I kept the app, I purchased it. Nope, what got me was that I had the earlier version of SC and loved it so it was a natural thing for me to immediately update it. And the first thing I did when I saw the 'remove ads' option was not to bitch, but to PAY THE $0.99! But I sure as heck didn't like having to pay for a tile that basically does nothing. I mean, had I read the article before updating, I probably wouldn't have, not because I'm cheap, but because I didn't see any reason to do so (lock screen options mean nothing to me personally).

I appreciate the work Wes has done to make this app; it's just as it's name says- Simple and to the point. It displays the information I need in an easy-to-read manner. But there are a couple real-world useful suggestions I would make:

1. Give the user the ability to change the background color of the tiles and also the color of the fonts
2. Users should be able to determine what day of the week is the first day (i.e. Monday or Sunday)


Dan, when is the Lumia 720 review coming up? It's been ages...

Been wondering the same...

I live in belgium and since i saw the review here i'm using it.
Liking it so far but the only thing that bothers me is that it shows national holidays (US) as well.
anyway to turn this off or change to my countries national holidays?

Thanks. :)

Calendars.. Calendars everywhere.. o.o

I love the gob tile, but I think it shows too less. If it would at least display 3 events I would buy it, but at the moment it takes too much space for too little info for me.

Love the app....and the very fact that people are actually willing to use their time debating a $.30 difference for am IAP cracks me up, so I love the unintentional comedy as well ;-) Have a great weekend!

Whats the Task App next to the calendar? Is part of the Calendar App?

Ahaa, I was just cursing the missing week thing.Great stuff.

One question, Can I use the Bing lock screen and have my calendar appointments on top of it?
If not, that would be a killer feature

That is one ugly live tile,

You are entitled to your opinion but we are free to disagree

Sorry for my ignorance but we have Outlook on WP8?

I find it nicely done. I can see it evolve and become a mainstream calendar over time as its developer adds features.

I was down with Simple Calendar because of the Live tile until I checked out Chronos Calendar which has a "live" live tile that lets me put the day's appointments on one side and the "all day events" (birthdays, holidays...) on the other. Simple calendar is much more appealing to me, when opened, but neither fully integrate into the phone so, what the heck. Simple Calendar guys - check Chronos Calendar's tile options. Emulate them.

I really like this app :)

why isnt there a button that lets you edit your appointment?

i know it cant edit it on its own, but instead send me to the calendar app and that specific appointment to edit it thre would be nice.
opening up the other calendar every time for editing is just too time intensive really :(

I've been faithfully reading your site since 2010 . Up until this incident , I read your site daily and supported you ( Even though the very same content is on another site ,which I won't name)
That was until you decided that you support this PURCHASE FEATURE APP SYSTEM THAT ' SIMPLE CALENDAR' ( Who is very late in the game , as far as WP 8 Calendar Apps are concerned.) I did some research and It Turns out I purchased their " COPY THIS APP" ( which is acting up by the way )
I took your advice and added the Free Version of " SIMPLE CALENDAR " to my Nokia 920. I impatiently waited for the paid version with the FRODO feature. Paid my money( price was not an object ) THEN I DISCOVERED I STILL HAVE ADDS TAKEN UP SPACE WHERE MY EVENTS SHOULD BE.
THE ONLY WAY TO REMOVE THE ADDS ( THAT THE DEVELOPER GETS PAID FOR ) IS TO PURCHASE FOR THE RIGHT TO REMOVE ADDS FROM AN APP THAT I PAID FOR . That is pure Greed !!!.
Your Editor or whomever is YOUR boss needs to look closer at your relationship with this developer.

I RATHER YOU SIMPLY CHARGE ME ONE FULL PRICE . YOU CHARGE ME FOR AN APP WITH LIMITED FEATURES, THAN CHARGE ME TO REMOVE THE ADDS THAT YOU ARE GETTING PAID FOR,???
PLEASE PLEASE RETHINK THIS" PAY PER FEATURE" Its so APPLE or UNCOOL ANDROID. This is Windows Phone 8 .The SIMPLE CALENDAR has some good features and can become Great. Don't use the " IT MAKES GREAT SINCE SO PEOPLE CAN BUY WHAT THEY WANT. Its an APP not a Condo..lol. Your being greedy!!
I will continue to read your site and keep the GREEDY "SIMPLE CALENDAR" APP . I know in my heart that you and your brother who is the Developer will change with the times


That's an extraordinary story if it went down like this. I won't pay for this app or any app like this until Microsoft gets around to fixing this dead tile issue. Mine won't update and I'm sure this app won't update either. Unless I launch it that is. This is not what live tiles are supposed to be.

@ Assas. What an appropriate name ... and you call me the idiot ????... Go read a book. ..lol
Windows Central Newsletter
Get the best of Windows Central in in your inbox, every day!
Thank you for signing up to Windows Central. You will receive a verification email shortly.
There was a problem. Please refresh the page and try again.