Simple Calendar gets new features in latest update, making it more elegant than ever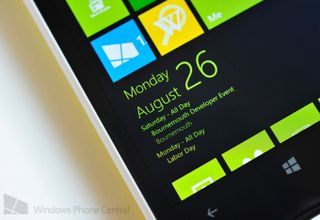 One of our top calendar apps for Windows Phone 8 would be the aptly name Simple Calendar. The replacement scheduler app has one of the nicest looking Live Tiles that we've come across and the unpretentious UI makes using it a breeze to operate.
Version 2.4 just went live in the Store and it finally brings small and medium versions of the Gob and Frodo themed tiles, allowing you to customize the look even more. While version 2.4 isn't a major overhaul, it does bring with it a lot of small but tremendously useful additions.
Simple Calendar version 2.4
Option to pick which day the week starts on in month view
New Frodo and Gob small and medium live tiles
Added help/faq page
Added "use it now" button on the buy features page
Default wide Frodo and Gob tiles to use light font on day of week and day of month, provide option to revert back to bold font
Simple Calendar is a free app in its basic form, though users can optionally exercise an in-app purchase to remove ads and unlock the Gob or Frodo skins (our personal favorite is Gob). Simple Calendar also has a super useful lockscreen feature where it can show up to six of your next appoints in an overlay at the top of the screen.
The app integrates with the built in calendar of Windows Phone, so you won't need to login or sync anything. New appointments can be created, however to edit them you will need to open the native app. While perhaps not for the poweruser out there who needs every bell and whistle, for the casual to advanced user who wants to spice up the native calendar app, Simple Calendar is certainly worth a look. It's currently our go-to app.
Pick up version 2.4.1 of Simple Calendar here in the Store. Windows Phone 8 only.
Windows Central Newsletter
Get the best of Windows Central in in your inbox, every day!
Daniel Rubino is the Editor-in-chief of Windows Central, head reviewer, podcast co-host, and analyst. He has been covering Microsoft since 2007 when this site was called WMExperts (and later Windows Phone Central). His interests include Windows, laptops, next-gen computing, and for some reason, watches. Before all this tech stuff, he worked on a Ph.D. in linguistics, watched people sleep (for medical purposes!), and ran the projectors at movie theaters because it was fun.
Use this app all the time with the Frodo option its great +920 to the devs :)

Hallo to everyone and sorry for offtopic... do you know what app is that on the screenshot in the article with 15 steps on the live tile? THX

Really like the app,
Two major issues I have.
A) You cannot edit an appoinment directly from within the app.
B) Painfully slow to use. Particularly when playing around with the different settings
I guess you just have to remind yourself that this is not a Calendar app replacement but rather an appointment viewer of sorts.


I've never noticed any slowness (and this is on a Lumia 521).

About the appointment issue.. that's a microsoft's limitation.
And I've also faced lag within the app... Anyway I bought the Frodo live tile but I got bored... I'm using Chronos ATM much more customizable :D

I was the other way around... i used Chronos and found it to be excellent. But the lack of a real WP style UI and the tiny little icons and options that I never used were overkill for 99% of my use, so I went to Simple Calendar.

I have never noticed any slowness on this app in my 920 and the calendar edit issue (a) is due SOLELY to api restrictions on the calendar from MS not any fault of the app creator.

New appointments can be created, however to edit them you will need to open the native app.

Was this feature added in an update? Because I remeber trying out Simple Calendar when it first came out and I really liked the app, but not being able to create appointments within it was a dealbreaker. Looks like I can finally use it again.

I've been using it since around the first time WPCentral reported on it and I've always been able to create appointments. It basically just takes you to the default appoinment scheduler within WP. One of the first advertised features was being able to 'double tap' on a day and it would automatically take you to the appointment scheduler. You still can't edit the appointements, however. Apparently that's a system limitation but it can get frustrating and has made me consider switching back to the system app.

I did not start using it until version 2.0 came out I was pleasantly surprised to see another update.

I use this (paid for it), and find it to be good for my basic needs. I love the layout of it, and the simplicity.
I do wish there was a way to delete an appointment within the app though. But that's my one and only complaint.
And yes, you can ADD appointments within it, just not delete or edit.

Yep, it's the edit/delete that I need most right now, although it may be API limitations more than the developer's fault, so I'm just being patient about it now.

Yes, it is API limitations on MSFT's part. They don't allow 3rd party apps to edit or delete appointments. Shame even GDR2 didn't address this.

Likewise finally I can use the frodo theme on the small tile!. This has replaced the native calendar app for me as I found I am rarely editing appointments or deleting them. However being able to edit and delete would be complete package. If you are able to change the day of the month i.e "the number 26" would be nice, but I'm just nit picking here.

The guy that developed Week View 8 figured it out...

I tried this out last time it was promoted here, and even paid to remove ads, because it's great and the developer deserves to be supported.

Unfortunately, until we have the ability to actually create/edit appointments fully, it just doesn't suit my needs yet. It's definitely a nicer layout than the built-in app if it meets your needs, so I'd definitely recommend it.

Another fan of this app, albeit with the usual reservations about not being able to edit or delete appointments. However, slightly upset with the recent update. I liked the elongated (tall) number for the date on the Frodo tile. Now it's just a standard bold (or not if you so choose) font.
I am slightly annoyed because it now doesn't look as 'cool' as before and it's not the same tile as the one I chose and paid for.

Thanks for the feedback... I'll consider bringing it back to the elongated look in the next udpate

Thanks for the response. I hope you can, or even just offer it as an option.

Love Love this app..... yes, theres always room for improvement with all things.... so, no complaints from me...

Very nice app but I won't spend anything on it till I can edit and delete appoitments.
Hope to see this soon!

Hope MSFT enables this in GDR3. Yes, this is a MSFT limitation, not something 3rd party devs chose to ignore.

Does it allow private appointments to show like Facebook birthdays ?

WHY? WHY? WHYYYY???!!!! WP7.8 PHONES ARE ABANDONED BY MICROSOFT! I'M SHIT FREAKING FRUSTRATED. UPDATE AND UPGRADE WP7 PHONES SO THAT IT CAN DOWNLOAD THE LATEST AND NEWEST APPS/GAMES OR ELSE I WILL SURELY CRITICIZE NOKIA MICROSOFT TO HELL!

I know , dude. Owners of phones like the lumia 800 or - even worse bc it came on the market so close to the introduction of wp8 - 900 must feel betrayed. I have a 920 now and my 800 isn't getting a lot of update-attention lately.

SillyFlamingo, no amount of caps or rage rants will ever change the fact the core architecture being the kernal is not the same.. it's like trying to force a lego to fit a into a jigsaw puzzle it aint gonna happen. Unless I guess MS spend resources and recode WP8 to support WP7 hardware however thats highly unlikely to become a reality, given the issues they had with 7.8

True and i like the step(s) forward they did with wp8. Better forget wp7 though it's hard if you paid a lot for your lumia 800/900 and you can watch it getting old in lightspeed.

True, when you put it like that people's fustration is understandable especially when you have paid £500 quid for a phone upfront which becomes redundant in the next few months. However we are almost into a year of WP8 the userbase will keep growing, some WP7 will certainly have gotten hacked off and left for the two platforms but its not only people who are upgrading from features phones but people looking for cheap contracts and a cheap smartphone (budget android devices don't really cut the mustard when comes to performance). Admittedly MS should have released WP7 with the NT kernal in the first place.

I think it's reasonable for them to want you to migrate to WP8. If 7.8 has all the WP8 benefits, what is the difference of WP8 and 7.8? They need to differentiate it and at the same time make WP8 more attractive. It makes, even as a previous L800 owner. The only thing I don't like is how they treated L900. Now that was disgusting.

I updated the app, but how can I get the colorless Live Tile that looks like the image at the top of this article?
The only colorless Live Tile I can see isn't nearly as nice looking.


That's Gob on Medium. You need to configure all the live tile sizes one by one.

Ah, I see now. Because of the empty space to the right it looked like a Wide Tile.

I love the tile of Simple Calender, but as long as i can't set default reminder and duration i stay with Chronos.

Makes the on-board calendar look a bit too simple. Can it do all the things the Microsoft calendar can - like synchronizing stuff etc.? May be a naive question but i am a simple mind when it comes to tech.

The default WP8 calendar is a mess. It keeps reminding me of events even when they are 2-3 days gone

Double check your date and time. If you use Outlook.com, make sure the correct region is selected.

Except for the guy that developed Week View 8. It's possible to add/edit/delete appointments, etc. Just the tiles aren't as sexy...

Can it be configured to just open the native calendar app?

I just tried this app because the Live Tiles look incredible, but the calandar had a whole bunch of private appointments on it on days that I had absolutely nothing scheduled in the default calandar. No idea why. Had to uninstall.

Same issue here. Does anyone know why?

Great app, only issue is with appointments. Lets say you have an appointment for next Friday and today is Thursday. Your next Friday appointment shows up as Friday with no date showing you its next week, not this week. I've emailed the developer and didn't get a reply. Any help would be appreciated I really like the app. (and I notice nobody else saying this so maybe I'm doing something wrong?!)

i have had this app for awhile, i really like it.. but lately, my live tile doesnt update.. itll be like a day or two behind at times, which is annoying since the only reason i downloaded the app was for the live tile

I wish there was an app that made a better live tile for Email. I have all my accounts links to one tile but it only shows the last email I receive. I wish it showed more.

Had it for ages with the (paid extra for) Frodo tile. Just tried changing the font to bold, now I have a huge trial watermark over the tile again. I hope they don't think I'm gonna pay a second time just for a bold font!!!

No, once you buy a tile it is yours, I don't expect you to buy it again. I can't reproduce the issue... Can you send me a mail (use link in about page of the app) with a screenshot? Thanks,
Wes

So, question of the year here:

What is the best calendar for having live tile updates as often as possible of google and exchange accounts?
I have everything set in WP Calendar, and have tried/bought just about every calendar out there Simple, True, Chronos, etc.
All I want to do is have live tiles updated as often as possible automatically....of Google and Exchange accounts.
Can this be done? Or is MS limitations keeping it from being done?

T

I too, am having issues with the live tiles NOT updating.
I simply want the tiles to automatically update when the date changes. Simple Calendar has gone as long as 3days without showing the correct date until I force it to update.
How do I fix that? Because what's the point of having the date on the tile if it doesn't update?

Down Loaded to try them uninstalled it, I don't see how it's called a calendar app when really it's only a tile app that shows appointment's, but not private ones like Facebook birthday's to see them they want you to use the native calendar to view No day or week views, no thanks I will stick with Week View 8 a real calendar app.

Now Windows phone 7.8 is fully dead.....

So if edit/delete is a API limitation, Chronos and Simple Calendar are basically (almost?) the same correct? I'd go with SC based on looks. But I think Chronos is popular because of all the customization? Which do you guys prefer?

I have used, at the same time, True Calendar, Vsys, Simple, and Chronos.
In my testing, Chronos seems to be the most accurate calendar tile....the most automatically updated tile.
With it I can add appointments to my google calendar, which is huge.
I can see my Exchange work calendar, which is also huge.
And, most importantly, I can add appointments to my Exchange work calendar.
So, while I was complaining earlier, it would appear that Chronos is the best calendar app for people with multiple calendars.
IMHO
I don't know why it works, or how it works, but it does!
I don't use Facebook calendaring, so I'm not sure if Chronos does that or not....

T


The colour in the first picture (black with green), how do you get it? Is it a paid option? If so, which of the two is it (Frodo or,Gob)?
Windows Central Newsletter
Thank you for signing up to Windows Central. You will receive a verification email shortly.
There was a problem. Please refresh the page and try again.