Grab your helmet and prepare your tricks as Skateboard Party 2 launches on Windows Phone 8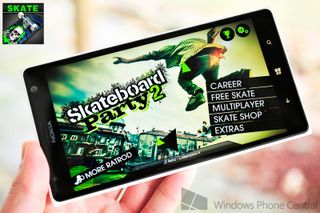 Love skateboarding? Even if you don't (or are unable to) participate in the sport, you can enjoy yourself on your Windows Phone with Skateboard Party 2 from Ratrod Studio. This is a brand new skateboarding game with gorgeous graphics, addictive gameplay and a lot to offer those who skate for real. Even better? It's co-launching on iOS, Android and Windows Phone.
If you find yourself sat in the daily commute (or anywhere else for that matter) with a handful of minutes to spare, you'll want to grind on past the break to see what this new, hip game is all about.
Enabling players to skate in eight unique locations, Skateboard Party 2 brings variety to the table, whether it be customising the boards, trucks or even wheels with real and trusted brands. You'll find yourself practicing some sick moves and landing those awe-inspiring combos that you could only dream of completing on a real skateboard - unless you're a professional skateboard with a Windows Phone, of course.
There are 9 characters to choose from, each can be customised to your heart's content with the above board options and favourite gear. A free skate mode is present just in case you wish to remove the time constraints and just enjoy the air flow through your hands as you ride along the environment pulling off new stunts and mastering your skills.
Don't worry if you prefer skateboarding with others as this game will also enable you to go up against mates in the new multiplayer mode, but you can also challenge skaters from all over the world using online leaderboards - who doesn't want to be at the top? Although this isn't an Xbox Live title, there are achievements included, as well as the ability to gain experience and upgrade your favourite character.
The controls are fairly easy to get used to and Skateboard Party 2 lets you customise the controls to best fit your playstyle. With over 40 unique tricks that can be worked into hundreds of combinations, there are many hours to be poured into this game. Experience gained from play can be used to upgrade your skater's attributes and you won't mind any grinding with the selection of music available.
You can download Skateboard Party 2 from the Windows Phone Store for $1.99 (Windows Phone 8 only - 343MB - no free trial, but we highly recommend the download). There are optional in-app purchases available for you to increase your level of experience points. Thanks to everyone who tipped us!
Windows Central Newsletter
Get the best of Windows Central in in your inbox, every day!
Rich Edmonds was formerly a Senior Editor of PC hardware at Windows Central, covering everything related to PC components and NAS. He's been involved in technology for more than a decade and knows a thing or two about the magic inside a PC chassis. You can follow him on Twitter at @RichEdmonds.
This is a really fun game. It rocks on the Lumia 1520, no surprise. Just tossing it on free-skate is enough for me.

Reminds me of Vans for the ZHD

Amazing month for windows phone.....lv u lumia

Amazing month for windows phone i can't beleive that windows phone only in twenty days get the most important games like tr2 and subway and the facebook is getting better and thy have only to support 512 mb for subway and tr2 soon

Windows sucks cant even run temple run 2 comparing to android low end phone they can run every possible game even there is lag we can get taste of game
Seriously i regret why i had buy Windows phone and in future i encourage my friends and family not to buy windows phone .
They cheat there customers

Thanks for sharing.
Now you can always go out and buy a 512 Mb android phone but I'm almost positive you won't get updates. Not everything is perfect. And nobody is cheating you. If you're mad at someone then be mad at the developers for not making the app for 512 MB PHONES

I will feel happy if some popular games launch only on 2gb ram phones and above and then after u will realised how should we feel when game is launch but we can't get it because of fucking ram

How about you make your own phone then, make your own ram, make your own processor and make your own OS, code it by yourself. Stop complaining, you better go back to your lagdroid community. WP users don't need a person like you. You disgust me for real.

I have a Lumia 1520 so I will still be able to buy lol. You should do your research when buying phones and you should put the blame where it is due and put it on the developers not windows phone.

A u just shut up ,i am talking on the behalf of all windows phones not 1520,i am not so rich like u that every time when a new phone come i go and buy it ,i have mind u don't,my question is that windows should develop game for all and at same time and after some usuage they can update it according to compatibility

even in android not every game is optimised for every phone. Certain high graphic games require suitable RAM and processor to run smoothly and this applies even to computers where e few games require RAM upto 6GB (NFS Rivals). I agree that SS and TR2 should have been optimised for 512mb but dont expect every game to be optimised for your phone. Then there wouldn't be any difference if u buy a high-end device. In the future we may expect games in the store requiring 2GB RAM. Android users install them though not compatible only to uninstall them for poor performance. So, just hold on for your updates or buy a high end mobile. This is the fact....no offence

well who d hell cares which phone u own???...we all proud owners of wp8 dats it..i dont knw where u live..but i m sure u get ur phones on contract..i mean carriers!!!if v were to get phones thru carriers we wud change them more often than u do!!!one more thing u think u r proud of windows phone 8..ok then u go n do some research and then brag which windows phone has the highest sale n marketshare..if u really love windows n u really want wp8 to b a success then u should wish 512 MB RAM games launch at par with their higher counterparts!!! ROHIT-520 is a gem of a phone..u wont get an android which is so inch perfect as 520 in d same budget..and better wait for a game to get optimised than to play just for the taste..cumoon who plays d game just fr d taste..i will rather wait for SS and TR2 to get optimised than to play it with lag...Windows phones r awesome..far far better dan androids!!!

Excuse me i have 720 which cost all most same as 820 i purchase it in a 320$

does it make any difference???u wud still b unable to play games like SS TR2 as if right now!!by 520 i meant one wid 512 MB RAM phones..

I,m with you bro, I bought a economy 4 cylinder Chevy Caviler for 12,000 dollars, and I,m pissed it doesn't go 0-60 as fast as the 32,000 dollar 8 cylinder Camaro, I mean, there BOTH cars, AND made by the same manufacture, Chevy obviously cheated me

I spent the MONEY on a 1020, bring on the 2 gig games

I'd like to see which $100 android phone you're gonna buy that's gonna work perfectly and run all the game. Just because it runs a game it doesn't mean you can play it.
P.S. Turn the light off when you leave.

Some advice for you troll. GTFO and go back to your lagdroid. People like u disgust me.

Yes true!!!!!! A 520 user!!!!!!

I would rather not have a game then to have it and its barely playable, but that's my opinion. People want games NOW NOW NOW, then when its buggy they complain some more.

U made a perfect point having a better version is always. Its like buying piracy first and waiting for the original ones to be released

Dude ,first see the graphics of tr2 on windows phone,definitely better than android.If you want to buy android get the F off this website.This isnt a place for guys like you.

My brand new Android tablet with a quad core and 1 GB of RAM lags. If I didn't need it for one specific app I would take it back. I can only imagine what a 512 MB Android phone would be like. My last Android phone I could barely make a phone call, much less use any worthwhile apps.

My nexus 7 2013 with kitkat 4.4.2 never lags but with a snapdragon 600 and 2 gigs of ram why should it

Lol, you chose to have less features when you bought your cheap phone.. Also the devs are responsible for that compatibility issue yours.

Just for subway surfers n temple run 2 u say they cheat u.While it gets perfectly compatible u have other endless games like minion rush angry granny run,rail rush,temple run. Microsoft doesnt want any games to lag on your phone. Even android doesnt wish too but still they best in their lag business. We all know when we bought WP8 we knew that microsoft slow in developing but will never try to cheat any of their customer and u wanna switch to android where they always copy ios and vice versa.

Hey dude, did u get the update 3 and black update for ur L520???

Hey guys chill this guy has only seen android high end phones and never has owned one he has purchased his 1st smartphone as wo and his friends wud be using android but he himself wud have never owned android.....low end... He has just no knowledge of what he speaks.... Juding from a distance then personally owning it Rohit

You suck because you can not wait for the devs to optimise the game for 512mb devices, unbelievable there are hardware limits on Windows, WP, iOS and Android you just cannot expect that a pentium 1 can play BF4. And Joe Belfiore already said 512mb support is coming!

> buy the cheapest wp8 phone available
"err derr shitfon can't do all hurdur" there is a thing call future-proof, if you want your phone to handle everything that is coming in the nearest of time..you have to buy a phone that matches your expectations. What's next, you buy a fiat and complain that your neighbors Ferrari can go faster? F* U FIAT PISOFSHIT KARRR

A taste of a game with a lot of lag? Heh. What a mess thinking.

LOL. hilarious rant. Btw how did they cheat you? U buying a 512mb ram phone without researching the constraints is your mistake. If you can put up with the androlag then good for you. Keep androlagging. For wp8 though Temple run 2, subway surfers both will receive 512mb ram support soon and they will run as smooth as knife thru butter.

even in android not every game is optimised for every phone. Certain high graphic games require suitable RAM and processor to run smoothly and this applies even to computers where e few games require RAM upto 6GB (NFS Rivals). I agree that SS and TR2 should have been optimised for 512mb but dont expect every game to be optimised for your phone. Then there wouldn't be any difference if u buy a high-end device. In the future we may expect games in the store requiring 2GB RAM. Android users install them though not compatible only to uninstall them for poor performance. So, just hold on for your updates or buy a high end mobile. This is the fact....no offence

Rohit, you are a moron. Do us all a favour and disappear, WPCentral is much friendlier without idiots like you.

Cool application! Now if RatRod would only make a game for those of us who can't stand skateboarding and love LONGBOARDING.

Cool app. But we want GTA. Release it!

I was gonna buy this game just because it co-launched on Windows Phone along with ios and android, but after researching it, I think I'm gonna buy it because its awesome ;)

Someone should tell developers about the people like us. What other platform has people who buy apps just because it is came out on the platform? :) With these small payments for apps I figure I can just avoid drinking a bottle of root beer next time I go to the gas station and it is paid for.

Most def! I could just buy two less chicken sandwiches from McDonalds and pay for this. Throw in Bing rewards, and you can keep your chicken sandwich/ root beer AND buy the game at no extra cost :)

Damn it... I won't pay for it

Damn! I was ready to download until I saw it was paid :P I'll have to get a Windows Phone gift card for this along with a few other games id like :) awesome news though! Koodos yo Windows Phone!

Should have try before you buy option.

This game sounds nice, but actually I'm waiting for the new Rockstar game GTA V... Does anyone know when it will be released? Thanks for helpful answers!

GTA:San Andreas and no we don't. Possibly next week.

Its said today, hope can get it asap

When laungh gdr3 3rd update for wp8?

Early jan 2014 with Lumia black update. U can even download the developer preview app if u want it earlier in your phone. Even u dil get Windows phone 8.1 update on 2nd or 4th of april when,it gets released for all developers

When tr2,SS arrives on wp8 all other ios and android users will get to know how better is the graphics on our devices. I hear many times from my friends in college.

Too many good games now I don't have space in my mobile. Thanks to Microsoft to make our Christmas wonderful.

Absolutely! Storage room is shrinking rapidly and I didn't even like games before buying a windows phone.

I dont want to wait for temple run 2 ,i have 720 and I wasted 18000 on the shit just equally to the price of 820 ,
So is there any proxy trick to download temple run 2
Plz plz I want this game
And dont fuck to reply that plz wait for 512 mb game launch

Same question from my side!!

it's not offical version
http://goo.gl/6IAkcl
just deploy it

Download the official temple run 2 app xap files with PC. Use windows phone 8 app deployment tool and install the app.

How to get app deployment tool

Awesome nothing else like it in the store, totally worth the purchase.

No try no buy. Even with a £20 free voucher.

Where is GTA? I wait a whole day!!??

Bought, I love skateboard games and it's the next best thing to having Skate or Tony Hawk on my phone.

Anyone tried this game on Lumia 620?

high definition f*** logic/gravity.. XD
Windows Central Newsletter
Thank you for signing up to Windows Central. You will receive a verification email shortly.
There was a problem. Please refresh the page and try again.