Sketchbook Express for Windows 8 really shows off what the Surface Pro can do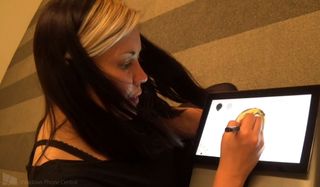 Earlier this week we brought you a hands-on look at Autodesk's FBX Review app for Windows 8, which we shot at the Autodesk Gallery in San Francisco. While there I also took in a demonstration of Sketchbook Express, a much more consumer-oriented Windows 8 app. Like FBX Review, it's completely free.
Renée Busse, Autodesk's Sketchbook Community Manager, used Sketchbook Express and a Surface Pro to whip up a lovely little drawing in no time at all. Head past the break to see the full video and learn more about what Sketchbook Express and its big brother Sketchbook Pro can do on Windows 8!
Drawing in style
Sketchbook Express is a free drawing app for Windows 8 and RT. It's optimized for pressure sensitive touch screens like the one found in the Surface Pro, but you can also enjoy it with a mouse or the standard touch screen like the Surface RT sports.
The app's main menu allows users to browse a brief tutorial via the Quick Tour, import a local image to edit, view or edit existing sketches, or create a new sketch. The Quick Tour is a nice idea, but it doesn't relay all the information you'd need to use Sketchbook Express. The Tour's instruction for adjusting brush width doesn't make any sense, nor does it mention the app's all-important right-click menu.
Bringing your imagination to life
Keep practicing, Paul!
Minor UI issues aside, Sketchbook Express should take no time at all for experienced digital artists to learn.
Autodesk has minimized screen clutter as much as possible, making it easy to focus on the sketch itself without the distraction of copious menus. The two palette colors the user is currently working with can be repositioned anywhere on screen with ease.
The rest of the tools are found within the lagoon. It sits unobtrusively in the lower corner of the screen and can be moved to the opposite side (for left-handed artists). The lagoon's tool button lets users switch between eight drawing tools, including pen, marker, paintbrush, and more. The color button quickly toggles to gray scale colors, a color dropper, and other colorific functions.
The app also tucks a few important items away in a right-click menu. The most enjoyable of which are the symmetry tools. Enable them to create a perfectly mirrored image across the X- or Y-axis. Right-clicking also lets ditch the current image for a new one or return to the main menu.
Time to go Pro?
Renée's drawing
Sketchbook Express is a lot of fun, but it's really meant to function as a sample for the paid Sketchbook Pro application. Some of the features you'd expect in an image editing and creation app are missing from Express – most notably, layers. As you probably know, layers allow artists to edit one virtual layer of a piece without affecting the layers above or below it.
Sketchbook Pro is a reasonably priced desktop application, and you'll probably want it if you take your drawing seriously. It works perfectly on Windows 8 devices like the Surface Pro, but Autodesk hasn't released Sketchbook Pro on the Windows 8 Store just yet. Let's also hope they release Sketchbook Mobile (a paid iOS app) on Windows Phone in the future!
Sketchbook Express – Windows 8 and RT – 9 MB – Free – Store Link

(opens in new tab)

Sketchbook Pro – Windows 7 – 43 MB – $59.99 SRP – Product page

(opens in new tab)
Paul Acevedo is the Games Editor at Windows Central. A lifelong gamer, he has written about videogames for over 15 years and reviewed over 350 games for our site. Follow him on Twitter @PaulRAcevedo. Don't hate. Appreciate!
Wish I was that skilled, one of my favorite apps!

All it takes is practice. No one is born knowing how to draw.

Really nice app, very cool. Good article too.

Will we have wp8 version?

I used Sketchbook Express...with a mouse... ...it...was...horrible..

That's.....just....too........bad......

This is why you go with full Windows instead of RT, no limitations, wider appeal, more sales.

So go with an Atom-based tablet. Seriously, right now that is a perfectly usable middle of the road option between Windows RT on ARM and Windows 8 on i5.

Which Atom tablet has proper stylus support?

Lenovo tinkpad 2, atom works really well, surprising fast

I bought the Pro version for my Samsung Ativ 500t Atom table and love it.

there is fresh paint a very gud alternative for sketchbook mobile on wp8 and it is for free yay !

Now I only need a Surface Pro.

I use Sketchbook Pro for tablets (about 3 or 4 £ on google play) on my 10 inch Android tablet and find it pretty good for doodeling design ideas on the go.
I think this version is needed on wp8, rt and w8 to make people make the move to the full pro version

That's sick! Got to get the pro version of that app. You need layers. What kind of Pen is she using?
Nice drop Paul. KEEP EM COMING SIR!. KEEP EM COMING!! Love these Surface vids.

Looks like the one that comes with Surface Pro.

Yeah? Nice. It seems to work really well with that app.

It's a nice app but benefits more from having a tablet that supports pressure sensitivity. I considered getting a Thinkpad 2 with a pen because on the Surface RT you can't get near the detail with Sketchpad as the built in wacom tech on full win 8 tablets. Still, I can wait until the prices come down, the RT version is still decent.

Great app ! I have it in my XOOM.

When pro Version on Windows rt?

the surface pro doesnt need to fear a comparision with the cintiq13, iam using it for sketching since day one
well, i tried to post sketches here buts not possible to post links

is she using a pro or rt? i saw lags when she was painting the hair.

Looks good, especially like the pressure sensitivity on the pro. Beats buying a massively priced wacom tablet screen. P.s. Anyone having trouble playing youtube videos atm. Seems all the apps are being nerfed by those tools over at google. Metrorube and mytube keep experiencing dropouts, videos refusing to play and error messages... At least they do on my 920.

Completely disagree. People are born with minds that think a certain way (right brain) which greatly influences their ability to draw. While people may not be brilliant artists at age 2, they usually have a higher level of drawing and skill than their peers as they grow up. Practice can certainly hone that skill, but its not the defining factor. People without that natural skill can learn it to some degree, but they have to work much harder to reach the same level.

Some people are born with natural drawing ability. Others are born socially conservative. :-D

I guess. Most great artists are probably not.

They're not mutually exclusive, but it's really hard to be close minded and creative.

Haha, awesome doodle there Paul!

Thanks man! My digital art skills might be a smidge rusty. :)

Sketchbook Pro is a desktop application. Buy it from Autodesk and install as a desktop app. Works perfect on Win 8.

Yeah, we do mention that in the article.

Wait.. Did she just mention lan parties in relation to digital artistry? And there I was thinking they were just for playing games :P

Love Sketchbook Pro software, even more now that they added Copic marker brushes. Those are so costly to buy individually! My only complaint about Sketchbook Express, as Paul addressed is the absence of layers. I use layers all the time when drawing and have become so dependent on them. However, the Express version is great for artists who do not use the layers feature, and for those who only need the bare minimum of brushes. It's also great that it's free and runs smoothly on my Samsung Ativ 700t. I like that I can start this application and just doodle away at any moment.

$60.00, ouch!! I'll wait till it goes on sell for .99 ;)

This app, and Fresh Paint are fantastic with a pressure sensitive screen, I have it on my ThinkPad x230t, and honestly, when I let kids play with it, they don't like their parent's ipad anymore :P

I want to get back to drawing and using something like this would be cool. I was thinking of doing a comic strip or a manga . I wonder what kind of pen I should be using?

If you mean with a Wacom device/touch screen, Wacom makes a lot of really nice stylus pens. Check Amazon and find one in your price range.
Windows Central Newsletter
Thank you for signing up to Windows Central. You will receive a verification email shortly.
There was a problem. Please refresh the page and try again.