Hands on with FBX Review for Windows 8 at the Autodesk Gallery in San Francisco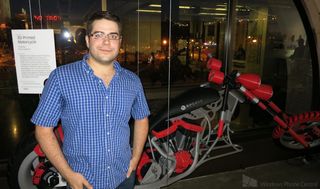 You might know Autodesk for their 3D design tools like AutoCAD and Maya, or their game design middleware like Autodesk Scaleform. They also make a couple of Windows 8 apps for consumers: Sketchbook Express and FBX Review, which we discussed when it released back in July.
During my recent trip to San Francisco for Casual Connect, I stopped by the Autodesk Gallery for a quick visit. From a quiet corner of the Gallery, Wes Adams, Autodesk's Games Industry and Product Marketing guy walked me through some of the cool things FBX Review can do. Head past the break for our hands on video, plus a photo tour of the Autodesk Gallery.
Autodesk Gallery
The Autodesk Gallery is located at One Market Street in San Francisco, California – right next to a BART subway station. Inside, it's filled with over 20 exhibits showcasing the work that Autodesk customers have done with the company's products.
The cool thing about the Autodesk Gallery is that anybody can visit it, not just Autodesk's business partners. The Gallery is open to the public every Wednesday and Friday. You can even get a guided tour around lunchtime on Wednesdays. I visited Wednesday night so I didn't do the tour, but I'm sure it would be fun. Check out the Autodesk Gallery website for more information.
This peaceful LEGO dinosaur was mauled by a carnivorous LEGO dinosaur. Cycle of life, baby.
Lots of fitness products are designed with Autodesk software and watched over by a demonic green face.
They build bridges with it too.
Introduction to FBX Review
Autodesk FBX Review is a free app that allows users to view 3D models and animations on Windows 7 and 8 devices. Traditionally, only 3D artists with software like Maya would be able to access 3D models and study them and their animations from any angle, etc. People outside of a company's art department, whether it's the marketing team or studio executives would have to rely on images and movies that the artist has exported.
Because it's free and a standalone application, anybody can use FBX Review to study model and animations. Even if you're not a 3D artist (I'm sure not), it's fun to download and mess around with models that other users have created.
Learning the ins and outs
We already covered the app's basic features in our previous article, so I won't reiterate them here. Let's talk about a couple of things we learned from Wes instead.
Some of FBX Review's finer features (such as what those buttons at the top do) were a little confusing for me to intuit the first time I used it – I wish Windows 8 apps still had mouse over descriptions like traditional PC applications. But the demonstration Wes gave us pretty much shows all the key things you can do with the app. Turns out you can control the same options as those unlabeled buttons from the text-based options menu as well.
One of the most potentially useful features is the ability to share screenshots from directly within the app. First swipe from the right to bring up the Charm bar, then choose Share. Now you can send screenshots via email or SkyDrive. FBX Review automatically adds the file name, the animation take, and the exact time of the animation displayed in the image. The sharing feature makes it super easy to discuss individual frames of animation.
Update coming soon
One more Gallery shot for the road!
FBX Review works with a variety of model formats: .fbx, .3ds, .obj, .dxf, .dae, .bvh, .htr, .trc, .asf, .amc, .c3d, .aoa, and .mcd. Autodesk already has an update to the Windows 8 version in the works that will improve how the app handles textures with .obj files. That's good because .obj seems like a pretty popular format for end user-created models.
The Autodesk FBX Review app for Windows 8 is available from the Windows Store. Windows 7 users can grab that version from the Autodesk Exchange website (opens in new tab). You can also get some of the sample files seen in our video right here (opens in new tab).
Autodesk FBX Review – Windows 8 with 4 GB RAM – 24.3 MB – Free – Store Link (opens in new tab)
Paul Acevedo is the Games Editor at Windows Central. A lifelong gamer, he has written about videogames for over 15 years and reviewed over 350 games for our site. Follow him on Twitter @PaulRAcevedo. Don't hate. Appreciate!
Hope they come out with a version for WP8. An easy way to display obj/fbx on the phone...

The only app I purchased on Android was Autodesk Sketchbook. Great painting app; wish that would get ported to wp8 as well. Anyone know another paint program (for wp8) that supports layers?

Paul, here's a little 3d trivia for you. Which Autodesk 3d program did Microsoft own, allowing Win NT to compete against IRIX/Unix?

You've got me beat. No idea!

My beloved Softimage!
Softimage 3D (Jurassic Park, Godzilla, Titanic, Matrix, Starship Troopers) was purchased by Microsoft in 1994. They later sold it to Avid, which released it's successor, Softimage XSI, in 2000. Because of delays, many studios switched from Softimage 3D to the newly released Maya from Alias Wavefront (which is a successor to Power Animator). Avid later sold Softimage XSI to Autodesk in 2008, which aquired Maya a few years earlier. Now, it appears Autodesk is trying to bleed Autodesk Softimage dry, never promoting it in Marketing and development is pretty stagnent. It's quite sad, because it's a brilliant program.

Solidworks all the way! But still some very impressive pieces.

Hope they make it available for Windows RT....

Hope they add 3d printing.

Have you seen the free Autodesk 123D apps (www.123dapp.com)? It'd be nice to have those for wp8 too....

What about dwg files support?

Didn't hear anything about adding new file types, but if enough people request it in the app's forum, I'm sure Autodesk will consider it.

I use AutoDesk programs everyday! I love you AutoDesk!
Windows Central Newsletter
Get the best of Windows Central in in your inbox, every day!
Thank you for signing up to Windows Central. You will receive a verification email shortly.
There was a problem. Please refresh the page and try again.