SketchUp Viewer is the Windows Store's first commercial HoloLens app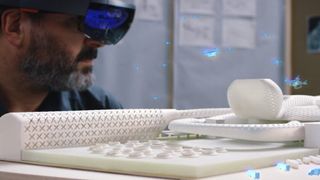 Microsoft has announced the launch of the first commercial HoloLens app to be available in the Windows Store: SketchUp Viewer. Developed by Trimble, SketchUp Viewer is an app that allows those in the Acrchitecture, Engineering, Construction and Operations (AECO) fields to view and interact with holographic scale 3D models of building projects in mixed reality. Take a look at SketchUp Viewer in action in the introduction video below:
From Microsoft:
Since its introduction, we've seen HoloLens used in a variety of new and interesting ways, particularly in business and industry applications. SketchUp Viewer is just another example of where Microsoft's work in Windows Holographic could make a big impact, and it will be interesting to see the ways in which other industries and businesses leverage HoloLens for their benefit.
According to Microsoft some of the biggest AEC companies in the world are already using SketchUp Viewer to bring 3D architectural designs to life. For others in the industry, SketchUp Viewer is now available for purchase in the Windows Store for $1,500.
See SketchUp Viewer at the Windows Store (opens in new tab)
Dan Thorp-Lancaster is the former Editor-in-Chief of Windows Central. He began working with Windows Central, Android Central, and iMore as a news writer in 2014 and is obsessed with tech of all sorts. You can follow Dan on Twitter @DthorpL and Instagram @heyitsdtl.
I'm expecting some "Won't buy if there's no free trial" posts.

Those people don't own HoloLenses, so it's a self-selecting audience ;)

I hope this starts to display the potential of this platform for some industries to some of the people on here.

Wait....let me check my Microsoft Rewards money.....I'll be back in a few decades. :) No Xbox, No Buy!!! #SaveX...wait....nevermind.

If you had $3000+ to spend on a HoloLens developer kit and you surely have $1500 to spend on this app.

Maybe the $3000+tax was all of the money that I had for tech purchases... :D

Also hear that Autodesk and Trimble are working on something for Hololens... I will find out next week at Autodesk University.

It could be because the next wave of software model is with AR and clearly, HoloLens is leading the way.

Does this work on the normal ten device rule or are there special rules for enterprise in this regard. Also the 10 device limit is for single account.Does that mean that if you're with 5-10 people using different people you'd have to fork out $7500 - $15000 (assuming each individual is logged in separately on the device their using rather than a joint company account)? This is probably a stupid question

If you're a huge architectural firm that is considering use of Hololens in your design process, the cost is negligible. Even smaller firms would pay the money for software if they're investing in Hololens hardware. 1500$/head really is pocket change in the grand scheme of money flow. We pay about that much for a single license of some SQL tools for our developers. That is per head and does nothing of the sort that this does. #perspective.

It's likely that it's a "per seat" cost. Seems a little high for just a viewer, but like someone said, if you're dropping $3k on a HoloLens, you probably don't care much. And I doubt they'll get it for everyone in the office. I'm sure there'll just be a few headsets for a select few when it comes time to review designs. And it's probably cheaper than paying someone to build model after model.

This is why I was amazed when Microsoft first presented its HoloLens. I am not in the field to buy one, but if I could spare some money, I would buy Microsoft shares.

I would love to see a hololense audio mixing/editing app

I would love to see a Hololens Disney Fantasia app.

I guess this would be useful to video game designers too when creating their freeroaming environments.

$1,500 for a single Windows Store app? That's a lot.

This is a drop in the bucket for an engineering firm. If it would help them to design better projects or help them to pitch projects to customers, it would more than pay for itself.

Considering that a program like Civil 3d costs $7500 per seat... not all programs cost $0.99 like little apps...

My point was that it's a UWP app priced at $1,500, not that companies wouldn't be able to afford it.

That price would drop to a minimum when HoloLens hits the consumer market.

http://Youthnize.com/?ref=333571

Great, this is the tip of the iceberg.

Something like this can be a game-changer for people who 3D-print their own parts. When viewed at 1:1 scale, they can check the part for the correct fit before wasting any plastic on a print.

The post said dollar 1500 so i didn't believed it cuz hololens it self cost roughly around 3000?
If I already had hololens, probably not, I will definitely
.
.
.
.
.
.
Not buy it. Sorry!
Windows Central Newsletter
Thank you for signing up to Windows Central. You will receive a verification email shortly.
There was a problem. Please refresh the page and try again.