Skout confirms official Windows Phone app 'is in the works'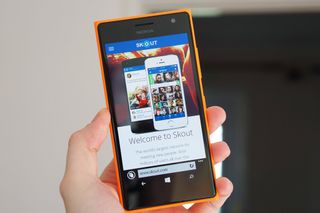 The popular social network Skout is working on an app for Windows Phone, according to a tweet published by the official Skout Twitter account. The tweet urges those who await for an official Windows Phone app to "stay tuned" and that an app is currently in the works.
No details were shared on what features the app will sport, nor do we know when the client will be released to the Windows Phone Store. The good news is this tweet serves as official confirmation Skout is coming to Microsoft's mobile platform.
Source: Twitter (@SkoutApp), via: JanelaTech; thanks, Zapella Tiago, for the tip!
Windows Central Newsletter
Get the best of Windows Central in your inbox, every day!
Rich Edmonds was formerly a Senior Editor of PC hardware at Windows Central, covering everything related to PC components and NAS. He's been involved in technology for more than a decade and knows a thing or two about the magic inside a PC chassis. You can follow him on Twitter at @RichEdmonds.
Popular? I read it's name for the first time today.

I was thinking the same thing. I never heard of Skout until I read the headline.

Wow! That's me!!! I'm a twitter sensation recently! It was because Jax from Vanderpump rules said he uses it, so I sent them a #Shameonyou! Message for not supporting us :D God knows what it is, it seems to be some kind of Grindr for friends.

So what the heck is skout?

That is what I am thinking. I have never heard of it and the author shouldn't assume that everyone has....

Bing it, don't ask here. Better than one upping the writer with all these lame comments.

Popular? I've even never heard of it. :-/

Something a bunch of famous people on vine promote.

Haha, that needs to be corrected.

I'm sure god has bigger things to worry about. Like existing...

Good thing God's existence doesn't depend on us

Same goes for santa...hang on... Posted via the Windows Phone Central App for Android

no idea about skout, show news about VLC

What the hell is Skout? Popular? I just saw ten posts with "what the hell is it?" Within its context.

Again ... using the word popular rather lightly.

Is it better than Facebook?

meanwhile facebook inc is developing their version of office called facebook for business. i cant stop laughing.

It's popular with teenagers to flirt with each other. I use it on my Android device. Source: I'm 17.

virtually flirting how stupid?

Yeah, whoever heard of online flirting, especially using a smartphone? History has just been made!

I feel old all of the sudden, and I'm only 28. I prefer the good old times when you would invite a girl out after school for a cake or icecream. Or love letters for these too chicken to talk face to face. Where has romance has gone to?

Don't forget passing someone a letter in class/during recess that says "Do you like me?" and has you circle yes or no.

Oh god yes!!! I wish I were in school again. Θ_Θ

LOL, sometimes I wish that because I have fond memories of talking about the latest SNES games, not having bills and laughing because kids' entire concept of sex was calling it "IT" and making up bizarre stories about catching teachers they didn't like doing "IT".

whatever they make they should make it universal ?

What? Wait what? Is that Skout a new social media? No! Not anymore! I am exhausted of any socmed. :(

So popular that I've never heard of it.

Exactly, what is Skout?? :/

Oookay!!! Popular my arse!! NOO ONNEE knows what that app even is!!!

You all need to read my above comment.

I was not able to create account , while trying to signup.

This app is as popular as I am in my college... Not very i.e. ..

Bahahahaha....
Same story

After visiting skout.com and reading the information on the site it seems to be a social network similar to speed dating.

You mean dating on Meth? Count me in.

Never heard of it & from the looks of it, most of us around here never heard of it either lol. Well, better have it in the store before someone complains about it ;)

In the works....but will they ever update that picture to show a Windows Phone? Too many companies (Groupon for example) have had WP Apps for years and in their emails all they say is "Download our App in iOS and Google Play". No mention of Windows Phone anywhere.

What really skout coming to wp that's great

Although I've never heard of this app its good to see new official apps coming up.
What's trending in my mind is VLC :D

It will hit this week, the great vlc

FINALLY!!!! YESSSSSSSS!!! WOOHOO!! My favorite app is finally on windows phone. The app I had when I used to have iPhone and Android. Popular social app just like facebook and instagram. In case you don't know what it is.

It doesn't matter if you do know the service or not, it's an official app, that we must care about

Its similar to BADOO available in the store!

Didn't heard about it either..

Skout is similar to badoo and it's quite popular in asia

Ohh..., OK.... Wait, what is badoo?

Whahaha.... Too many, right...

http://en.m.wikipedia.org/wiki/Skout
Interesting...

"Popular social network"? I've never heard of it.

Doesn't have great reviews on Apple

Skout is popular in a parallel universe... where Windows Phone is popular as well. Posted via the Windows Central App for Android

90 people don't know it... Y the heck they are announcing that official app... Instead releasing it directly...

Maybe most people here haven't heard of it because we all have windows phones and there's no app, so how would we know..... Just saying...

Not interested..... Never heard of em... And u made a mistake with calling good news god news... Sounds usable either way thou.

The irony is not lost on me how we as Windows Phone users want more first run apps, and then some of us still mock the service because we don't know about it. I suspect if we had iPhone or Android devices, we might already know about it. Encourage such things folks, you're both highlighting and mocking the app problem with Windows Phones when you question the popularity of an app available only on the big 2 platforms. I didn't know about it either, but in the future, kindly consider responding with encouragement rather than cynicism.

Skout is a social app where you will see nothing but slutty girls. Trust me I've met many girls on there.. Its a sex market for horny people.

It's so popular, that I've never heard of it.

Yay! Another crippled official app is comming!!! Can't wait!!! What is Skout by the way?